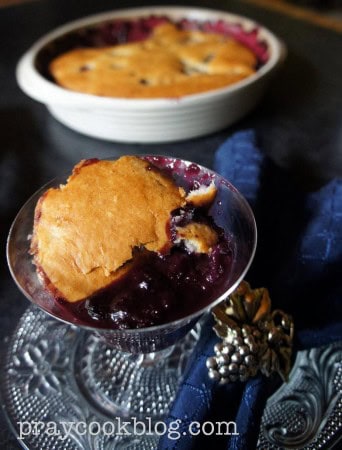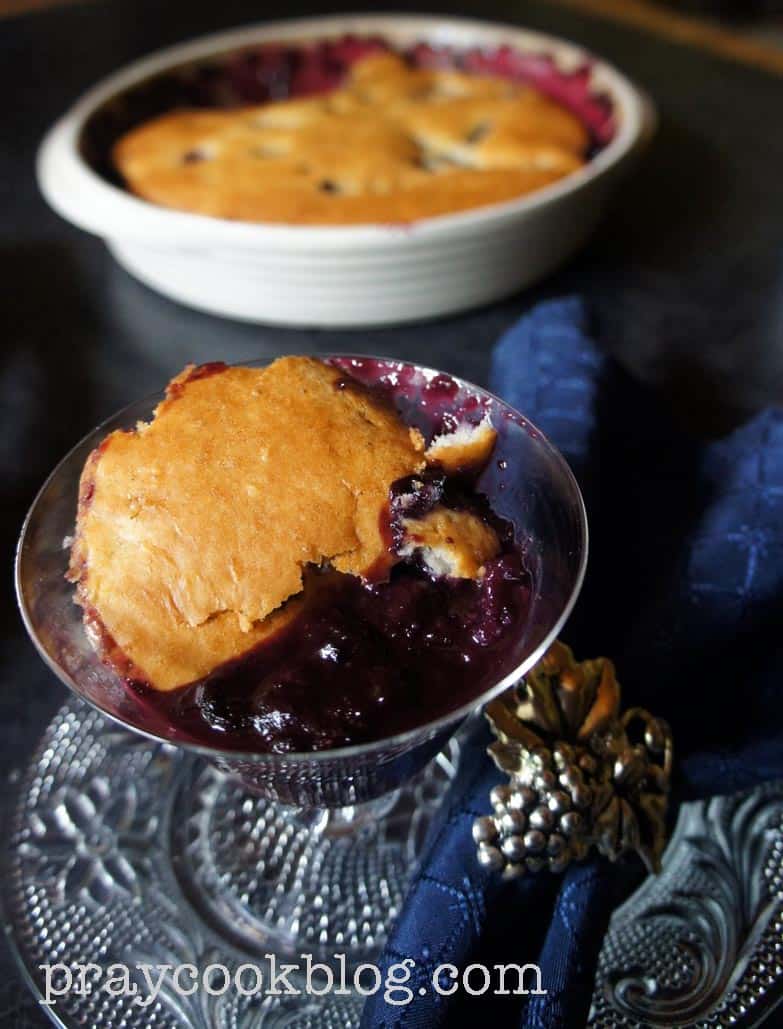 My sweet, wonderfully talented husband is our Chief Gardener. From early spring until late fall he spends hundreds of hours outside digging in the dirt, planting, tending, weeding, feeding, and then finally harvesting a variety of the fruits of his labor. However, this week he is in New York City tending to God's garden, namely helping out at our friends at Hephzibah House!
Before he left last Friday I was given several necessary instructions about tending the garden in his absence. I will tell you that I love to eat fresh tomatoes, but planting, spraying for bugs, picking off bugs, checking on them daily, praying for rain, praying the rain will stop and then finally picking them just doesn't excite me. But, being the dutiful wife (yikes!) and being seduced by the promise of fresh fruit and vegetables I am more than willing to tiptoe through the wet grass of the garden and "check" on the progress of some fruits and vegetables this week.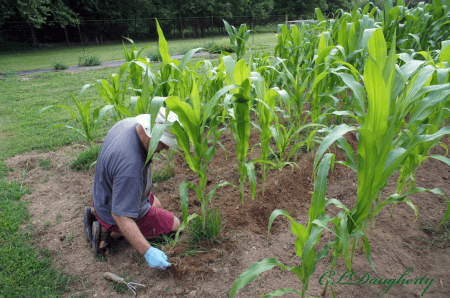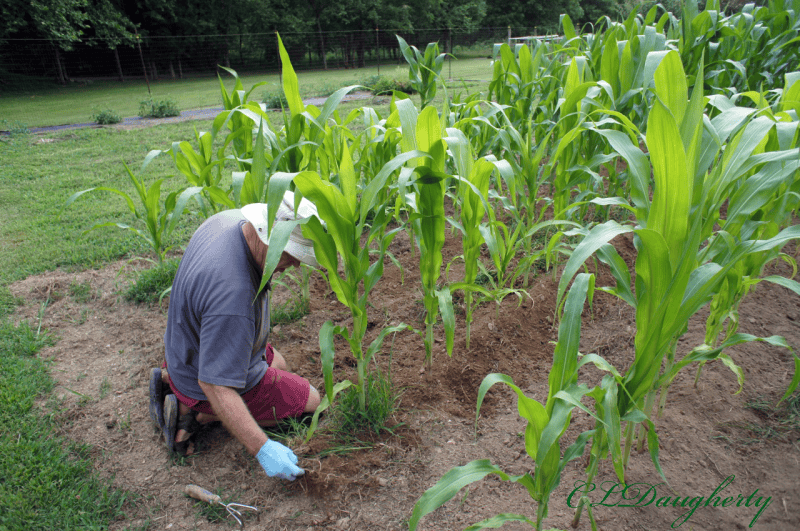 Earlier this month the Chief  spent days on his hands and knees weeding the corn. We had been traveling and the weeds had a party while we were gone multiplying beyond what the Chief could bear.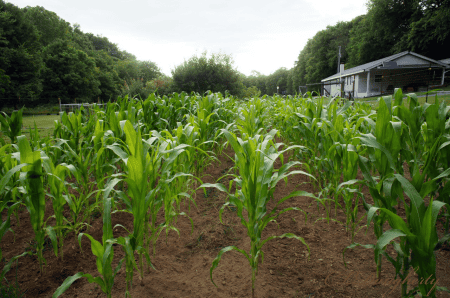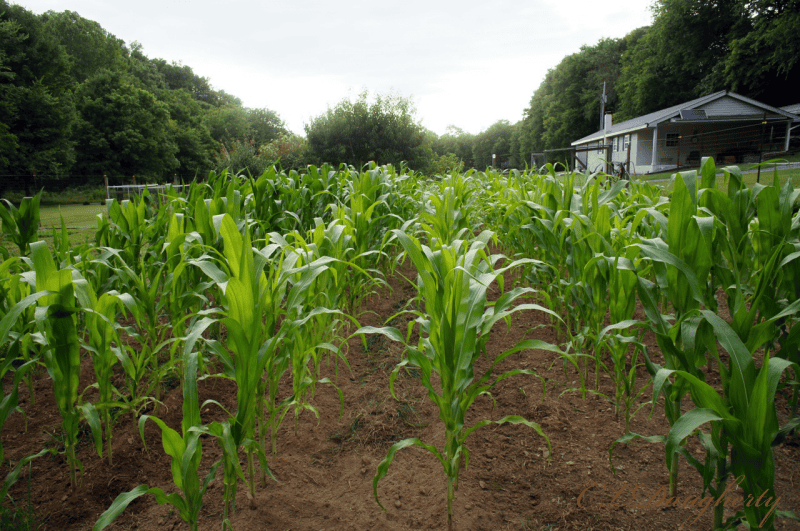 Fast forward a few weeks and my job – "check" on the corn. I didn't ask exactly what I was to "check for" – but I decided to take my camera long as I checked on the corn. Today, just after dawn, I made my way to the garden. The grass was very heavy with dew and I can see equally heavy air filled with misty morning humidity. The corn, oh the corn, is taller than I am, watered well by recent rains. Each stock is beaming with several lovely rusty shocks of corn silk showing me where each ear of corn is growing.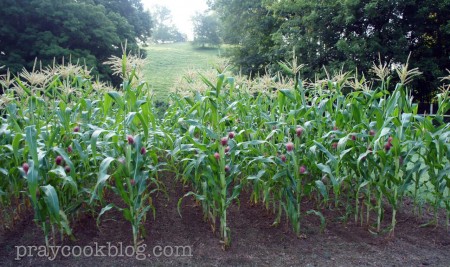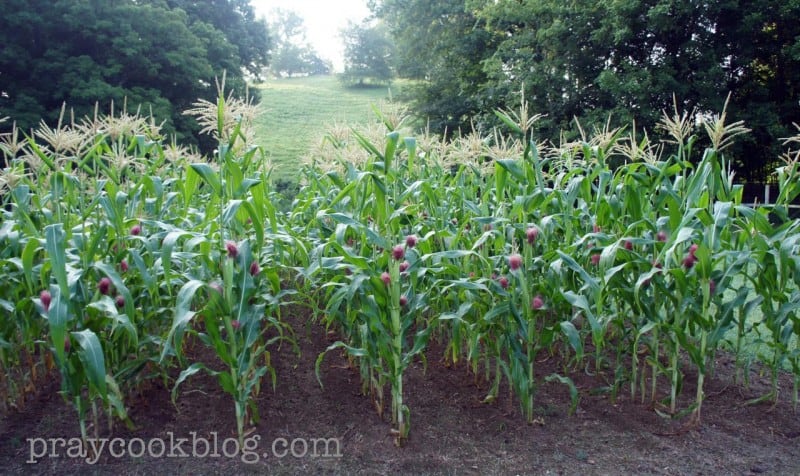 From there my instructions were to "check on the tomatoes" and pick the ripe ones. There were 3.  Since these are Roma tomatoes and I use them for making spaghetti sauce, 3 aren't going to do me much good. So, I will send them to the freezer to use another day.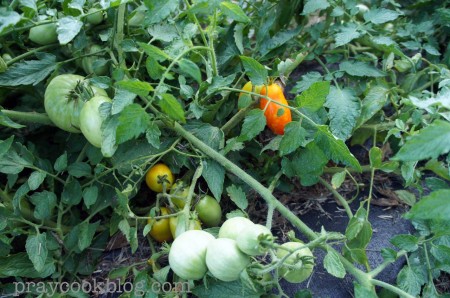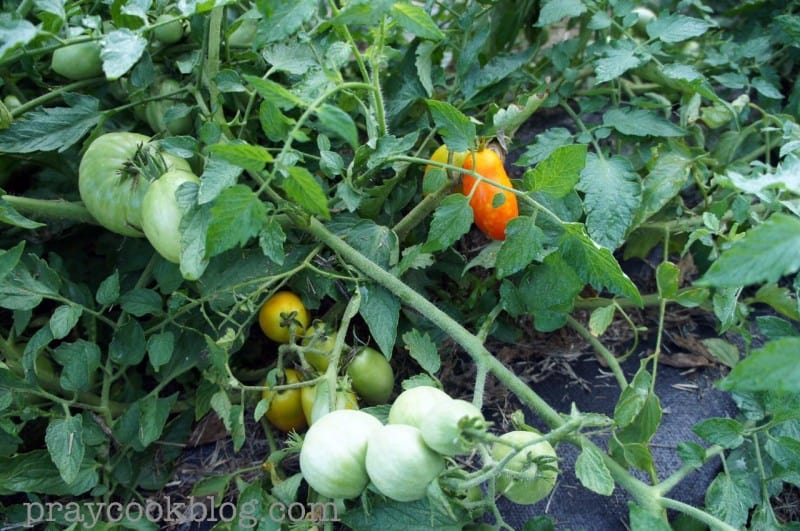 Finally I stop by the blueberry bushes. Oh my gosh they were just brilliant with little blue jewels hanging from the branches just waiting for me. I hurried to the garden shed, picked up a little plastic basket and returned to the bushes.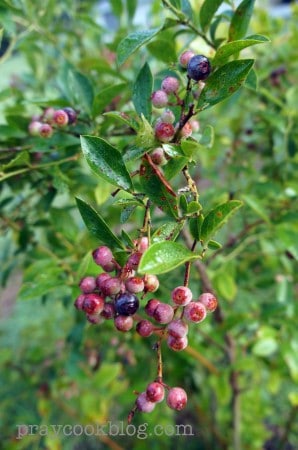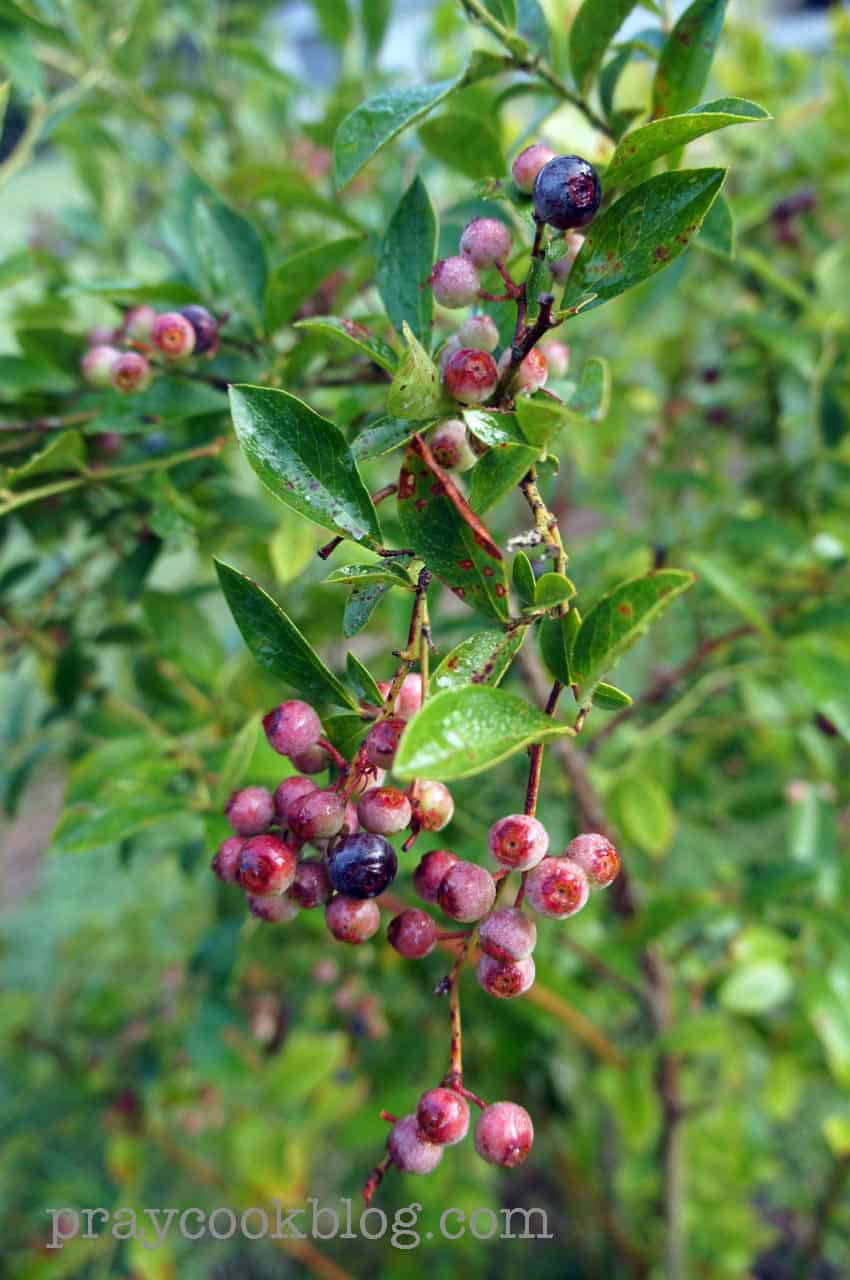 Picking blueberries is a specialty. If you pick too early the blueberry is still reddish-pink and quite sour. If you pick too late the birds will have had their share first! When a blueberry is ripe and ready for picking it will easily fall off the stem with a gentle touch.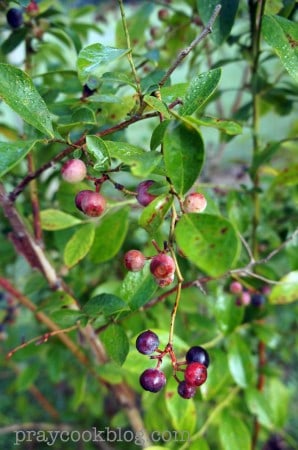 As I began to lovingly roll the darkest blueberries through my fingertips I was thinking about how God does the very same thing with me. Each day I have the opportunity to give him my very best. But timing is everything. If I run ahead of His plans and try to do things on my own, they can often times turn sour and aren't fit for anything.
"Anyone who runs ahead and does not continue in the teaching of Christ does not have God; whoever continues in the teaching has both the Father and the Son."  2 John 1:9

Occasionally when I run my hands across a blueberry I fumble and the juicy, plump little ball will fall to the grass. Have you ever tried to find just one blueberry in moist, heavy grass? It isn't easy. And yet, it is worth it because that one blueberry added to another and then another will soon provide enough to make a delicious blueberry cobbler!
"What man of you, having a hundred sheep, if he has lost one of them, does not leave the ninety-nine in the open country, and go after the one that is lost, until he finds it? And when he has found it, he lays it on his shoulders, rejoicing. And when he comes home, he calls together his friends and his neighbors, saying to them, 'Rejoice with me, for I have found my sheep that was lost.' Just so, I tell you, there will be more joy in heaven over one sinner who repents than over ninety-nine righteous persons who need no repentance."
Luke 15:4-7

This morning I was reading Psalms 23. The practical part of this Psalm speaks to the Hebrews who were a nomadic people who wandered from place to place seeking pasture for their herds of goats, cattle, and sheep. A shepherd's job was simply to protect his sheep. But it was and is, even today, no simple task. Often times the shepherd would need to leave the herd to rescue one straying ewe. No wonder God chose this image in presenting Jesus as the Good Shepherd, protecting each and every one of us, his sheep.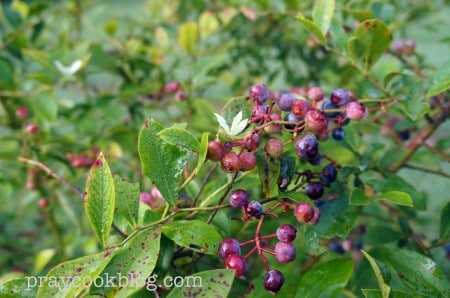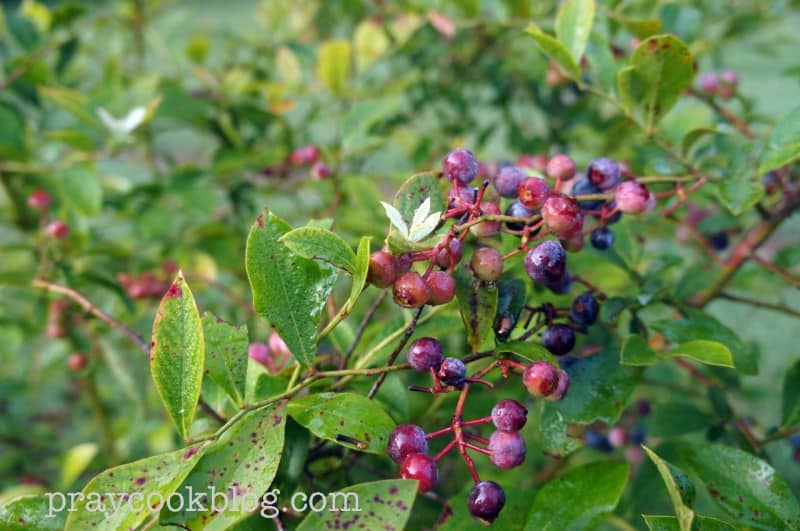 As I picked through the grass to recover that one fallen blueberry I am so thankful for the reminder of how often the Lord rescues me, over and over again.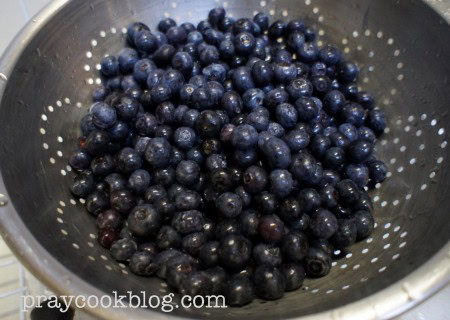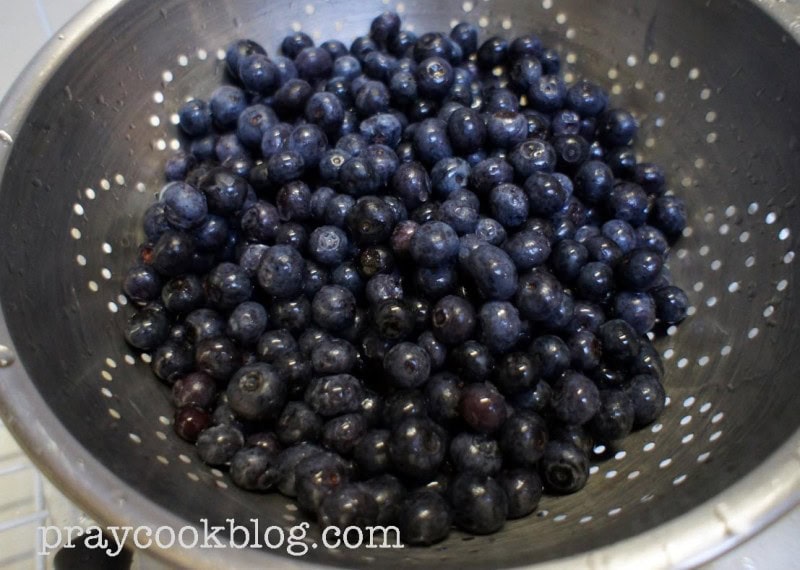 Today, I pray you will take a moment and join me as I thank God for his constant care – for bringing me back when I wander. For providing nourishment for my body and my soul. For lovingly singling me out and picking me when the time is ripe to do his will. Let's thank him for wanting a personal relationship with each and every one of us! For treating each of us with special attention, protecting us and giving us peace.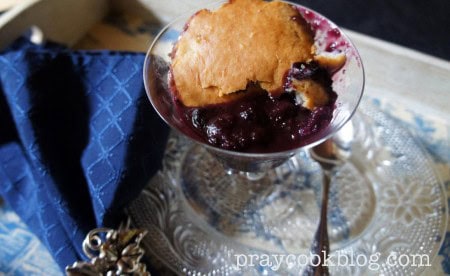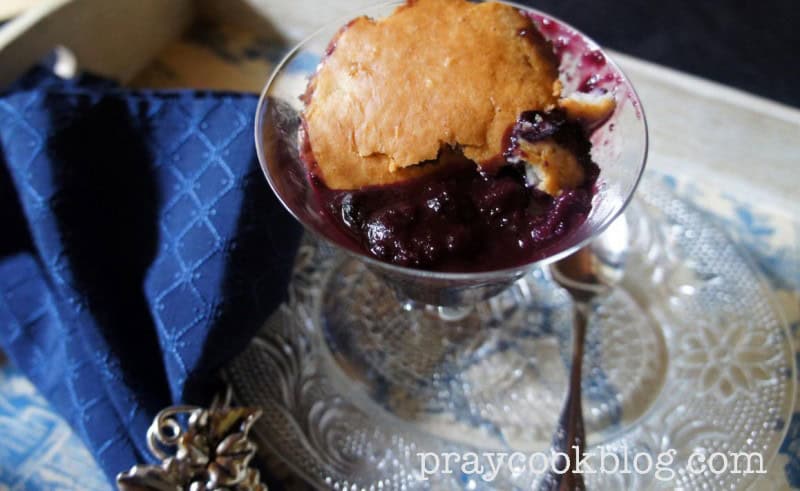 It is a beautiful morning walking in the garden and feeling the full presence of the Lord. Whether you get your blueberries off the bush or off the shelf at the grocery store, here is a Blueberry Cobbler recipe that will simply bless your socks off! It comes from allrecipes.com and is simply named Best Ever Blueberry Cobbler.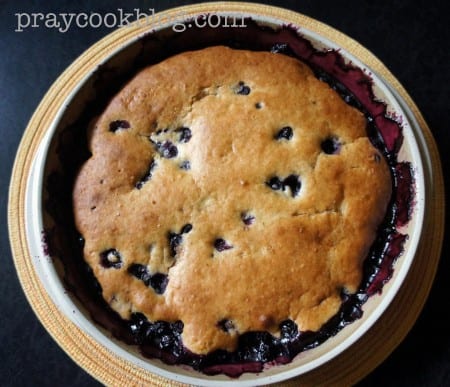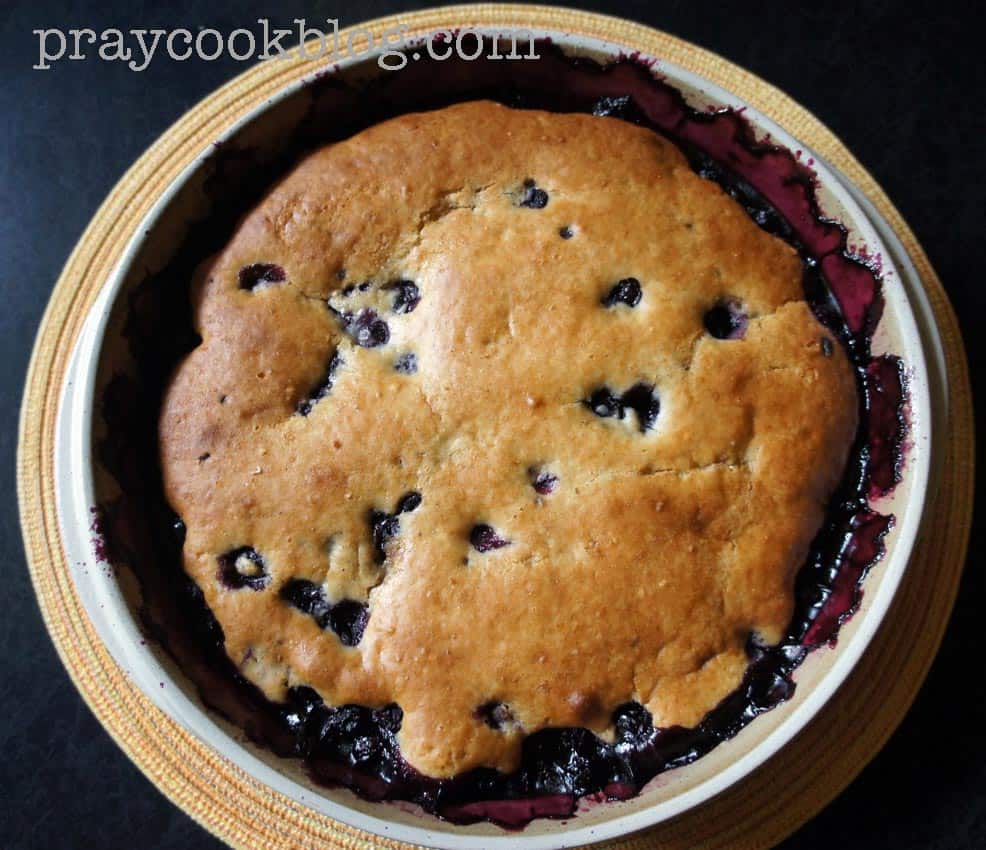 Happy gardening, cooking, and enjoying the fruits of your labor.
Catherine
Best Ever Blueberry Cobbler
This easy cobbler recipe makes a buttery, fluffy topping which is just the right contrast to the slightly sweet fresh blueberries.
Ingredients
3 cups fresh blueberries
3 Tablespoons white sugar
⅓ cup orange juice
⅔ cup all-purpose flour
¼ teaspoon baking powder
Pinch of salt
½ cup unsalted butter, softened
½ cup white granulated sugar
1 egg
½ teaspoon vanilla
Instructions
Preheat oven to 375 degrees F. (190 degrees C.)
In an 8 inch baking dish, spray with oil. Mix blueberries, 3 Tablespoons sugar and orange juice. Spread out on bottom of baking dish.
In a small bowl, thoroughly mix flour, baking powder and salt. Set aside.
In a medium bowl, cream butter and ½ cup sugar until light and fluffy. Beat in egg and vanilla. Gradually add flour mixture, stirring just until ingredients are well mixed.
Drop batter by rounded tablespoons over the blueberry mixture. Try to cover as much of the filling as possible.
Bake in preheated oven for 35 to 40 minutes, until topping is golden brown and filling is bubbling.
Serve warm with ice cream, whipped cream, or all by itself!
Notes
This recipe can easily be doubled and baked in a 9" x 13" baking dish or a comparable round dish. Recipe adapted from Allrecipes.com

* If you don't have orange juice on hand I have made it without. I have also made it with 4 Tablespoons lemon juice instead.