"However, I consider my life worth nothing to me; my only aim is to finish the race and complete the task the Lord Jesus has given me—the task of testifying to the good news of God's grace." Acts 20:24 NIV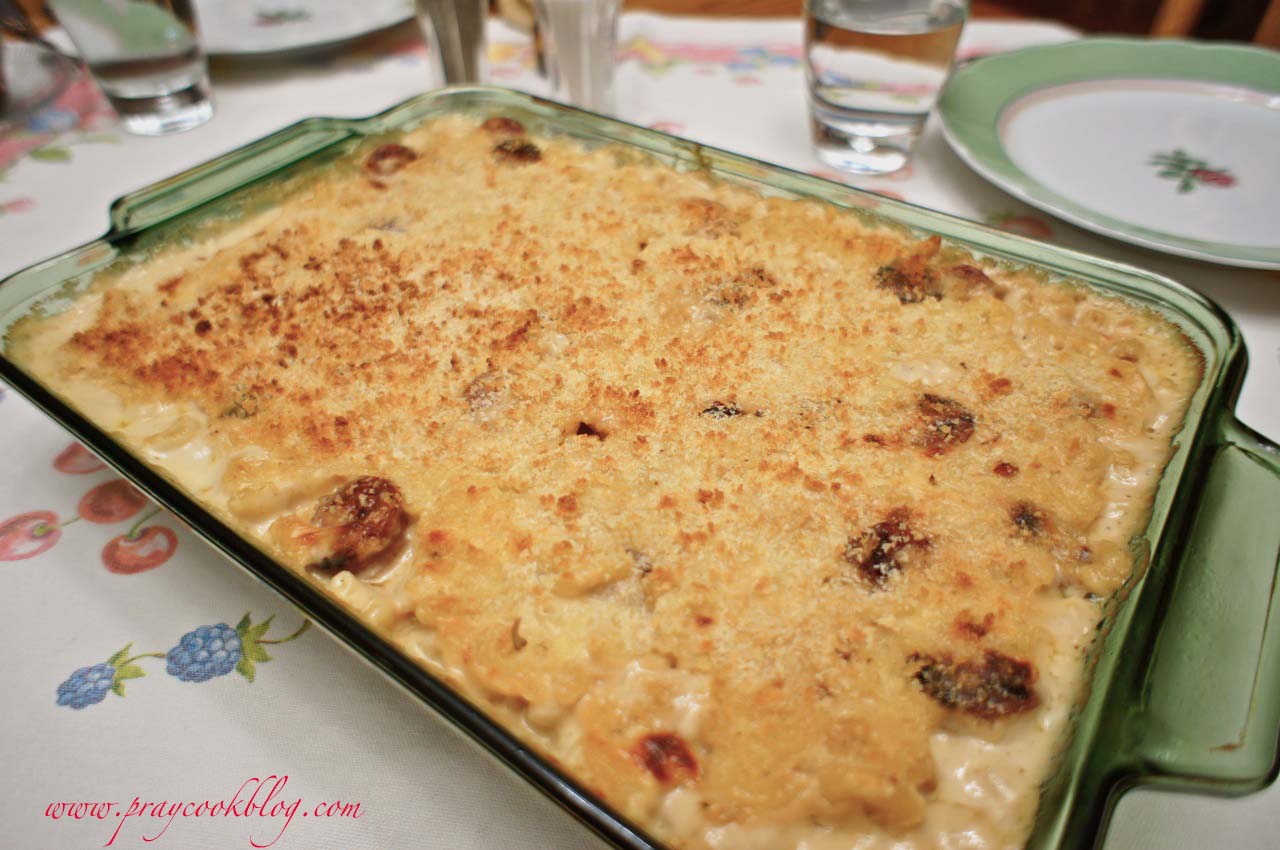 Macaroni and cheese seems to be near the top of the list for ultimate comfort food! Whether you are browsing through a favorite cookbook or surfing the internet you will find as many different variations of mac 'n cheese as stars in the sky! I tend to use one basic recipe and then change-up the cheese or sometimes add some meat.  In the recipe I posted last fall, Mac n' Cheese, instead of using cheddar cheese I used three different cheeses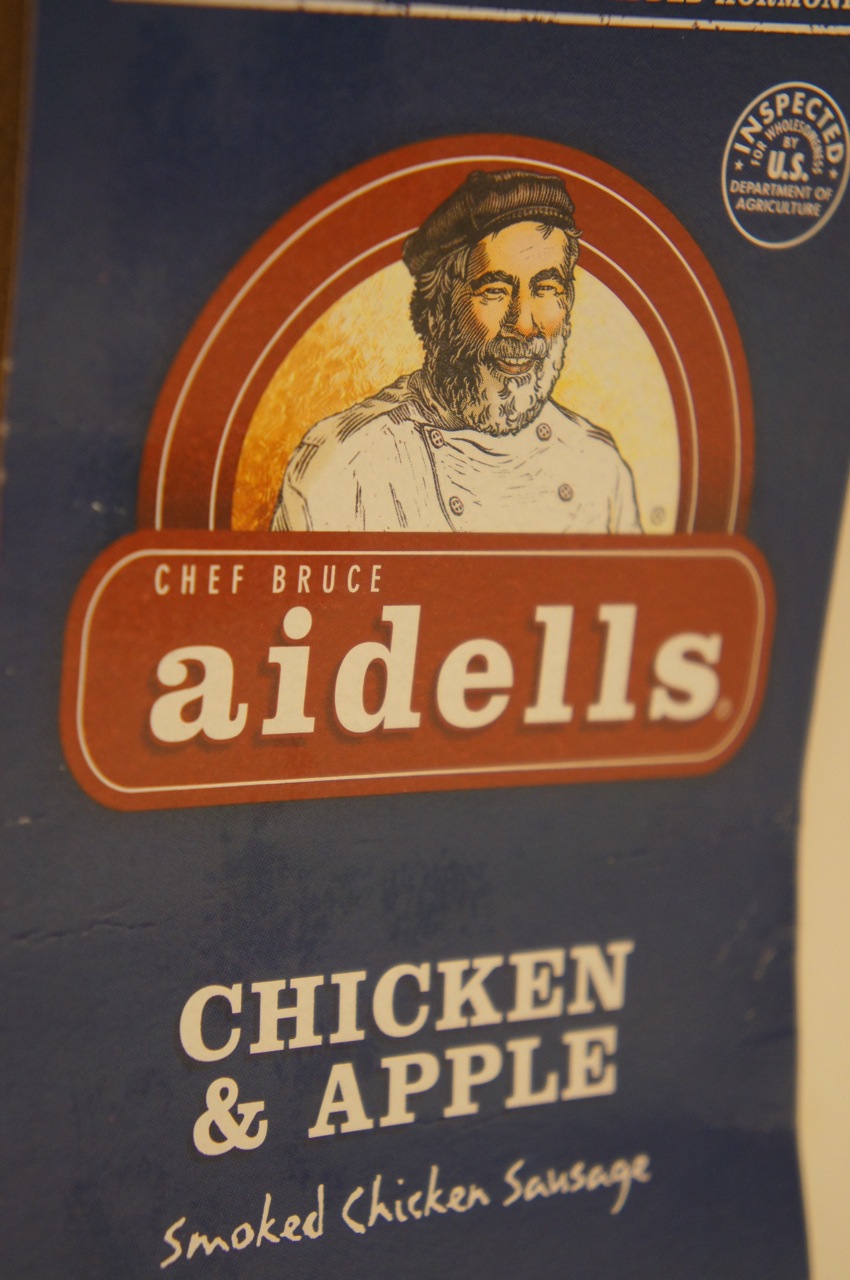 joined to make an outstanding flavor.
In today's recipe I wanted to make a one-dish meal so I started with one of my very favorite healthy  foods, aidells Chicken & Apple Sausage. First of all, it has chicken instead of pork (healthier) and when they threw in the apples, in my mind, that has to put the healthy meter over the top, right?
I started out by a quick saute' of the thinly sliced sausage.  I put a bit of a crunchy browning (looks burned, but it's not) which will add awesome flavor to the macaroni and cheese.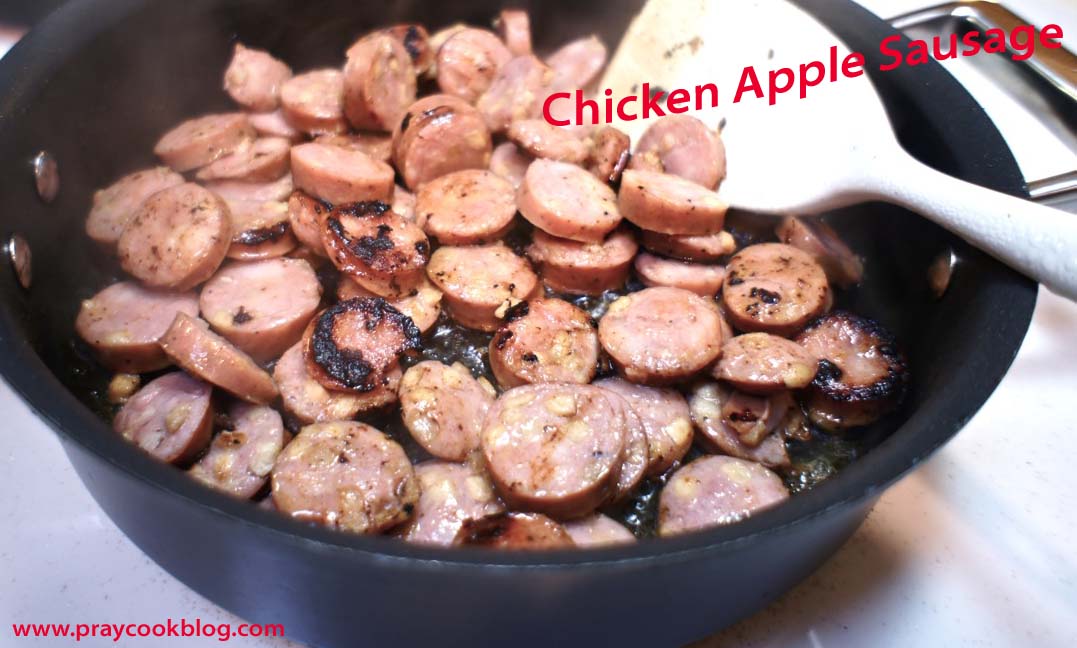 While those were cooking I cooked up some elbow macaroni. I cooked them just to under done.  They will finish cooking in the oven and this keeps them from going mushy. A quick mix all together.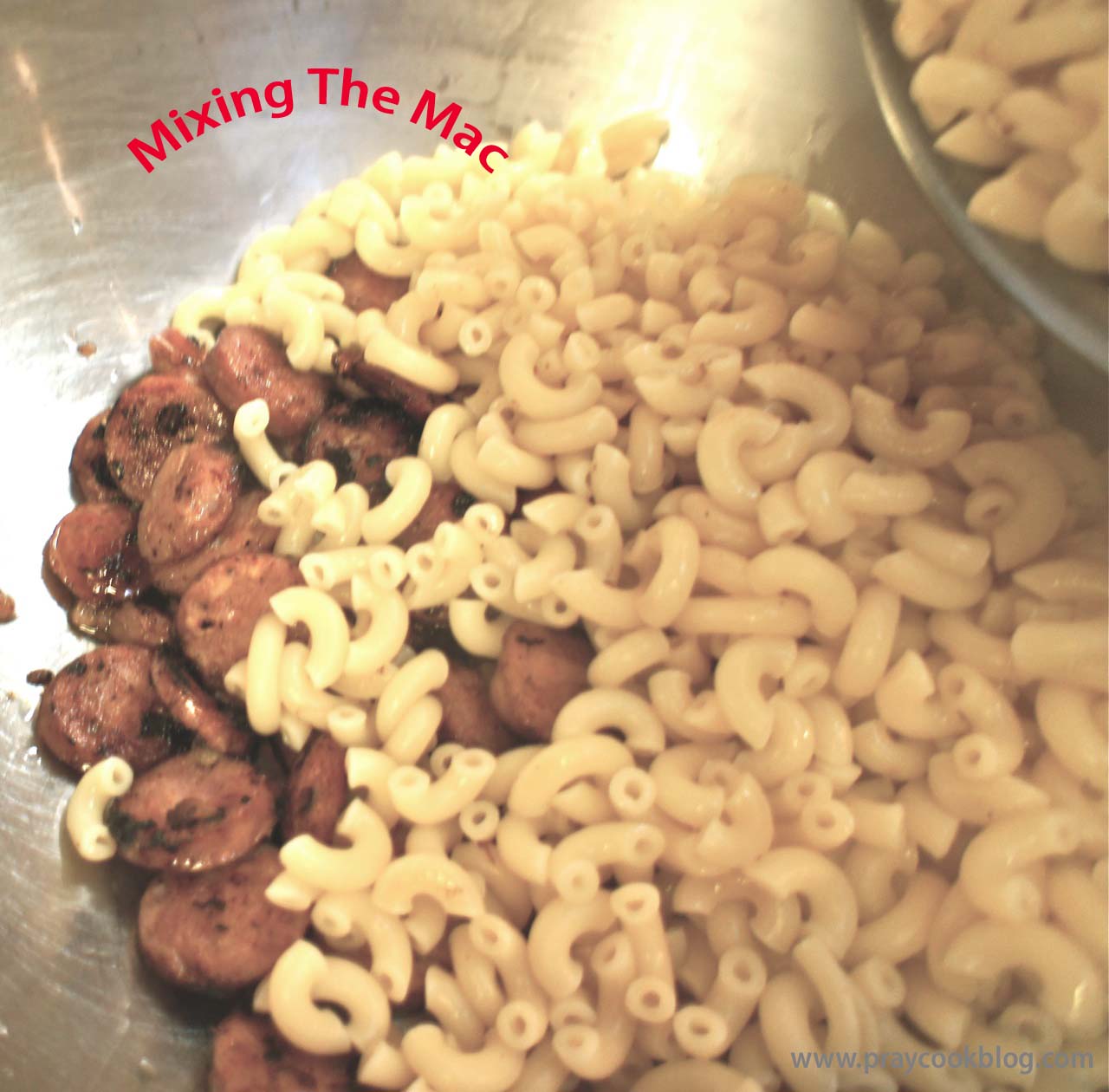 In the meantime I made the cheesy white sauce.  Yum. This particular time I used 4 cups, which is 16 ounces of shredded cheddar cheese.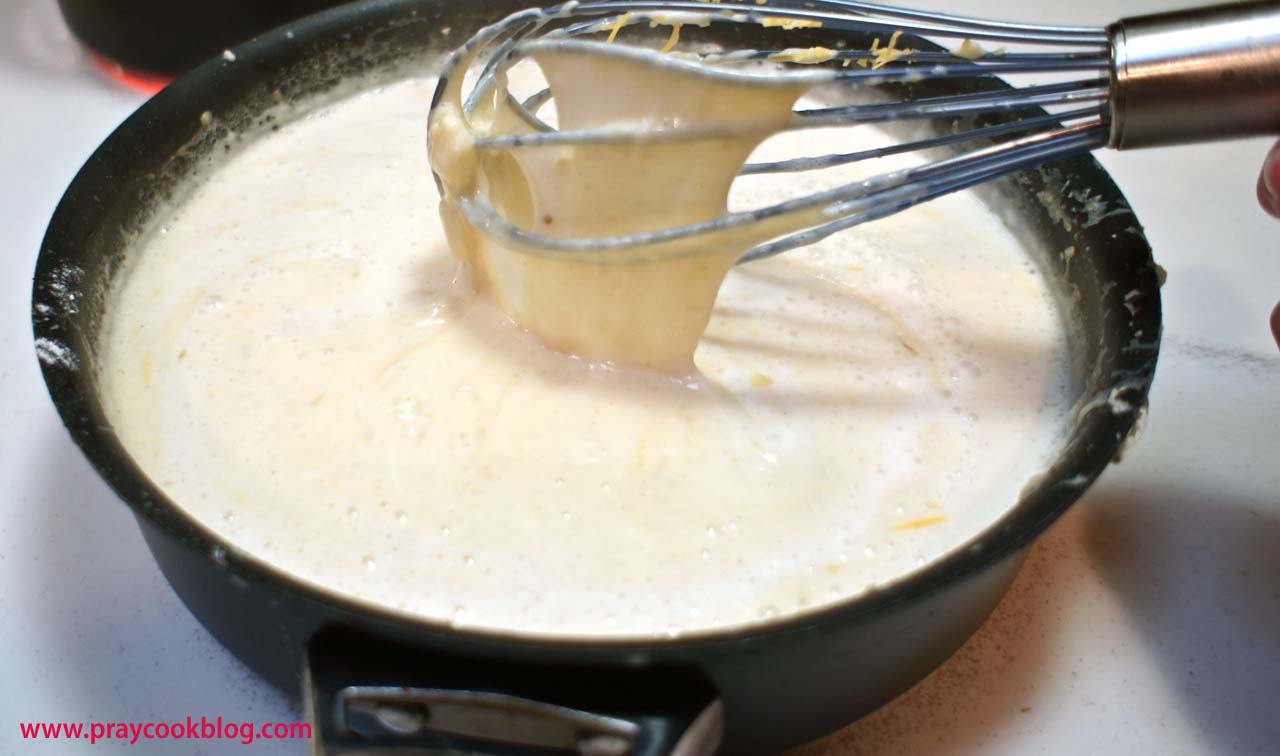 Everything gets mixed together, topped with some crushed Ritz crackers (or whatever you have on hand) and into the oven for 30 minutes.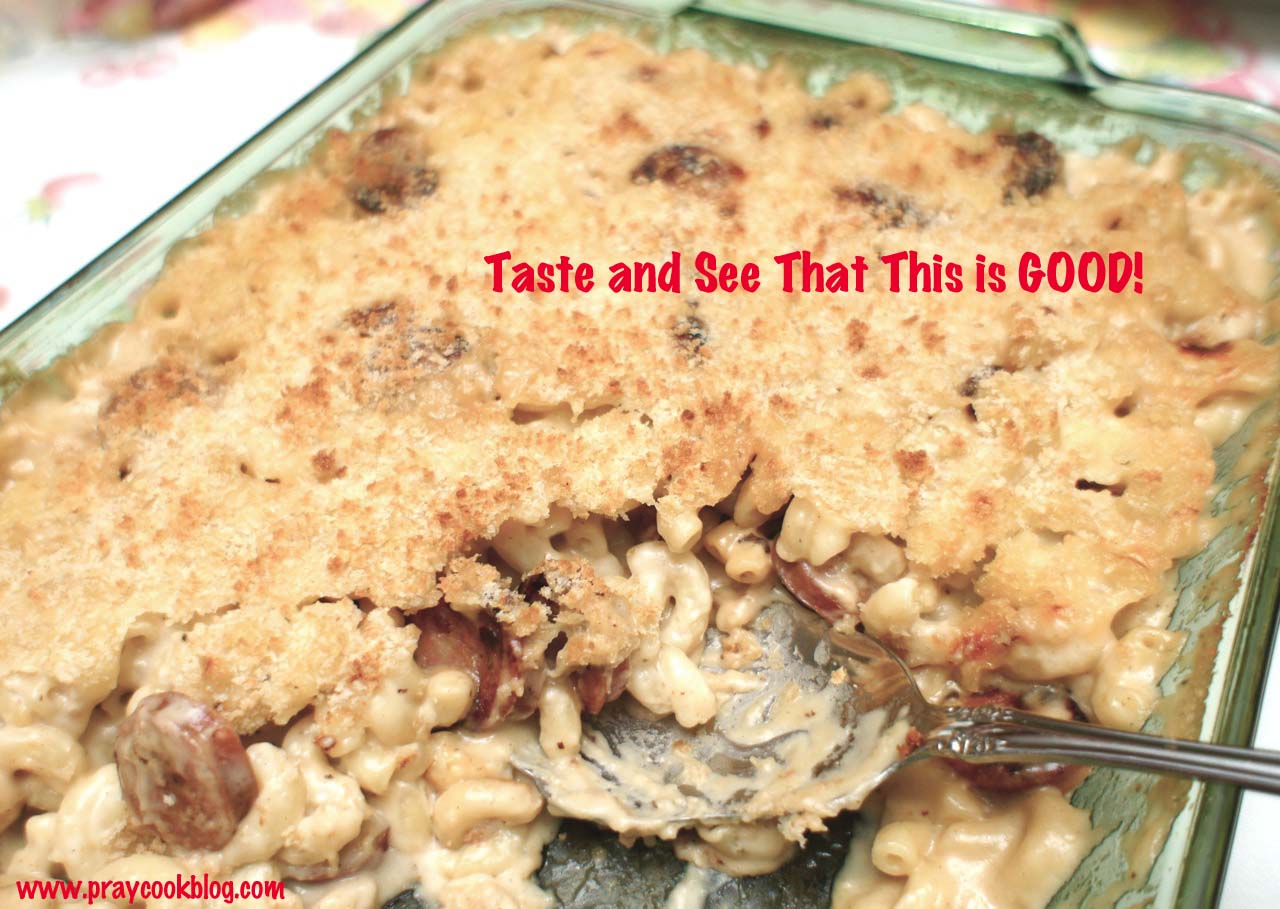 You will find the full recipe at the bottom of this post.  In the meantime, please don't forget to stop by my new Facebook Fan Page and click the "like" button! www.facebook.com/praycookblog .  You don't have to have a Facebook account to view fan pages!
Also, if you are walking through the Bible this year with me, here are the links to this week's reading.  We are at week 18 and going strong!
Walk Through The Bible In One Year
Week 18 reading plan 1 Chronicles 27 – 2 Chronicles 29
Click on the colored link to read each day's scripture.
Monday 1 Chronicles 27-29 , Tues 2 Chronicles 1-5,
Wed 2 Chronicles 6-9, Thursday 2 Chronicles 10-15,
Friday 2 Chronicles 16-20,
Saturday 2 Chronicles 21-25,
Sunday 2 Chronicles 26-29
Blessings as you read!
Macaroni, Chicken Apple Sausage & Cheese
Make a family-pleasing one-dish meal by adding a healthy chicken apple sausage to this ultimate comfort food.
Ingredients
16 oz Elbow pasta
½ cup Unsalted butter
½ cup All-purpose Flour
1 teaspoon Onion Powder
1 teaspoon Garlic, minced
Salt and Pepper To Taste
5 cup Milk, whole or 2%
4 cup Grated Sharp Cheddar Cheese
Topping
15 Ritz Crackers, crushed
5 aidells Chicken Apple Sausage, sliced thin
Butter to Saute' Sausage
Instructions
Preheat the oven to 350 degrees F.

Thinly slice chicken sausage and saute' in small amount of butter.


Cook the pasta according to the package directions for al dente. Drain and set aside.

In a large saucepan over medium heat, melt the butter. Whisk in the flour, then add the onion powder, garlic, salt and pepper. Gradually whisk in the milk. Cook, stirring constantly, until the sauce thickens and the mixture begins to bubble slightly. Add the cheese and stir until the cheese melts.

Add the cooked pasta and nicely browned sausage. Pour the mixture into a slightly greased 9x13-inch baking dish. Mix together the crushed Ritz crackers and the melted butter until add the crumbs are moistened, then sprinkle over the top of the pasta mixture. (Pulsing on and off in a food processor will crush your crackers nicely and then it is easy to add the butter too!)

Bake for 30 minutes, until golden and bubbly. Let stand 10 minutes and serve,
Notes
aidells sausage is low in fat as well as loaded with flavor.

Saltine crackers can be substituted for the Ritz crackers.

Pepperjack, Monterey Jack, Mexican Mix or any of your favorite cheeses can be substituted for some of the cheddar cheese.