Walking Through the Bible in One Year —
Bringing the Story to Life
This weeks reading plan per day:
Monday (Gen. 25-26)   Tuesday (Gen. 27-29)
Wednesday (Gen. 30-31)   Thursday (Gen. 32-34)
Friday (Gen. 35-37)  Saturday (Gen. 38-40)
Sunday (Gen. 41-42)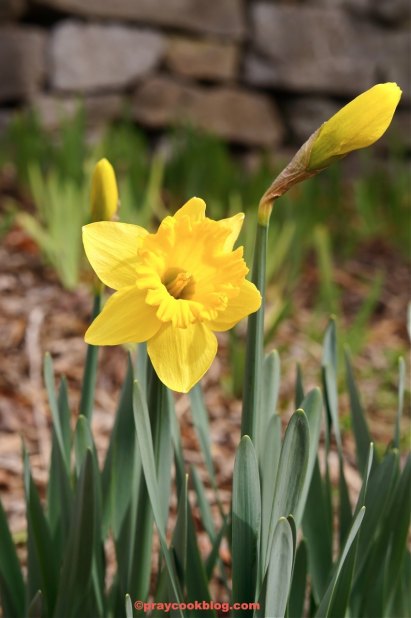 This little beauty bloomed in my flower bed on Friday!  February 3, 2012 and the weather has been so mild that the daffodil believes it is time to bloom.  Oh my, I fear their little buds are going to be in for a shock as just the day before Punxsutawney Phil says "6 more weeks of winter!"  But as for me and my yard, we are celebrating … at least for today 🙂
Last week I stopped by my neighbors to take a dish of lasagne because my friend Gaye was going to have surgery the next day.  And while I was there Gaye opened up a big plastic bowl to reveal some incredi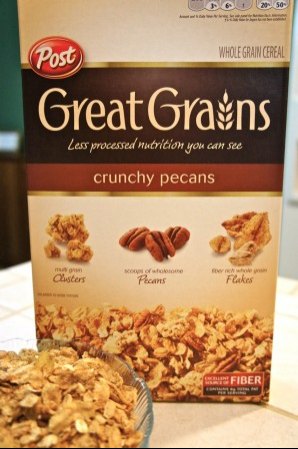 bly good- looking muffins.  She said, "here try these", while she hands me a little mini-muffin from the container.  It was gone in two bites, but the great taste lingered and I said "I have GOT to make those!"  Where is the recipe?  That is when she told me they were actually very healthy, an excellent source of fiber, and made with whole grains, whole wheat flower,  and Great Grains Crunchy Pecan cereal!

The next thing I knew she was in her pantry retrieving a box of this cereal.  Seems there had been a sale and she had stocked up!  I have never gone to her home without leaving with more than I brought.  You just can't out-give a giver!  What a blessing she is to me and many others!
I don't usually make muffins.  At least, not too often.  They usually contain too much fat for what you get in return.  However, I will be making these again.  The banana gives a rich taste to the muffins while the crunchy cereal gives the … CRUNCH!  Both my culinary consultants gave these rave reviews.  My hubby said, "I like anything that has a crunch to it!"  I am quite sure your family will too!  Mix up a batch today!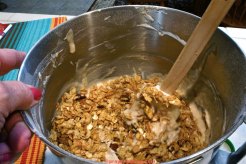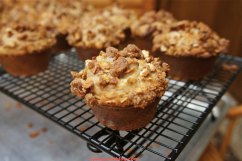 I am soooo excited about my blog post for tomorrow!!!  If you haven't ever heard about a group of bakers called Tuesdays With Dorie,  I am going to introduce them to you.  In December 2011 this group of bakers completed a 4 year journey to bake and blog post every recipe in Dorie Greenspan's book, Baking From My Home To Yours.  On Tuesday, February 7  I will join them in a new challenge to bake and blog post every recipe in the book, Baking with Julia, also written by Dorie Greenspan.  As a group we will be baking and blogging twice a month together, separately.  (???)  I hope you will follow me on this journey — or better yet, sign up at Tuesdays With Dorie and come along for the ride!
"Find something you're passionate about and keep tremendously interested in it." ― Julia Child
Many Blessings and Happy Cooking!


Crunchy Pecan-Banana Coffee Cake Muffins

Crunchy pecans, multi-grain clusters, fiber rich whole grain flakes all stir up to make an out-of-this-world tasty and healthy muffin!

Ingredients

Streusel

⅓ cup All-purpose Flour
2 tablespoon Granulated Sugar
1 teaspoon Ground Cinnamon
⅛ teaspoon Salt
2 tablespoon Canola Oil
1 tablespoon Pure Maple Syrup
¾ cup Post Great Grains Crunchy Pecan Cereal

Batter

1¼ cup All-purpose Flour
1 teaspoon Baking Powder
½ teaspoon Baking Soda
¾ teaspoon Ground Nutmeg
2 Ripe Bananas, peeled
1 cup Lowfat Yogurt
⅓ cup Canola Oil
1 large Egg White
1¼ cup Post Great Grains Crunchy Pecan cereal

Instructions

Preheat oven to 375 degrees F. Line 12 standard muffin cups with paper liners or spray with canola oil.
Streusel: Toss the flour, sugar, cinnamon, and salt in a medium bowl to blend. Stir in the oil and maple syrup. Stir in the cereal. Set the streusel aside.
Batter: Whisk the flour, sugar, baking powder, baking soda, salt, cinnamon, and nutmeg in a medium bowl to blend. Using a fork, coarsely mash the bananas. Add the bananas, yogurt, oil and egg white stiring into the dry ingredients, just until it is mixed.
Stir in the cereal. The batter will be thick.
Spoon the batter into the prepared cups. Sprinkle the streusel over, gently pressing it into the top of the batter.
Bake until a tester inserted into the center of the muffins comes out clean, about 25 minutes.
Cool 5 minutes in a pan on a cooling rack.
Remove the muffins from the pan and cool completely on the rack.

Notes

Recipe will make 36 mini-muffins.  Bake only 18-20 minutes until a tester comes out clean.