Last week I stopped by my neighbors to take a dish of lasagne because my friend Gaye was going to have surgery the next day. And while I was there Gaye opened up a big plastic bowl to reveal some incredibly good- looking muffins. She said, "here try these", while she hands me a little mini-muffin from the container.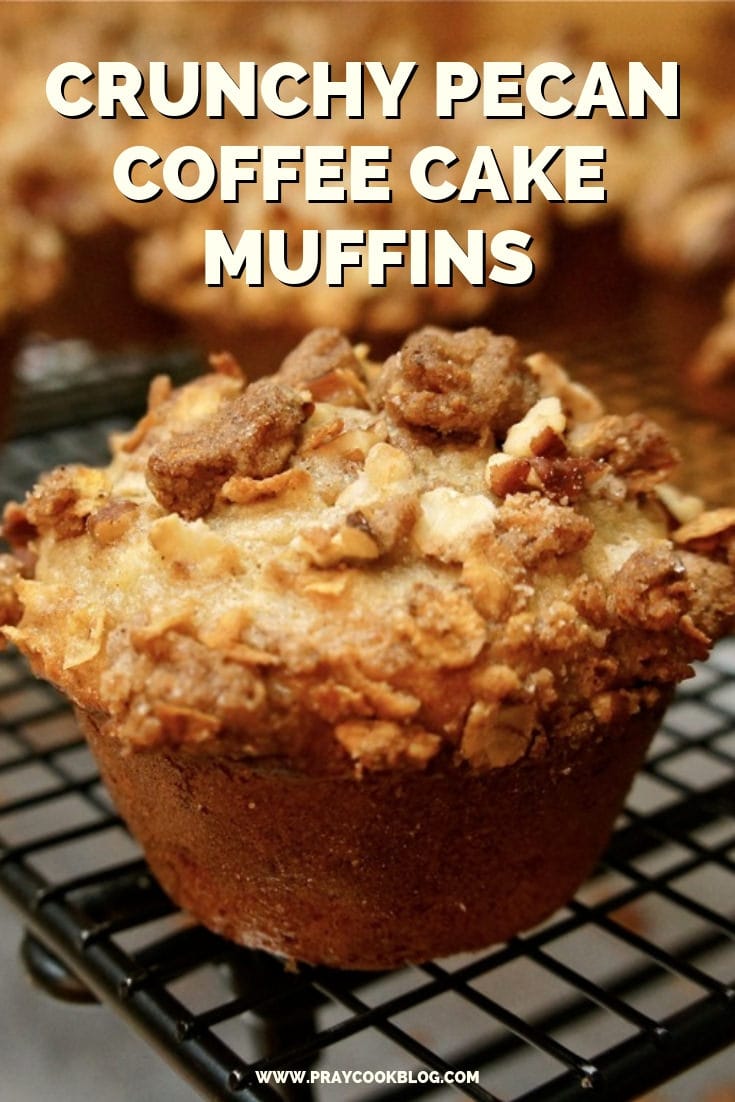 It was gone in two bites, but the great taste lingered and I said "I have GOT to make those!" Where is the recipe? That is when she told me they were actually very healthy, an excellent source of fiber, and made with whole grains, whole wheat flower, and Great Grains Crunchy Pecan cereal!
The next thing I knew she was in her pantry retrieving a box of this cereal. Seems there had been a sale and she had stocked up!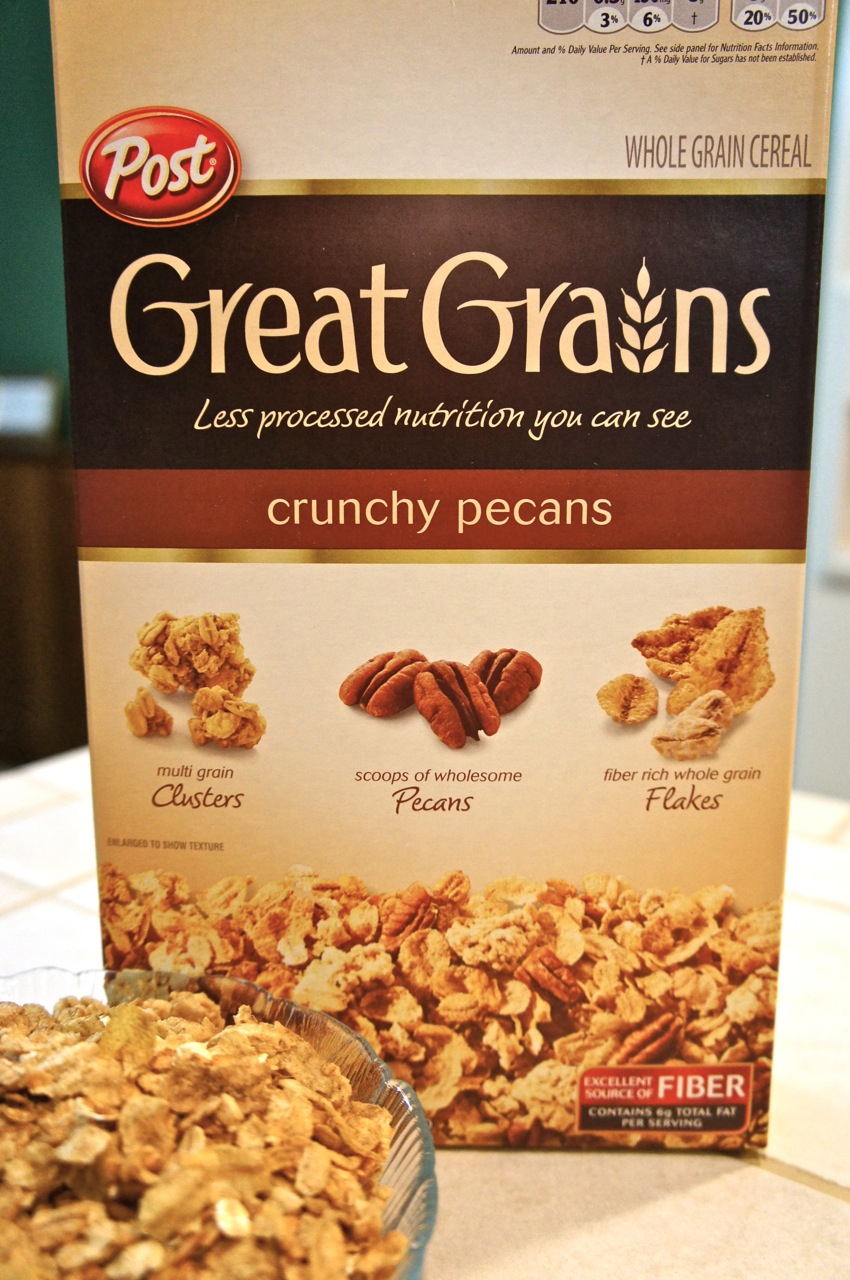 I have never gone to her home without leaving with more than I brought. You just can't out-give a giver! What a blessing she is to me and many others!
I don't usually make muffins. At least, not too often. They usually contain too much fat for what you get in return.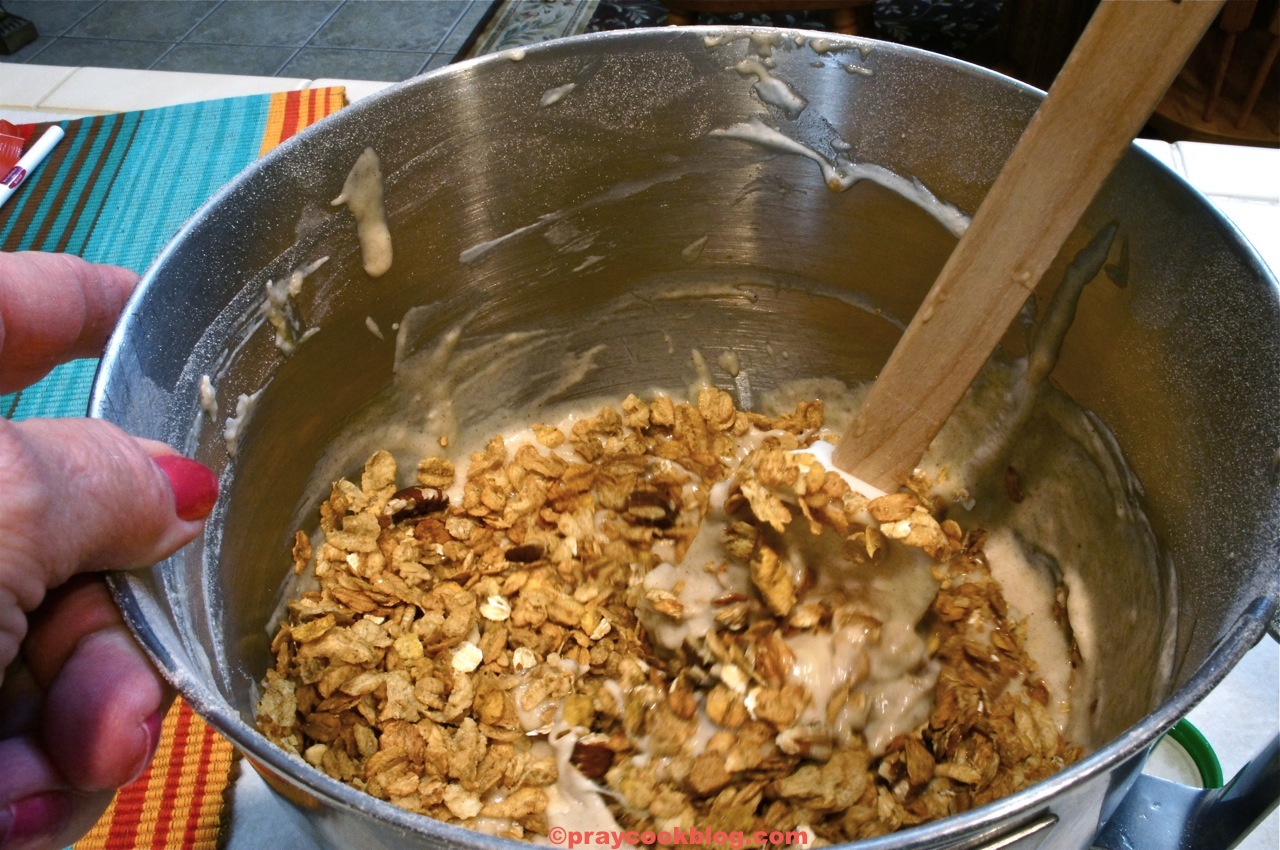 However, I will be making these again. The banana gives a rich taste to the muffins while the crunchy cereal gives the… CRUNCH! Both my culinary consultants gave these rave reviews. My hubby said, "I like anything that has a crunch to it!" I am quite sure your family will too! Mix up a batch today!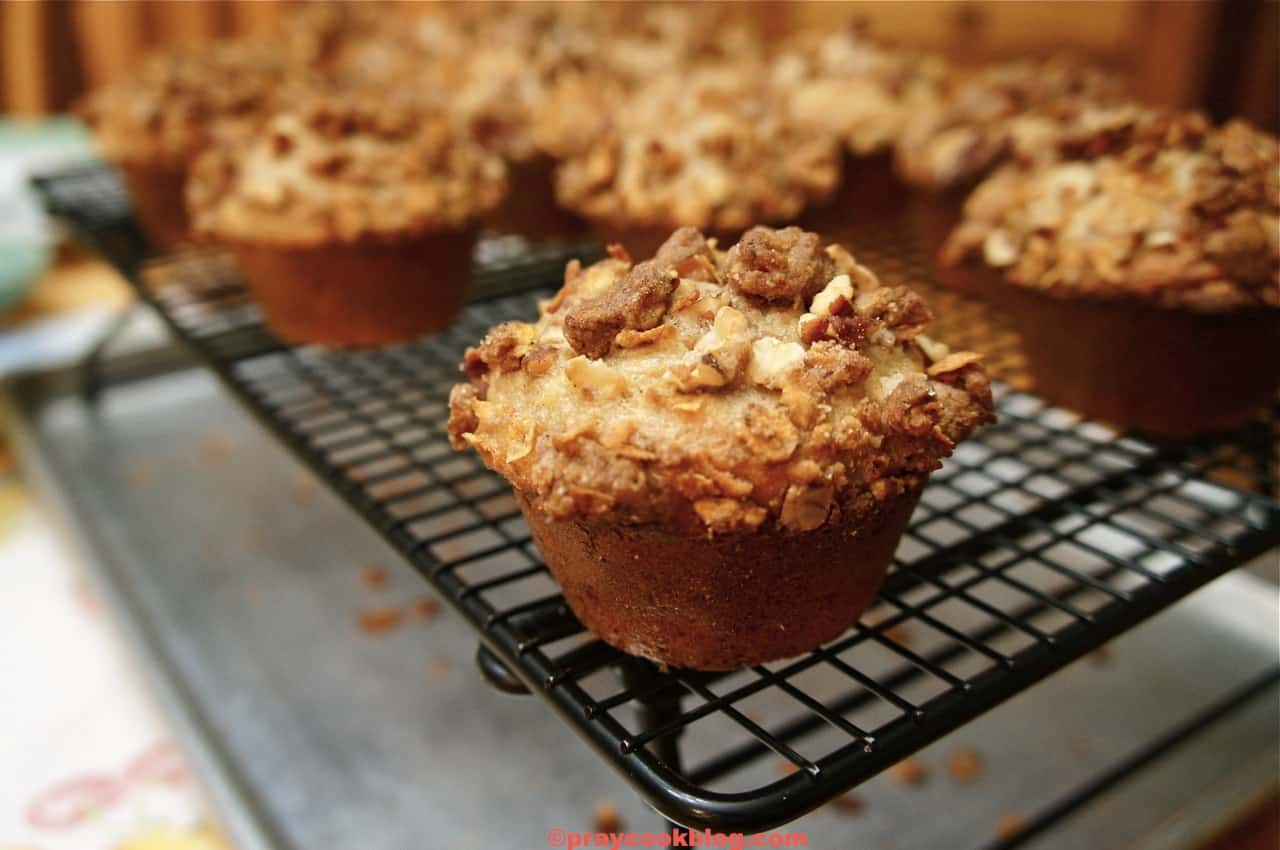 This recipe comes from the folks who make Great Grains cereal. From their website, I learned a bit about supporting a healthy metabolism.
For instance, did you know that eating breakfast to "break-fast" can increase your metabolism by as much as 10%? The process of metabolism establishes the rate at which we burn our calories, and ultimately, how quickly we gain weight or how easily we lose it.
These muffins are very filling and will stick with you through the morning! They are dense and packed with quite a bit of flavor. I think raisins or dates could easily be added.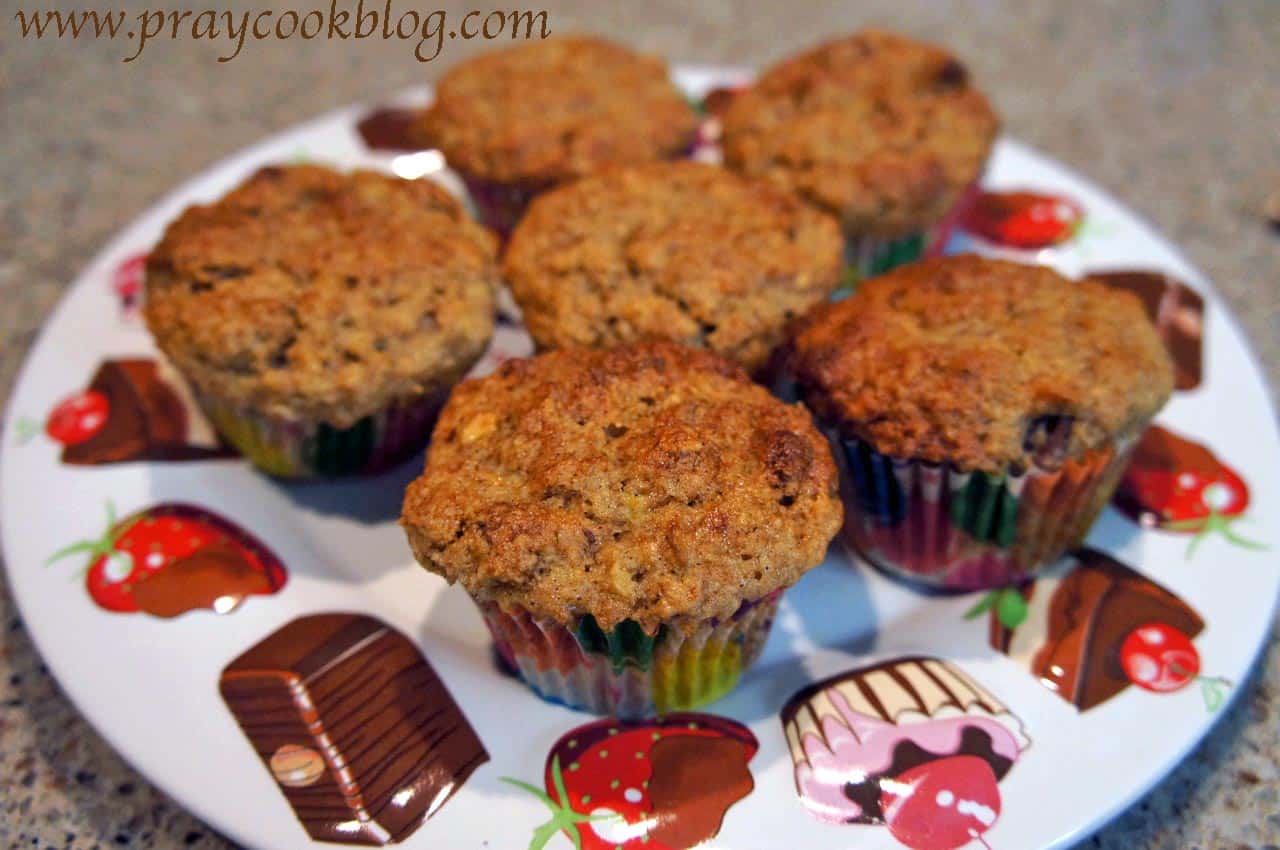 They can be made ahead of time and stored in the freezer, taking one out at a time, or just stored in an airtight container during the week so you have one ready to go as you leave for work.
A muffin is a good mid-morning snack and these are better for you than what you will find in the snack machine or from the bakery counter! They are also fun to share!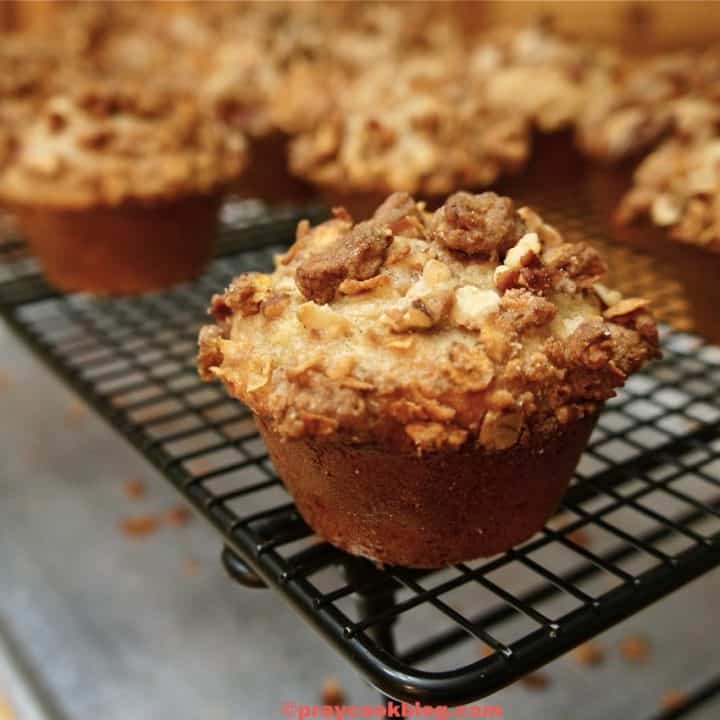 Crunchy Pecan-Banana Coffee Cake Muffins
Using Great Grains Crunchy Pecan cereal gives these healthy muffins a quick head-start when baking from scratch.
Ingredients
Streusel:
1/3 cup unbleached all-purpose flour
2 tablespoons sugar
1 1/2 teaspoons ground cinnamon
1/8 teaspoon salt
2 tablespoons canola oil
1 tablespoon pure maple syrup
3/4 cup Great Grains Crunchy Pecan cereal
Batter:
1 1/4 cups unbleached all purpose flour
1/2 cup sugar
1 teaspoon baking powder
1/2 teaspoon baking soda
1/2 teaspoon salt
1 teaspoon ground cinnamon
3/4 teaspoon ground nutmeg
2 ripe bananas (14 ounces total), peeled
1 cup plain lowfat yogurt
1/3 cup canola oil
1 large egg white
1 1/4 cups Great Grains Crunchy Pecan cereal
Instructions
For the streusel:
Preheat the oven to 375°F. Line 12 standard muffin cups with paper liners.
Toss the flour, sugar, cinnamon, and salt in a large bowl to blend.
Stir in the oil and maple syrup. Stir in the cereal. Set the streusel aside.
For the batter:
Whisk the flour, sugar, baking powder, baking soda, salt, cinnamon, and nutmeg in a medium bowl to blend.
Using a fork, coarsely mash the bananas in a large bowl.
Stir in the yogurt, oil, and egg white.
Add the dry ingredients to the yogurt mixture and stir just until blended. Stir in the cereal. The batter will be thick.
Spoon the batter into the prepared cups.
Sprinkle the streusel over, gently pressing it into the top of the batter.
Bake until a tester inserted into the center of the muffins comes out clean, about 25 minutes. Cool 5 minutes in the pan on a cooling rack. Remove the muffins from the pan and cool completely on the rack.
Notes
The muffins can be made 1 day ahead. Store airtight at room temperature.
Nutrition Information:
Yield:

12
Serving Size:

1
Amount Per Serving:
Calories:

260
Total Fat:

101g
Have you heard of a sharing plate?
Along with her last batch of Crunchy Pecan Coffee Cake Muffins came this fabulous plate. Gaye said she "just knew" I would be the perfect person to give it to, as she knew I would "pass it on."
She is right and I am so glad she picked me! Sharing with family, friends, and neighbors is part of what makes cooking and baking so meaningful to me. I hope you will find someone to share these muffins with!
Click here to pick up a sharing plate today!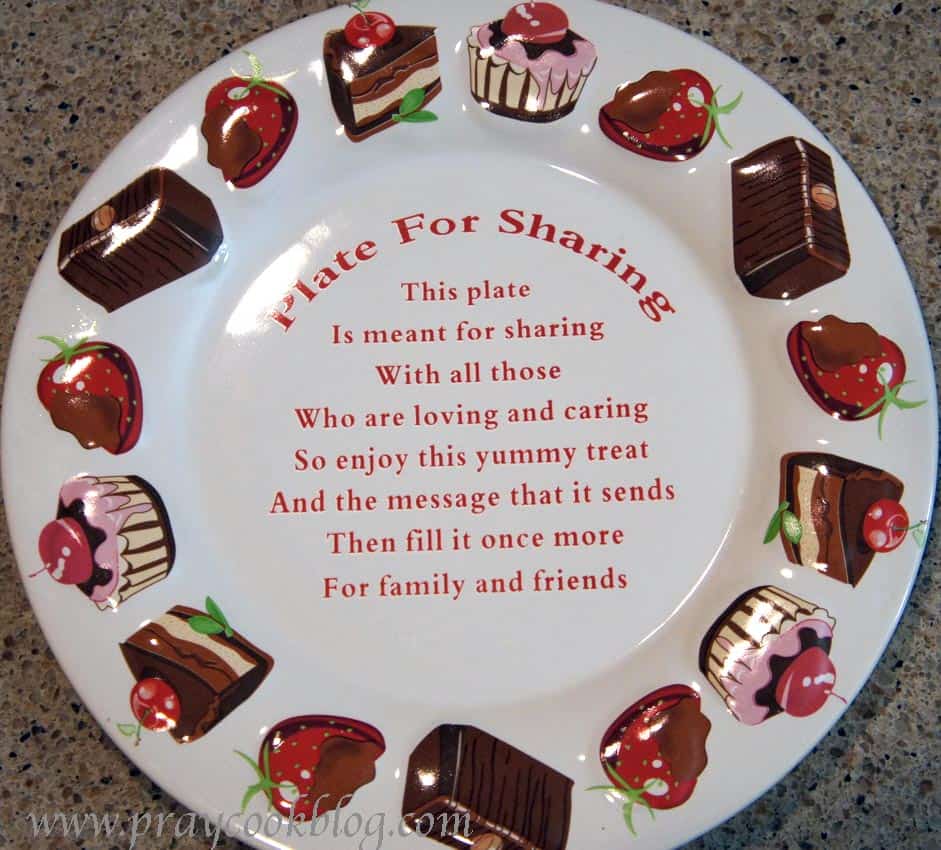 "Find something you're passionate about and keep tremendously interested in it." ― Julia Child