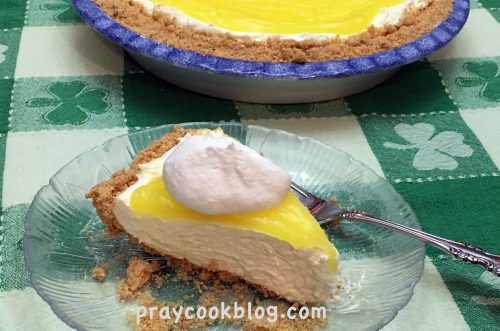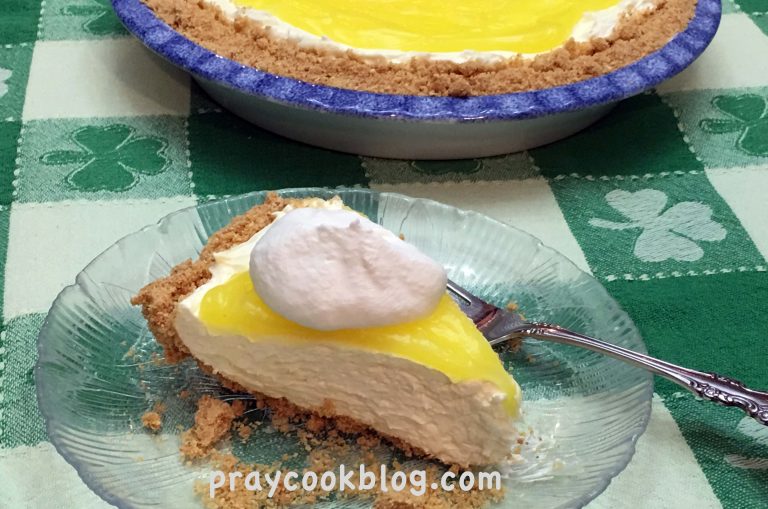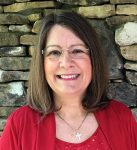 Sometimes I just make myself so mad!  I made this luscious, creamy, sweet and tart pie in March when our friends Maribeth and John came to dinner. (Note: St. Patrick's Day celebration tablecloth!)   But did I take time to share it with you?   😳  Uh, no.  Fast forward 2 months.  I can blame my sharing error on a fast and furious spring — but I'll bet you can say the same thing!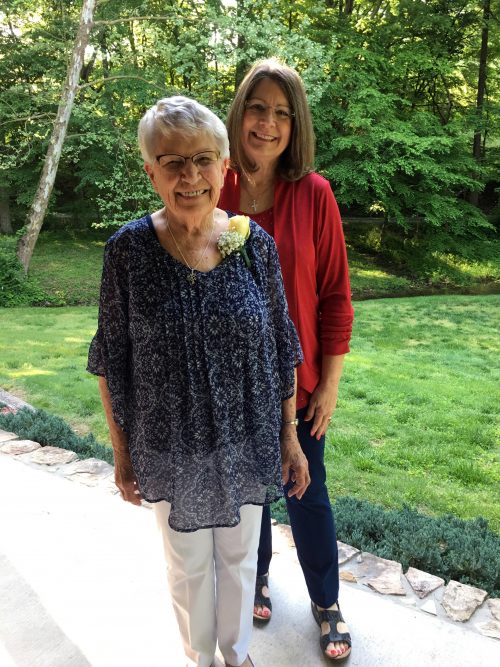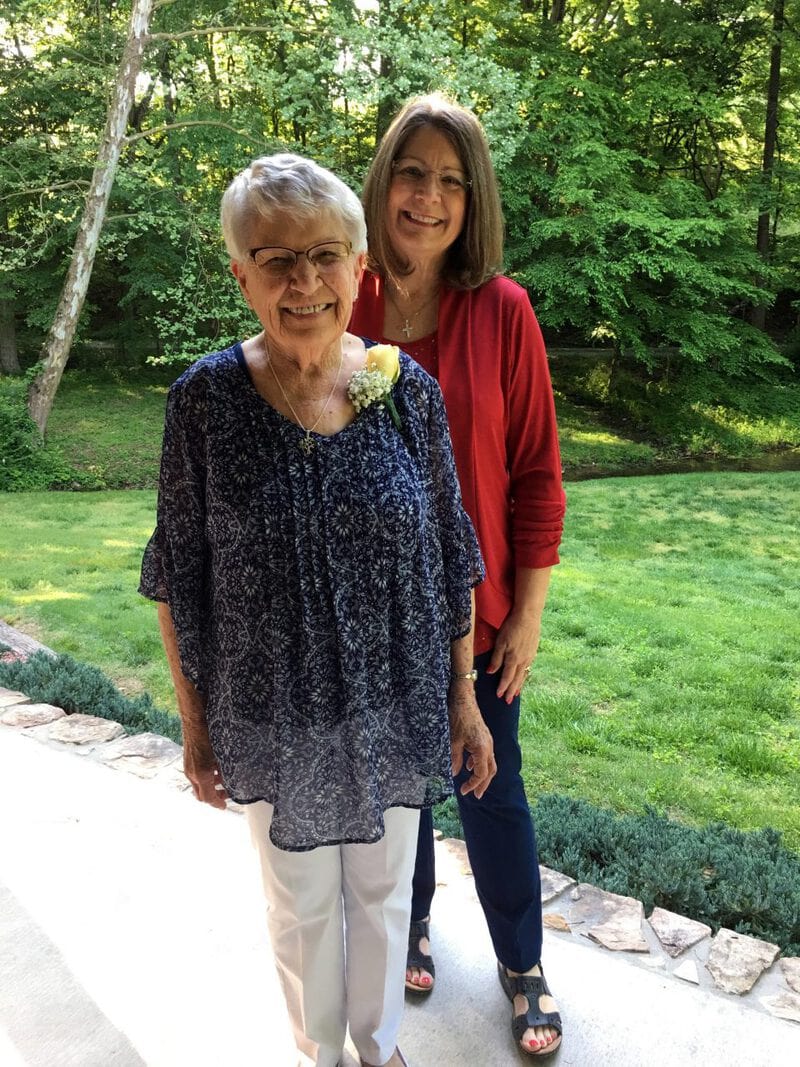 I am so blessed to have my 87-year-old mom living with us and still spending time in the kitchen with me! Today I was uploading this Mother's Day photo to my computer and I ran across the yellowy-lemon pie pictures.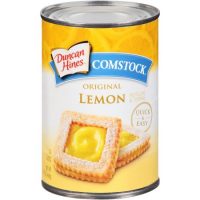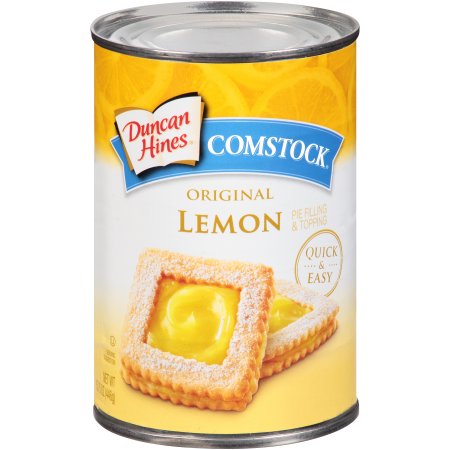 My first thought was, "I wish I had a piece of that pie right now."
I remember it being particularly easy to make using canned lemon pie filling!  That is when I clicked over to this very blog and searched for the recipe.  No recipe.  Huh. How can that be?
The next search was on my computer for the recipe.  Huh. No lemon pie recipe.  How can that be?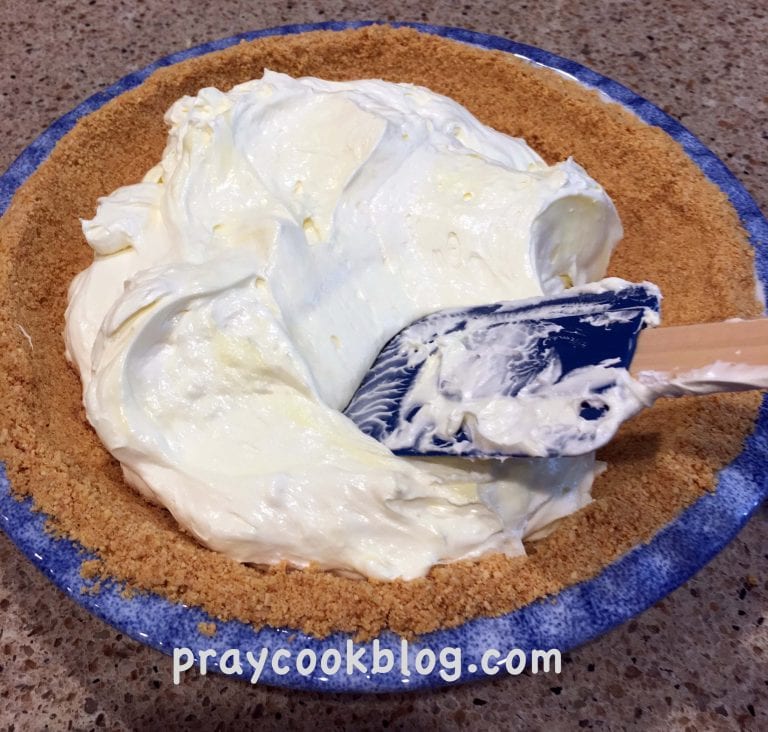 From there I went to my office and searched through a stack of food-stained recipes waiting to share with my blogging world.  I am a messy cook and almost always the paper the recipe is written on takes a splatter, spill, or gob of something during the creative process.
Layered Lemon Pie.  Nope, no recipe in the stack.  But I have the pictures!  Where is the recipe?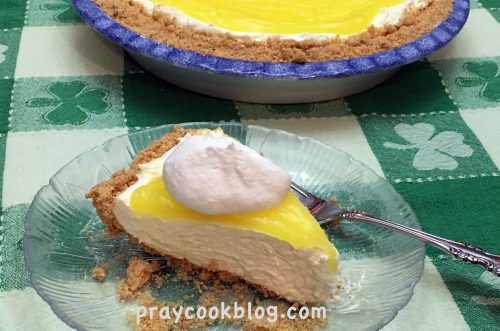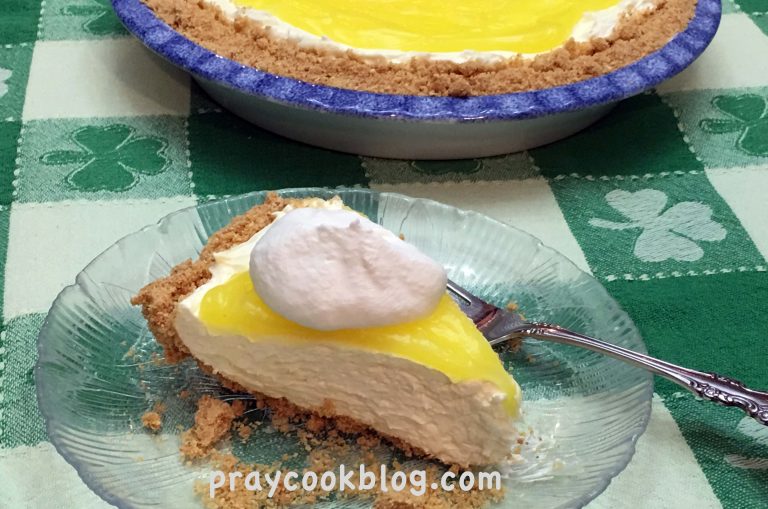 Think, Catherine, think.  Okay, that didn't work.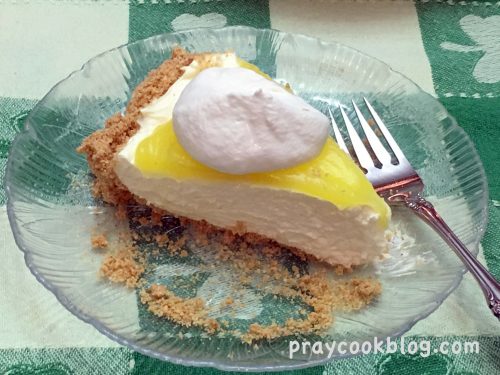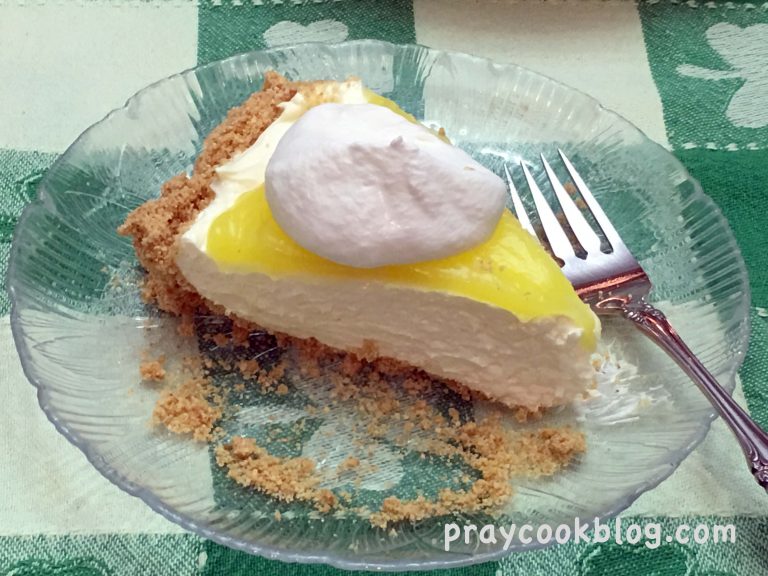 If you (or your family) love lemon then this is the recipe for you!  It is easy to make, doesn't use a ton of ingredients and it is guest-worthy!  It took a while for me to re-discover the recipe but alas  Taste of Home does it again.  The original recipe is from Elizabeth Yoder, Belcourt, North Dakota.  How cool it would be if she were a  reader of My Daily Bread Body and Soul!  I would say thank you for sharing such a light and tasty delight!
Lucky for us we can now easily find the recipe from here on.  Posted below!
Happy Baking and God Bless,
~Catherine

No Bake Layered Lemon Pie
A Taste of Home recipe by Elizabeth Yoder, Belcourt, North Dakota! This sweet and tart, light and tasty, fast and easy no-bake pie is packed with flavor and looks pretty too!
Author:
Adapted by Catherine Daugherty
Ingredients
1 package (8 ounces) cream cheese, softened
½ cup sugar
1 can (15-3/4 ounces) lemon pie filling, divided
1 carton (8 ounces) frozen whipped topping, thawed
1 graham cracker crust (9 inches)
Instructions
In a small bowl, beat cream cheese and sugar until smooth.
Beat in half of the pie filling. Fold in the whipped topping. Spoon into prepared graham cracker crust. Spread remaining pie filling over cream cheese layer.
Refrigerate for at least 1 hour or longer before serving.
Notes
* Store bought graham cracker crust works well or you can make a graham cracker crust, which is what I did.
1½ cups finely ground graham cracker crumbs
1/3 cup white sugar
6 tablespoons butter, melted
Directions
Mix graham cracker crumbs, sugar, and melted butter until well blended. Press mixture into an 8 or 9-inch pie plate.
Chill for about 1 hour.