Walk Through The Bible In One Year
Week 20 reading plan Nehemiah 8 through Job 13
Click on the colored link to read each day's scripture.
Monday Nehemiah 8 -10, Tues Nehemiah 11-13,
Wed Esther 1-5, Thursday Esther 6-10,
Friday Job 1-5,
Saturday Job 6-9,
Sunday Job 10-13
Blessings as you read!
 We are right in the middle of reading two of my favorite books of the Bible. I adore Esther. She is my kind of woman. When faced with a do and maybe die situation she chose to do the right thing.  We really never know when we are put on this earth for a time such as this.  Esther's story tells us to be ready at any time to fulfill our God-given purpose.  As far as the book of Job goes I learned a long time ago patience is a virtue for which we should all strive.  Job is a man after my own heart.  I hope these chapters are a blessing to you.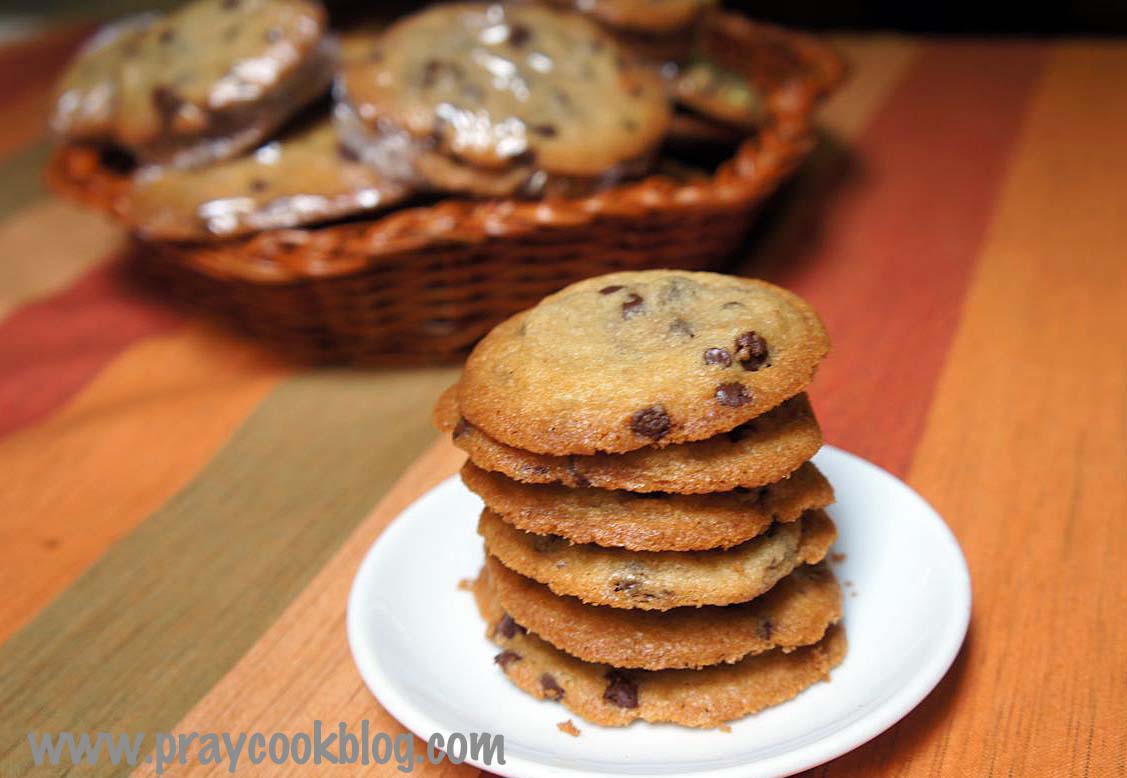 This is the week for our bi-annual family play-date.  This year we are spending 5 days under the sun, eating, swimming, boating, eating, skiing, golfing, and then at the end of the day we gather to eat again!  While just spending time together is our goal, food tends to play a pretty big part too!  I am blessed to live in a family of good cooks.  It isn't just the women in our family who spend time in the kitchen and at the barbecue grill.  Most of our men know their way around a stove and an oven quite well.  All this talent culminates in to some awesome eating.  I look forward to sharing some of our family reunion food adventures in the near future!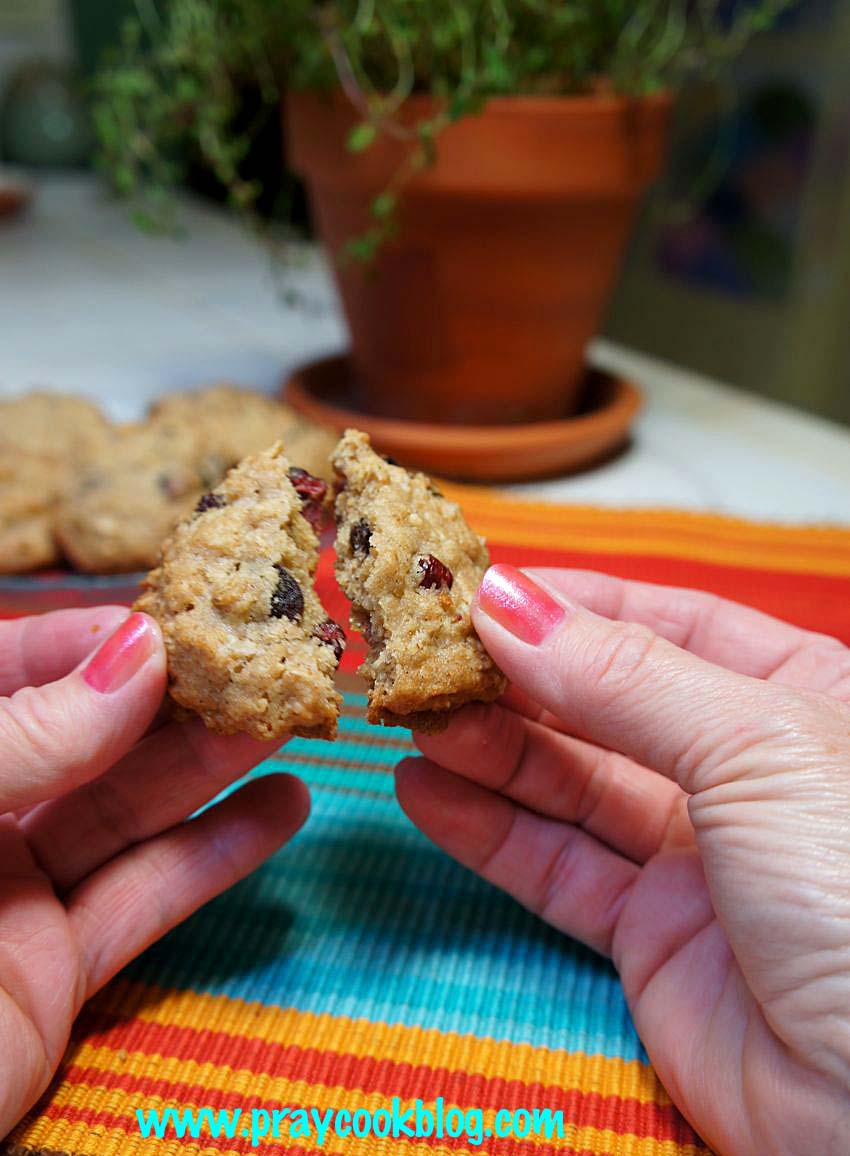 Last week I mentioned that some of my grandchildren, several grand nieces and nephews, and lots of grown-up folks will most likely be looking for sweet nibbles during the day.  To that end we stocked up on Chewy and Craisin Oatmeal Raisin cookies as well as today's recipe —  Sweet and Salty Chocolate Chip Cookies.
I have never been a very good cookie baker. Some bakers can turn out incredible cookies one right after another.  For me, not so much.  It is for this reason when I see a chocolate chip cookie recipe that has been tried and true I am interested.  It is also the reason that I enlisted the help of my sous-chef dish-washing mom to make these cookies!  The Brown Eyed Baker bakes awesome looking cookies and so I decided to adapt one of her recipes.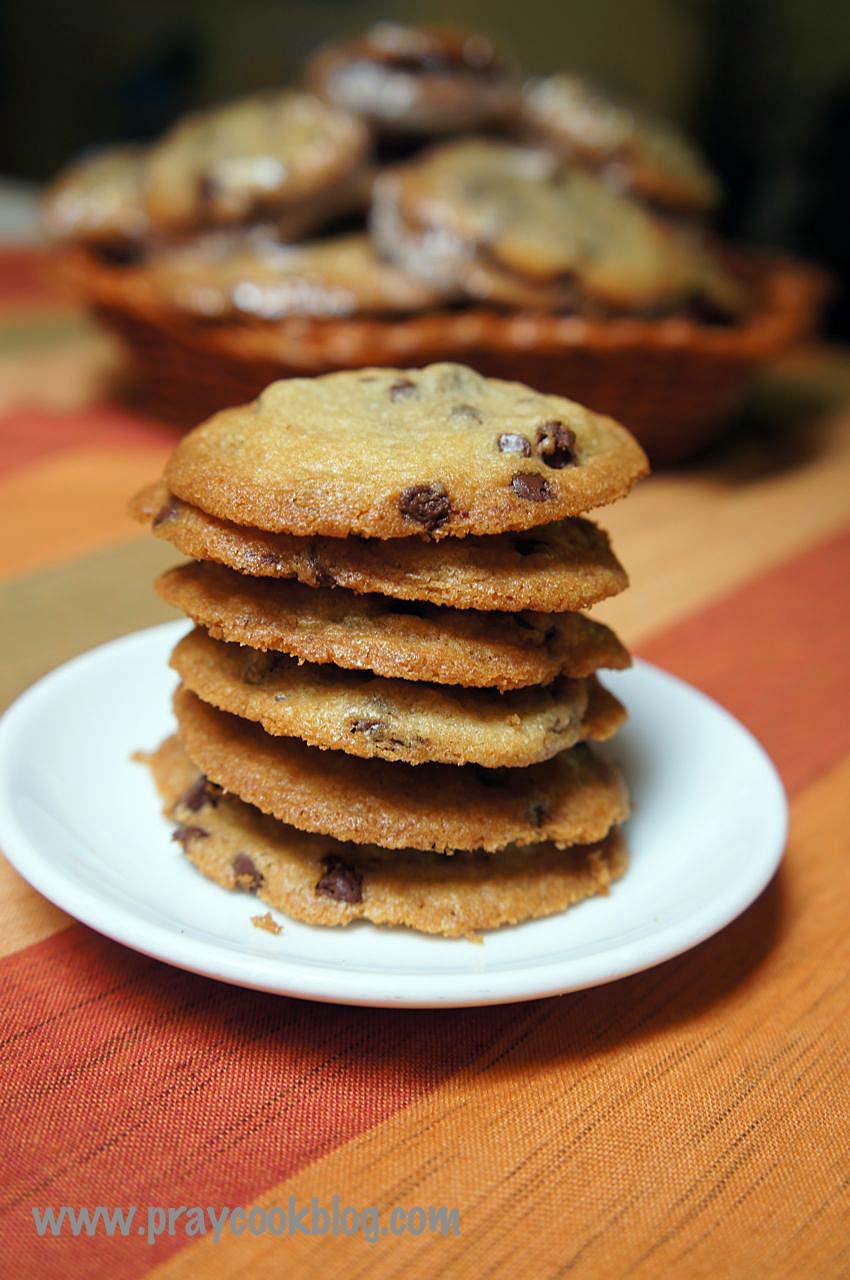 Earlier this year I made Sweet and Salty Chocolate Chip bars that are quite astonishing.  I decided I wanted that little bit of salty with the sweetness of these chocolate chip cookies.
True to her testimony these cookies are crispy on the outside and a little chewy on the inside.  I made one change using 1/2 coconut oil for half the butter.  The coconut oil package says that it is great for baking and can be used in place of butter.  It is healthier than butter and has no cholesterol so I wanted to give it a try.  I think it worked well.   A sprinkling of coarse kosher salt on top makes for the perfect combination of sweet and salty.
Since these cookies are going to the "kids" young and old, we decided to add some sticker fun.  We individually wrapped the cookies so they can sit on the counter in Grandma's cottage and the kidlings can come and get one anytime they want.  (Sorry moms and dads, this is Grandma's week to rock with the grandkids and great nieces and nephews!)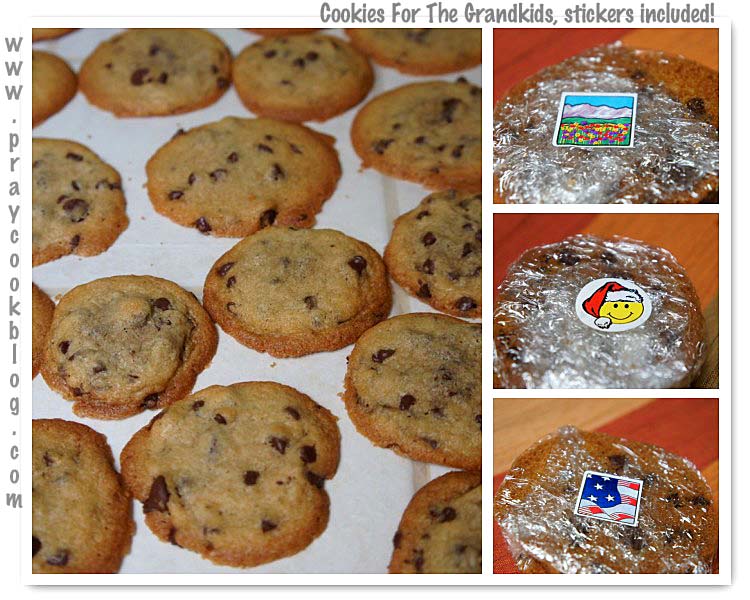 Don't Forget …
The Baking With Julia cookbook giveaway is in full swing.  If you haven't entered your name, check out this LINK to find out how you can enter – several different ways.
Blessings to all and Happy Baking!
The Sweet and Salty Chocolate Chip Cookie
When it is sweet and salty you are craving look no further than these tried and true chocolate chip cookies!
Author:
Adapted From The Brown Eyed Baker
Ingredients
2¼ cup All-purpose Flour
1 teaspoon Baking Soda
1 teaspoon Salt
½ cup Unsalted butter
½ cup Coconut Oil
¾ cup Granulated Sugar
¾ cup Light Brown Sugar, packed
1 tablespoon Vanilla Extract
2 large Eggs, at room temperature
1 tablespoon Milk
2 cup Semisweet Chocolate Chips
1 cup Walnuts or pecans, chopped
Coarse Kosher Salt
Instructions
Preheat oven to 375 degrees F.
Microwave butter and coconut oil for 30 seconds, stir and set aside. Don't worry if it isn't completely melted.
Combine flour, baking soda, and salt in small bowl and set aside.
Beat butter/coconut oil mixture, granulated sugar, brown sugar, and vanilla on medium-high speed until creamy. Add eggs, one at a time, beating well after each addition. Add milk and beat until combined. Gradually beat in flour mixture, beating just until combined. Do NOT over mix. Stir in chocolate chips and nuts (if you are adding them.)
Refrigerate dough for 15 to 30 minutes. This is an important step as it will solidify the oils keeping the cookies from spreading out too much while baking.
Drop by rounded spoonful (I used the small Pampered Chef scoop) onto ungreased cookie sheets. Sprinkle lightly with coarse salt. Bake for 12 minutes or until edges are just brown and the middle is not quite set. Cool on pan for 2 minutes and then transfer to a cooling rack.
Make sure cookie sheet is completely cooled before adding more dough to bake. Cookie sheets can be placed in the freezer for 5 minutes or so to cool quickly.
When cooled completely wrap individually or in an airtight container. Recipe yields about 3½ dozen cookies.

Notes
I used half butter and half coconut oil, but all butter can be used.