God just winked at me.
  I am where I am supposed to be, doing what I am supposed to be doing.  It's a wonderful feeling.  Peace comes over me.
I've been recruited to make potato salad for 85 hungry folks that will show up in about 8 hours for the 4th of July BBQ lunch.  Okay, potato salad … for 85.  Potatoes, eggs, celery, onions, relish, mayonnaise.
I power up my computer and sign on to my website.  I'll just take a peak at my mom's potato salad recipe, which I have no doubt shared with readers some time during the past 4 years of blogging.  I type  p o t a to  s a l a d  into the search box.  A moment passes.  Nothing.  I click through to the INDEX tab, scroll down to S A L A D and begin to scan for mom's recipe.  Nothing.
My brain can't quite comprehend that I haven't written her recipe, her exact instructions and her special magic.  How can this be?  Then I remembered her telling me she "just makes it".  No exact measurements, just by feel.  I remember thinking I would take time to watch her make potato salad and write down the process and ingredient measurements.
But I never did it.

So now God is flat-out laughing at me and no longer winking!  I'll just call mom and we can "chat" about the recipe.  No wait.  It is 3:30 a.m. Central time and she is sleeping soundly at my brother's home in Kansas City.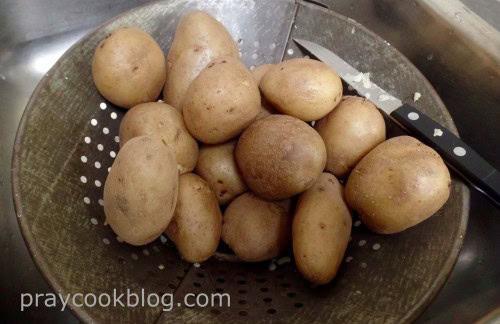 So, I knew what I had to do — put on my big girl panties (sorry guys) and get to work!  I fill big pots with water and put five pounds of potatoes in each pot.  I fill another kettle with water for the eggs.
Here is what I do know:
Mom says the potatoes must be cut up while they are still warm. This creates chunks of potatoes with just enough mushy potato to make the best salad.
Eggs need to be cut up small and a little mushy
The mayo dressing should have little mustard, but not too much, a little sugar, but not too much, and there should be a hint of onion, but not too much.
Mom always uses celery seed, but HH hosts bought beautiful celery for the salad, so I will use fresh celery, cut up very small.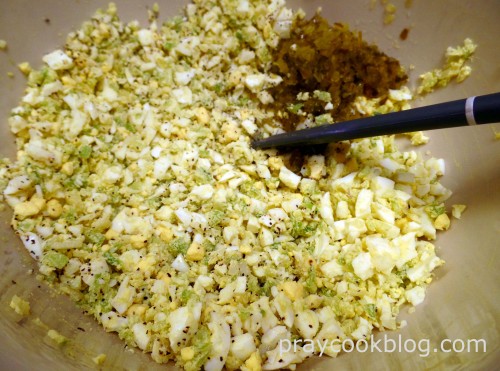 In NYC potatoes take about 55 minutes to cook at a slow rolling boil. During that time I cooked the eggs, took off the shell, cut them up, diced up the celery and chopped the onion very fine.   I added sweet pickle relish and this lovely concoction was ready for the potatoes and the dressing.
These potatoes were slightly cooled but I still played a little "hot potato" as I skinned off the peeling.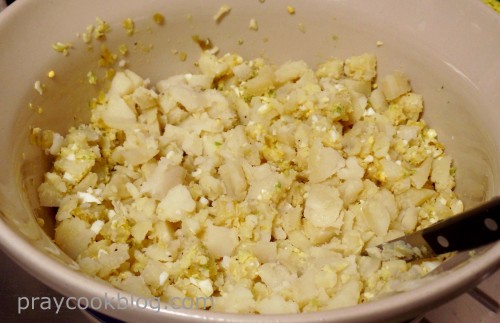 I've mixed the egg mixture with the potatoes and am ready for the dressing.  Here is where a wing and a prayer came in.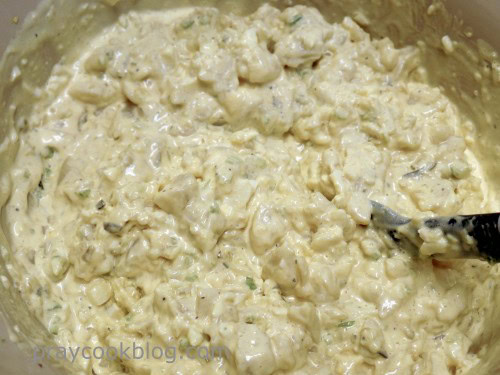 I don't care for dry potato salad and I knew the warm potatoes were going to absorb this dressing pretty fast.  So you can see from this picture there was plenty of dressing making it a little wet looking.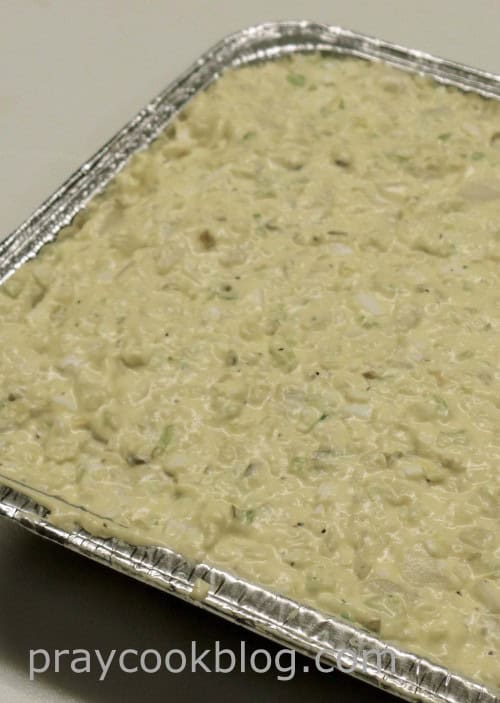 It took me exactly 3 hours from start to finish to make potato salad for 85.  That includes washing up the dishes!  Just as I finished at 7:30 a.m. folks started arriving in the kitchen for breakfast and to get the rest of the food ready for the 1:00 p.m. BBQ.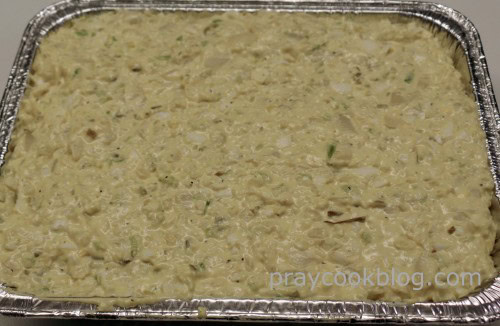 This pan holds a 5 lb bag of potatoes and all the eggs, veggies and dressing to make it ready to serve 25 people. The salad stayed in the refrigerator until 12:55 p.m. and was cold and ready to serve at 1:00 p.m.  The dressing was perfectly absorbed and the salad not-too-dry, not-too-wet.
When my Chief Potato Salad taster came in to the kitchen I popped a spoonful of potato salad into his mouth.  He said …
"It's not your mother's potato salad … "   (me, holding my breath …)
" … but it is delicious!"
That was good enough for me.  I planned to give you a picture of this salad plated but when the crowd cleared from the food line – there wasn't a drop of potato salad left.  But we had plenty of watermelon to go around!
Happy salad making for your next get-together!
~Catherine