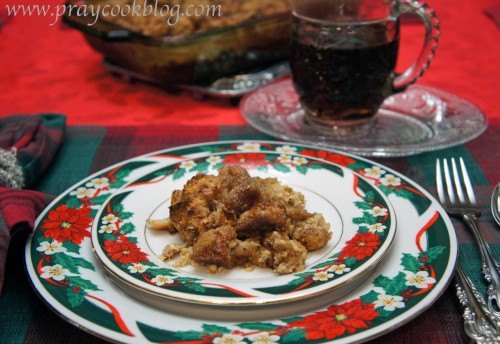 My Christmas dishes certainly give away the fact this overnight french toast was our treat on Christmas morning!  But I sure hope you won't wait until next Christmas to put this baked french toast on your breakfast table.  I know we are going to have it again … and maybe even soon!  I found the recipe on Our Best Bites website.  I only made a of couple changes to their recipe and the taste is mouth-watering delicious.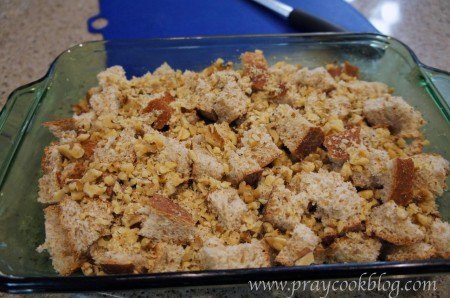 Even though I have several french toast recipes that I really like I haven't ever made one that starts out with a loaf of french bread cubed.  I used a multi-grain loaf of french bread and the result was a very tasty and slightly more nutty flavor than I would have gotten from a regular loaf of white french bread.  The multi-grain version also was a little heavier than its white counterpart, but in a very good way.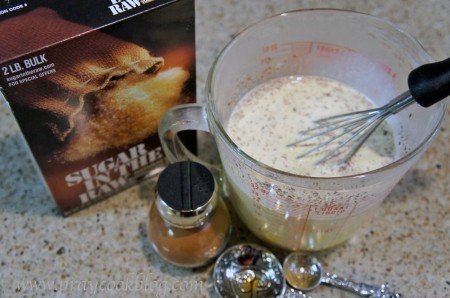 I added walnuts and sugar in the raw.  The original recipe calls for brown sugar mixed into the eggs and milk mixture.  I used half  brown sugar and half turbinado sugar.  The turbinado adds a slightly caramel flavor that I just love.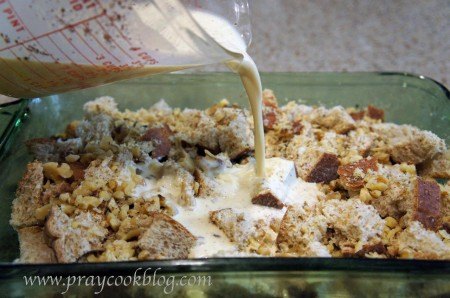 Eggs, half and half, milk, sugars, cinnamon, salt, and vanilla extract are blended and poured over the cubed bread sprinkled with chopped walnuts.  A topping of brown sugar, turbinado sugar, cinnamon, nutmeg and butter creates a sweet and crunchy topping on the baked casserole.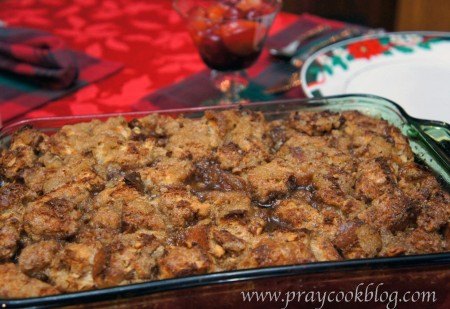 We ate this fabulous french toast with my new favorite brunch side dish,  fruit compote.
Whether you drizzle with syrup, top with berries and whipped cream, or sprinkle on some powdered sugar you will love it and your friends and family will go crazy over this Overnight Baked French Toast!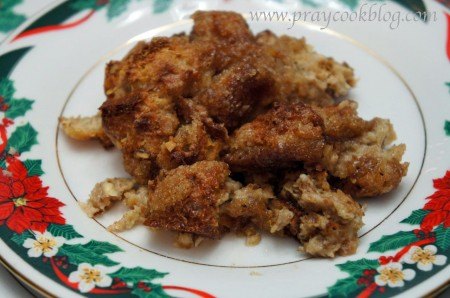 Many Blessings and Happy Cooking!~Blessings, Catherine
Overnight Baked French Toast
Hearty and full of flavor this easy, make-ahead french toast is a delicious start to any day!
Ingredients
8 eggs
2 cups half and half (one pint)
1 cup milk (whatever kind you have on hand)
3 tablespoons brown sugar
3 tablespoons Turbinado sugar
1½ teaspoon cinnamon
½ teaspoon kosher salt (a little less if using table salt)
1 tablespoon vanilla extract
1 cup finely chopped walnuts or pecans
1 lb loaf of multi-grain french bread
Topping
4 tablespoons packed brown sugar
3 tablespoons Turbinado sugar
½ teaspoon cinnamon
¼ teaspoon ground nutmeg
2 tablespoons cold butter
For Serving
melted butter
maple syrup
powdered sugar
berries
whipped cream
Instructions
Crack eggs into large mixing bowl and whisk to combine. Whisk in half and half and milk. Add brown sugar, turbinado sugar, cinnamon, salt and vanilla. Set aside.
Use canola spray to grease a 9×13 baking dish. Cut bread into 1 inch chunks and place in dish. Sprinkle with chopped nuts.
Whisk egg mixture one more time and then pour evenly over bread. Use a rubber spatula to very gently toss bread, moving bread on bottom to top, and making sure all of the pieces on top get dipped in egg mixture. Spread out evenly, cover dish, and place in fridge overnight.
To make topping, place brown sugar, turbinado sugar, cinnamon and nutmeg in a bowl and stir to combine. Cut cold butter into very small pieces and add to bowl. Use clean hands to break up butter and combine mixture until crumbly. Cover and place in fridge until morning.
When ready to bake preheat oven to 350 degrees. Remove plastic from dish and sprinkle topping evenly over top. Bake for 45-55 minutes or until top is golden brown and the egg mixture is set. You can stick a knife or skewer in the casserole to make sure the egg mixture is set on the bottom.
Let cool for 5-10 minutes before cutting into squares. Drizzle with syrup, top with berries, whipped cream and a sprinkle of powdered sugar if desired.
Notes
Adapted from www.ourbestbites.com