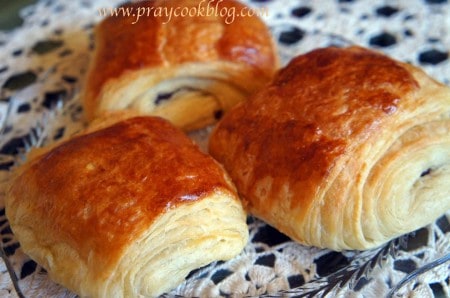 Pain au chocolat is made of the same layered dough as a croissant.  Often sold still hot or at least warm from the oven, they are commonly sold alongside croissants in French bakeries and supermarkets.  When I was making croissants with my Tuesdays With Dorie baking group last week, I couldn't resist setting aside some of the dough and making Pain au chocolat.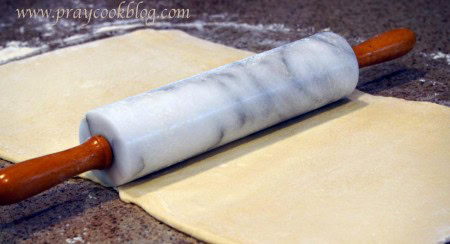 Directions for making the croissants can be found on last week's post.  Today I am starting with my already-made dough rolled out into a thin rectangle.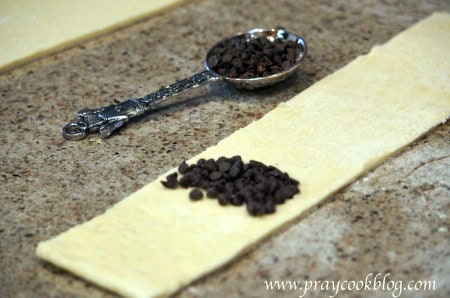 From the finished product pictures you will see I made my slices several different sizes starting with 3 1/2″ slices, 2 1/2″ slices and a 1 1/2″ slice. You can make them all the same, but for me — papa bear wants one size, mama bear another size and grandma bear wants a taste without all the calories!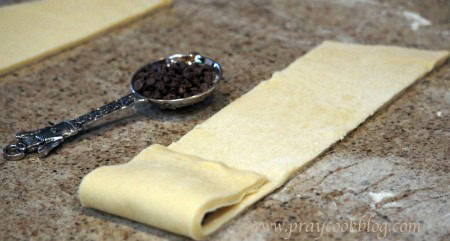 Pain au chocolat usually consists of a chocolate chunk. I had ghirardelli chocolate chips on hand so I placed a tablespoon on a strip of croissant dough and began folding the dough.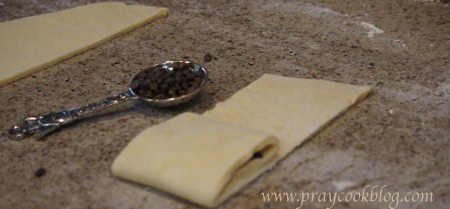 I folded 3 times ending with the seam down.  The pastry is then brushed with egg and left in a draft-free place to rise.  To raise the dough takes from 3 to 4 hours.  It is important not to rush this stage since the final pastry depends on the yeast getting active and raising enough to create the buttery layers.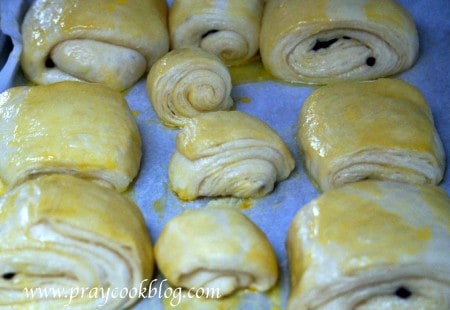 Four hours later these were baked for about 18 minutes. Baking time varies depending on the size, it may be more or less.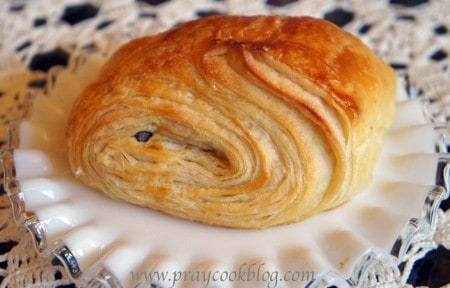 Pain au chocolat! Buttery, flaky layers of pastry hide the rich, delicious chocolate center.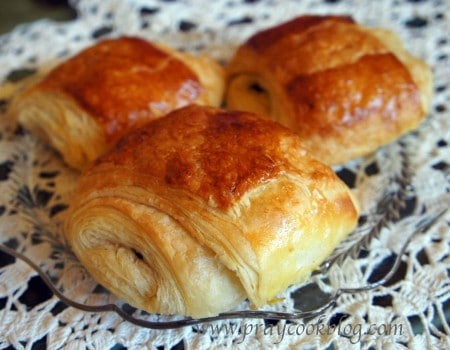 My final plate shows the BIG chocolate pastry for Papa bear, a medium size Pain au chocolat for Mama bear, and a little pastry for Grandma bear.  Special orders don't upset! 🙂
Would you make a recipe that requires some part of 2 1/2 days to complete?  If so, what is your most time-consuming recipe?
I am already planning to make croissants again!  Soooo worth it!
~Blessings, Catherine
This year we are reading the Bible Genesis to the Maps chronologically!  If you want to read along click HERE to get the daily reading.