Are you reading the Bible this year along with me? Every chapter I read makes the story come alive all that much more. I am including each days reading plan under the WORD POWER tab. So, if you didn't start the plan in January, but would like to start now the daily reading is there for you! Start today … you will be blessed I am so sure.
For all of you who receive my blog post via email, I apologize the pictures didn't show up in yesterday's post. Operator error all the way around. That would be me … I forgot to put my "special code" to make them show up. Hopefully, you just clicked through to the blog and could see them from there. 🙂
Recently I signed up to participate in the Tastemakers program as part of foodbuzz. From time to time foodbuzz. advertisers may ask me to try out a product and then give them my opinion. I am so excited about this program on several fronts. First of all, I love FREE stuff and the advertisers give us a coupon to purchase their product. Secondly, I always have an opinion and am anxious to share it 🙂 So when Mrs. Paul's and Van de Kamp's sent me coupons for a free sample of their new ParchmentBake I was all in!

First thing I learned was that the ParchmentBake is pre-grilled, 100% whole-fillet tilapia, sauced and sealed in a parchment paper bag. My chief culinary consultant and I have both ordered parchment baked fish at restaurants before and so I was excited to give this a try. I hurried to the grocery store, saw a big frozen food display for Mrs. Paul's fish right on the end of the aisle! Perfect, easy to get to. Now, what was it I was going to blog about? Tilapia? Fish sticks? Oh, this must be it — see they even have a big display! I grabbed two boxes and headed home to do some baking. Uh, that is when I re-read the letter that came with the coupons. ParchmentBake. The new product is ParchmentBake. That is when I realized in my haste I had gotten Mrs. Paul's Fish Sticks and Beer Battered fillets.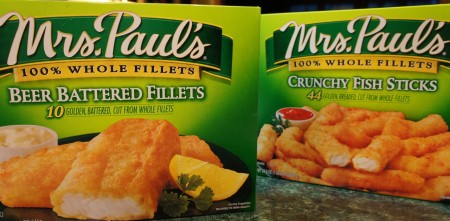 Oh brother, I am thinking they will never ask me to do this again … but hey, all was not lost, we had fish sticks and beer battered fillets for dinner and they were great! Honestly, I haven't fixed fish sticks since my kids were little and we all know that was a LONG time ago 🙂 We typically don't eat fried fish, but for a quickie meal, they were pretty good. The fish sticks were crunchy and I didn't remember having all white meat back in the day. The beer battered fillets were just plain good. Crispy fried, dipped in tartar sauce and finger licking good!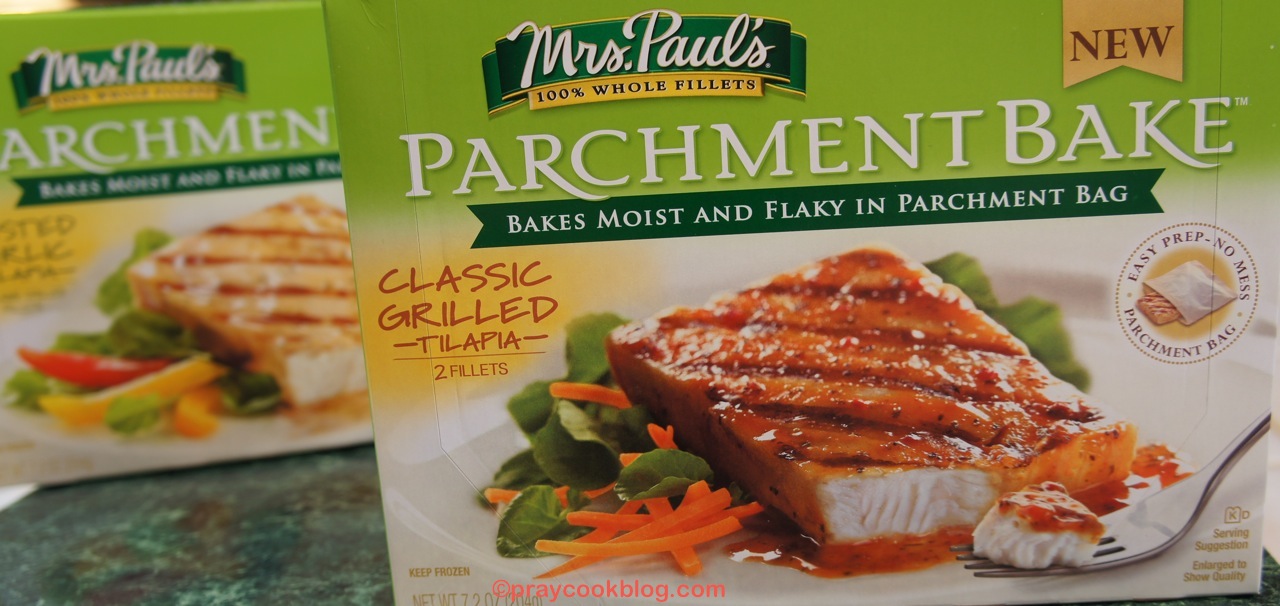 Back to the store. ParchmentBake. ParchmentBake. Got it.
With four flavor options, I decided to try the Classic Grilled and the Roasted Garlic. There are two fillets in each box so I needed two boxes for my chief culinary consultant, my sous-chef dishwasher and me! I left the Garlic Butter and Lemon Pepper for another time. I knew this was going to be interesting because my chief culinary consultant typically doesn't like a pre-prepared meat, but he did agree to give it a try and share his opinion with me (like that wasn't going to happen!)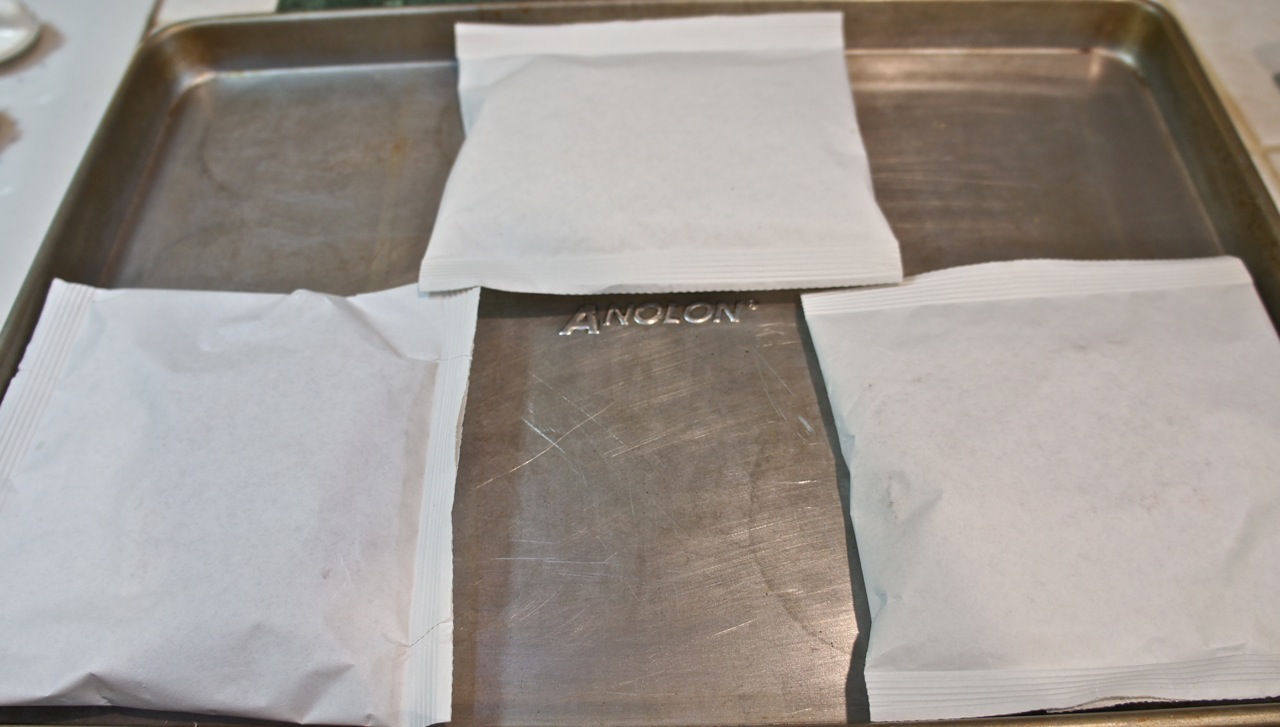 Open the box and here are these cute little packets all ready to bake. But, what is in there? Hmmm … had to wait 24 minutes. Directions say 22 to 24 minutes to bake and then test to make sure the seafood is fully cooked. Fish is opaque and flakes easily with a fork when it is fully cooked.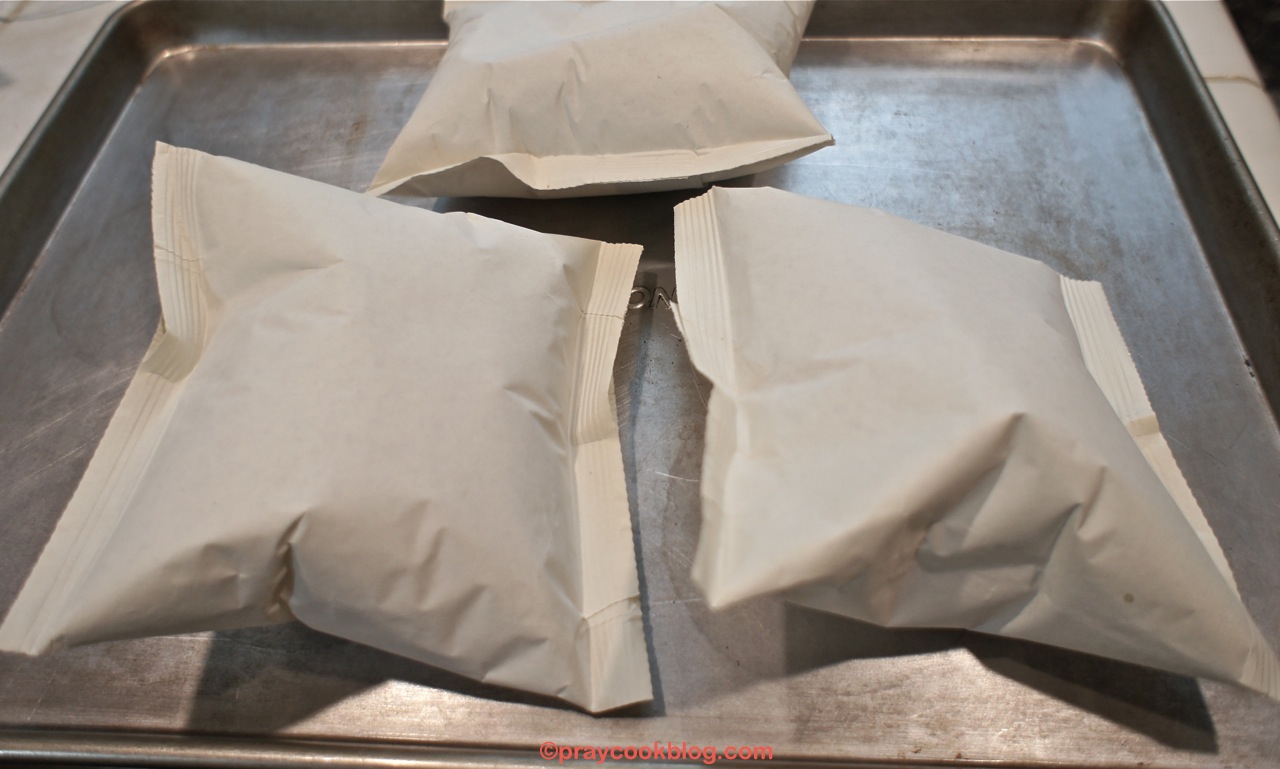 When they come out of the oven the little packets are all puffed up. Interesting. Then I opened it up …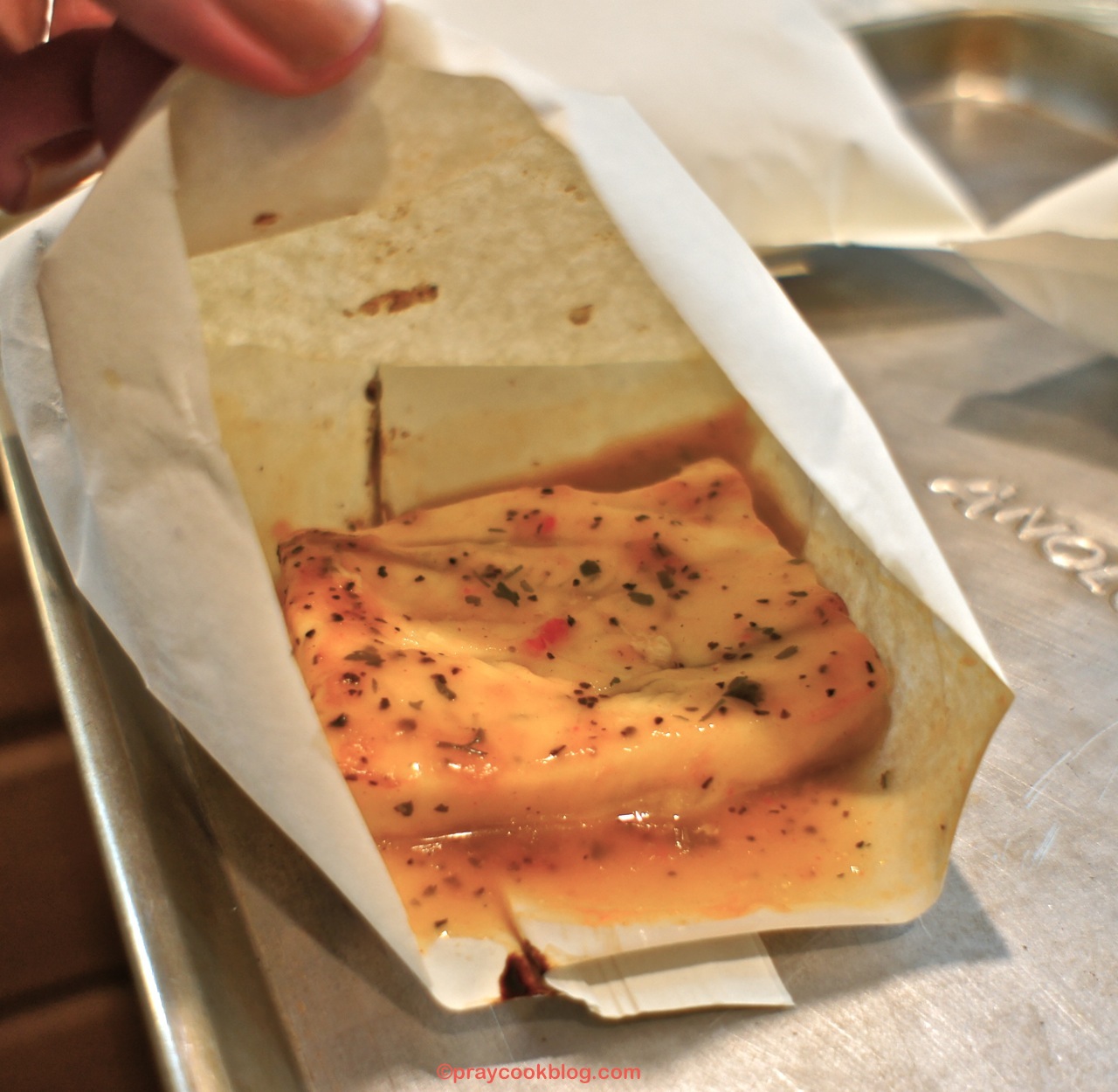 The aroma was spicy and yet smelled like this fillet had just come off the BBQ grill. This is the "Classic Grilled Tilapia" which explains why it smelled and tasted like I had just taken it off the grill instead of coming right out of the oven.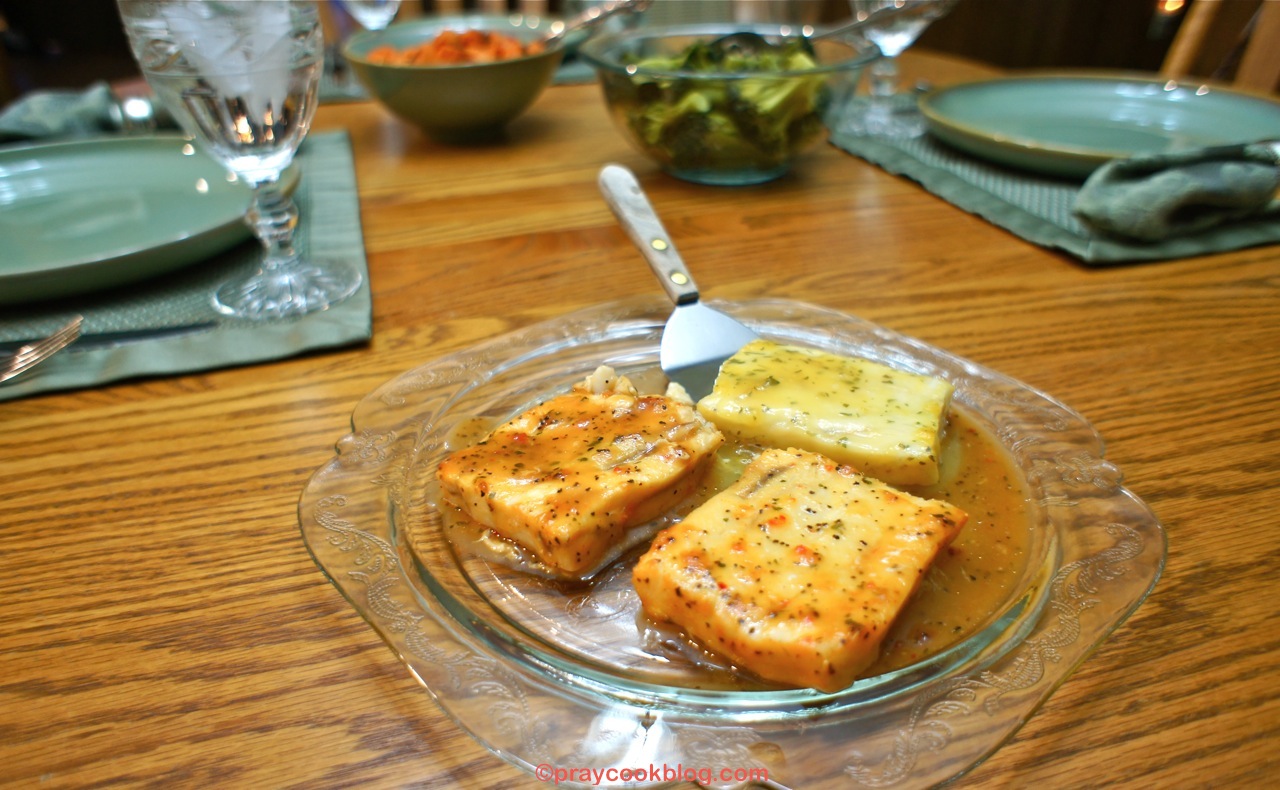 The other flavor we tried was the Roasted Garlic. The flavor was yummy too! The fillets were very nicely seasoned and really moist and flaky. I left the sauce to run on the serving plate so you can see the generous amount of sauce with each fillet. I served them with sweet potatoes and roasted broccoli. I put some tartar sauce on the table, but no one used it.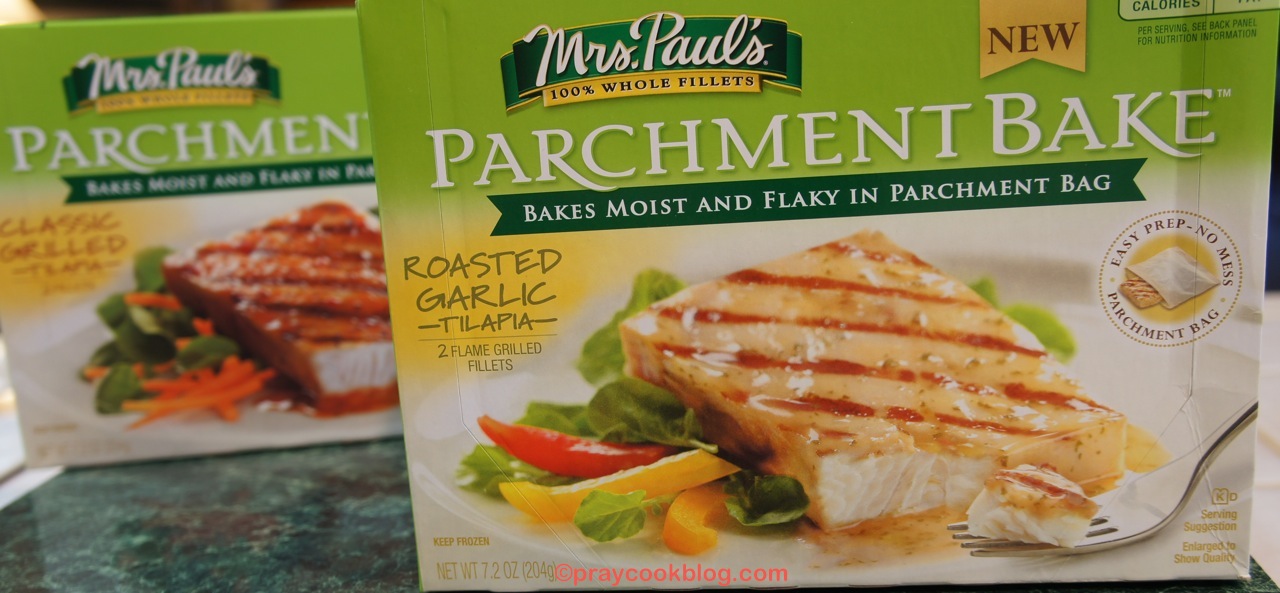 These fillets contain NO MSG, no artificial flavors or preservatives. I like that because so often prepackaged food contains stuff we don't like and don't want to eat. No problem there. For someone who likes seafood but is uncertain about buying and cooking fish, this is a great option. Tilapia is a very mild white fish and takes on the flavor of the seasoning. Thank you to Mrs. Paul's for giving me the opportunity to give these a try!
Weekend Blessings, Happy Cooking, and Happy Shopping!
This post is part of the Foodbuzz Tastemaker program and with Mrs. Paul's and Van de Kamp's.