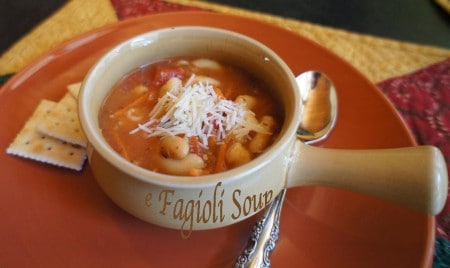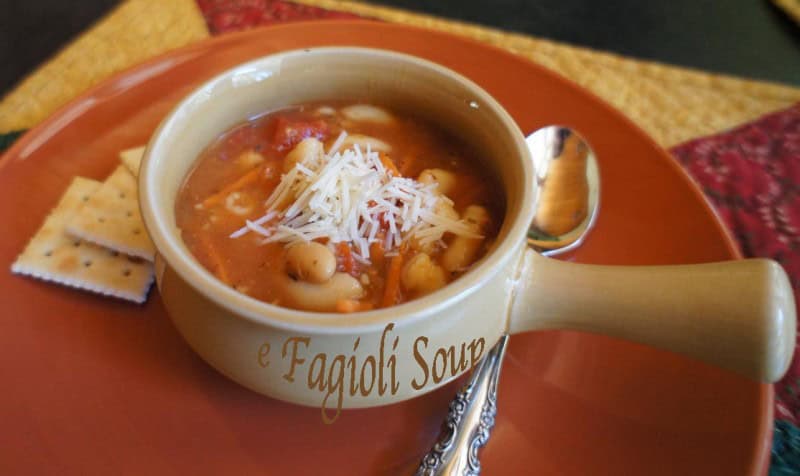 One of Olive Garden's most popular soups is also one of my sous-chef dish-washing mom's favorite.  Olive Garden's recipe can be found all over the internet and includes ground beef.  But the recipe I chose to use came from Our Best Bites and includes bacon but not beef.
As I was finishing up the soup it just didn't seem to have enough flavor.  So I made an adaption addition that sent this soup right up over the top on the tasty oh my gosh meter.  I added 2 cups homemade marinara sauce.  I dare to say any marinara sauce will work so don't sweat the "homemade" part of my marinara.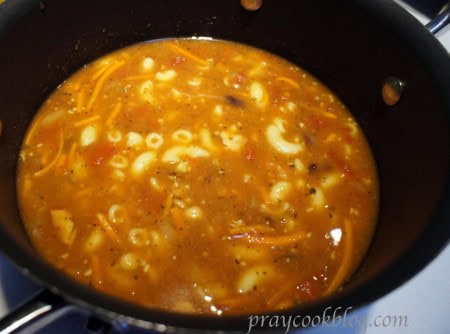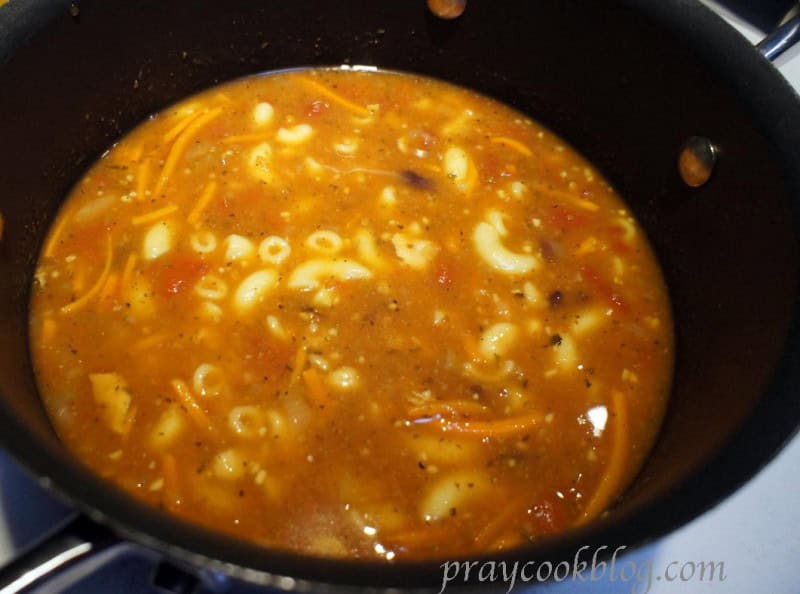 I never cared for the soup from Olive Garden, but I am going to brag I mean blog this terrific recipe while wishing I had some to warm me up right now!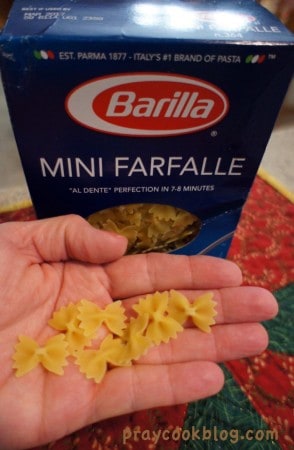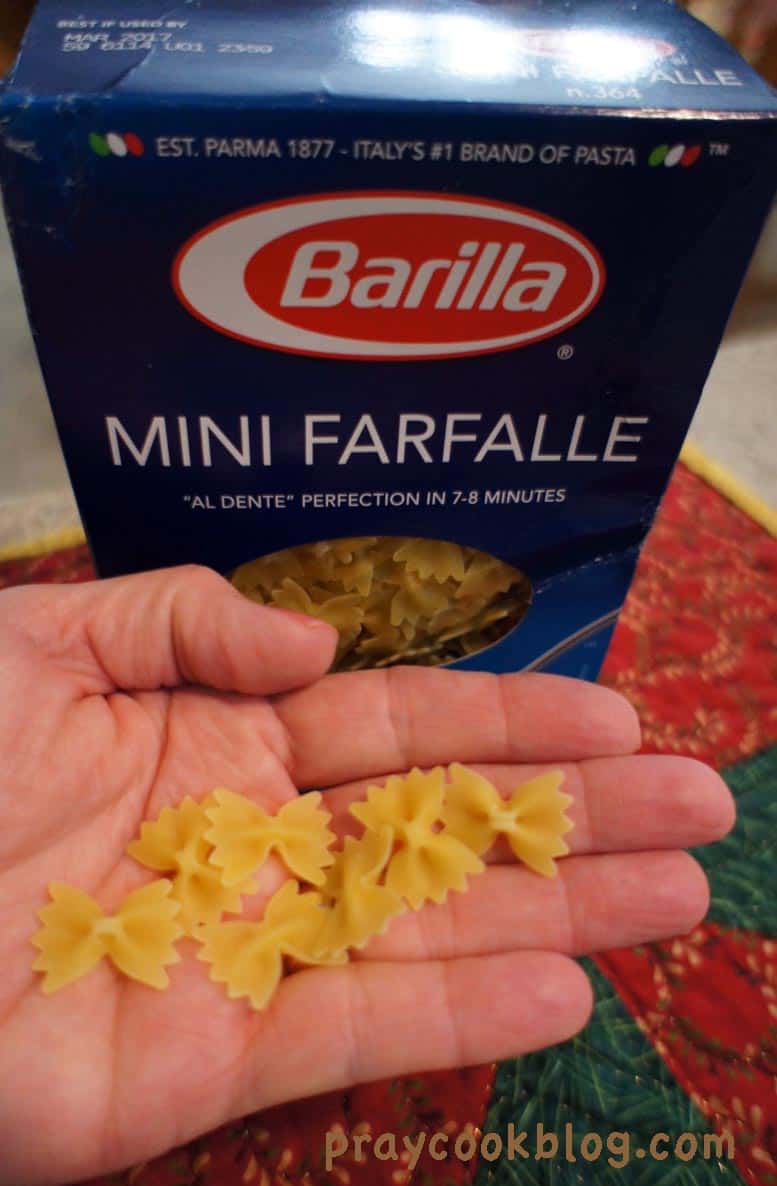 On a side note — The recipe calls for "small-shaped pasta", such as Ditalini, orzo, or stellini.  I used small elbow macaroni but afterwards found these darling little mini farfalle.  My next pot of Pasta e Fagioli will feature these!
Blessings and Bon Appétit!
~ Catherine
Psalm 100
Make a joyful noise to the Lord, all the lands!
Serve the Lord with gladness!
Come into God's presence with singing!
Know that the Lord is God! It is he that made us, and we are his;
we are his people, and the sheep of his pasture.
Enter his gates with thanksgiving, and his courts with praise!
Give thanks to him, bless his name!
For the Lord is good;
his steadfast love endures for ever,
and his faithfulness to all generations.
Pasta e Fagioli Soup
The addition of marinara sauce takes this Pasta e Fagioli soup right over the top. It will quickly become a family favorite!
Ingredients
4 ounces bacon, chopped medium (4 slices)
1 onion, chopped fine
4-6 garlic cloves, minced
1 tablespoon minced fresh oregano (or 1 tsp dried)
¼ teaspoon red pepper flakes
1 28-ounce can diced tomatoes
2 15.5-ounce cans canellini beans, rinsed
3½ cups low-sodium chicken broth
2½ cups water
2 cups marinara sauce
salt and pepper to taste
8 ounces small-shaped pasta (about 1¾ cups dry)
1 cup Parmesan cheese, grated
Fresh minced parsley* optional garnish for serving
Instructions
Cook bacon in large dutch oven over medium heat until crisp, about 8 minutes. Stir in onion, garlic, oregano and red pepper flakes. Cook until the onion is softened, about 5 minutes. Stir in tomatoes, with their juice, beans (drained and rinsed), broth, water, and 1 teaspoon salt. Bring to a simmer and cook for 10 minutes.
Stir in the pasta and cook until slightly underdone. Add marinara sauce and return to heat thoroughly. Add salt and pepper to taste.
Serve garnished with grated Parmesan and parsley.
Notes
Suggested pasta: Ditalini, orzo, mini bowtie, or stellini as well as small elbow.
This soup can be prepared through step 1, cooled, covered, and refrigerated for up to 2 days or frozen for up to 1 month. Reheat over low heat and then proceed to step 2.

This recipe adapted from Our Best Bites.