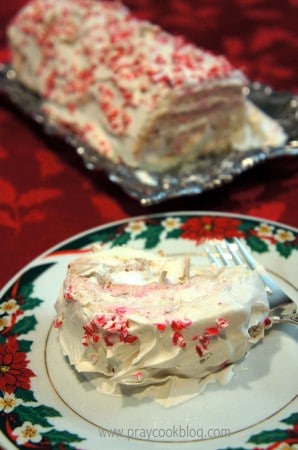 With Thanksgiving falling early this year it seems like a long time until December 1.  I am thankfully ready to let the Christmas baking begin! I have so many recipes to share and stories to tell I was stumped as to where I should start. Then I came across the recipe for a Peppermint Cake Roll and I knew exactly where to begin. Truly, it has angel food cake (my all-time favorite cake) peppermint candy (very Christmas-y) fudge (I knew you would like that) and then there is the whip cream — oh the whip cream (aka Cool Whip!)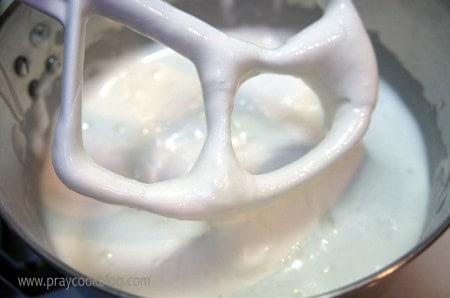 This elegant dessert starts out with a box cake mix for Angel Food Cake.  I use Duncan Hines because my sous-chef dish-washing mom says when it comes to a box cake nothing beats Duncan Hines. Who am I to argue? I mixed it up according to the directions on the box, which by the way are: Add 1 1/4 cups water and beat with mixer for 2 minutes. Done.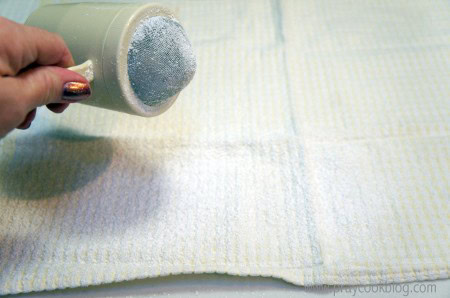 While the cake was baking in two 10″ x 15″ cookie sheets, I sprinkled powdered sugar all over a cotton towel.  The cake only bakes for about 12 minutes until it is springy and done. This recipe makes two rolls and I baked each pan separately on the middle rack.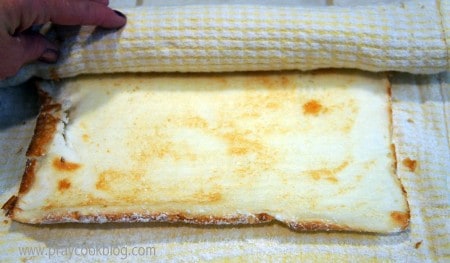 This roll could have come out about 1 minute earlier, but the browning didn't hurt anything. The cake is carefully flipped onto the powdered towel. Starting at the short end I carefully rolled the cake into the towel.  I set both rolls on a baking rack to cool for about an hour.  While the cake was cooling I was chatting with my friend Sue. Even though we are 1200 miles apart it seems just like old times when we spent many hours in the kitchen together. I excitedly told her about my peppermint fudge cake rolls and she told me she thought I could stir some cocoa into the whipped cream for a little extra richness.  Sue has taught me amazing things for the better part of 35+ years and she didn't let me down this time! I added cocoa to the cool whip and set it back in the refrigerator.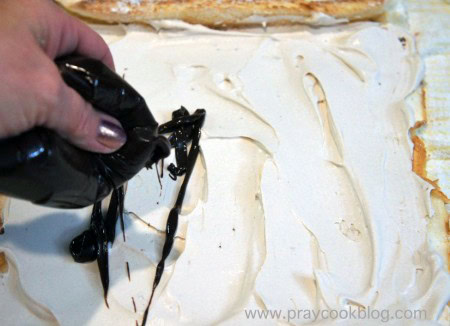 The original recipe calls for peppermint extract, but I urge you to use a chocolate liqueur to push this topping right over … the top! When the cakes had cooled I unrolled and spread the cool whip mixture and drizzled half of the fudge.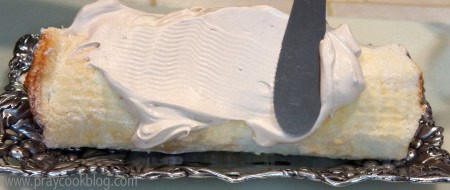 After gently rolling up the cake I spread more of the cool whip mixture.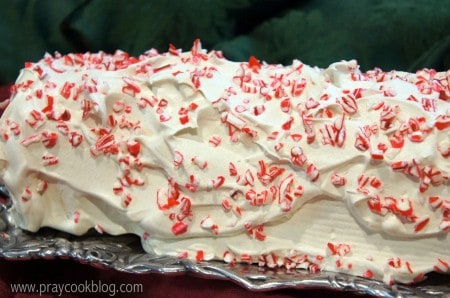 Sprinkled with crushed candy canes and this cake roll is ready for any holiday party — or a simple dinner with family or friends.
~Blessings and let the Christmas baking begin! Catherine
Peppermint Fudge Cake Rolls
Easily serve a crowd with 2 decadent cake rolls or freeze one for later. The cocoa adds a layer of richness making an incredible dessert as pretty as it is delicious.
Serves:
2 cakes, 8 slices each
Ingredients
1 pkg. (16 oz.) Angel food cake mix
1 carton (16 oz.) Cool Whip Topping
2 tablespoons cocoa
3 teaspoons Godiva Liqueur
1 cup hot fudge ice cream topping
½ cup crushed peppermint candies, divided in 2
Confectioners' sugar for sprinkling
Instructions
Line two greased 15" x 10" x 1" baking pans with parchment paper.
Prepare cake mix according to package directions. Divide the batter evenly into the two prepared pans, spreading evenly.
Bake at 350 degrees F. for 12 to 15 minutes or until tops spring back with lightly touched. Cool for 5 minutes.
Invert each cake onto a kitchen towel dusted with confectioners' sugar. Gently peel off the paper. Roll up cake in the towel jelly-roll style, starting with a short side. Cool completely on a wire rack.
In a small bowl, sprinkle cocoa over whipped topping and stir gently. Add in chocolate liqueur. Unroll cakes, spread each with 1½ cups of cool whip liqueur mixture. Spread within ½" of the edges.
Drizzle each cake with half of the fudge topping; sprinkle with 2 TB crushed candies. Roll up again, without the towel.
Transfer to serving platters. Frost with remaining cool whip liqueur mixture. Sprinkle with crushed candies.
Cakes can be served immediately, refrigerated for later use. The cake can be covered and frozen for up to one month.
Remove from freezer 15 minutes before serving. Top with additional candies and serve.
Notes
Recipe adapted from Taste of Home recipe by Suellen Calhoun