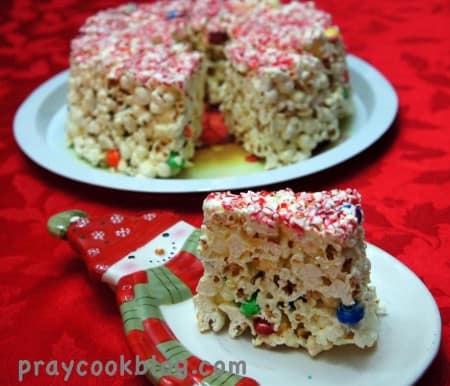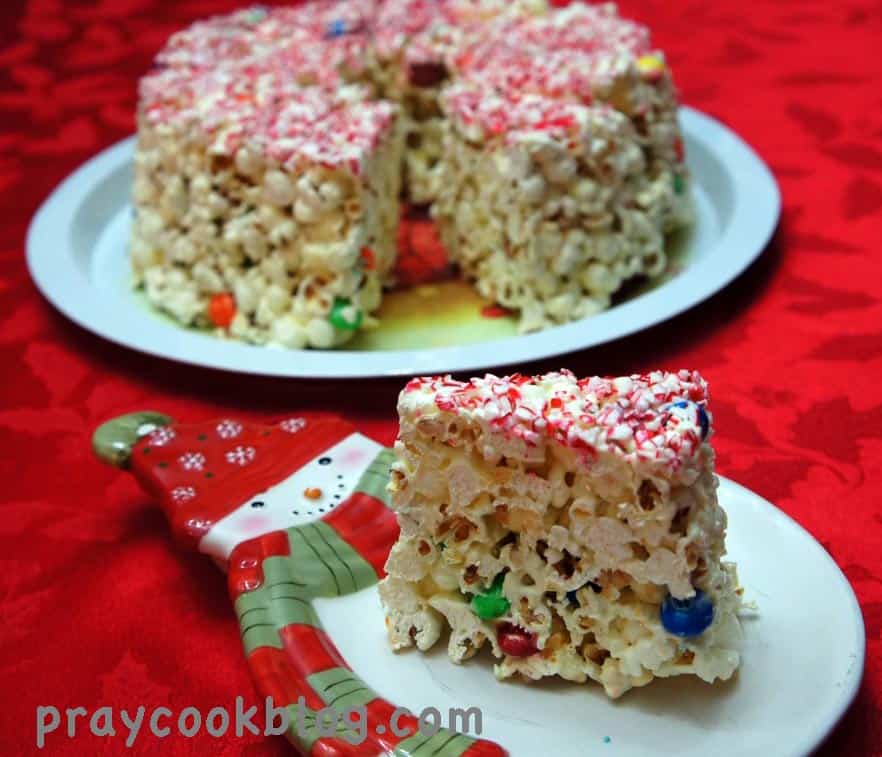 I received an email this evening from my friend Cheryl sharing this scripture. Just getting ready to write this blog post I decided these words are the perfect way to begin. Such powerful words to lean on!
Trust in the Lord with all your heart,
And lean not on your own understanding;
In all your ways acknowledge Him,
And He shall direct your paths.
Proverbs 3:5-6

Over some cookie decorating during the Thanksgiving weekend, my niece Alesa told us about her mom's "Popcorn Cake."  Whhhaattt?  I said, popcorn cake?  Alesa went on to say that my sister-in-law Jeanne has been making this cake for years and now makes 15 or more each Christmas!  It seems that each time she made the cake and gave it to someone they wanted their name on the list for a cake the next year, and the year after that …. and, well you get the idea.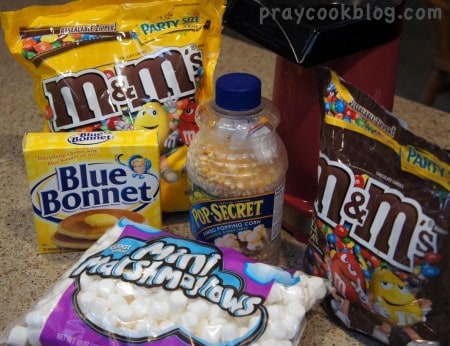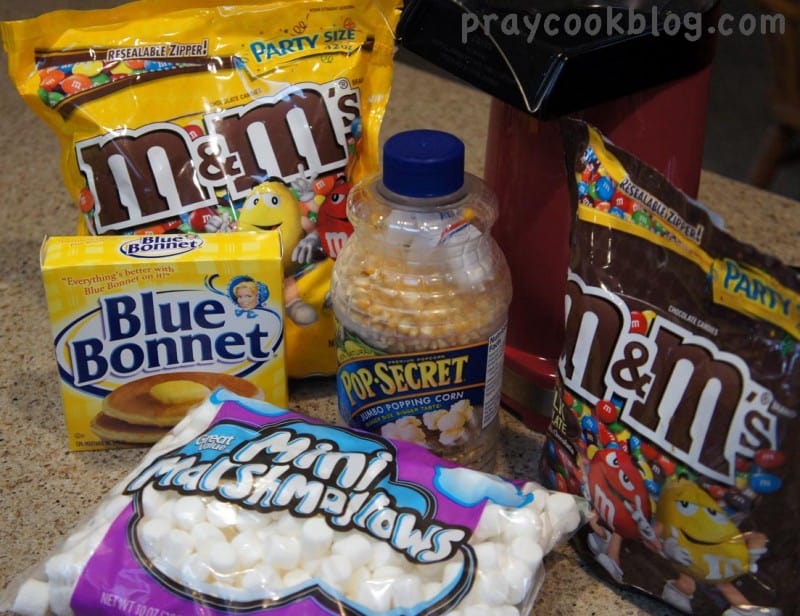 It is very possible that you already know about popcorn cake, but me, I've never heard this before.  So we did what all curious cooks do … we made a quick Facetime call to Jeanne and she shared the details.  An air popper is a must since the popcorn needs to be made without butter or oil.  Marshmallows, margarine, and the goodies.  Jeanne suggests M & M's – plain or peanut, or hot tamales or any favorite little candies.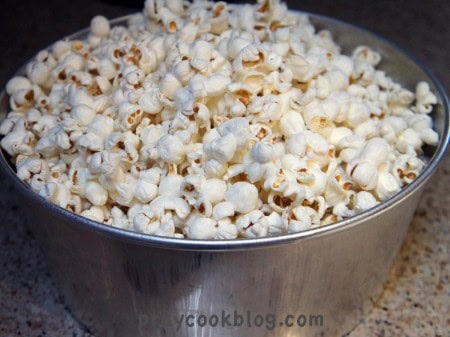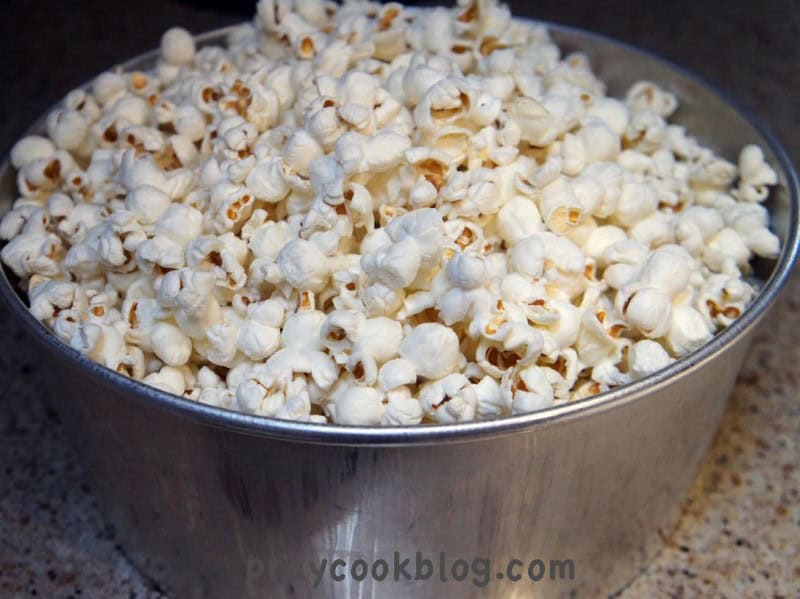 The popcorn is measured by filling up an angel food cake pan to slightly overflowing.  In a large bowl microwave margarine and marshmallows just for 1 to 2 minutes until they are all melted.  Mix in the popcorn, sprinkle in some M&M's and then pack it back into the greased angel food pan.   Couldn't be easier.  Before adding the popcorn/marshmallow mixture back to the pan I sprinkled crushed candy cane over the bottom of the cake pan.  Makes it pretty and tasty when the cake is inverted.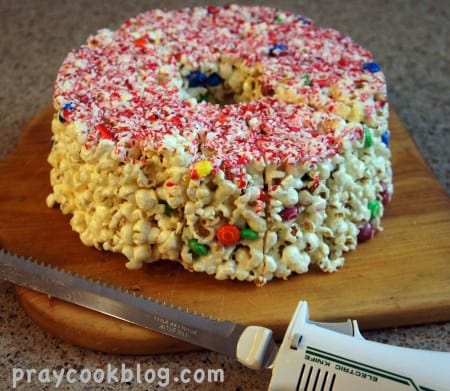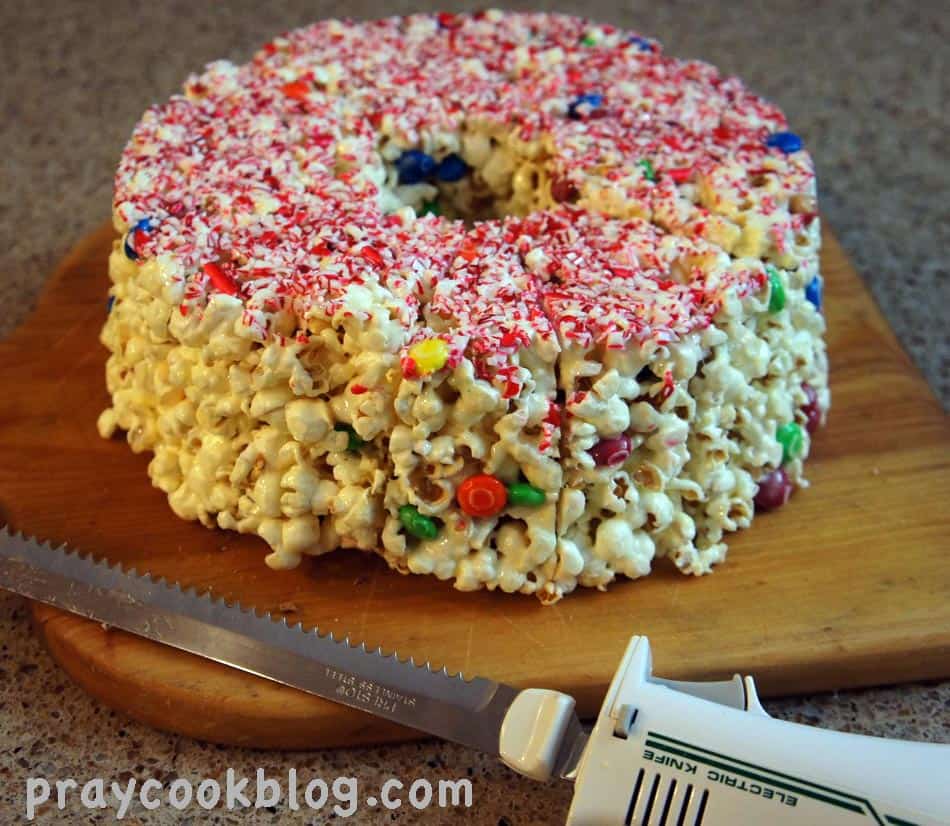 The popcorn and marshmallow will set up over a couple of hours, but it must be left to cool and set up well or it will fall apart when it is unmolded from the cake pan.  Plus — this is important — the cake needs to be cut with an electric knife so that it won't squish as it is sliced.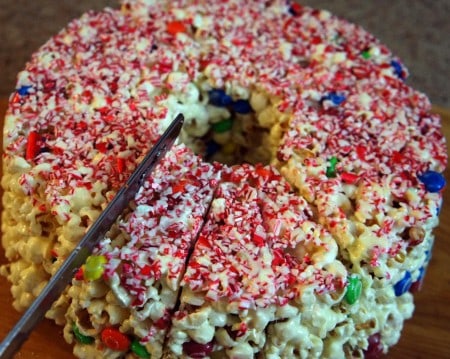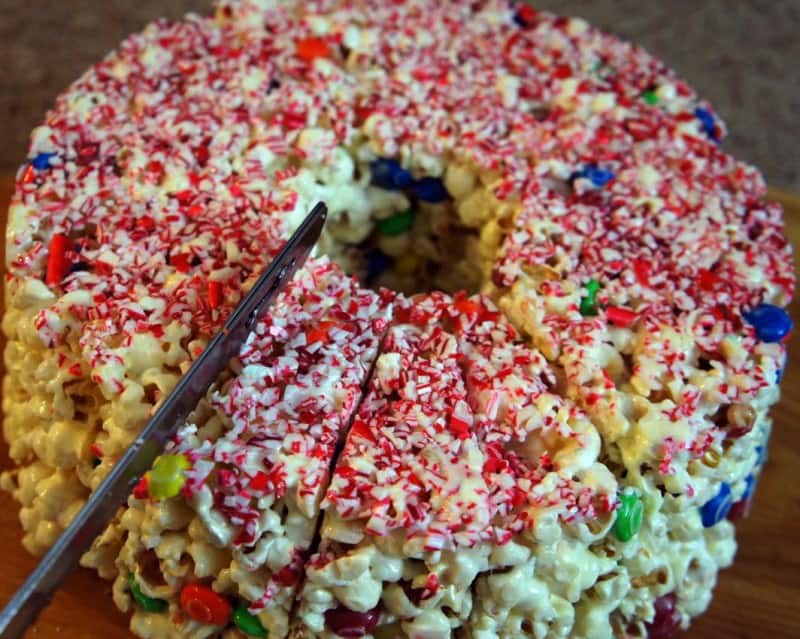 It is best eaten within the first 24 hours.  But honestly, it won't last that long.  By the way — I have made this cake using Rice Krispies and it was outstanding too! Kids of all ages will love munching on this treat!
Popcorn Cake
Food for fun, plain and simple, but not plain and simple tasting!
Ingredients
1 Angel Food Cake Pan
1 Air Popcorn Popper
10 oz. Bag of mini-marshmallows
5 Tablespoons margarine
¾ Cup M & M's - plain or peanut
1 cup Crushed Candy Canes
Instructions
Pop enough corn to slightly over-fill the angel food cake pan.
Spray cake pan with oil. If desired cover bottom with crushed candy canes.
Melt margarine in a large microwave safe bowl. Add mini-marshmallows. Microwave for 1 minute and stir. Marshmallows should be melted when stirred. If not, microwave for another few seconds.
Add popcorn to melted butter/marshmallow mixture. Stir well.
Add M&M's, stirring well.
Hand pack the popcorn mixture into the angel food cake pan.
Let cake set until it is cooled and well-formed. Do not remove from cake pan too soon as it will fall apart when unmolded. This will take at least an hour.
When set, unmold on a cake plate. Using an electric knife carefully cut the cake into individual slices.
Notes
Let your imagine run wild! Add hot tamales, or other favorite colorful candy!

Rice Krispie cereal can be used in place of popcorn.