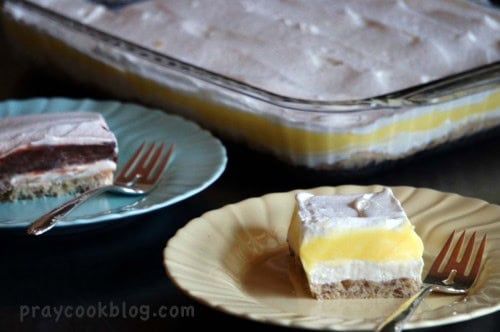 Last week  my sous chef dish-washing mom was tasked to bring dessert to our fellowship lunch for Community Bible Study  held on Thursday.  We share a lunch together once a month and this was the teacher's month to bring the food.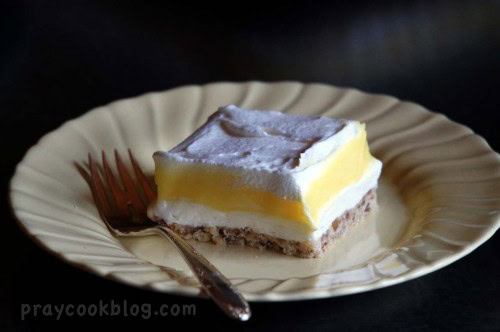 When I asked her what she planned to make she said, "the pudding dessert."  We both know what that means since this dessert has been a lovely staple in our family for years.  It comes from a  spiral bound cookbook that dates back to 1979 and was compiled by the Alumni of Nebraska Methodist Hospital School of Nursing .  Both my brother Mike and his wife, Kay, are graduates from the school of nursing.  Mom bought the book during a school fundraiser.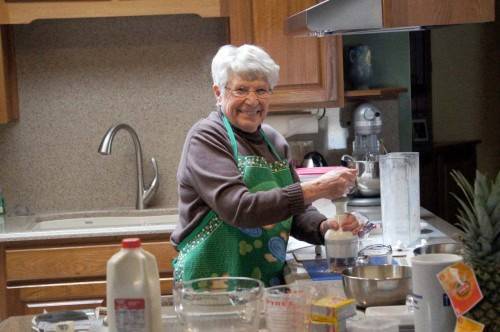 This cookbook has been used and treasured by mom all through the years.  It's edges are ragged and the front cover is missing.  On page 290 there is a dessert called "Lemon Dessert."  Easy, peasy, that's it, lemon dessert.  And according to mom, if you make it with chocolate pudding instead of lemon pudding you call it "Chocolate Dessert."  Okay then.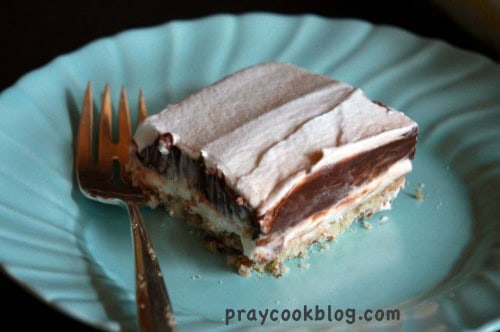 Mom being mom,  she planned to take TWO 9″ x 13″ desserts just to make sure there was enough for everyone and seconds too!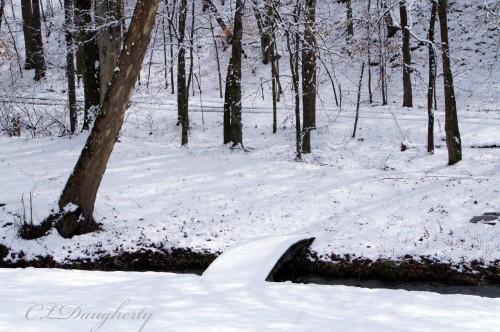 After the desserts were made and resting in the refrigerator the weather turned wintry. For the second Thursday morning in a row we woke up to snow! This is the picture from my front window.  Snow in middle Tennessee means, no school, no Community Bible Study, no travel in to town for groceries, a diet coke, or lunch.  It means spend the day at home.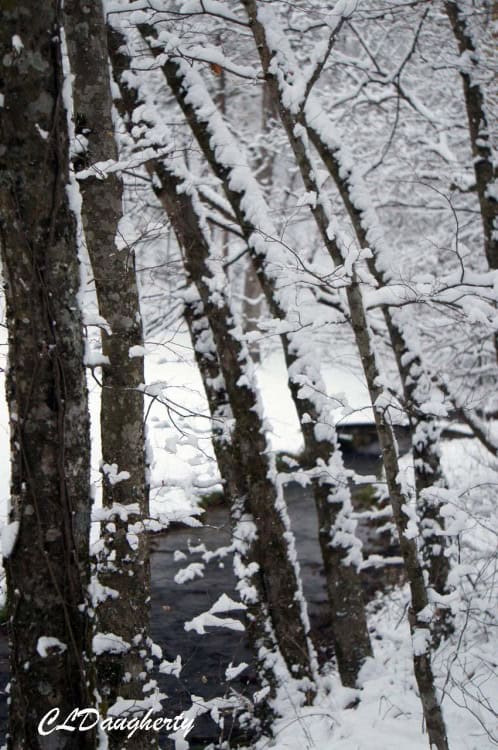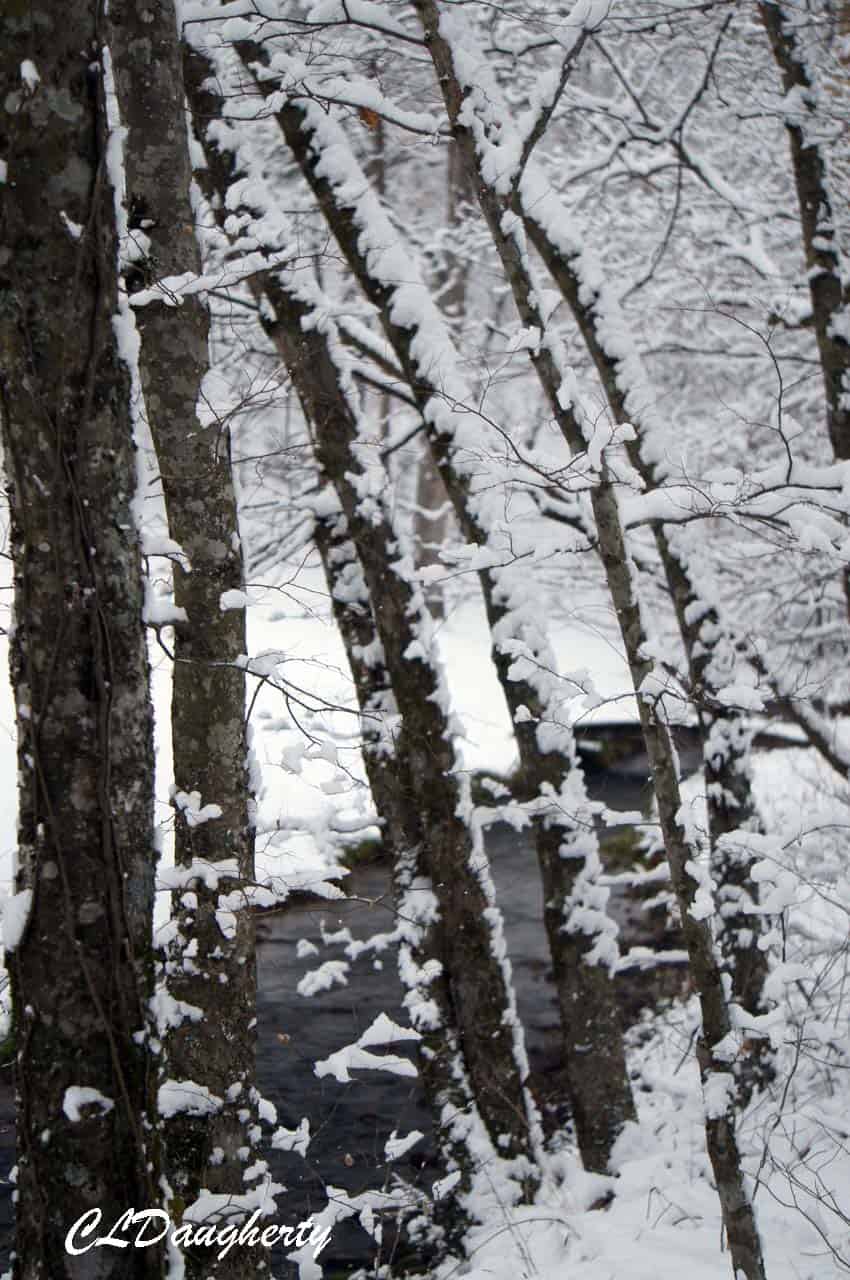 We would have gladly gifted the desserts but no one was moving about in our neighborhood, except for the smart ones who had already left for Florida!
We have nibbled on these desserts for over a week.  I am pretty sick of "lemon dessert".  "Chocolate dessert" doesn't hold any appeal.
But for you … making a light, tasty and easy dessert will perk up your wintry weekend and give you just a hint that "this too shall pass" and spring is peaking around the corner!
Happy Baking!
~Catherine
" …
and in the morning, 'Today it will be stormy, for the sky is red and overcast.' You know how to interpret the appearance of the sky, but you cannot interpret the signs of the times."  
Matthew 16:3
Ready For Spring Pudding Dessert
Make it with lemon pudding or chocolate pudding, either way this layered dessert will delight everyone!
Author:
Adapted by Catherine Daugherty
Ingredients
First Layer
1½ cups all-purpose flour
1½ sticks margarine or butter
¾ cup chopped pecans
Second Layer
8 ounces cream cheese
1½ cup powdered sugar
1½ cups non-dairy whipped topping (from a 12 ounce container)
Third Layer
2 small pkg. lemon instant pudding*
3 cups milk
Remaining non-dairy whipped topping (from the 12 ounce container)
Instructions
First Layer: Mix and press into 9" x 13" pan, bake 15 minutes at 350 degree F. Do not brown. Cool.
Second Layer: Mix cream cheese and powdered sugar, and 1½ cups non-dairy whipped topping together with an electric mixer. Spread mixture over the cooled crust.
Third Layer: Mix instant pudding with milk with electric mixer. Pour over second layer. Spread remaining non-dairy whipped topping over this layer.
Refrigerate at least 2 hours or until ready to serve.
Notes
* Can be made with chocolate pudding or favorite instant pudding mix.
Can be made a day or two ahead of time. Lasts in the refrigerator for up to a week.