Walk Through The Bible In One Year
Week 14 reading plan per day
Click on the colored link to read each day's scripture.
Monday 2 Samuel 1-4, Tues 2 Samuel 5-8,
Wed 2 Samuel 9-12, Thursday 2 Samuel 13-15,
Friday 2 Samuel 16-18,
Saturday 2 Samuel 19-21,
Sunday 2 Samuel 22-24
Blessings as you read!
Today starts the 14th week in our walk through the Bible this year. If you haven't started … it's not too late. Just start where we are today. Each week I will post the reading plan for that week. It only takes about 15 minutes per day and I am finding a closer walk with God each and every day.
Laurie at Simply Scratch recently posted this picture of her Bacon, Pear, & Raspberry Grilled Cheese Sandwich in honor of National Grilled Cheese Month.  National Grilled Cheese Month?  Who knew?  Well, now we do!  Thank you Laurie for bringing this to our attention — and btw – this sandwich looks awesome!  Love the multigrain bread!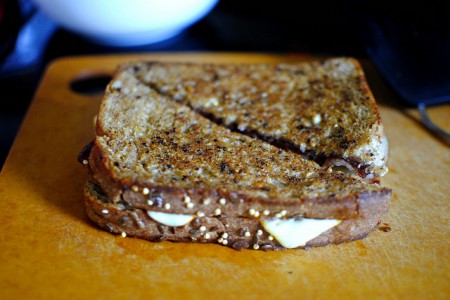 So many things to learn and so little time. For example, did you know there is a National Cornbread Festival in South Pittsburg, Tennessee?  This national festival held its 16th annual event this weekend.  As you might expect from a cornbread festival there is everything from Arts and Crafters, lots of entertainment, celebrities (I am pretty sure I saw Barney Fife and Abraham Lincoln) and a big 'ol cornbread cooking contest!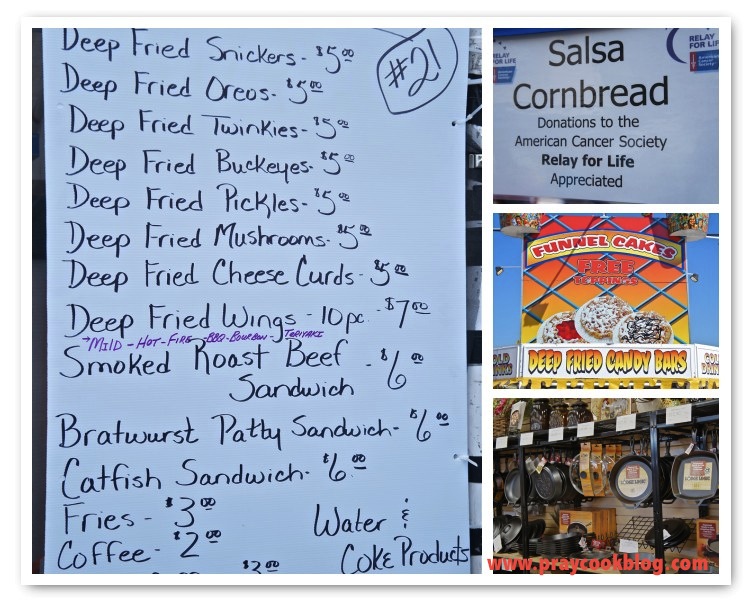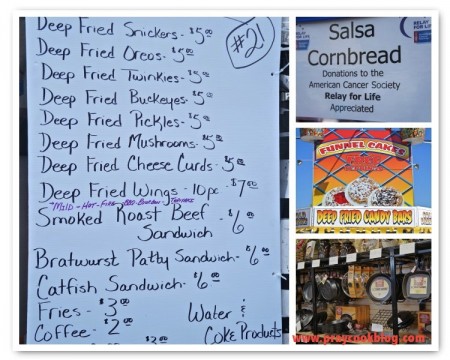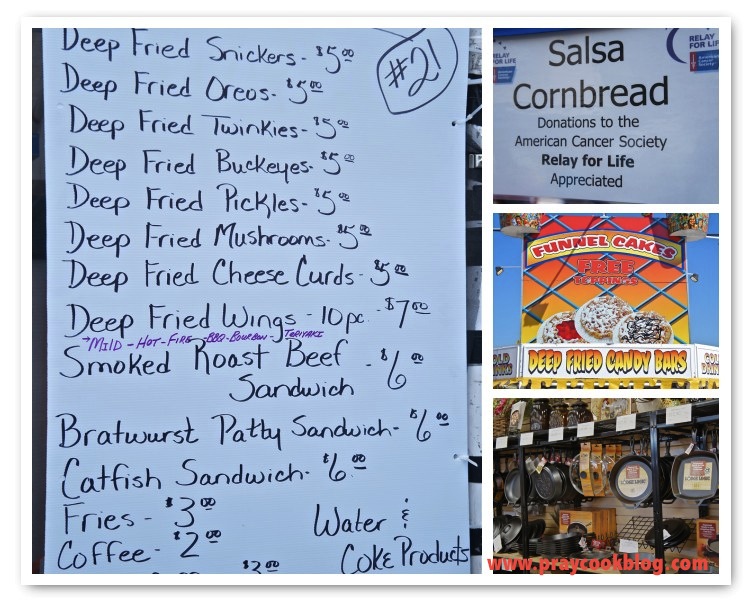 South Pittsburg is the home of Lodge Manufacturing.  I do love cast iron cooking!  Two years ago I submitted a couple of original cornbread skillet recipes for the contest.  Apparently, they weren't original enough because I didn't even make honorable mention! ha! ha!  Guess I should have FRIED those recipes 🙂  But, I digress …  having never actually attended the festival, we decided to head south and check it out.  South Pittsburg is nestled in the beautiful Sequatchie Valley.  The day dawned clear as a bell with temperatures 10 degrees above normal making it an 80-something degree day!  Perfect for a cornbread festival!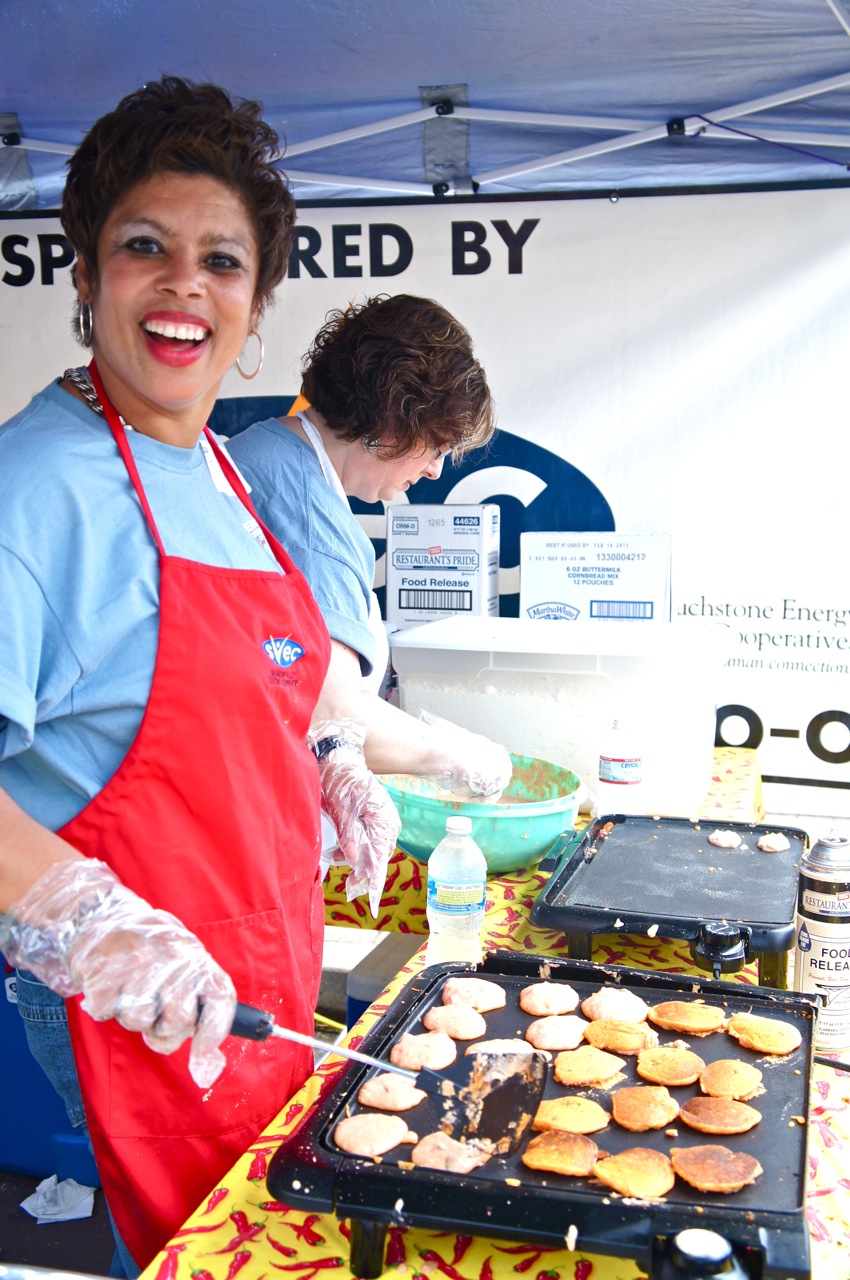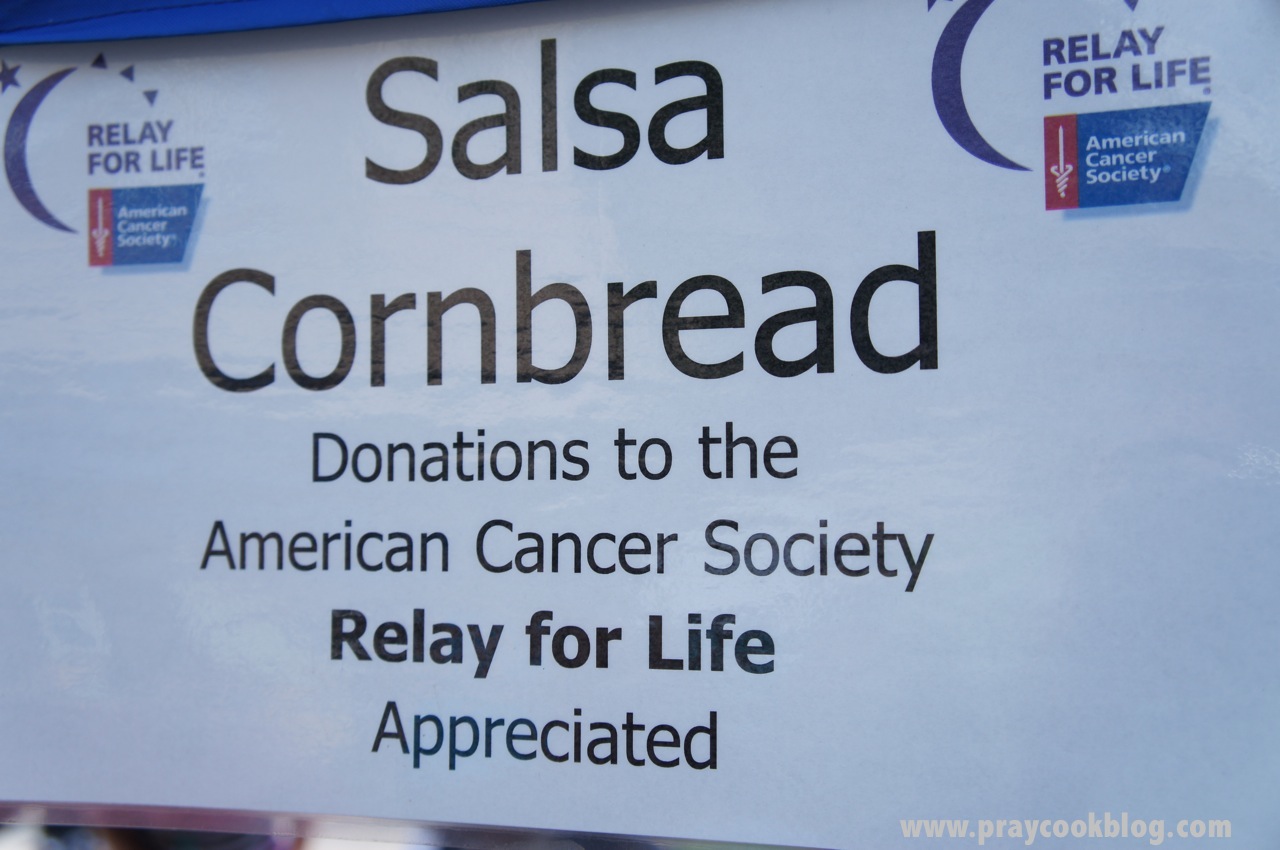 Right away this lovely lady was giving us a sample of Salsa Cornbread.  And the recipe, easy as 3 – 2 -1.
Three cups cornbread mix (like Martha White packaged mix)
2 cups Salsa – your choice
1 cup water
Mix until moistened, drop by spoonful on to a hot oiled griddle.  Cook until set.  Flip over and cook on other side.  They tasted quite good~!


The one recipe we definitely were not going to get is Patsy's very secret Famous Cornbread Salad recipe.  I asked. She said "it's a secret".  End of story….   Not so fast. Patsy's Cornbread Salad was posted June 29, 2008 on the Foodie With Family website.   I can't say for 100% sure, but the salad looks the very same as the secret salad we tasted at the festival 🙂  I suspect it wasn't a secret before if became famous 🙂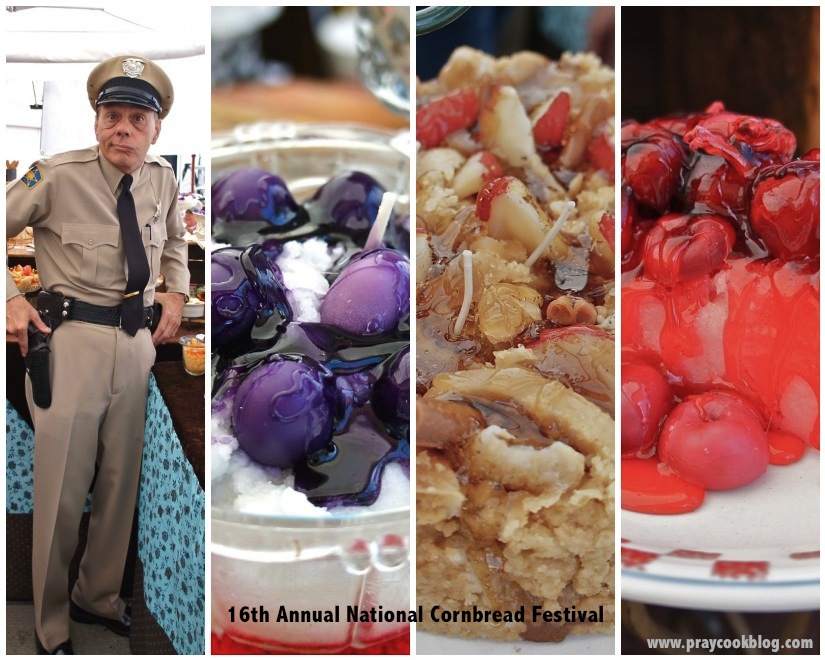 Moving on through the several, several thousands of people, there was "Barney" who brought lots of smiles and laughs to those old enough to remember the real Barney Fife, Don Knotts.  Barney was entertaining folks in a booth that was selling "look-alike" food!  I did a double take when I realized these beautifully crafted plates of food are actually candles.  It is one thing to make and bake in the kitchen, it is an entirely different craft to fashion look-alike food into candles!  Wow!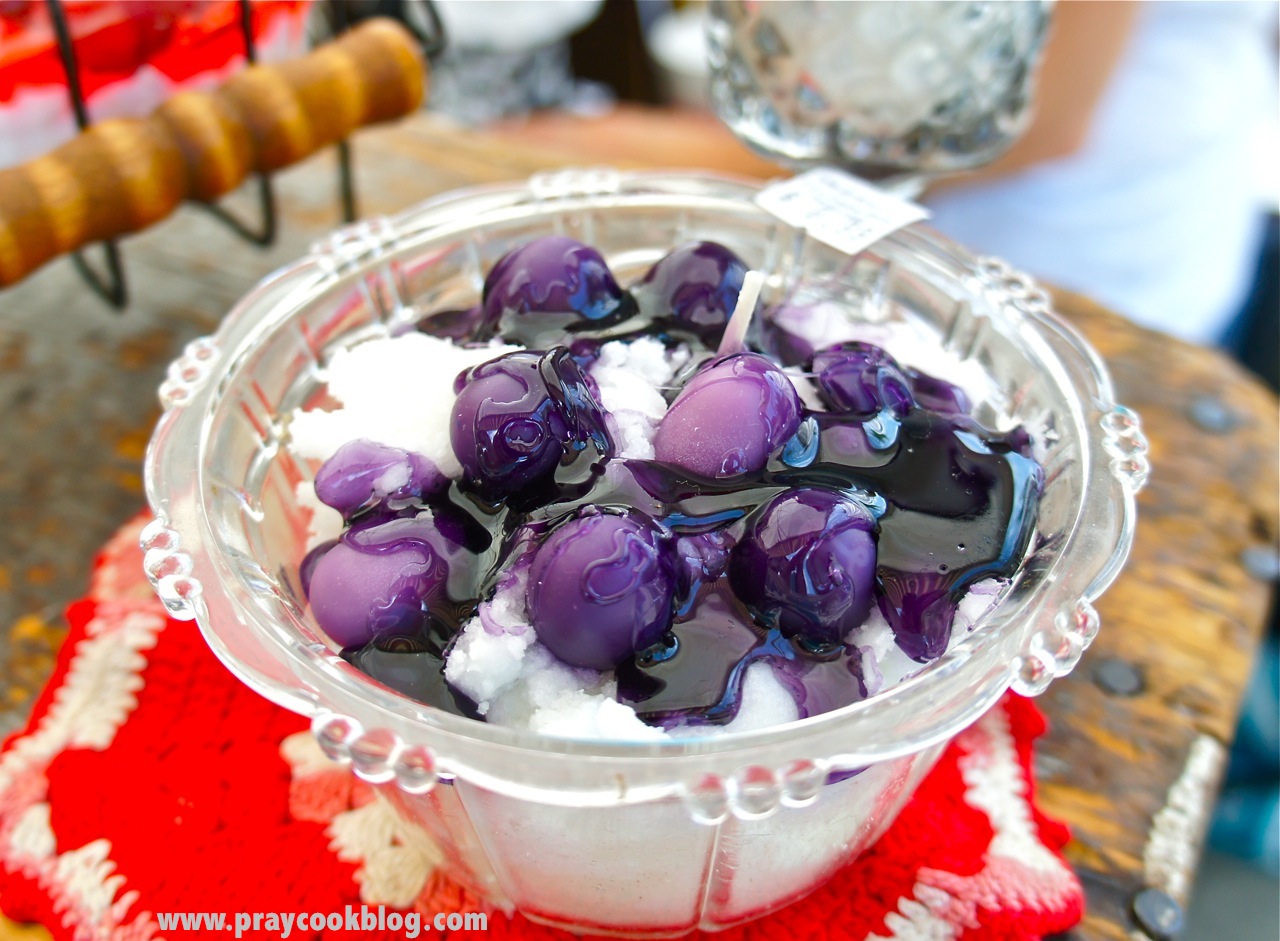 Blueberries and Ice Cream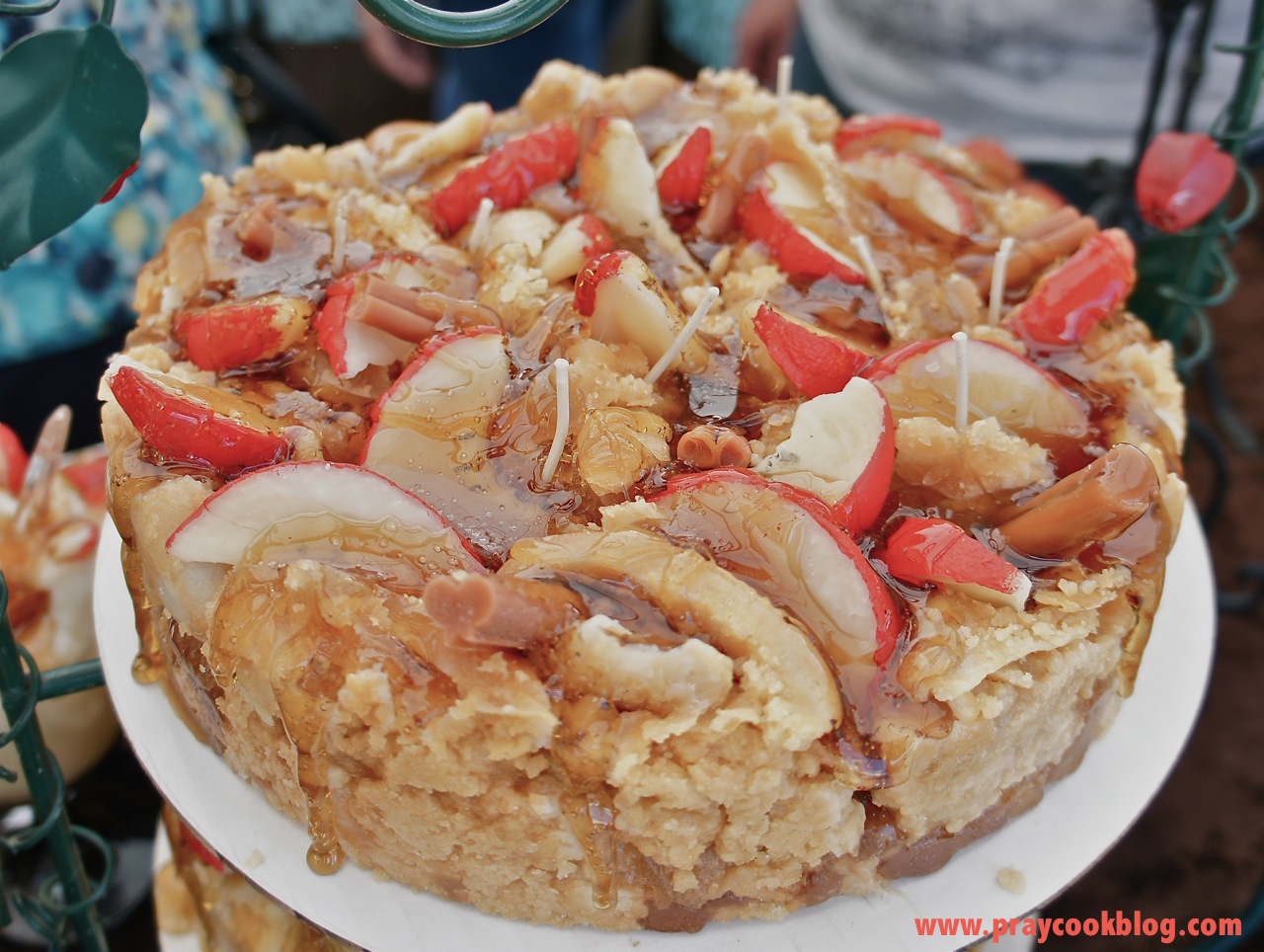 Fresh Apple Cake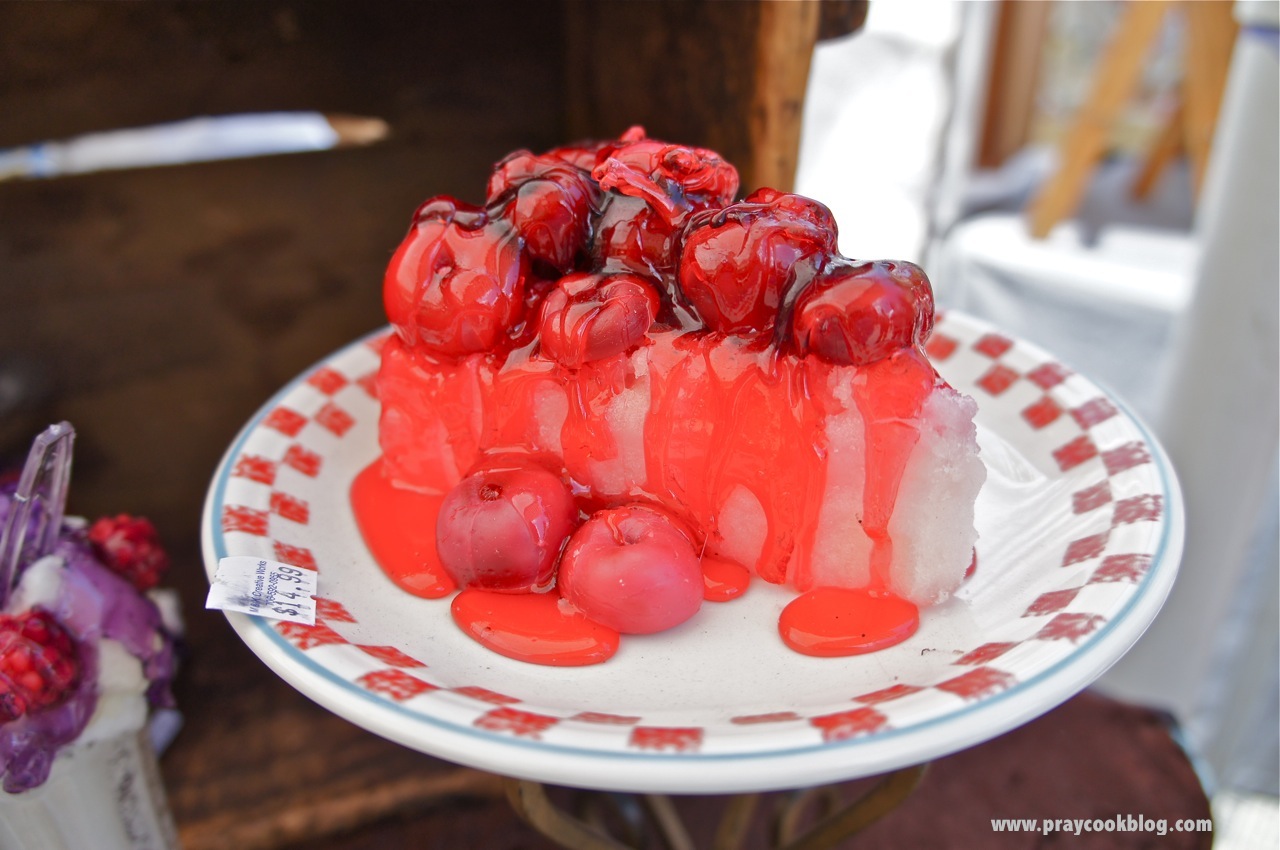 Cherry Cheesecake
These candles were the only "zero calorie" foods that we saw!  Have you ever heard the saying "in the South they fry everything!"???  Nah, we don't fry everything….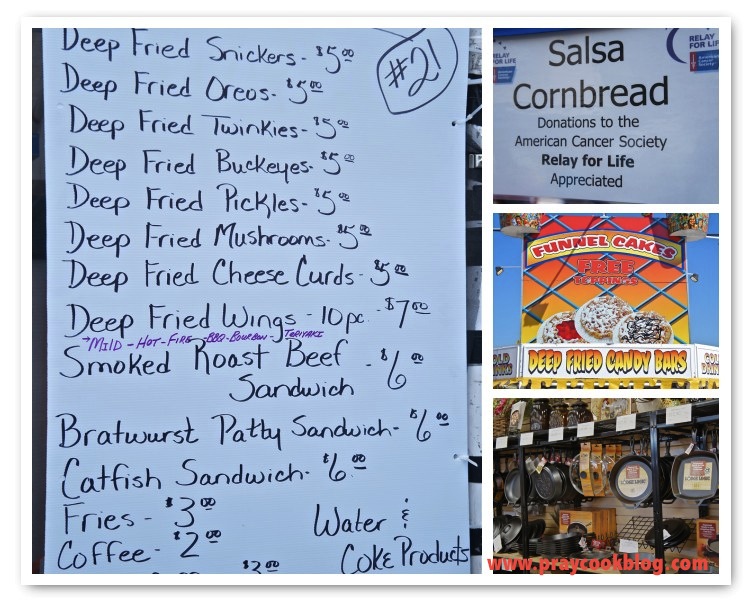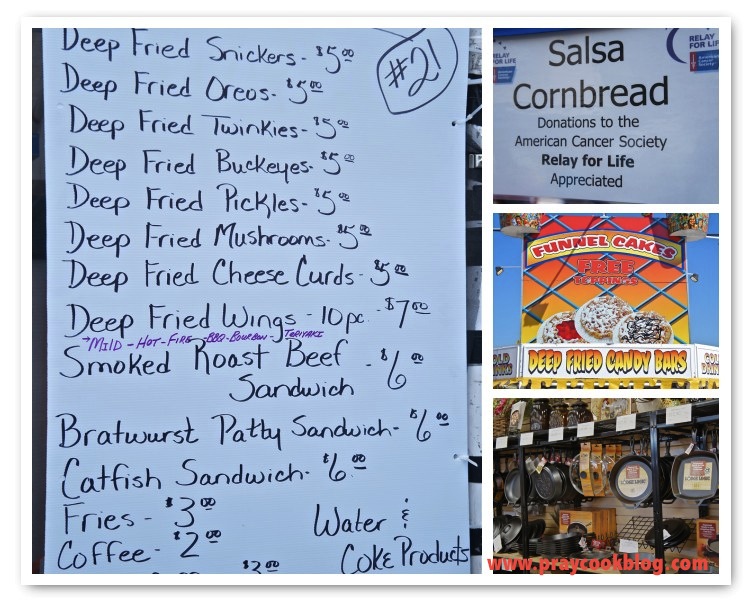 almost everything.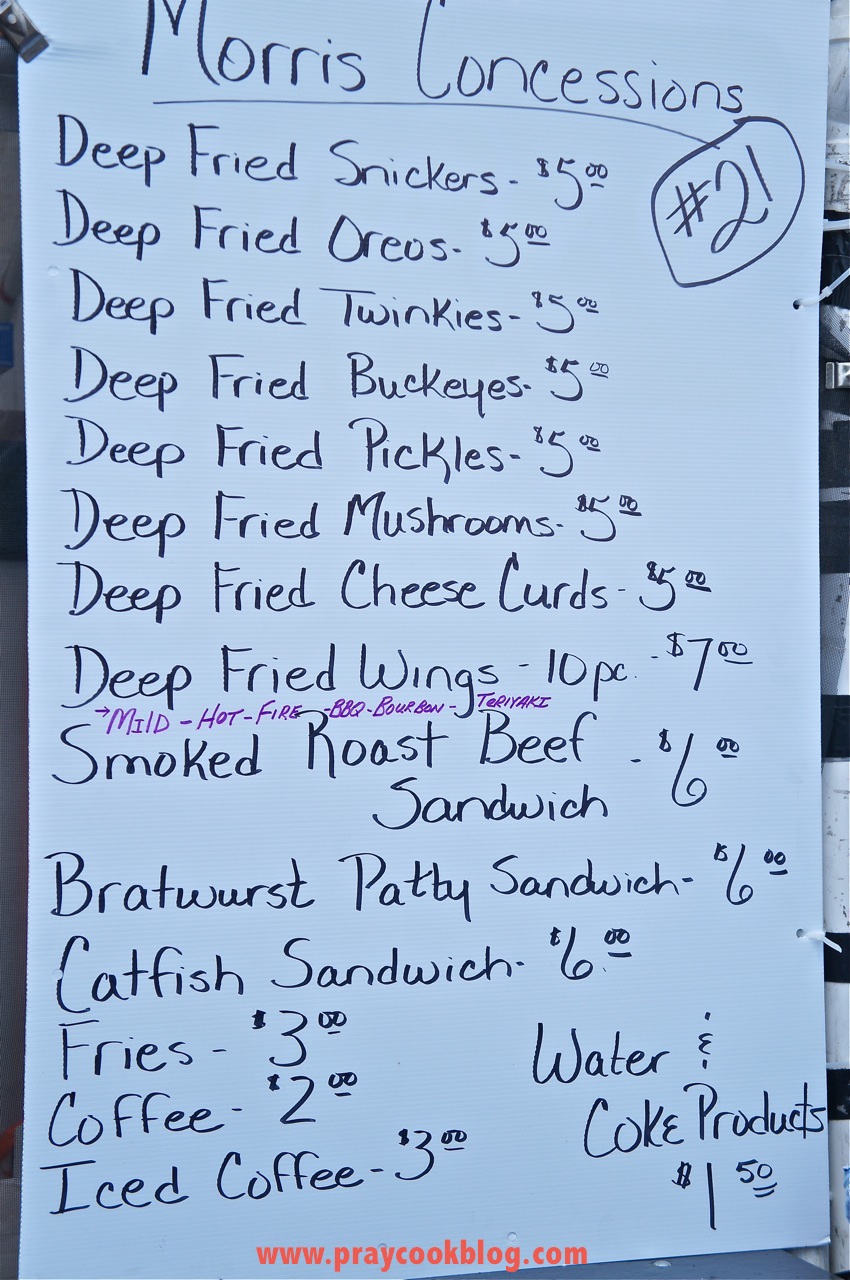 However my big learning curve came when I discovered that apparently we DO fry Oreo Cookies!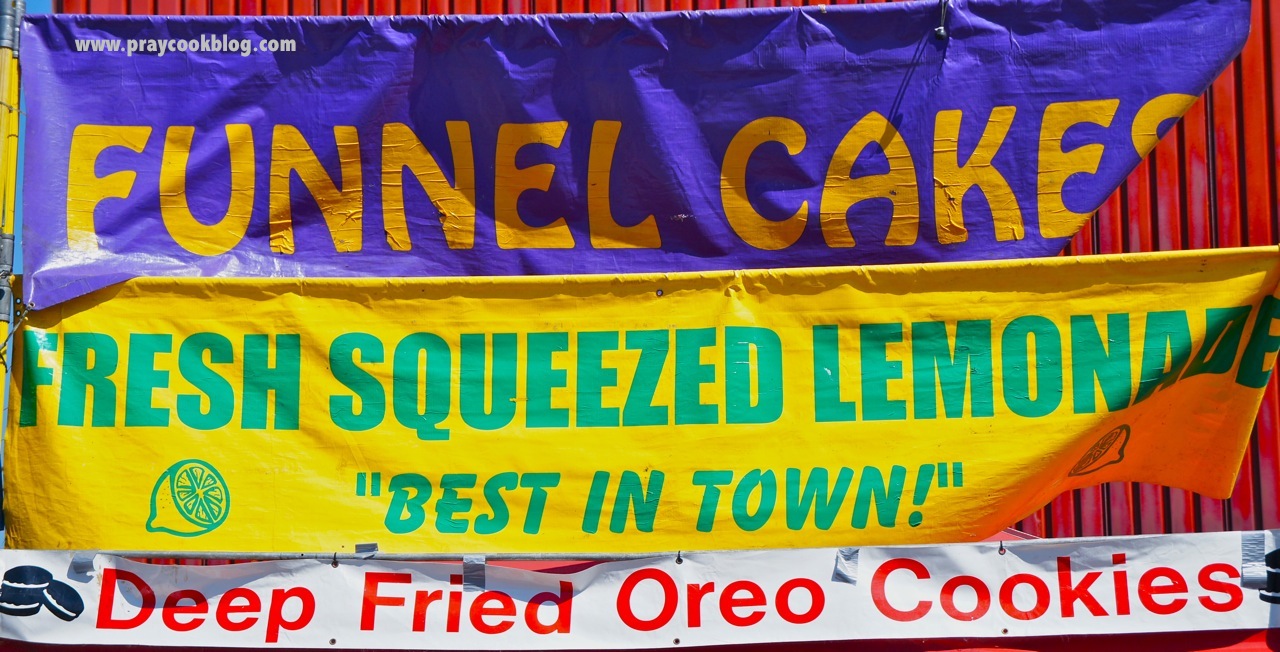 And candy bars … yes, candy bars!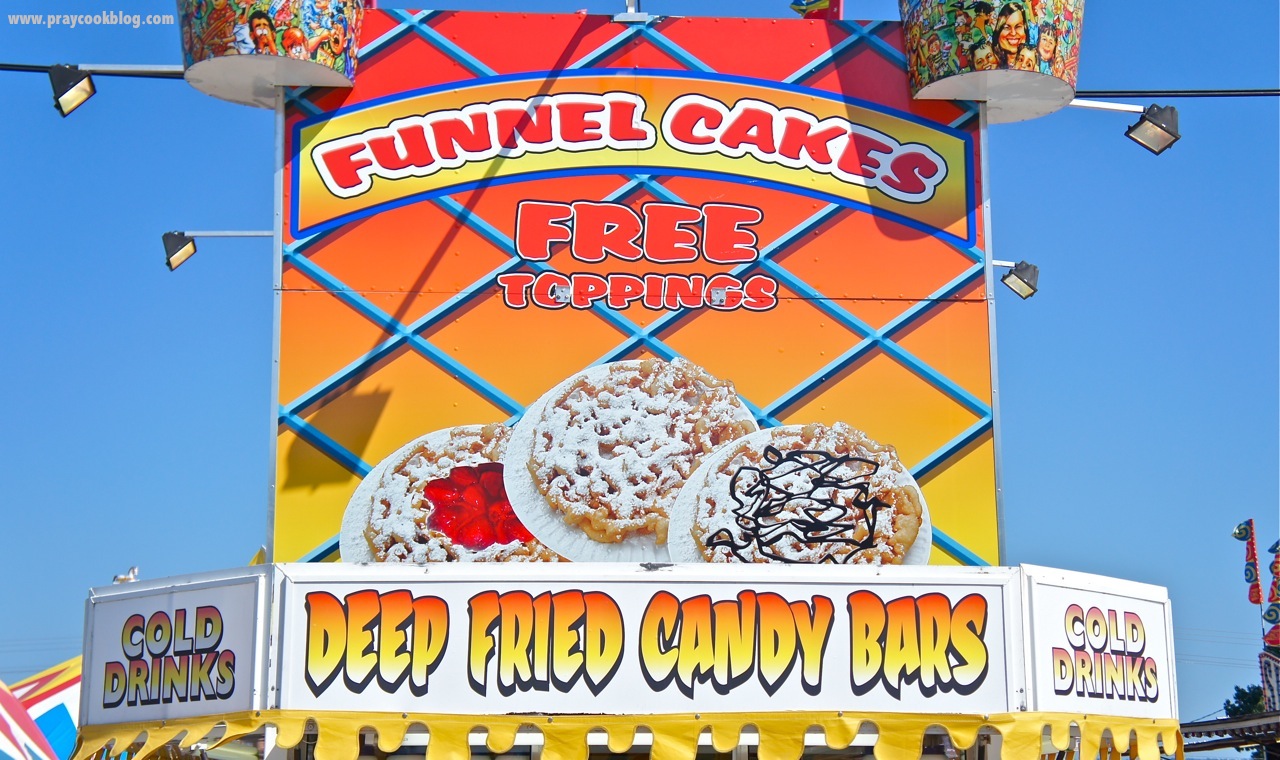 And all of this frying is not to be out done by those Bloomin' Onions and Fried Green Tomatoes!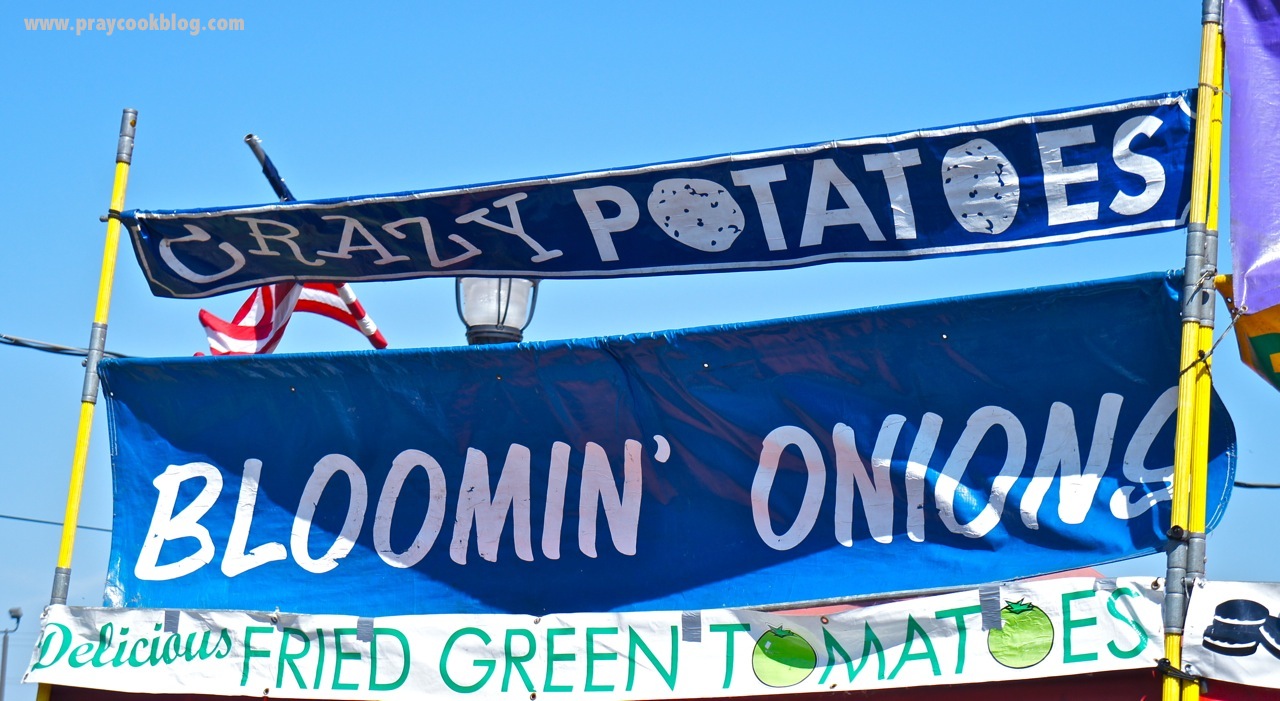 What did we eat?  Collard greens (my Chief Culinary Consultant), Pinto beans, cornbread and one of the best Chocolate Meringue Pies I have ever eaten!  Our day ended at the Lodge Cast Iron store … of course!  Since Lodge Cast Iron is made in South Pittsburg, Tennessee they have a wonderful company store.  They offered tours and lots of shopping!  I use a cast iron skillet quite often when cooking on the BBQ grill.  A cast iron skillet is perfect for grilling onions, fried potatoes, or even chicken on the Barbie!  I especially like cooking chicken breast in my skillet on the grill.  The chicken stays moist and tender, browns really nice and still has the flavor from the BBQ grill.  I also like to bake in a cast iron skillet.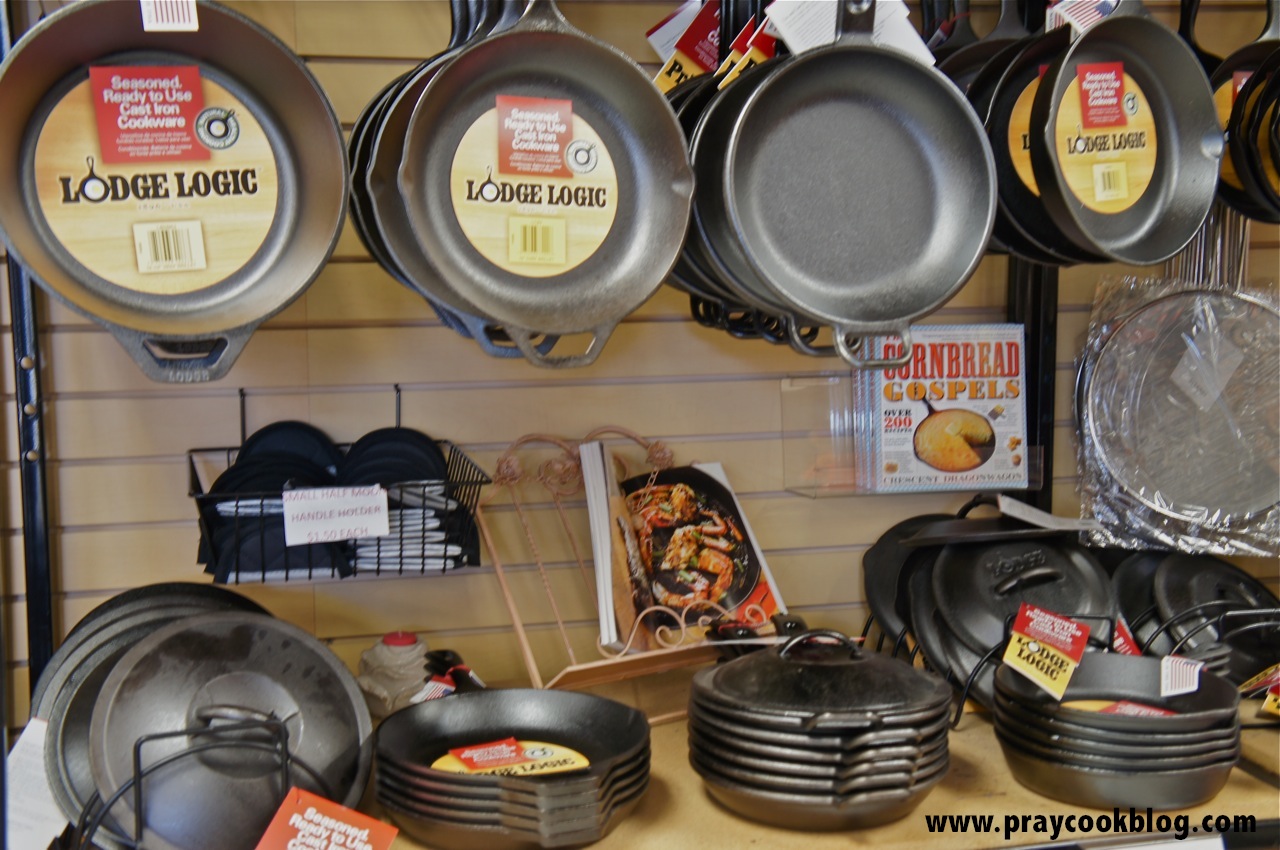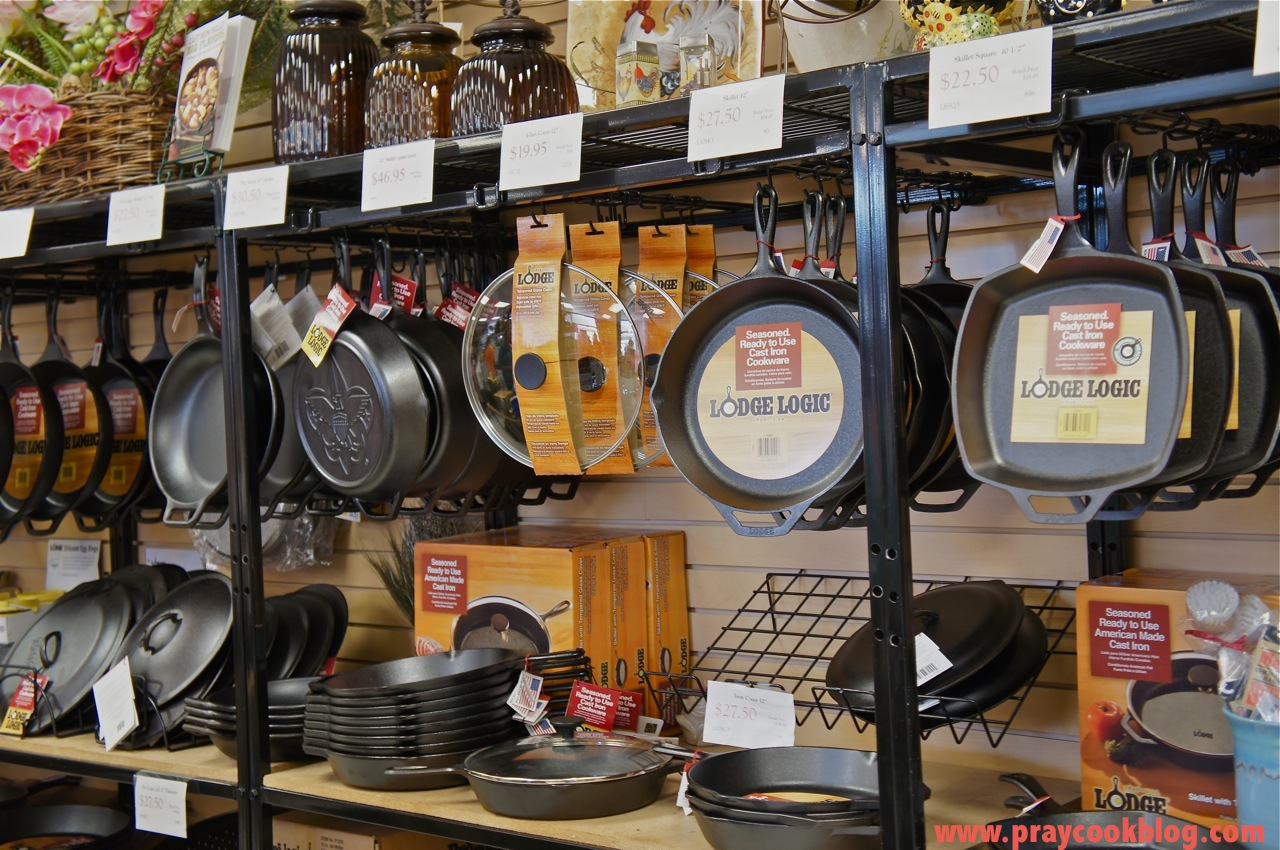 All-in-all a fun day, a really great festival to attend,  and my purchase — you ask?  National Cornbread Festival Winning Recipes 1997-2011 cookbook.  I'll be sharing it with you!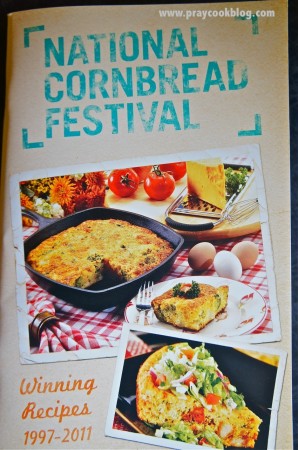 Wishing you a blessed week and Happy Cooking!