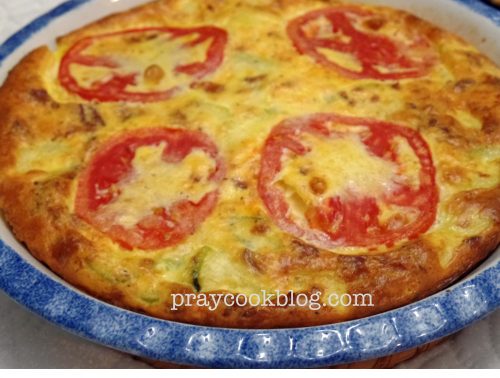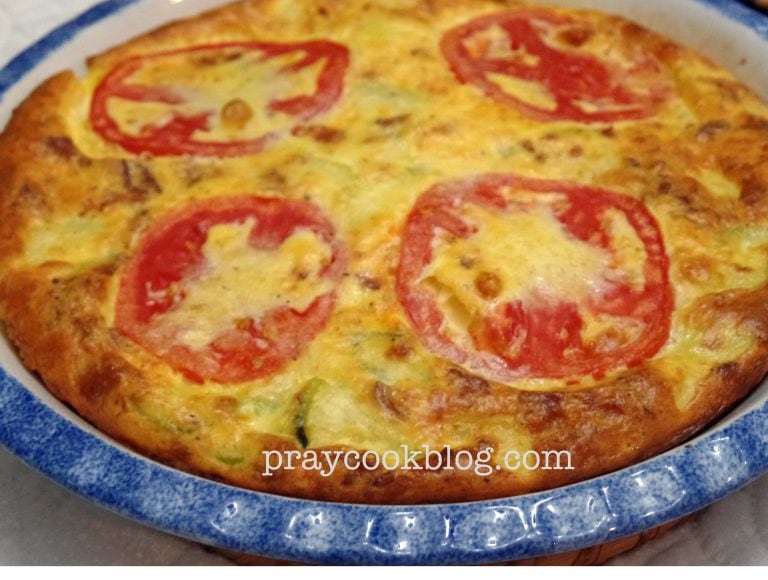 From a recent visit to our friends in Sewanee we came away with armloads of fresh out-of-their-garden produce!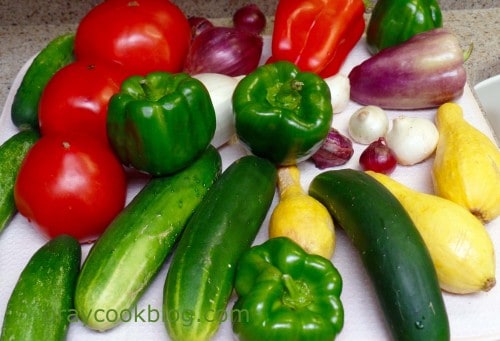 We don't have a garden this year and the summer's bounty was such a lovely gift!  I did the usual cucumber and onion salad,  a luscious southern squash casserole, and then a super vegetable stir fry.  But, if you have been with me on My Daily Bread for very long you will know I love to make Quiche.  Quiche meets a ton of quick meal criteria:  easy, can use of leftovers from the refrigerator, almost always have the basics of milk and cheese on hand and then the best part — the family oohs and aahs over a tasty, lovely Quiche.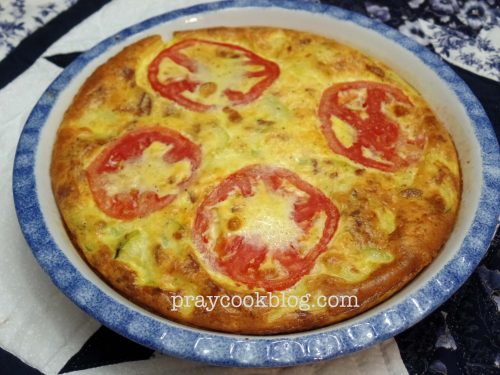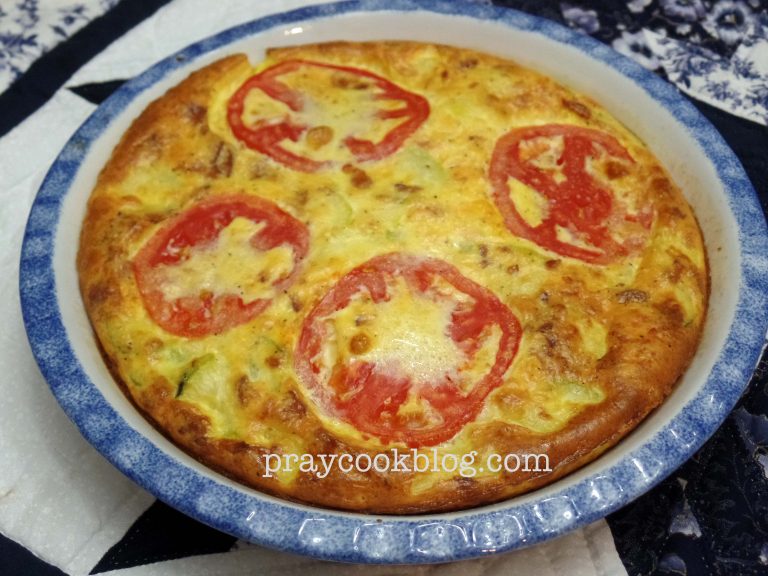 This is a crustless Quiche, which was necessary because my sous-chef dish-washing mom had just made an awesome peach pie and we sometimes have to draw the line and go crustless!  🙂
I filled this Quiche with fresh veggies, chopped ham, a couple different cheeses I had on hand!  Quiche is synonymous with create!
Use your favorite ingredients and you won't be disappointed.
I have found there are just two basics for me:
4 large eggs
1 1/2 cups whole milk
(and  1/2 cup cream is optional
if I have it on hand.)
Then the add-ons make your Quiche really pop!
Cheese – mix and match your favorite up to 1 1/2 cups – I almost always use some combination that includes pepper jack!
Vegetables – saute' onions, garlic, zucchini, yellow squash, green peppers, broccoli straws, carrots and more!
Add in crispy bacon, chopped ham,  or shredded chicken … about 1 cup is usually enough.
Yum – no crust needed.  Just pour into the pan, slice some fresh tomatoes on top and pop in the oven!
Have a bountiful and blessed week,
~Catherine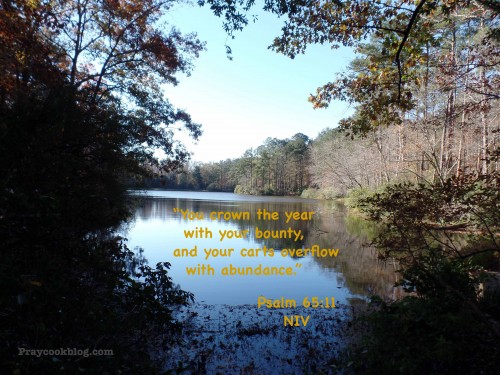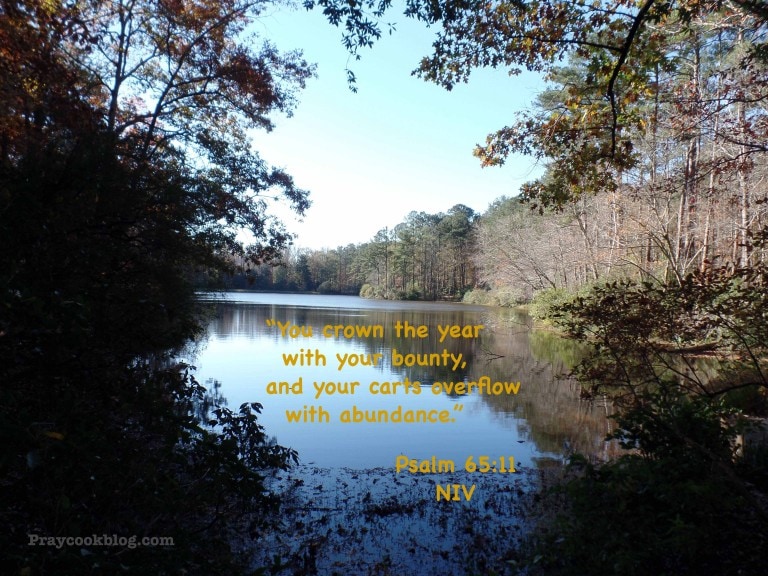 Summer's Bounty Quiche
This versatile quiche is so pretty and equally delicious!
Author:
Adapted by Catherine Daugherty
Recipe type:
Breakfast, Brunch, Light Supper
Ingredients
4 large eggs
1½ cups whole milk
½ cup cream* optional
1½ cup shredded cheese: i.e. cheddar, pepper jack, Colby, asiago,
1½ cup chopped vegetables, mix it up: i.e.saute' onions, garlic, zucchini, yellow squash, green peppers, broccoli straws, carrots
Optional: 1 cup chopped ham, crispy fried bacon, or cooked shredded chicken
Salt and pepper to taste, ¼ tsp cayenne pepper optional.
Garnish with slices of fresh tomato
Instructions
Preheat oven to 375 degrees F.
In a medium size bowl, whisk eggs until well blended. Add in milk (and cream) and continue to whisk until all is blended.
Saute' chopped vegetables in 1 tablespoon of butter or oil just until translucent (3 to 5 minutes).
Add vegetables to egg/milk mixture. Stir in meat (optional). Add shredded cheeses.
Salt and pepper to taste.
Pour mixture into 9" or 10" pie plate, lightly sprayed with cooking oil.
Thinly slice a fresh tomato and garnish.
Bake at 375 degrees F. for 25 to 30 minutes until quiche is lightly browned and cooked all through.
Let set for 5 minutes before serving.