Walk Through The Bible In One Year
Week 24 reading plan Psalm 81 through 118 Click on the colored link to read each day's scripture.
Monday Psalm 81-87, Tuesday Psalm 88-91, Wednesday Psalm 92-100, Thursday Psalm 101-104, Friday Psalm 105-106, Saturday Psalm 107-110, Sunday Psalm 111-118
Psalm 100    A psalm for giving grateful praise.
Shout for joy to the Lord, all the earth. Worship the Lord with gladness; come before him with joyful songs. Know that the Lord is God. It is he who made us, and we are his; we are his people, the sheep of his pasture.


Have you ever heard of "Tasty Kitchen"?  Tasty Kitchen is designed by Ree Drummond (The Pioneer Women) and with Ree's signature blend of modern style, country sweetness, and upbeat sass. It feels easy to navigate and inviting to use. The recipes are broken down into categories (which are always visible on the left of the screen) or are searchable by keyword. You don't have to be a member to peruse these recipes, but you do need to sign up to add your own recipes or  rate other people's recipes.  I have decided to join this happy community and post my recipes there as well as on this blog.
The PRINT features  gives four different options, which is very nice:  Select a size:   |     |     |     |
This means at the end of each of my blog posts I will include a link to PRINT. The link will take you to the Tasty Kitchen website and my specific recipe. From there you can print using the different options.  My goal is to make the recipe file easier to use.  Please let me know if you print a recipe and it works … or doesn't work!  Here is the first of my Tasty Kitchen recipe posts: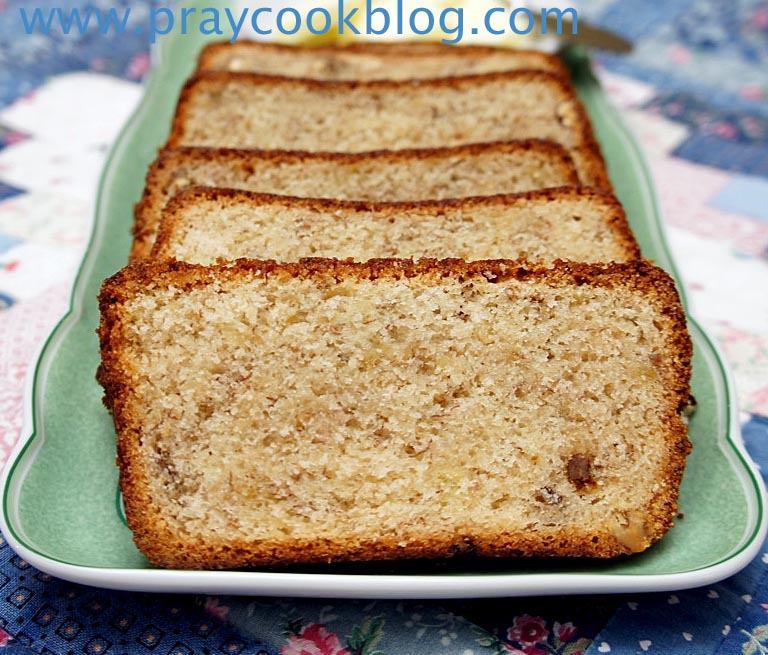 Is it only me or do your summertime bananas turn over-ripe about an hour after you get them home from the store?  I know better than to buy bananas in the summer.  But with kids and grandkids in the house I was certain they would want a banana with breakfast in the morning.  Wrong.  For a snack. Wrong.  How about at bedtime?  Wrong.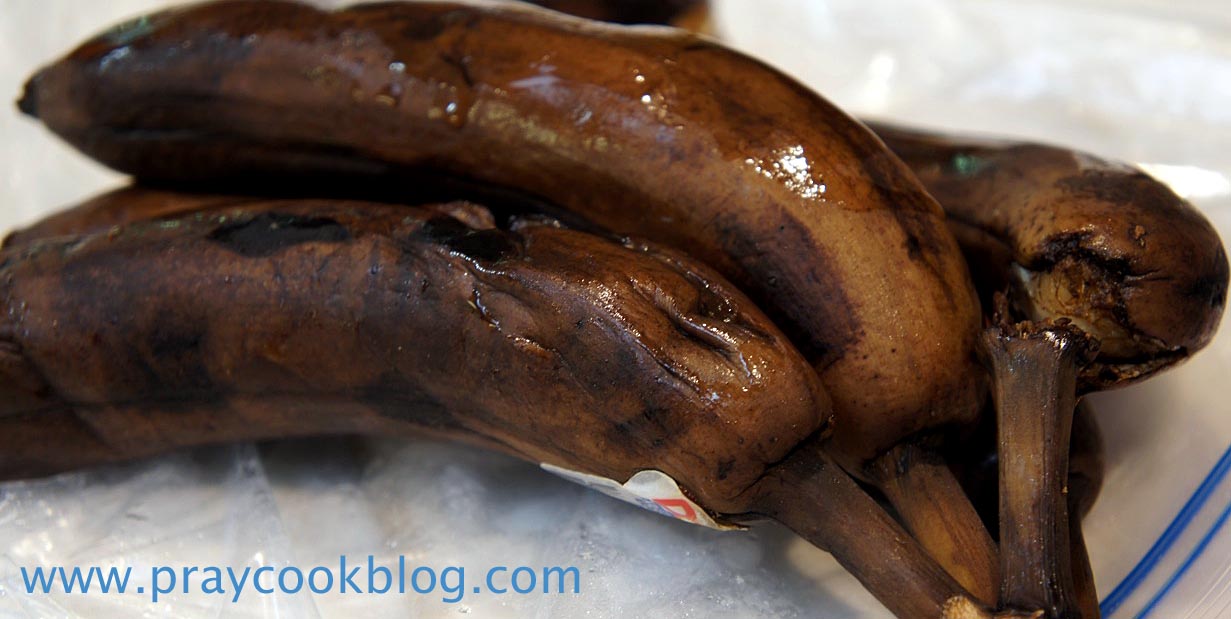 Now don't judge me until I tell you that these ugly-looking things actually went into the refrigerator long before they turned ugly.  I realized that no one was going to eat bananas when they could be eating S'more bars.  My bad.  No one wanted a banana when they could just as easily have an Almond-hazelnut biscotti! And they sure weren't choosing a plain ol' banana when they could have a yummy slice of fruit pizza!  If only I could take back that moment-in-time at the grocery store when I had a complete lapse of my senses and bought these.   But I couldn't,  so the bananas went into the fridge to be thought about another day.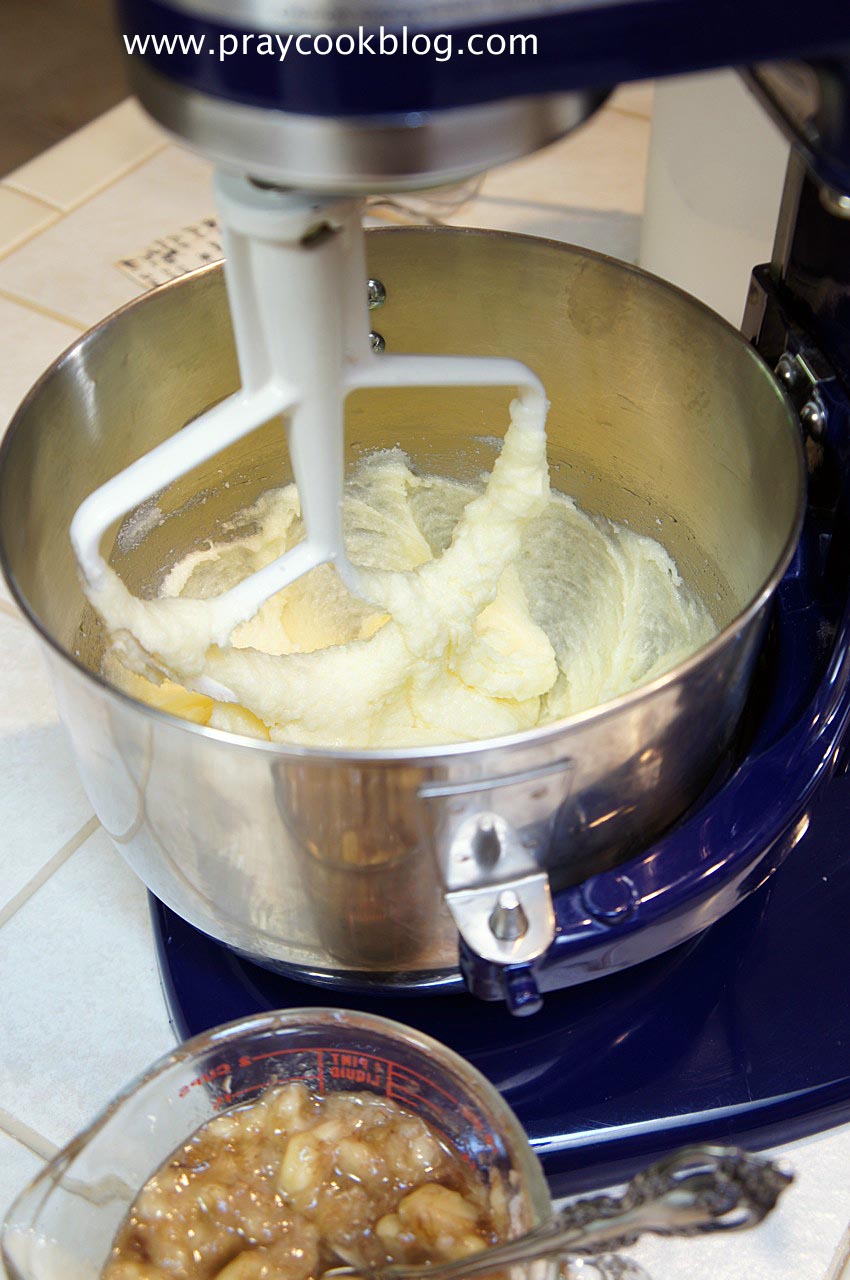 That is when I took my friend Susan shopping.  We were at Wal-Mart and she said, "I saw on TV they have Banana Bread Ice Cream!"  She went on to say she just loves banana bread! 🙂  Since she eats ice cream everyday, she bought the latest and greatest flavor – banana bread.  I went home,  retrieved my bananas from the fridge and made bread!  I am quite certain that everyone has at least one, two, or maybe three banana bread recipes in their recipe box.  I know that over the years I have folded in beaten egg whites, used sour milk, buttermilk, whole milk, 2% milk and the list goes on.  But I am hear to tell you straight from my Chief Culinary Consultant's mouth, "this is the best banana bread you have ever made!".  I don't know about you, but I WORK FOR COMPLIMENTS and this one did it! 🙂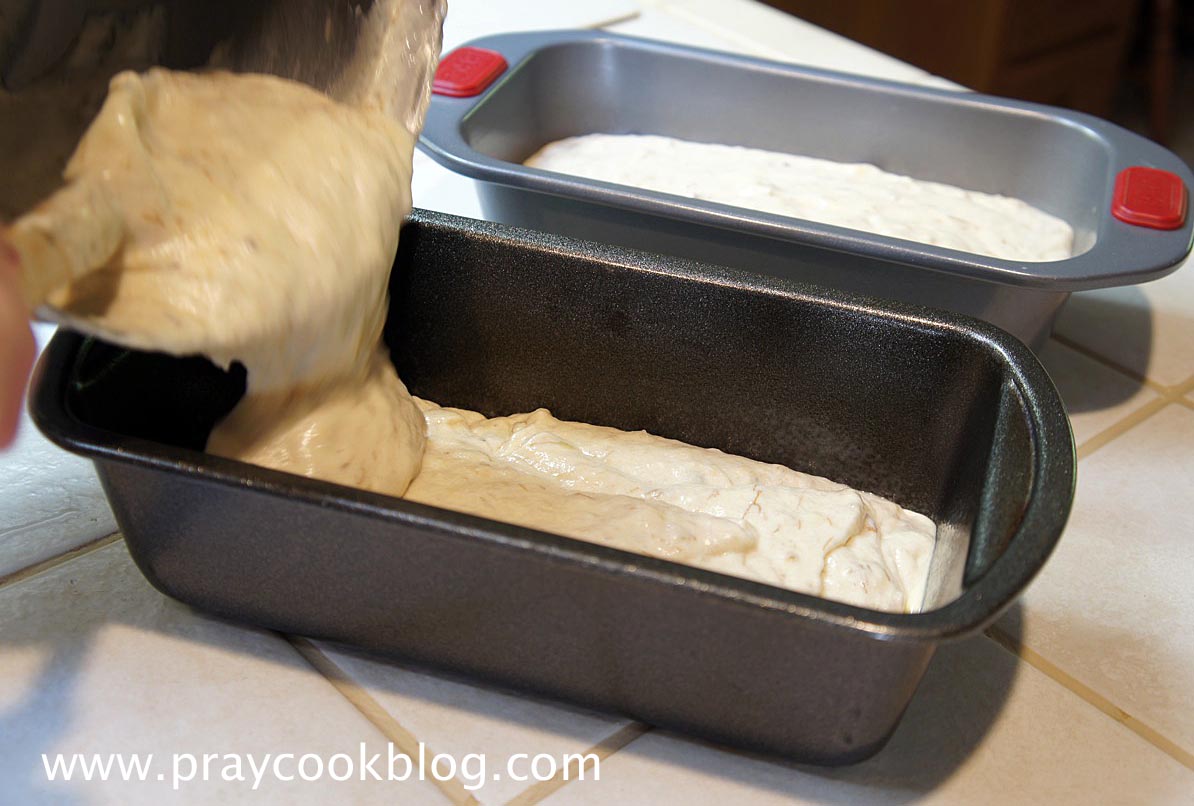 Two things set this recipe apart from all the others.  First, my bananas were  rotten, oops, I mean well-ripened. 🙂 Secondly, buttermilk. Not the low-fat,
no-fat kind but regular, full of fat, buttermilk.  This buttermilk combines with the baking soda to produce the nicest texture for the bread along with helping it to poof up perfectly.  This recipe makes two loaves, about 12 slices each.  When served with butter warm-out-of-the-oven you will wonder why you don't buy bananas more often!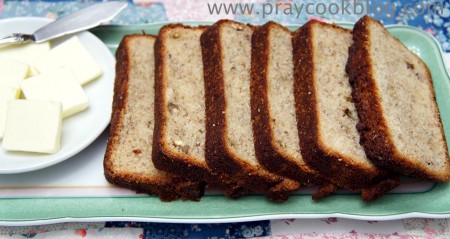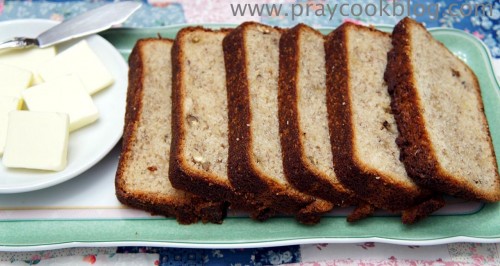 I took bread to Susan leaving one whole loaf for us.  Each of us had a fresh, hot piece slathered in butter.  Next morning we toasted a piece for breakfast.  Third day I still had 1/3 of the loaf left.  That is when the Chief again mentioned how good that particular banana bread tasted.  At that moment I was looking in the refrigerator and my eyes fell upon a little container of Kahlua Cream Frosting I had made recently and had leftover from making Chocolate Chip Mousse Cupcakes for my step-son Rob's birthday.  Hmmmm, the banana bread is so good it could pass for cake … dessert!!!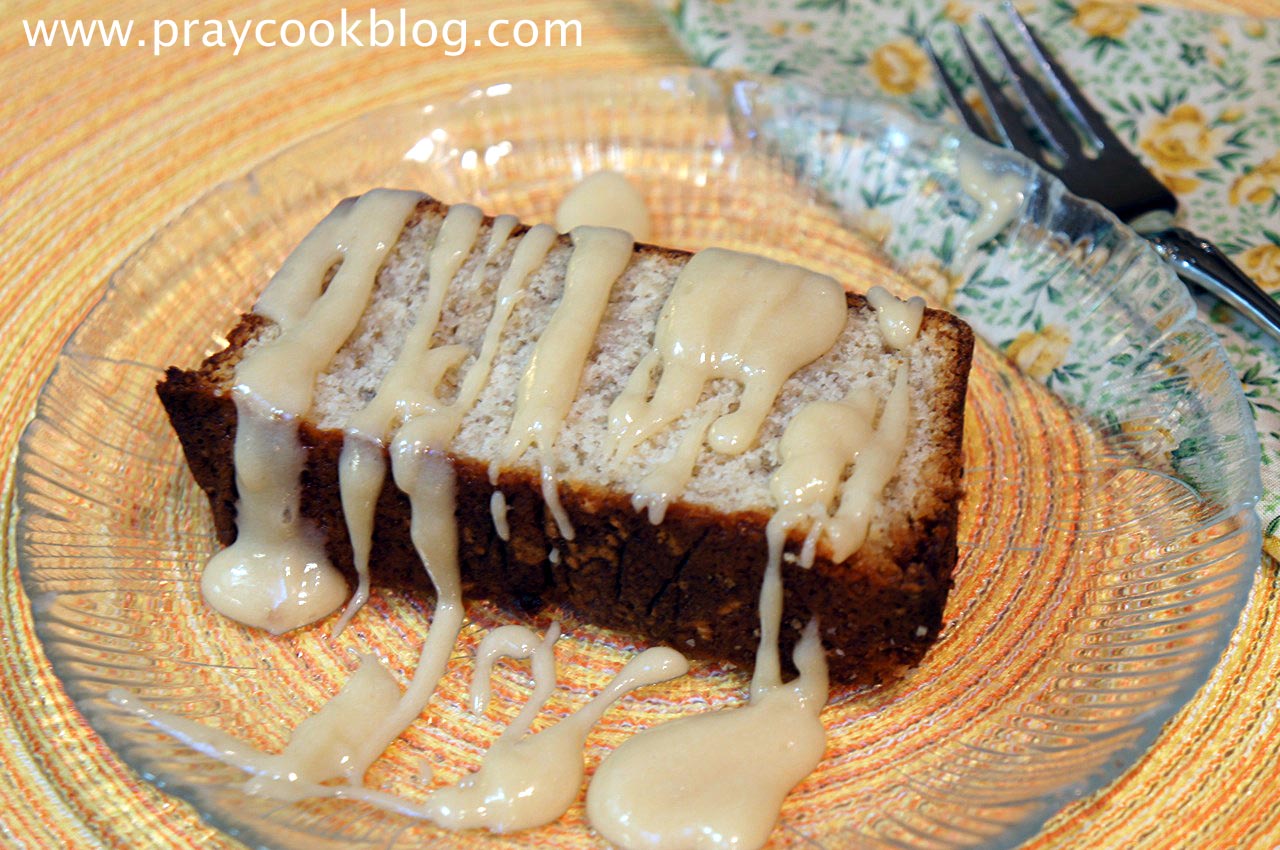 I warmed the bread in the microwave, warmed the frosting, just slightly and drizzled over the top.  Both my sous-chef dish-washing mom and the Chief were overly impressed with the newly designed dessert.  It couldn't have been any better if I had just made a banana cake!  Frankly, this is the only way I like leftovers!
~Many Blessings, Catherine
Summertime Banana Nut Bread PRINT via Tasty Kitchen