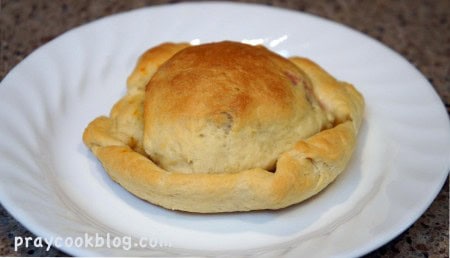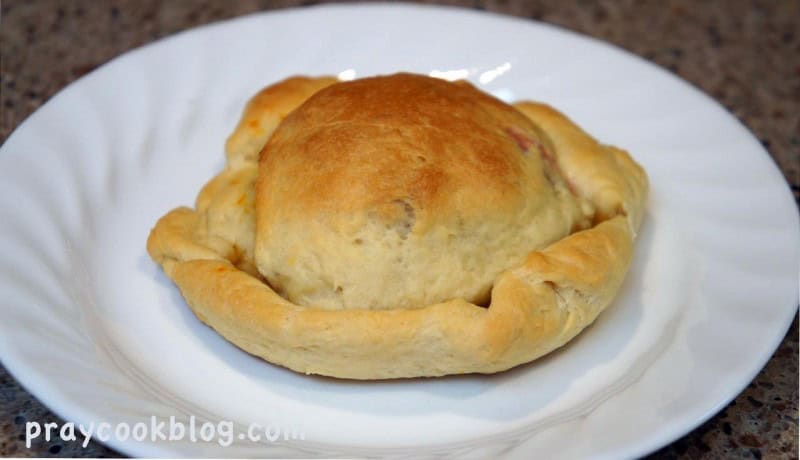 It's Tuesdays with Dorie where a group of bakers and bloggers bake up the same recipe from Dorie Greenspan's book, Baking With Julia.   Then we brag, I mean, blog about our results.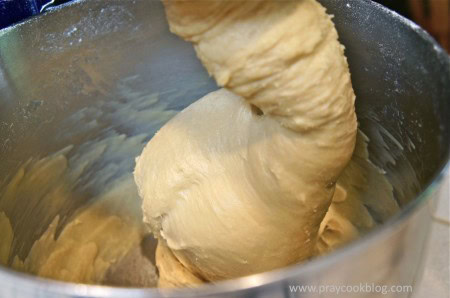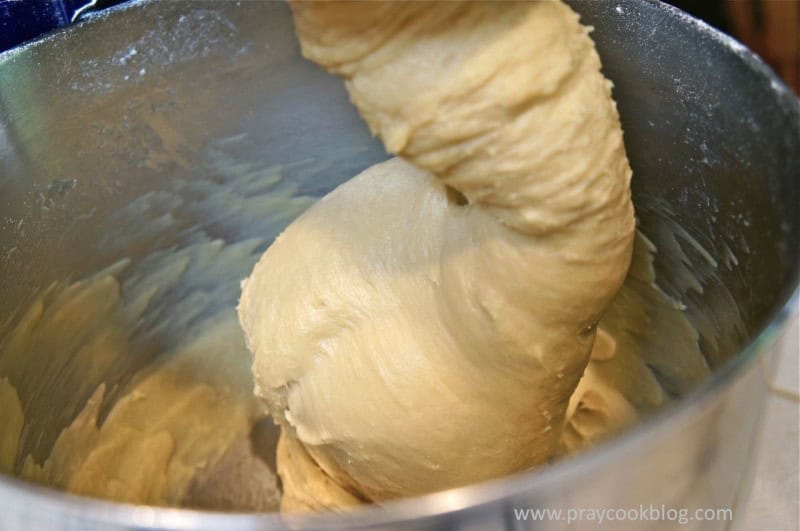 A year ago I made my very first attempt at brioche dough.  To say it was a success is an understatement.  (I'm humble like that.)  I used the dough to make PECAN STICKY BUNS that turned out to be the b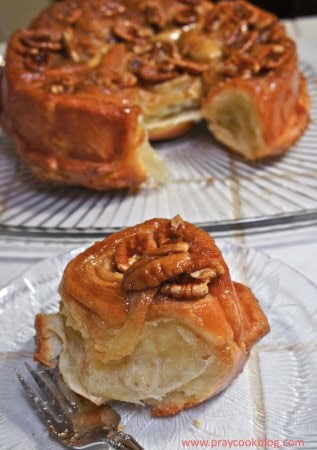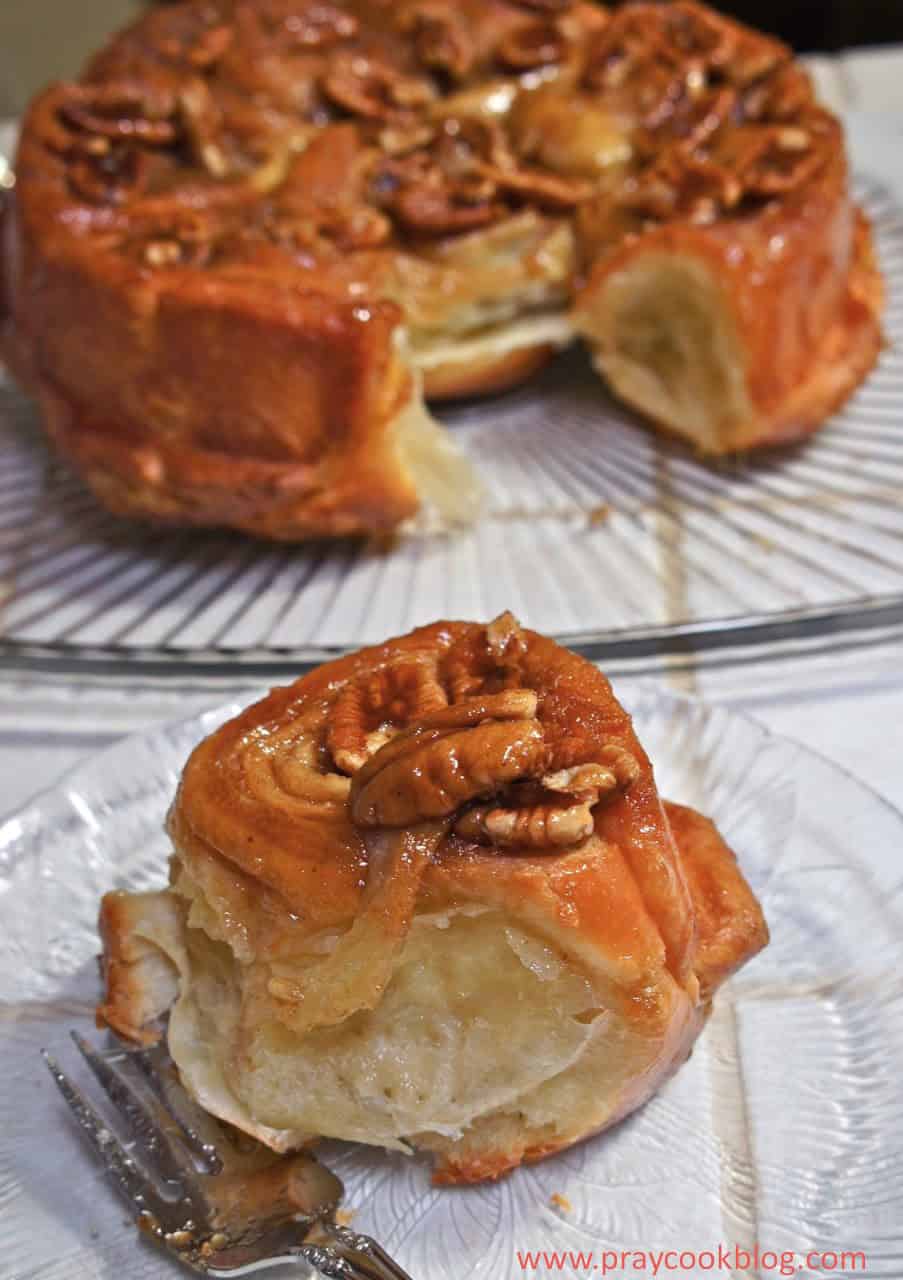 est I have ever made and quite simply the best I have ever eaten.
Today's recipe takes the same beautiful and buttery brioche dough and goes the opposite direction creating a savory pocket.  Yum.
I mean, um, not so fast.  While there are several steps to making brioche dough, one of the most important is to beat the dough in a mixer until it pulls together into a tight ball and then add butter until it falls apart.  Yep, falls apart … and it will.  Then the mixing continues until the dough reunites into the most elegant of soft bread doughs.  Checking out my blog post from last year will give you the best idea of how this happens successfully.
For my savory pockets I was about 7 minutes into the 20 minute mixing and beating process when my Kitchen Aid let out a whoop and a holler and ground to a shrieking halt.  "What just happened?" my Chief Culinary Consultant called out from the living room.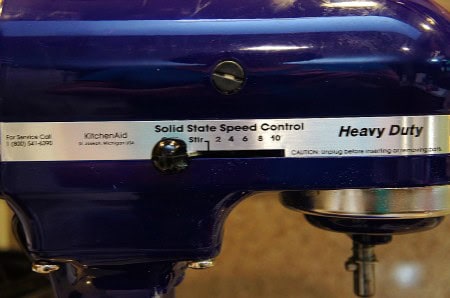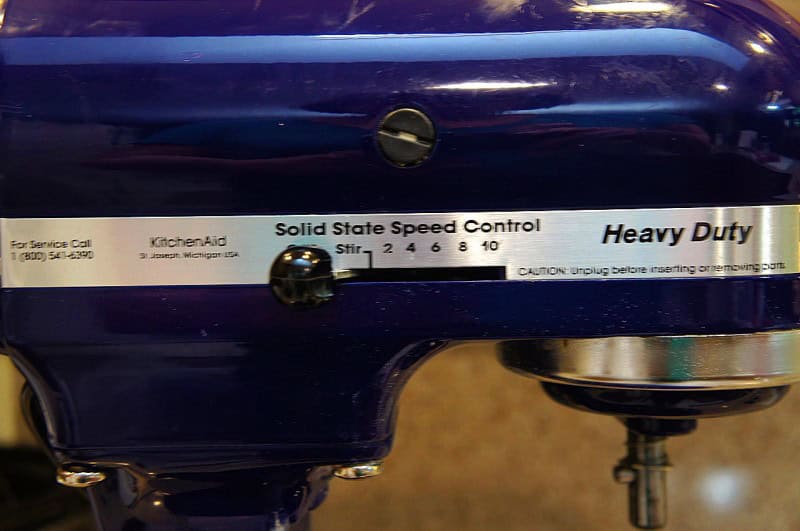 "I have no idea" I said, as I began to disassemble the mess of wet, buttery dough from the blades of the Kitchen Aid.  Several attempts later only confirmed that the gears within my 17 year-old Kitchen Aid are stripped out.  As I looked on in disbelief my eyes fell upon the label HEAVY DUTY proudly stamped across the top of my mixer.  Heavy duty?  I hadn't even begun to mix this brioche!
I cleaned up the mixer and got it ready for the Chief to take to the shop and "fix."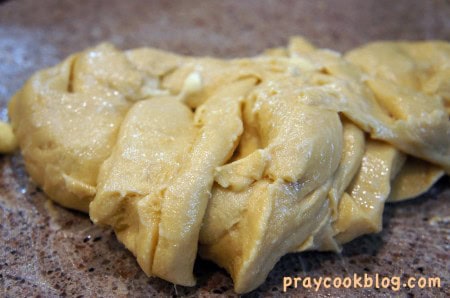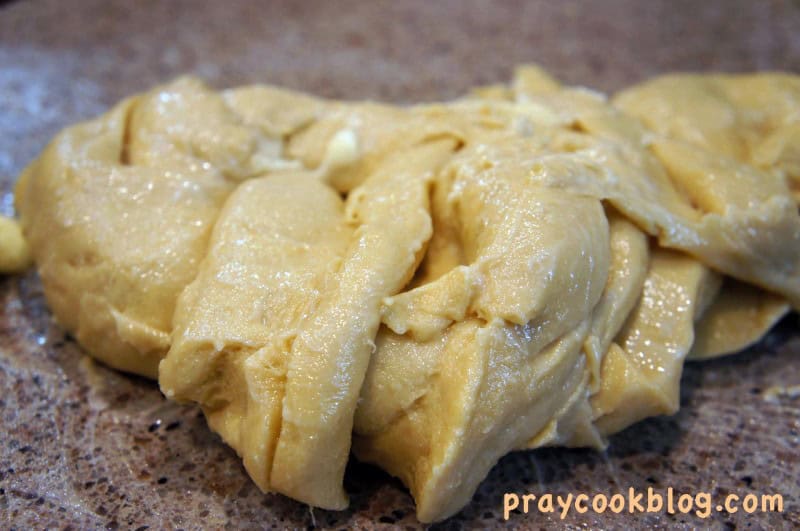 In the meantime I had this half-beaten, not nearly flaky enough dough laying on the counter.  No problem for me.  I will just finish this little project by hand.  About this time the "culinary consultant" says, "why don't you just finish it in the bread machine?" 
"THAT won't work" I quickly countered. After all, this is brioche.  It takes a lot more mixing than a bread machine can give it.  (I thought a "consultant" would know that.)
Two minutes into kneading by hand and I knew I was in trouble.  I had butter oozing from one end of the counter to the other.  The recipe says that the butter and the dough should stay "cool" as it is mixed together.  I can guarantee there was nothing cool about my hands, my kitchen, and my temperament.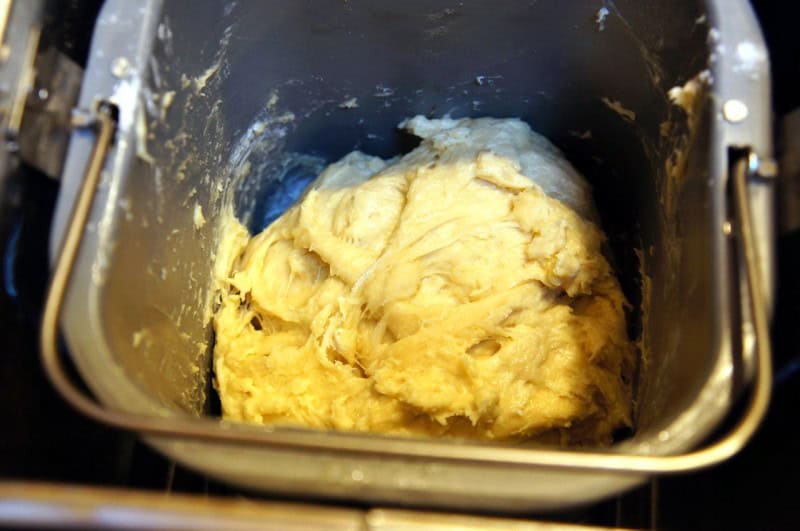 Off the to the bread machine I went.
I guess he did know what he was talking about.  🙂 Enough said.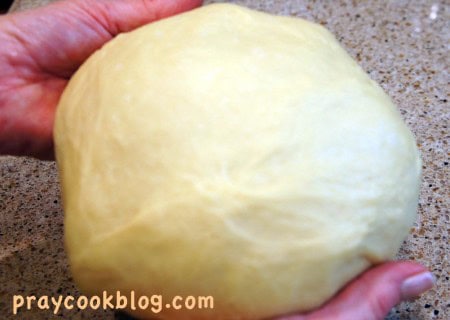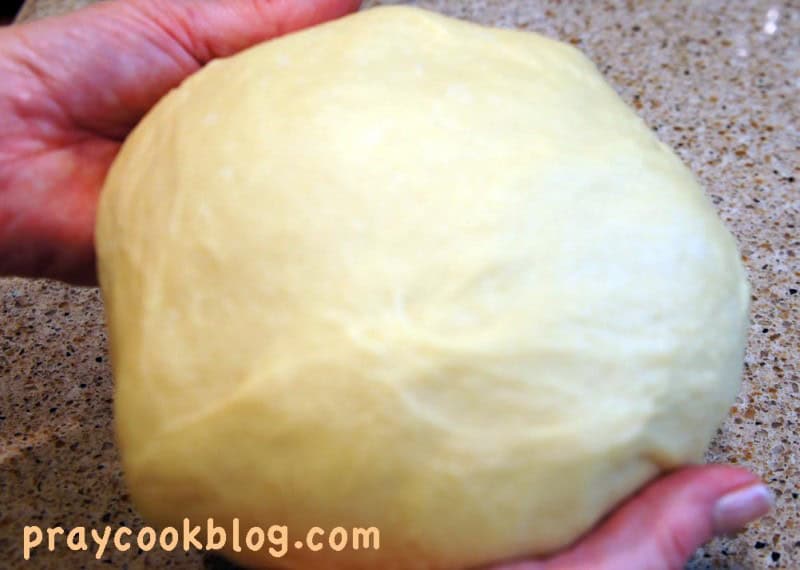 It took three rounds of mixing in the bread machine but the dough finally came together making this lovely round ball.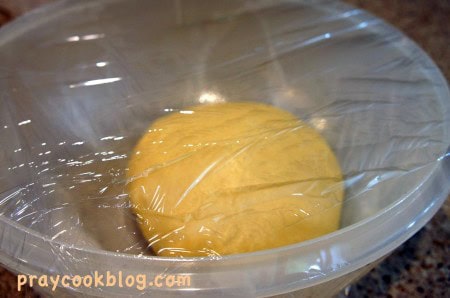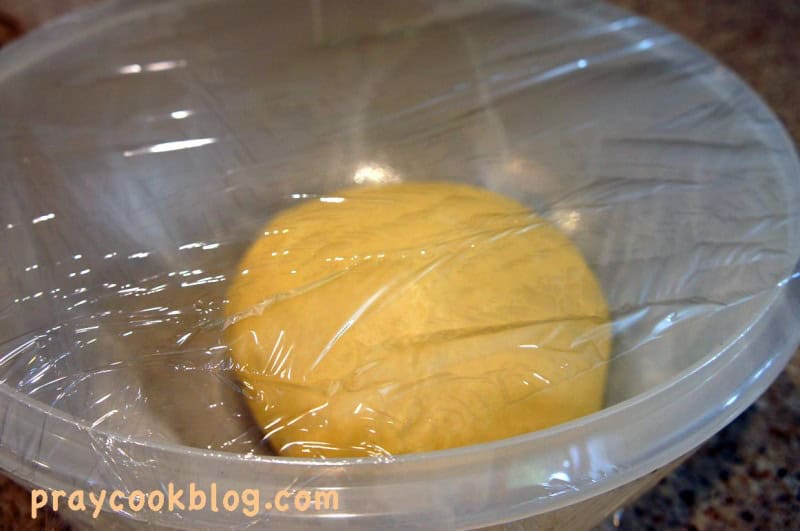 The dough is placed in a large bowl, covered tightly with plastic wrap and left to raise for 2 to 2 1/2 hours.  At this point I punched it down and re-wrapped it and placed it in the refrigerator over night.
After bringing the dough to room temperature it was ready to make into savory pockets.  Dorie's recipe calls for a savory filling of cooked potatoes, caramelized onions and fresh asparagus. This combination sounds wonderful to me but not-so-much to my sous-chef dish-washing mom.  So, I opted for freshly made BBQ pulled pork in some of the pockets and a whipped sweet potato in the other.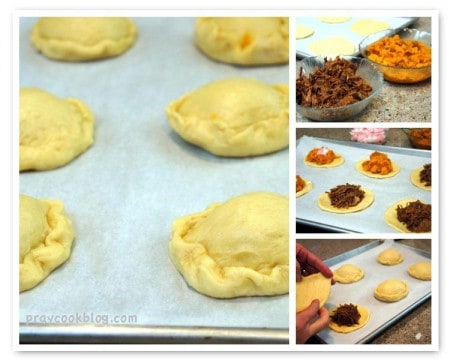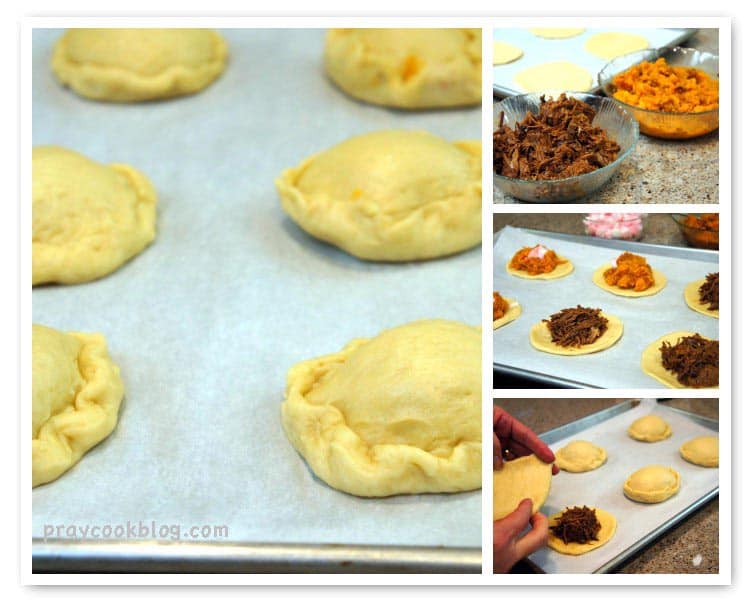 Half of the dough I froze for another day.  It will stay for up to a month in the freezer!
The dough is rolled and cut and each little pocket made with a circle of dough on the bottom and a circle of dough on the top.  The edges are meant to be sealed and crimped a bit like pie dough.
It is so warm in the house today the dough rose quicker than I could get it in the oven.  Some of the little pockets stayed together, some popped open.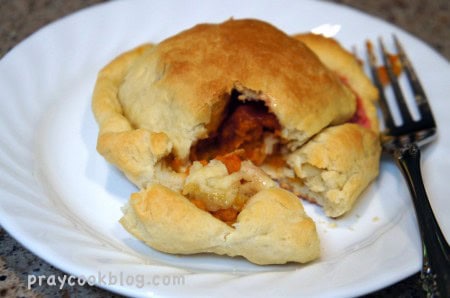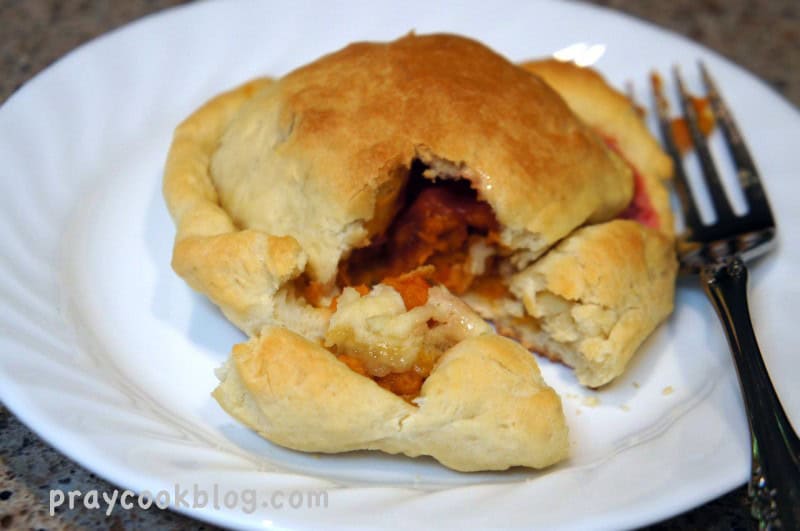 In the end they were edible.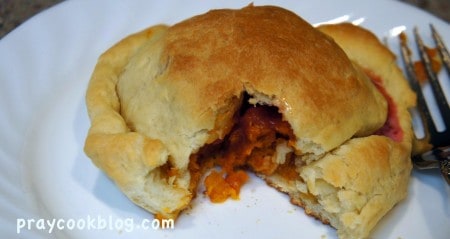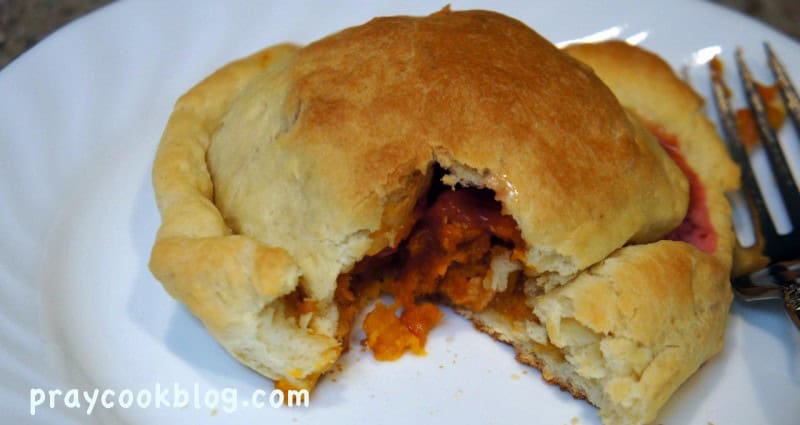 In the future I am sticking to sticky buns!
You will find the recipe on the blog of our host Carrie of Loaves and Stitches. I follow Carrie's blog and find it fun and interesting! Nancy Silverton is the contributing baker for Savory Brioche Pockets.
Blessings and Happy Cooking!
Catherine