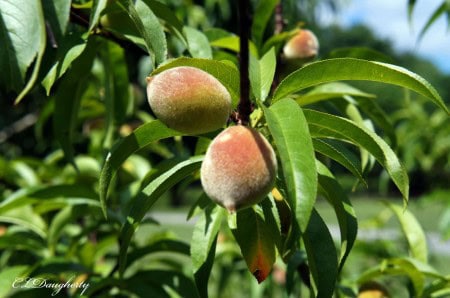 Genesis 1:12  (ESV)
"The earth brought forth vegetation, plants yielding seed according to their own kinds, and trees bearing fruit in which is their seed, each according to its kind. And God saw that it was good."
As I was walking through the garden my eye caught upon these little peaches drinking in the sunshine.  I just had to stop and thank God for these beautiful fruits.  You see, tw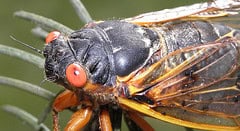 o years ago Cicadas descended on us like a thick London fog.  They were everywhere, eating their way through tree limbs, killing the fruit and making an awful racket! The limbs of our peach trees were greatly effected and bore hardly any fruit at all.  Then last summer,  thanks to an 8 week summer drought I could count the number of our peaches on one hand!
Every good and perfect gift is from above, coming down from the Father of the heavenly lights, who does not change like shifting shadows.     James 1:17
So when I saw these little jewels I am thankful knowing this is a good and perfect gift from above, and not just "the season" for growing fruit.
What is the good and perfect gift in your life today?

I'd love to hear from you!
Blessings, Catherine