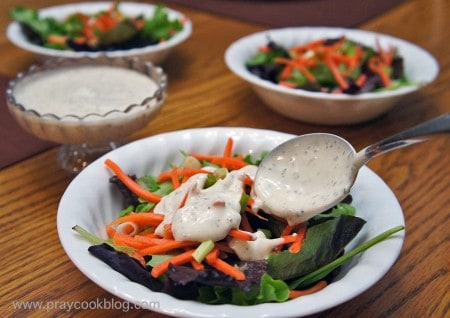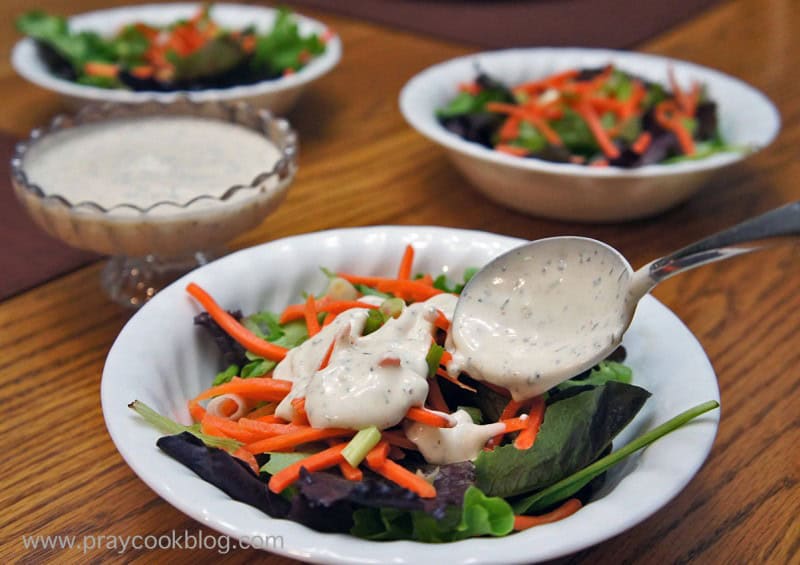 Have you ever made homemade ranch dressing? I haven't, until now.  You may think this doesn't sound too exciting for the holidays but I have an ulterior motive for sharing it at this particular time.  Coming soon is yet another exciting use for ranch dressing … besides dipping and salad! 🙂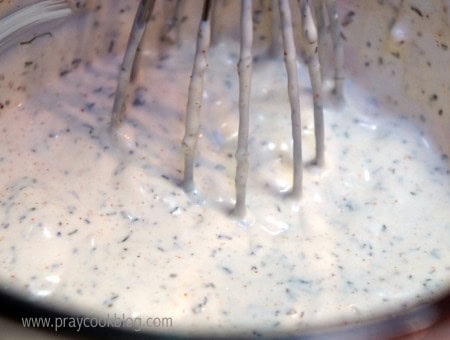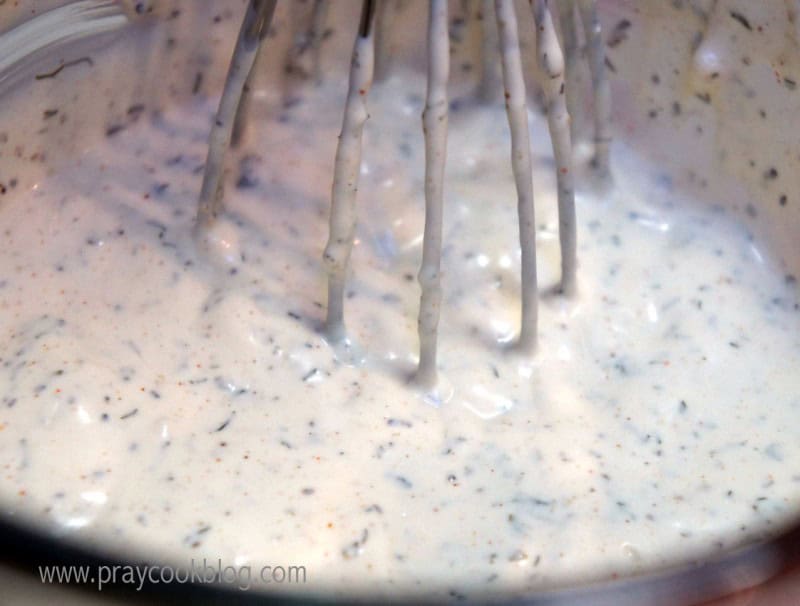 Ranch dressing is not only one of America's most popular salad dressings, it's probably its most popular dip. Ranch dressing is delicious served with everything from raw vegetables to fried chicken wings.  According to Wikipedia Ranch dressing has been the best-selling salad dressing in the United States since 1992, when it overtook Italian dressing!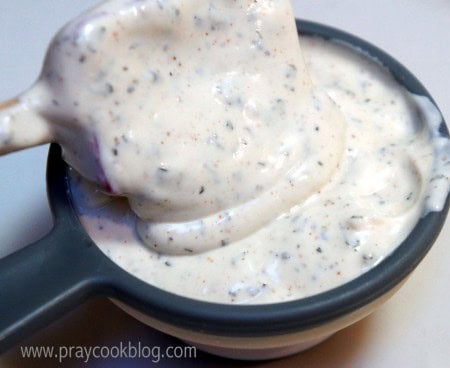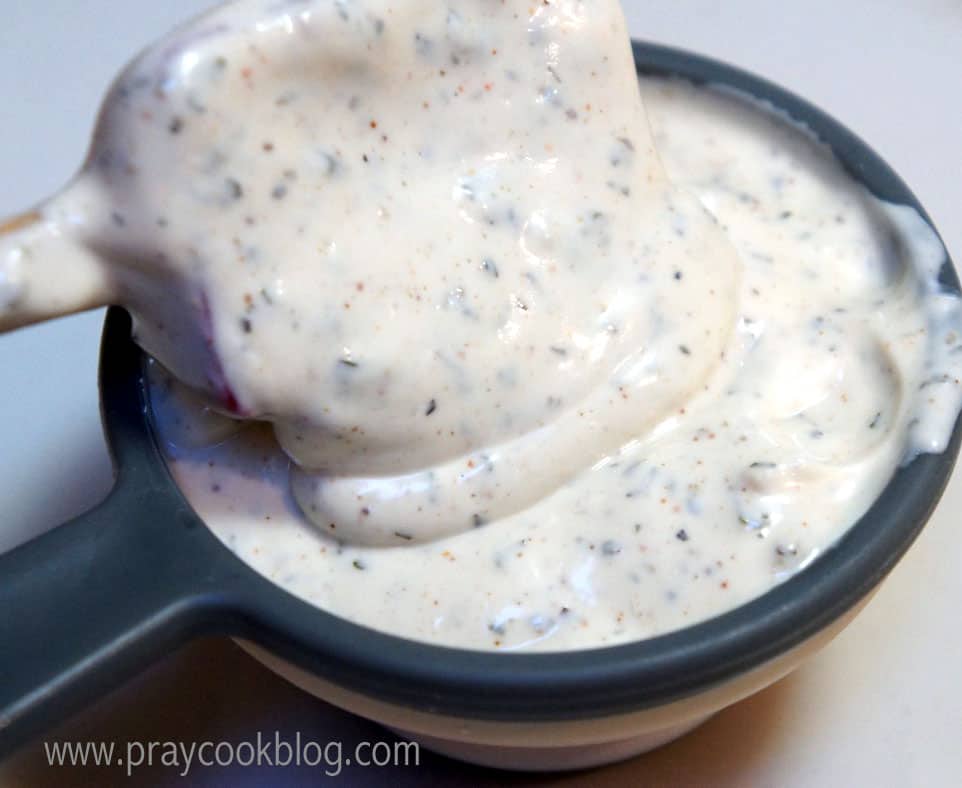 As the story goes, in 1954, Steve and Gayle Henson opened Hidden Valley Ranch, a dude ranch, near Santa Barbara, California.  They served guests a dressing that Steve had developed. The dressing was popular, and they began selling bottles that guests could take home, and later opened a factory to sell packets of ranch seasoning that had to be mixed with mayonnaise and buttermilk (packets that are still available to this day). In 1972, the brand was bought by Clorox for $8 million. C L O R O X ??? Really? America's most beloved Ranch Dressing owned by Clorox? That just doesn't seem right.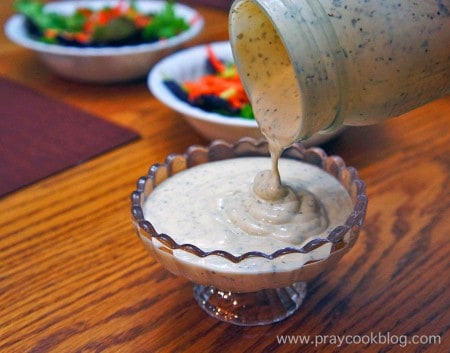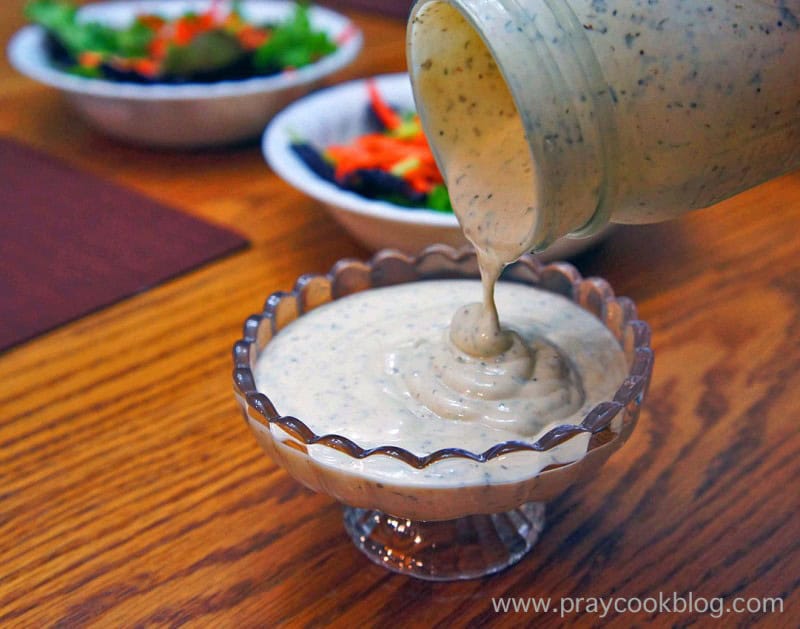 I am personally not in step with America's favorite dressing (its bleu cheese for me) and so when I wanted to re-create Longhorn's Garlic Parmesan Chicken, which we absolutely adore, I needed some ranch dressing.  I had all the other ingredients for the chicken dish and missed the fact I needed ranch dressing.  Google to the rescue and The Pioneer Woman, to be exact.  From the Food Network I found Ree's homemade ranch dressing recipe.  For the first time I made homemade ranch dressing and my oh word! we love it … on salads!  And … on Garlic Parmesan Chicken — 🙂
This is an easy mix it and serve it recipe.  Enjoy!  In the meantime, keep on cooking and many blessings!
~Catherine
Homemade Ranch Dressing
Adapted this wonderful ranch dressing recipe from Ree Drummond, The Food Network.
Ingredients
2 teaspoons minced garlic
½ teaspoon kosher salt
1 cup real mayonnaise
½ cup sour cream
2 tablespoons dried parsley
1 teaspoon dried dill
1 teaspoon dried chives
1 teaspoon Worcestershire sauce
½ teaspoon ground black pepper
½ teaspoon white vinegar
¼ teaspoon paprika
¼ teaspoon cayenne pepper
½ cup buttermilk (as needed for desired consistency)
Instructions
In a medium size bowl, combine all ingredients except buttermilk.
Add buttermilk ⅓ to ½ cup or more to desired consistency.
Taste and adjust seasonings as needed. Chill for a couple of hours before serving.
Thin with more buttermilk, if needed.
"Let the word of Christ dwell in you richly as you teach and admonish one another with all wisdom, and as you sing psalms, hymns and spiritual songs with gratitude in your hearts to God." Colossians 3:16 NIV1984