Walking Through the Bible in One Year —
Bringing the Story to Life
This weeks reading plan per day:
Monday (Gen. 25-26) Tuesday (Gen. 27-29)
Wednesday (Gen. 30-31) Thursday (Gen. 32-34)
Friday (Gen. 35-37) Saturday (Gen. 38-40)
Sunday (Gen. 41-42)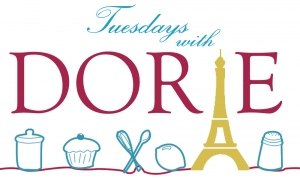 Have you heard about Tuesdays with Dorie? Well, I hadn't either until about 2 months ago. Since then what I have learned is that New Year's resolutions have notoriously short lifetimes, but for a blogger in Pittsburgh named Laurie Woodward, a promise to herself has become an Internet sensation. In 2008 Woodward was inspired to bake one recipe each week from Dorie Greenspan's popular cookbook Baking From My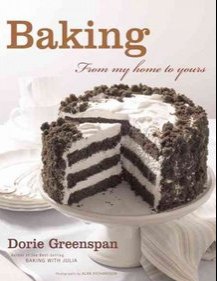 Home To Yours. Laurie was writing a personal food blog and mentioned the idea and asked others to join her. And she found plenty of company — more than 100 bakers (with as many as 300+ during the past 4 years) decided to take up the challenge with her. Every week, they made a recipe and posted their cooking stories to the online community Tuesdays with Dorie. After four years and more than 370 recipes baked and dissected, Tuesdays with Dorie's first chapter ended in December 2011 — when the online group polished off every one of the recipes from Baking From My Home To Yours.
At that time the group announced they would be starting a new book in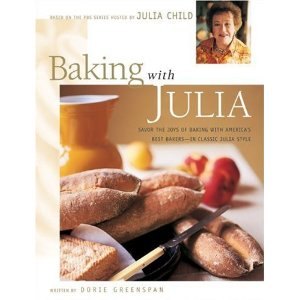 February 2012. I got so excited, joined the group and bought the book. And now, here it is my first Tuesdays with Dorie!  The book, Baking with Julia, was written by Dorie Greenspan to accompany Julia Child's television series.  Dorie recently said, "It's a book I love and one that I think will be a terrific bake-through because it's got both breads and pastries and even a few savories treats, too."  Breads? Pastries? Savory Treats?  Be still my heart 🙂  The good Lord willing and the creek don't rise, every two weeks I will be bringing you pictures and commentary to go along with this baking adventure.  Each recipe is "hosted" by one of TWD baker-bloggers and they will be the ones to actually post the recipe each time. I will share a link within my blog post so that you can see the recipe, or better yet – buy the book!  Wish me luck, I hope to be one of those "hosts" as I bake my way through Baking with Julia ~ There are a few rules and bakers and bloggers can still sign up.  Click HERE for the TWD website!
"The only real stumbling block is fear of failure. In cooking you've got to have a what-the-hell attitude." ― Julia Child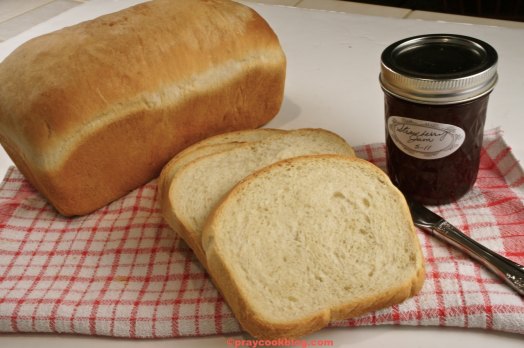 The first recipe – White Loaves.  Really?  White bread?  But we don't eat white bread…  Well, we usually don't eat white bread.  Sunday while 111.3 million people were watching the Super Bowl game, I was busy with MY favorite past time – baking bread!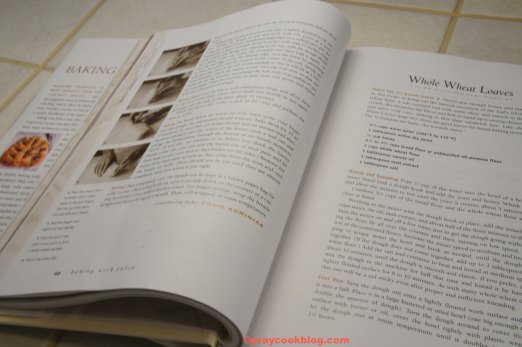 I followed my regular routine – read through the recipe, decided that I am going to change, oops, not changing anything this time.  Since 300+ other TWD bakers are also baking this recipe of white bread to post on their blogs, I didn't think I should probably change up the recipe 🙂 Normally, I would have added vital wheat gluten to the dough and I would have brushed the top with egg white before baking.  This time I did neither one.  And guess what … the bread turned out wonderful!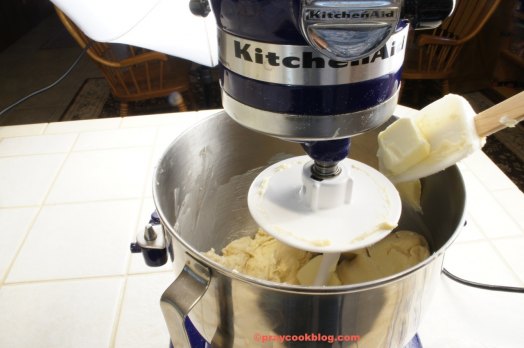 I used my Kitchen Aid mixer to do the kneading.  My mixer chugged and groaned at the 7 cups flour, so after I had it mixed together a bit, I divided the dough and kneaded in two separate batches.  The mixer was much happier and dutifully did her job!  The recipe calls for adding the butter after the first round of kneading, about 8 to 10 minutes into the process.  I have never added the butter that late into the kneading.  Again, what I found out – it works beautifully.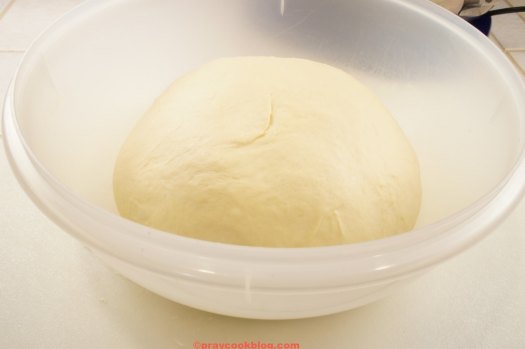 Gorgeous bread dough ready to raise!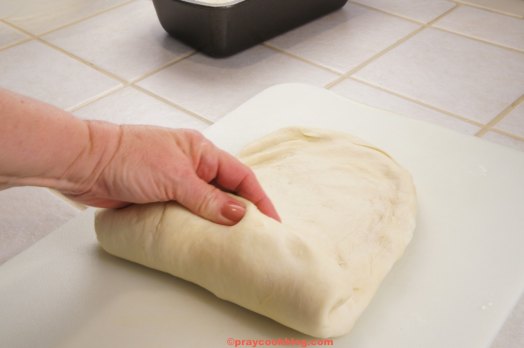 I followed the recipe and laid the dough out into a rectangle, rolling it up from each end meeting in the middle.  The dough was soft, stretchy, and lovely.   The recipe indicated a loaf of bread is done when the temperature in the middle reaches 200 degrees F.  I haven't ever tested my bread this way, but decided to give it a try.  At 35 minutes I took a loaf out of the oven and plunged my instant read thermometer directly into the middle!  And look what I found — 200 degrees F. exactly!  DONE!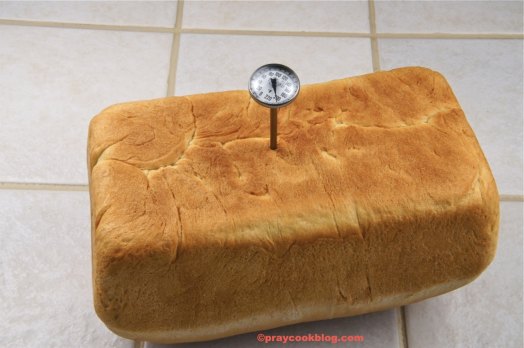 For all the fresh bread at the grocery store, the corner bakery, or your favorite delicatessen, there is no place like home when it comes to smelling the fragrance of bread baking in the oven.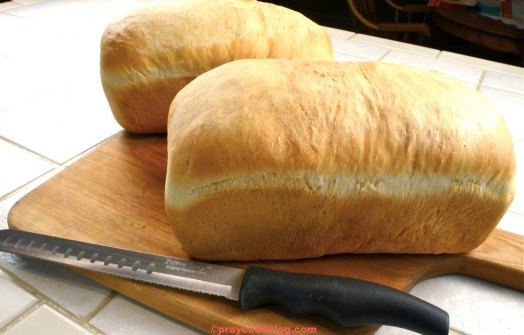 Baked bread should cool completely before it is sliced.  I am sure this is a good idea on many levels, but for my family and I, we cannot wait, nor do we wait!!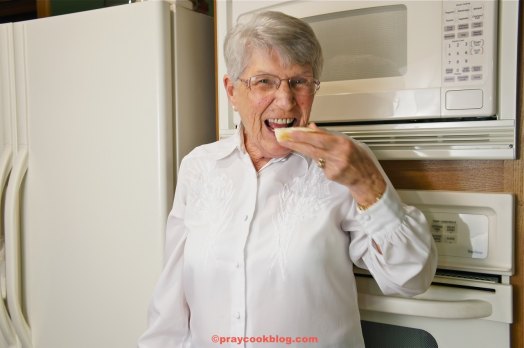 Mom and white bread!  My first TWD recipe … a success!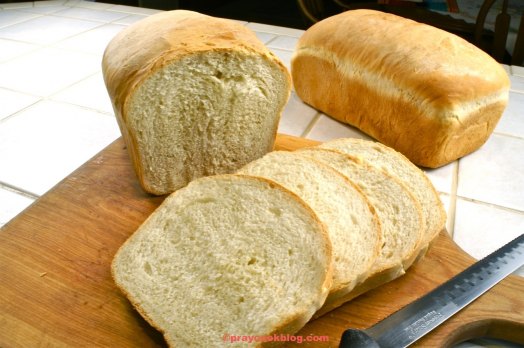 The White Loaves recipe I used can be found in Dorie Greenspan's book Baking With Julia or you can simply go to these host blogs:
Slush
Someone's In The Kitchen
Thanks for sharing my first Tuesdays With Dorie recipe and I am really looking forward to sharing Baking With Julia recipes!
Many Blessings and Happy Cooking!