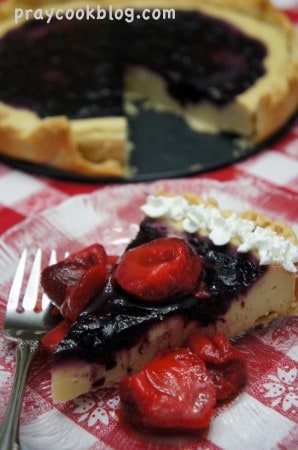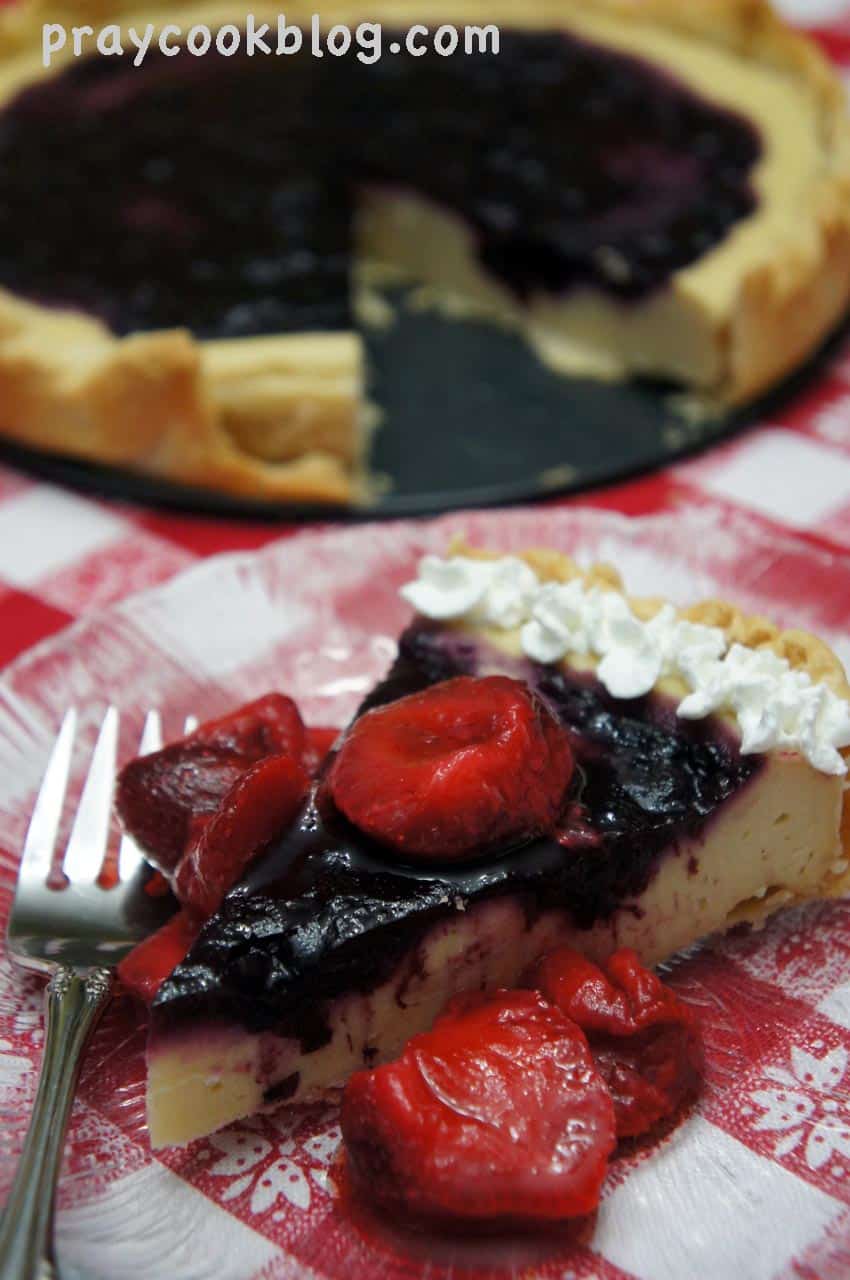 This month our Tuesdays With Dorie baking group decided to bake two tarts, one sweet and one savory, from the cookbook Baking With Julia.  Starting with this sweet Baked Yogurt Tart, most of the group baked and posted their results on July 2.  You can find links to those posts right HERE.
I baked mine to coincide with family visiting and our July 4th celebration. The tart starts with a simple flaky pie dough crust, formed in a tart or springform pan.  I used a 9″ springform pan that worked well. The crust is blind baked (baked without filling; weighted down with pie weights or even dried beans to avoid the middle from puffing up) and cooled.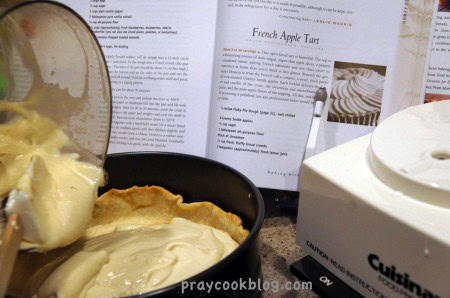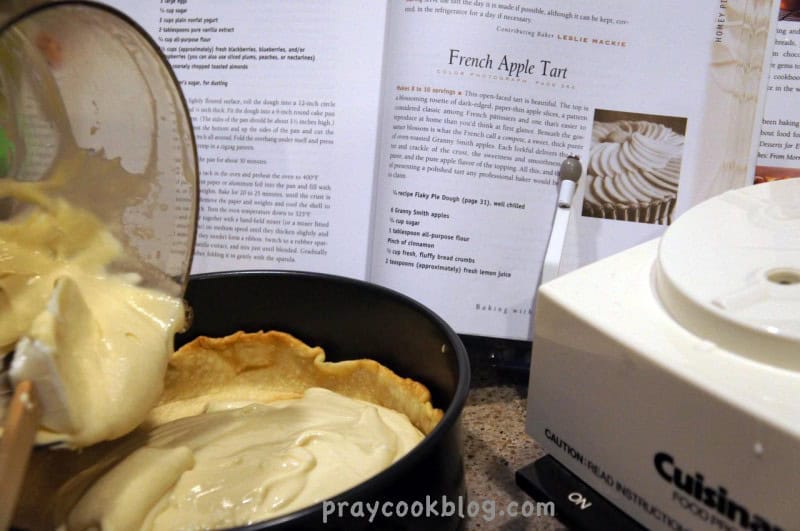 Then a filling of eggs, sugar, loads of vanilla, yogurt and flour is poured into the crust.  Because I continue to be over-the-moon about having my Cuisinart back in working order, I disregarded the recipe directions like: beat the eggs with a handheld mixer, add the yogurt until blended then gently fold in the flour. 
Instead, I whipped up the eggs and sugar, using the pulse button I added in the vanilla and yogurt.  Then I finished the filling by sifting in the flour and pulsing a bit more until it was fully incorporated.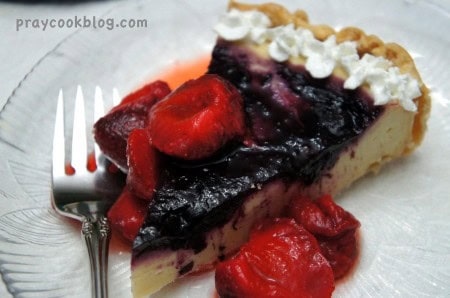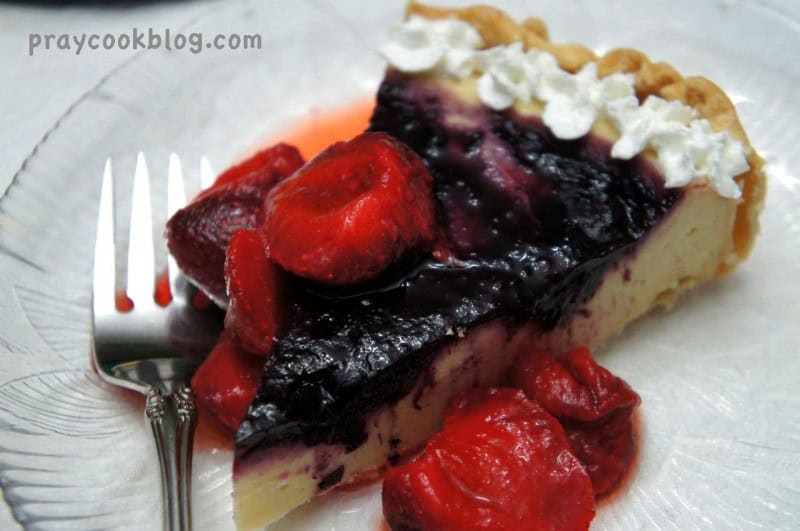 The recipe calls for a scattering of fresh fruit over the top of the tart, a sprinkling of chopped nuts and then baking.  I had homemade blueberry sauce on hand and decided to bake the tart topped with that sauce.  I added fresh strawberries and a touch of whip cream to give this our July 4th red-white-and blue dessert!
This tart is reminiscent of a not-so-sweet cheesecake and I'm pretty sure much healthier.  It is best eaten the day it is made.
Happy Baking!
Catherine
Baked Yogurt Tart from Baking With Julia Cookbook
Julia Child's Baked Yogurt Tart comes from contributing baker Leslie Mackie. It is a not-too-sweet fruity dessert that looks as good as it tastes!
Ingredients
Flaky Pie Dough
5¼ cups pastry flour
1 tablespoon kosher salt
6 ounces cold unsalted butter, cut into small pieces
1¾ cups solid vegetable shortening, chilled
1 cup ice water
Yogurt Tart Filling
3 Large eggs
¾ cup sugar
2 cups plain nonfat yogurt
2 tablespoons pure vanilla extract
¾ cup all-purpose flour
1½ cups fresh blackberries, blueberries, or raspberries
⅓ cup coarsely chopped toasted almonds
Confectioner's sugar, for dusting
Instructions
Flaky Pie Dough: Makes enough dough for four 10-inch tarts
Mix flour and salt together in a large bowl. Add butter and cut it into the flour until the mixture looks like coarse crumbs. Break up the shortening and cut it in until mixture has small clumps and curds. Add ice water, stirring with a spoon to incorporate. Turn dough out onto a work surface and fold it over on itself a few times. Wrap dough in plastic and refrigerate at least 2 hours.
Remove ¼ dough from refrigerator. Working on a lightly floured surface, roll dough into a ¼ inch thick, 12-inch round circle. Fit the dough into a 9-inch round pan with 1½ inch high sides. Trim dough overhand to ½ inch all around. Fold it under itself and press edge to crimp in a zigzag pattern. Chill 30 minutes.
Center rack in oven and preheat to 400°F. Fit a piece of parchment paper into the pan and fill with pie weights or dried beans. bake 25 minutes or until the crust is set and lightly browned. Remove weights and paper and let shell cool. Reduce oven heat to 325°F.
Tart Filling
Beat eggs and sugar on medium until thickened and pale. Ad the yogurt and vanilla extract, mix just until blended. Add the flour through a sifter, folding gently with a spatula. Pour yogurt filling into the cooled tart shell. Smooth top. Scatter fruit over the top, sprinkle chopped nuts around edge. Place tart on a pan and bake 40 minutes or until the top is golden brown. Transfer to a cooling rack.
When cool, cover the top with plastic wrap and a cardboard cake circle. Invert the tart, remove the pan, and invert again onto a cardboard cake circle or serving platter. Remove plastic wrap. Dust with confectioner's sugar and serve.
Notes
*Ready made pie crust can be used in place of Flaky Pie Dough. Bake according to package directions.

Sliced plums, peaches or nectarines also work well in this recipe.