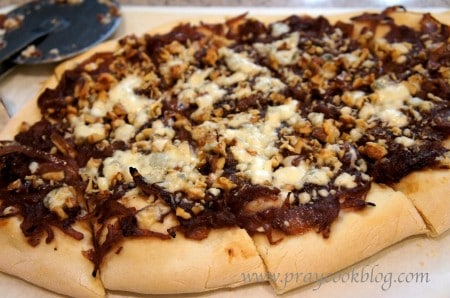 Today I will take the Pizza with Onion Confit  recipe and turn it into BBQ Chicken Pizza and a beautiful gourmet pizza of Onion, Walnut and Gorgonzola cheese.  Welcome to my 23rd recipe from the cookbook Baking With Julia written by Dorie Greenspan.  I belong to a group of bakers called, Tuesdays With Dorie.  We are baking our way through every recipe in Dorie's cookbook.  The recipes came from Julia Child's award-winning PBS series.  This week our recipe is two-fold.  We made pizza dough and then we topped with onion confit along with our choice of other toppings.  From Wikipedia I learned Confit (French, pronounced [kɔ̃fi] or in English "con-fee") is a generic term for various kinds of food that have been immersed in a substance for both flavor and preservation.  Turns out I have made onion confit before — only down south we call it caramelized onions! 🙂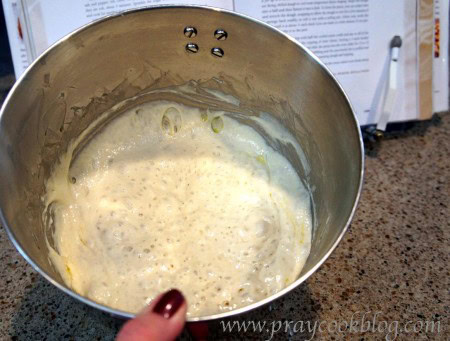 I started out early in the morning making the sponge, which is the starter to the pizza dough. The sponge consists of yeast, water, olive oil and flour. I didn't need to begin as early as I did and by mid-afternoon the dough was ready to make the pizza.  Yikes!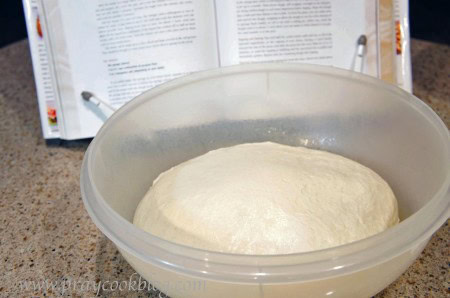 Since I had planned pizza for supper (our evening meal) I put it in the refrigerator for a couple of hours while I took a nap. 🙂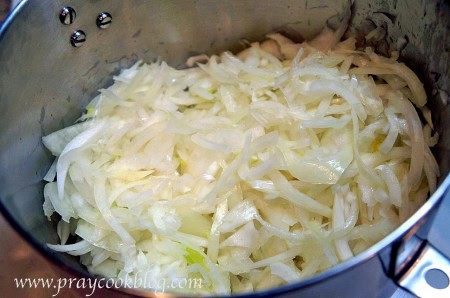 After nap-time I sliced up about 2 1/2 lbs. of yellow onions using my Kitchen Aid. It seemed like a lot of onion at the time but as you will see the onions really cook down.  The onions are sprinkled with salt and pepper before sautéing in butter.  I went a little heavy on the pepper which really added a nice kick to the onions as they sweetened during cooking.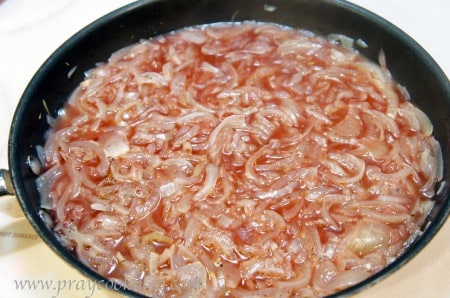 After sautéing the onions I added red wine, red wine vinegar, sugar and thyme.  I used a red table wine left over from New Year's eve.  Who ever has wine left over from New Year's Eve?  Stirring occasionally I let this simmer until all the liquid cooked out, about 45 minutes.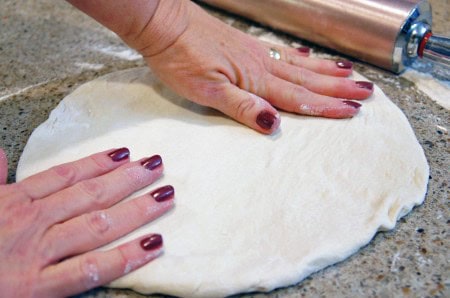 This dough makes two large pizzas.  I planned to make two large pizzas and put the leftovers in the refrigerator for another day. However, contributing baker, Steve Sullivan wrote this at the end of the recipe.  "Pizza is at its prime piping hot from the oven – don't even think about reheating it."  For decades I have eaten cold left-over pizza or reheated pizza.  My bad.  Since I was only feeding 3 of us, I put half of it in the refrigerator for another day.  The remaining half I split into two smaller amounts so I could make two pizzas.  They still turned out a nice size.  I started to roll the dough with my rolling-pin but quickly realized this is REAL pizza dough and I could easily stretch it by hand.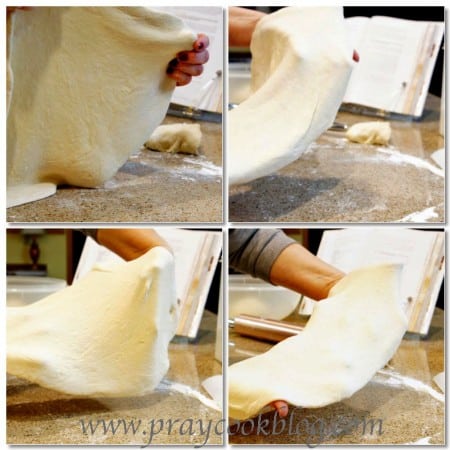 I was pretending I was a pizza dude actually stretching, pulling, and flipping! My beautiful new quartz countertops made playing with this dough even more fun.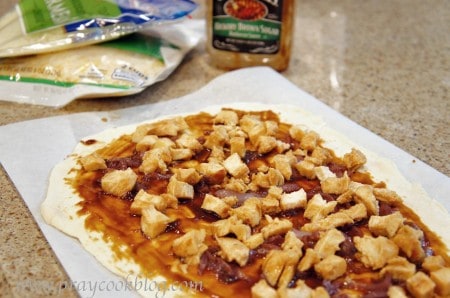 While the onion confit cooled I put together the BBQ chicken pizza. It's only been a year or so since I started making BBQ chicken pizza. I've never eaten one in a pizza restaurant but the pictures always looked good so I tried it at home.  I really like it as a rest from a tomato based pizza.  I spread a couple of tablespoons of Jack Daniels Brown Sugar BBQ sauce across the pizza dough leaving about 1/2″ of dough uncovered all the way around. It is then topped with a bit of the onion confit, cooked diced chicken, a little sprinkling of grated Parmesan cheese and a finely shredded blend of mozzarella and cheddar cheese.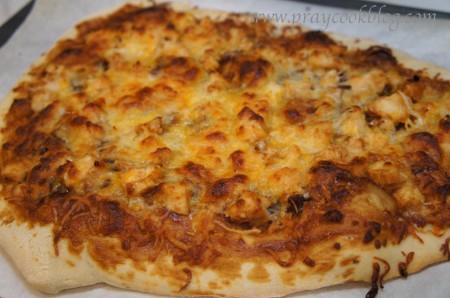 I baked the pizza on a sheet of parchment paper placed on top of a baking sheet. for 12 minutes at 475 degree F. I have a pizza stone but I don't like it.  I heated the baking sheet while the oven was preheating.  This helps to really crisp up the bottom of the pizza while it bakes.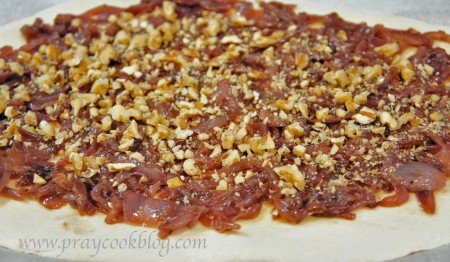 While the BBQ Chicken pizza was baking I put together my second pizza. The onion, walnut and Gorgonzola pizza starts out with a thin layer of olive oil coating the pizza dough.  Onion confit and walnuts are layered on top of the dough. I baked this on a parchment paper lined baking sheet for 9 minutes.  This gives the walnuts times to brown up nicely.  Then I sprinkled on the Gorgonzola cheese and sent it back to the oven for 3 minutes.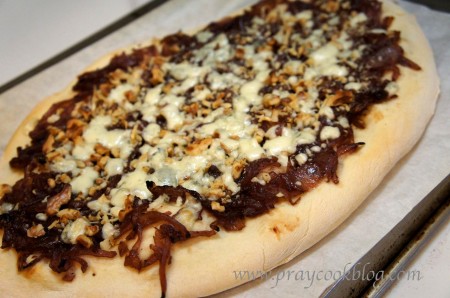 About this time the Chief stopped by to see what was causing the amazing fragrance throughout the house.  My sous-chef dish-washing mom even ventured out saying, "I smell onions and they smell wonderful!"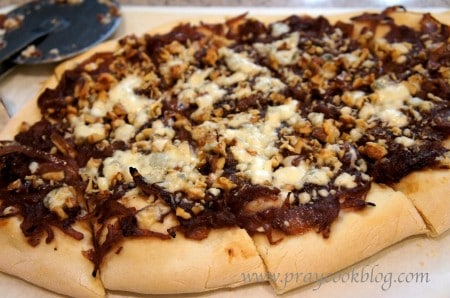 "Yep", I'm thinking, they are going to be fabulous.  We weren't disappointed at all.  Both of these pizzas rival anything you can get at a good Italian restaurant.  I'm just blogging, not bragging. 🙂  The good news is this really is gourmet pizza at it's finest.  The bad news is I don't want to order from the pizza dude ever again!


Our host for this recipe is Paul of The Boy Can Bake.    You will find the recipe for the dough and the onion confit on his blog.  Copyright laws do not allow me to re-print it here.  However, I am attaching the recipes for the BBQ Chicken and the Onion, Walnut & Gorgonzola pizzas.
~Blessings, Catherine

Onion Confit, Walnut and Gorgonzola Pizza
Sweet-cooked down onions, walnuts, and the bite of Gorgonzola have a natural affinity for one another making this a gorgeous gourmet pizza!
Ingredients
14 to 16 ounce pizza dough
3 tablespoons unsalted butter
2 lbs onions (3 large), halved lengthwise and thinly sliced
Salt and Pepper, to taste
½ teaspoon thyme leaves
1 cup red wine
½ cup chopped walnuts
½ to 1 cup Gorgonzola cheese, crumbled (to taste)
1 tablespoon olive oil.
Instructions
Heat butter in 12" heavy skillet over medium-low heat until melted. Cook onions, salt, and pepper covered, stirring occasionally, until soft, about 8 minutes. Add red wine and thyme. Continue to cook on low until all the liquid has been absorbed, about 35 to 45 minutes. Cool.
Stretch dough into a roughly 12" by 10" rectangle and place on parchment paper, brush with 1 tablespoon olive oil. Cover with onion confit and sprinkle with chopped walnuts.
Preheat oven to 475 degrees F. Place a metal baking sheet or pizza stone in the oven while preheating.
Place parchment paper and pizza on the hot baking sheet. Bake for 9 minutes.
Sprinkle gorgonzola cheese on pizza and return to oven for 3 minutes or until the cheese is melted and slightly browned.
Serve immediately!
Notes
Onions can be cooked 1 day ahead and chilled.
Pizza dough can be store bought or made from scratch.

Pizza is at its prime hot from the oven!
BBQ Chicken Pizza
Tangy BBQ sauce blends perfectly with the cooked chicken and blend of 3 cheeses for a pizza that will keep 'em asking for more!
Ingredients
14 to 16 ounces pizza dough
2 cups cooked chopped chicken breast
2-3 Tablespoons BBQ sauce
¼ cup shredded Parmesan cheese
¾ cup finely shredded Mozzarella and Cheddar cheese
Instructions
Preheat oven to 475 degrees F. Place a metal baking sheet or pizza stone in the oven while preheating.
Stretch dough into a roughly 12" by 10" rectangle and place on parchment paper. Using a pastry brush cover with BBQ sauce, leaving about ½" uncovered crust all the way around.
Sprinkle with cooked chopped chicken breast.
Top with Parmesan and Mozzarella/Cheddar cheese blend.
Place parchment paper and pizza on the hot baking sheet. Bake for 12 minutes until the cheese is melted and slightly browned.
Serve immediately!
Notes
*I use Jack Daniels brand BBQ sauce and any of the different varieties will work well. From the brown sugar to a hickory smoked your personal preference will make this pizza your own.