Walk Through The Bible In One Year
Week 14 reading plan per day
Click on the colored link to read each day's scripture.
Monday 2 Samuel 1-4,   Tues 2 Samuel 5-8,
Wed 2 Samuel 9-12,  Thursday 2 Samuel 13-15,
Friday 2 Samuel 16-18,
Saturday 2 Samuel 19-21,
Sunday 2 Samuel 22-24
Blessings as you read!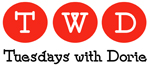 Tuesdays With Dorie is an on-line baking group that is baking their way through the Dorie Greenspan book, Baking With Julia. Today, Hungarian Shortbread  is the seventh recipe we have baked together.  Across the top of my webpage you will find a tab called RECIPES. I have added a TWD: Baking With Julia category and there you can find a link to the blog post for each recipe.  Two times a month 400+ bakers bake the same recipe and blog the experience.  Per the rules, only the two hosts for each recipe post the actual recipe.  Today, our hosts are Lynette of 1smallkitchen and Cher of The Not So Exciting Adventures of a Dabbler…  Please visit their websites for the recipe or you can buy a copy of Dorie's book by clicking on the Amazon link I have provided to the right of this post!
Last week I received a sneak preview of  my friend Carmen's creation …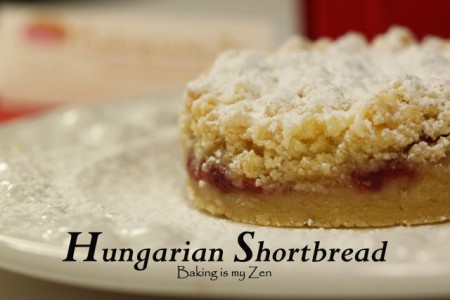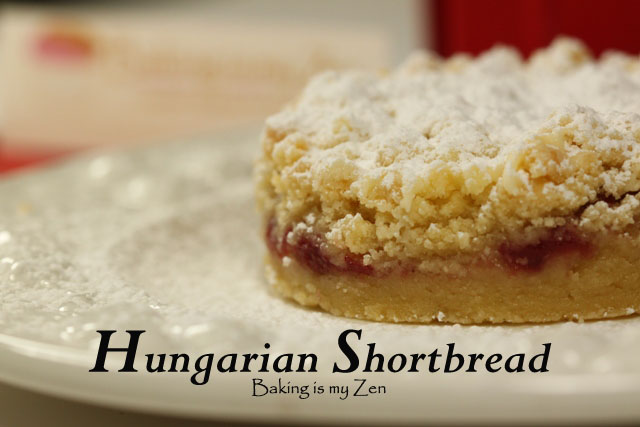 Can you believe how fabulously delicious this looks? Yum!  You can find more of Carmen's kitchen delights at Baking is my Zen!  Now, what can I say about Hungarian Shortbread?  How about "ought oh, trouble."  Rhubarb.  The filling in this recipe is home-made rhubarb jam.  I know what you are thinking … just make the jam.  Not so fast.  I like rhubarb. I grew up in Nebraska with rhubarb always growing somewhere nearby.  My brothers and I would snap it off, brush it off, and chew away … making a big 'ol sour face as we ate!  As it turns out, my southern-born and raised Chief Culinary Consultant wasn't fed ANY rhubarb as a kid and now believes anything that requires the addition of strawberries to make it palatable, isn't worth eating.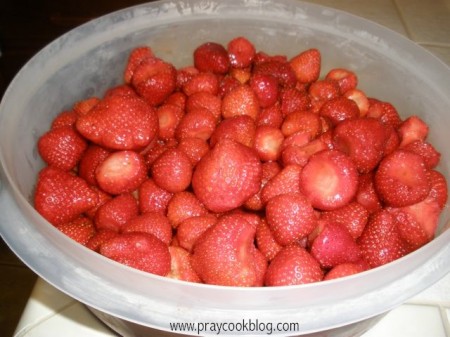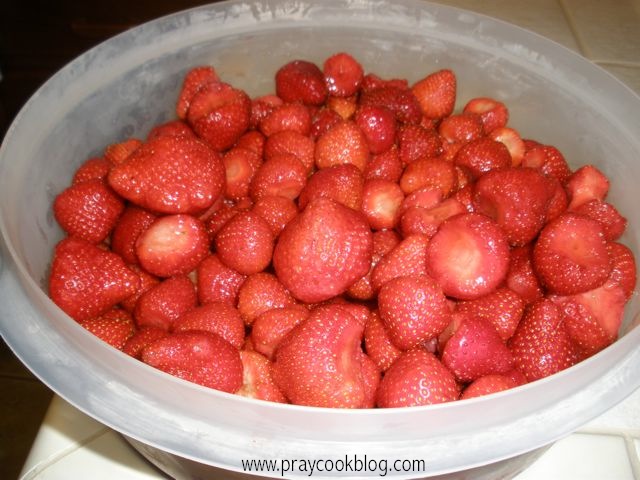 This notion just tickles me so much considering this is the same man who will bring in a big 'o mess of weeds (aka collard greens) for me to cook up and serve with every meal 🙂  We really are a product of our environment.  I don't eat weeds, he doesn't eat rhubarb.  Strawberries — that is middle ground for all of us in our household.  So I hope you will forgive me for substituting the strawberry sauce in place of the rhubarb jam nestled into the buttery shortbread layers.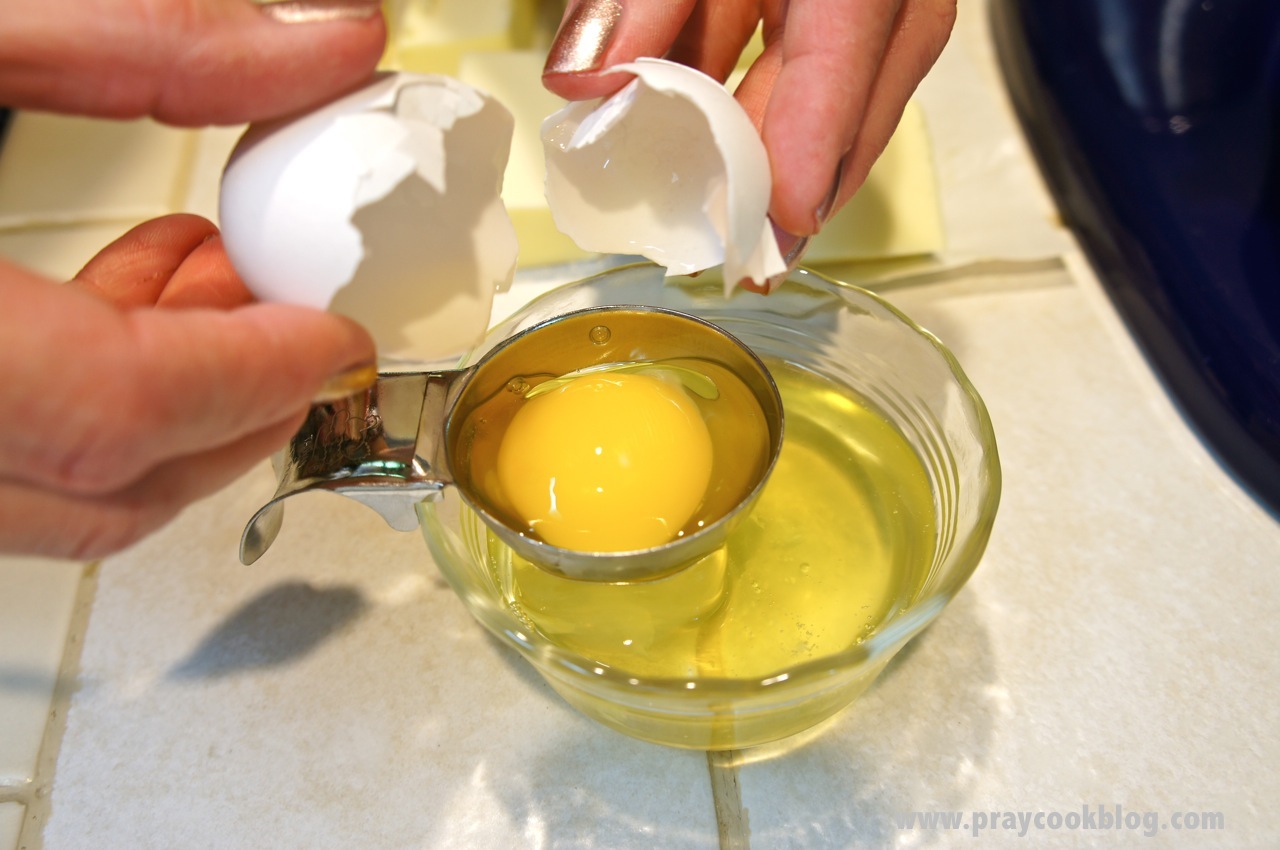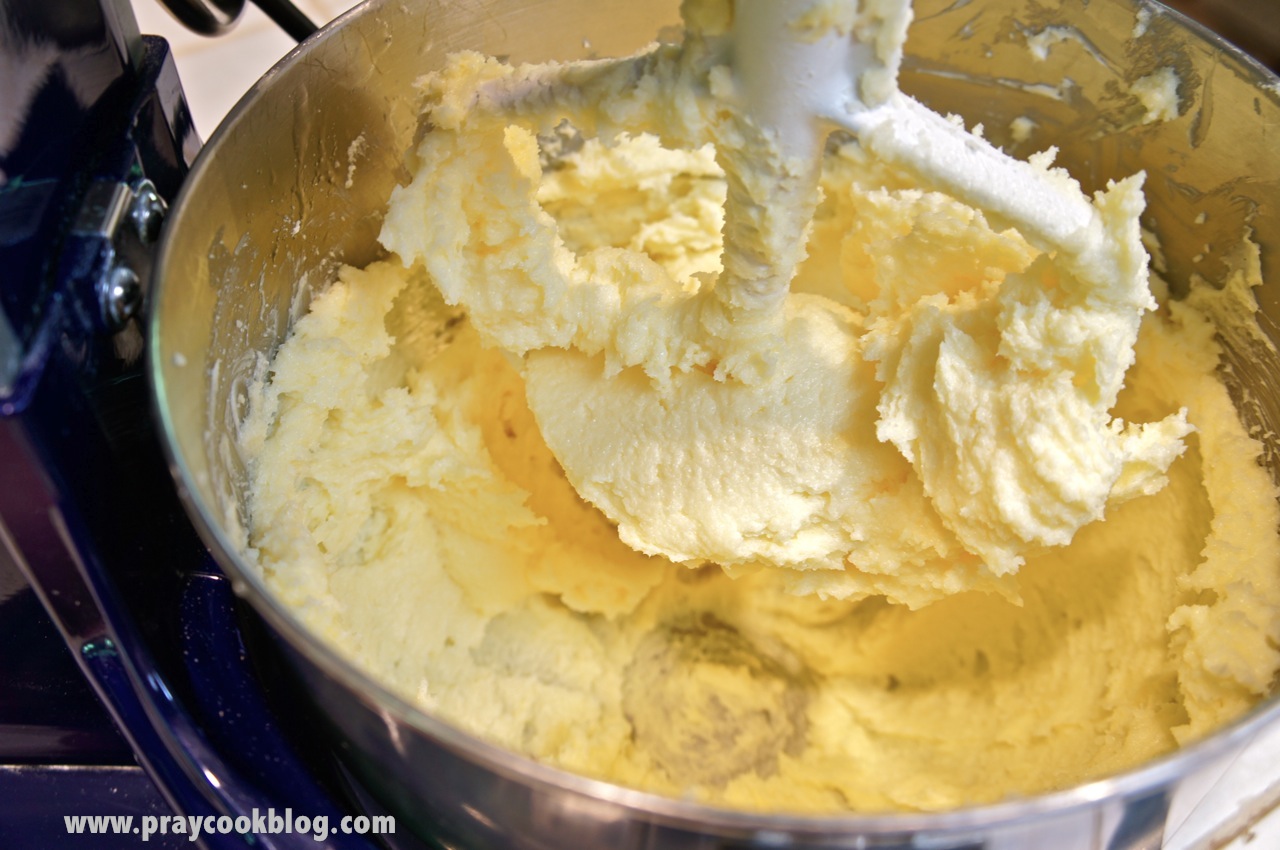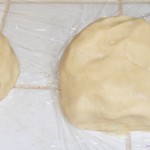 Dorie tells us that for most bakers, shortbread dough is known for its stick-to-your-fingers stubbornness and can be quite tough to work with. As I am finding out with Dorie's recipes, she has taken the difficulty out of such recipes as this shortbread.  The dough is mixed quickly, shaped into balls, and frozen for 1/2 hour or so.  I froze mine over-night.(Overachiever)   So when I was ready to grate it … well, it took a bit to cut up the dough balls.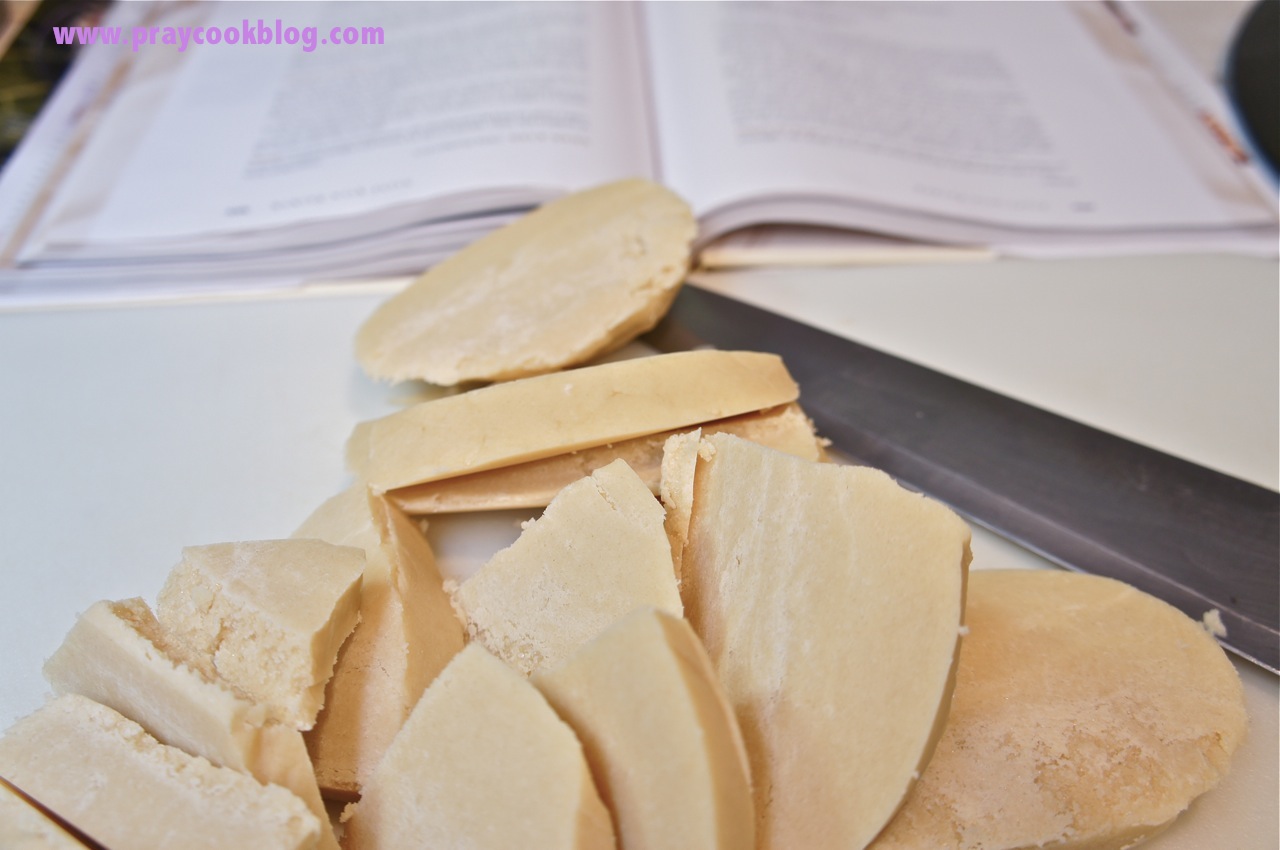 Then the dough is grated  into the cake pan (I chose a 10″ round spring- form pan).  I used my Kitchen Aid to grate and it worked beautifully.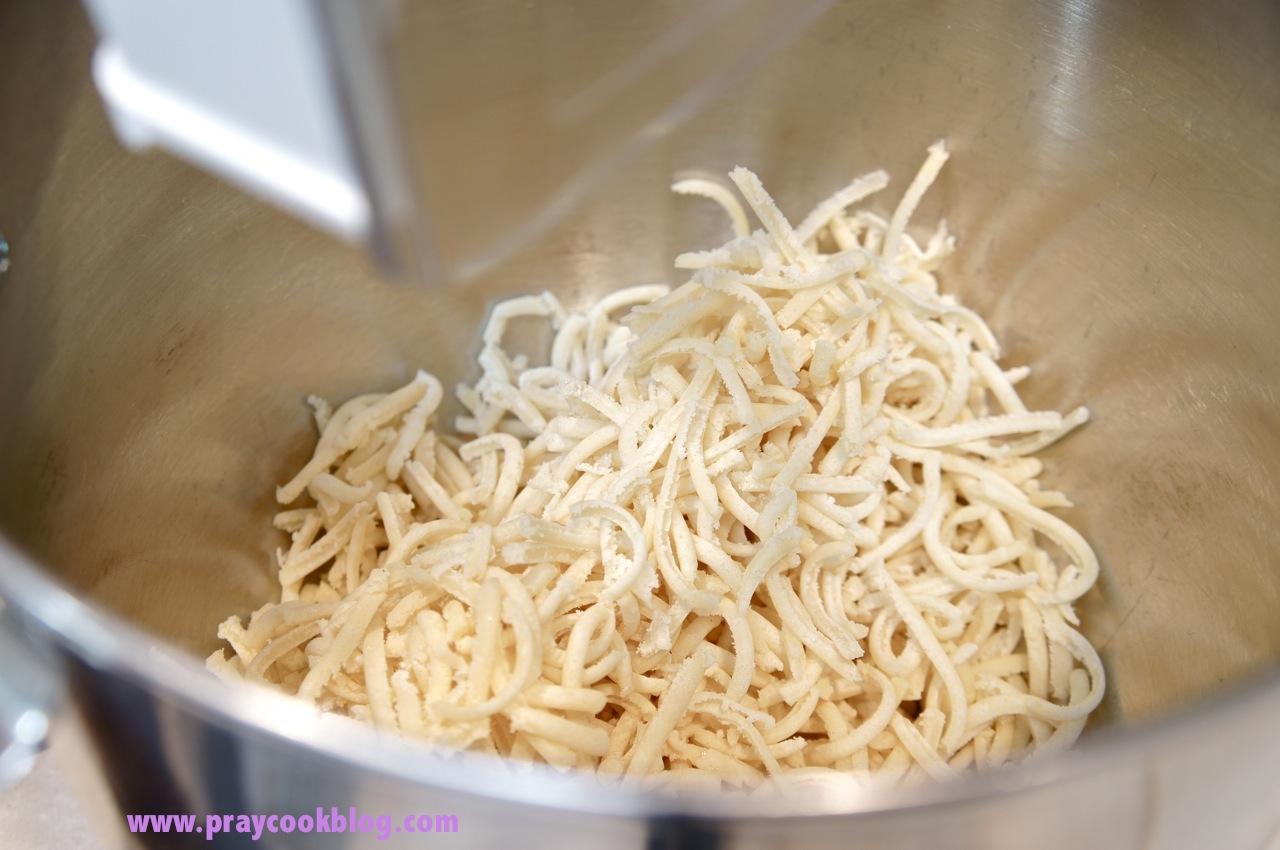 At this point the recipe calls for layering with the dough, jam, and topping with the dough. However, before making my shortbread, I spent some time reading comments from TWD:BWJ bakers who had already baked their shortbread.  You can read the comments HERE.  From the comments I decided to pre-bake my bottom layer for about 15 minutes before adding the jam and the top layer. I then added the strawberry jam and top layer.  Into the oven it goes!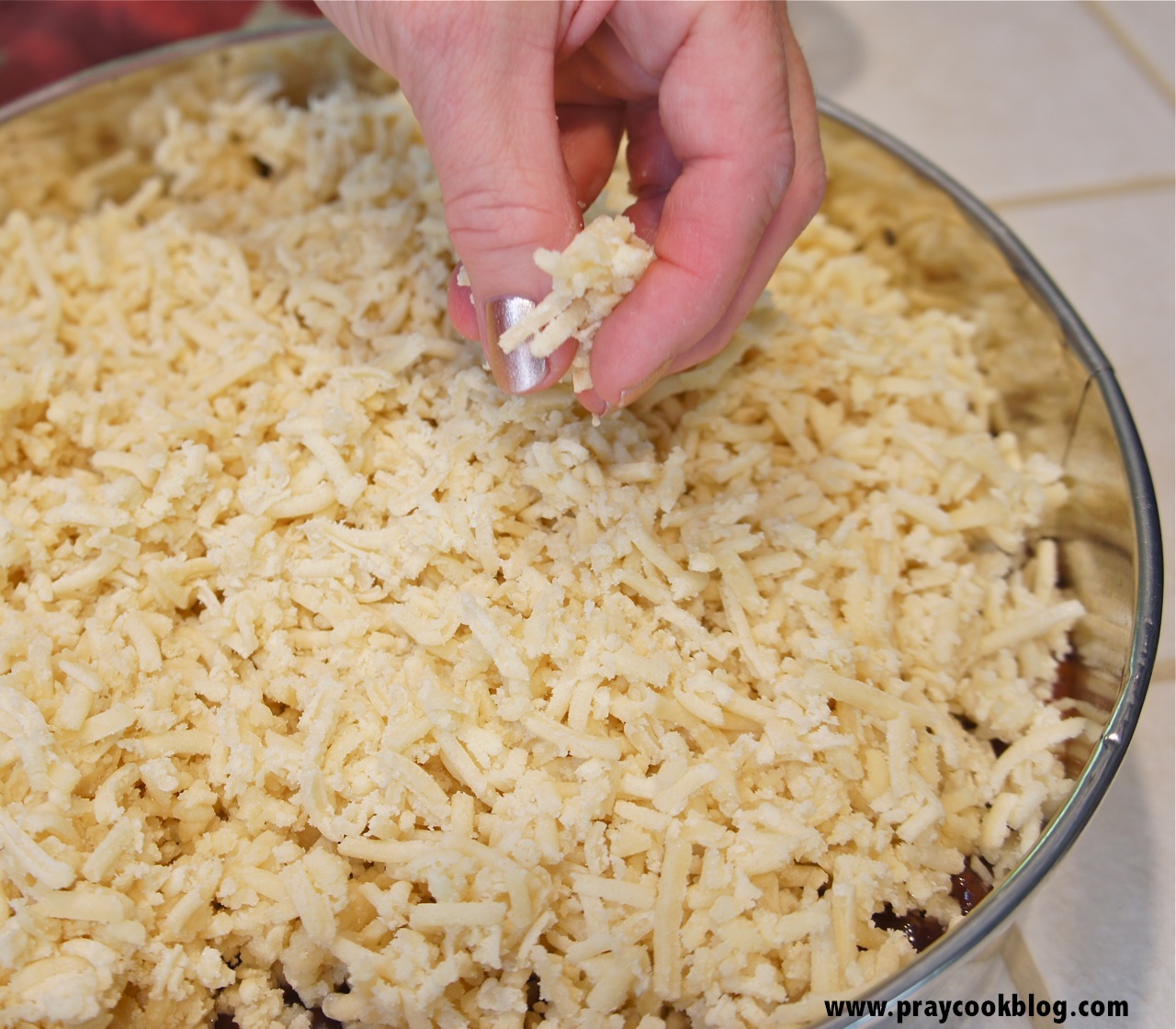 Immediately as you remove the pan from the oven, the top is dusted with confectioner's sugar.  How simple is this?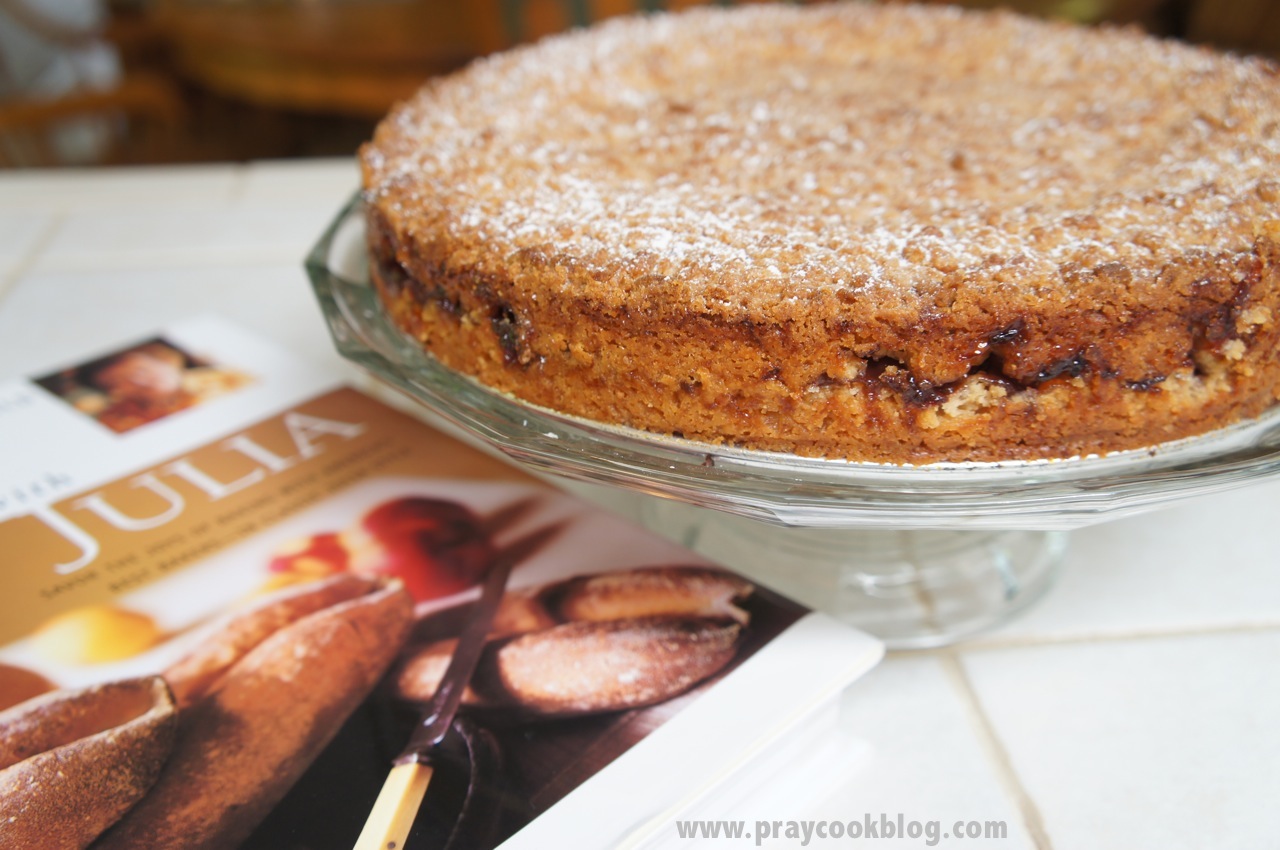 My chief culinary consultant's report — "wow, this is goood!"
My sous-chef dish-washing mom said, "oh honey, this is absolutely the most delicious dessert.  What a great job you did!"
Husbands and moms … just the best critics in the world 🙂
This is a keeper recipe that I will make again and again – definitely trying it with some blackberry jam!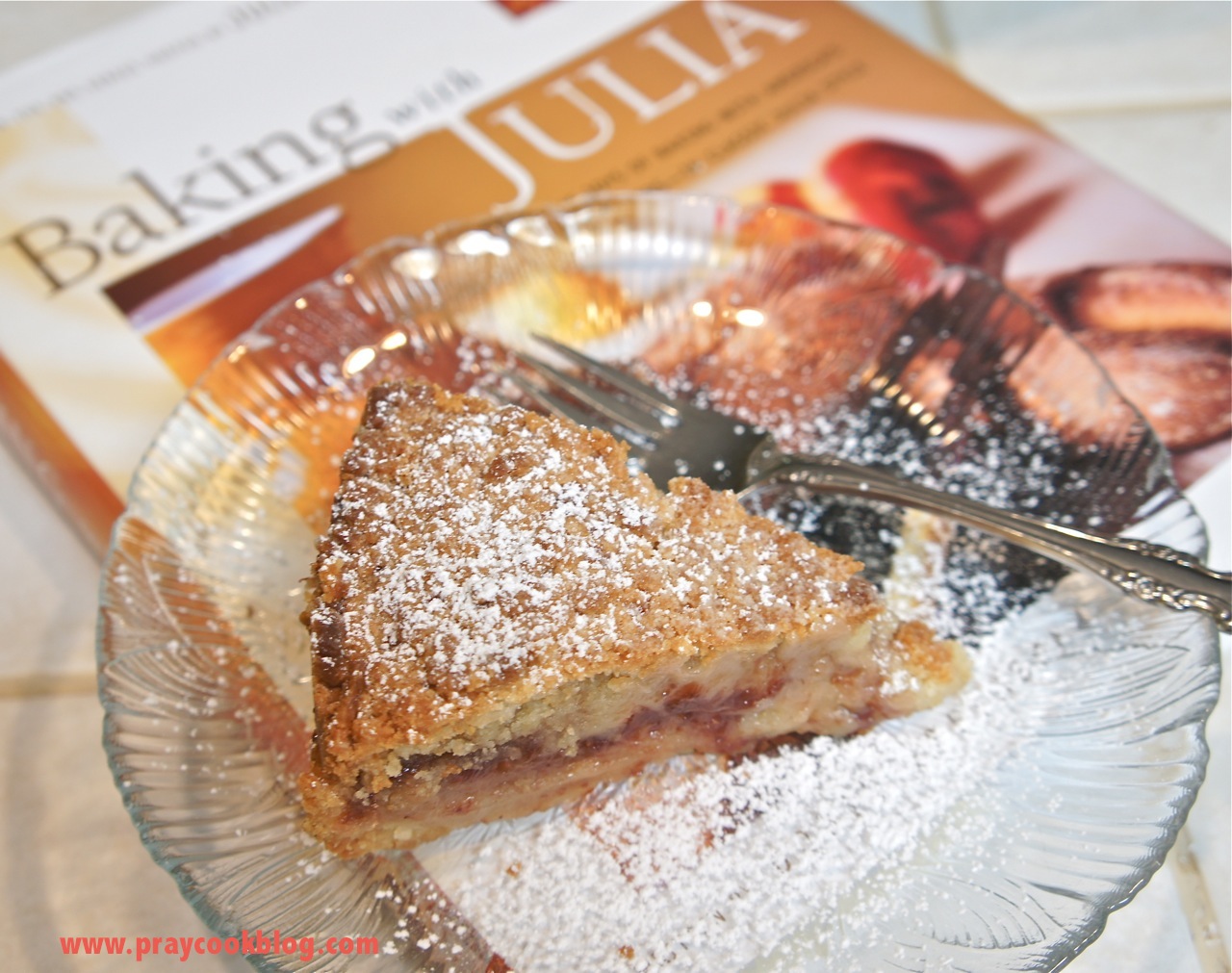 P.S. I cut this piece of shortbread fairly soon after it came out of the oven.  It looks a bit "gooey" but actually was quite done and just a perfect texture.
First Bites: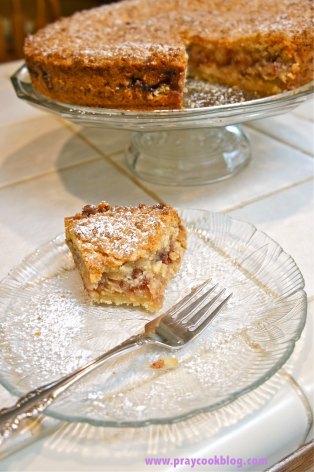 Many Blessings and Happy Cooking!