Walk Through The Bible In One Year
Week 16 reading plan per day
Click on the colored link to read each day's scripture.
Monday 2 Kings 1-4, Tues 2 Kings 5-8,
Wed 2 Kings 9-11, Thursday 2 Kings 12-15,
Friday 2 Kings 16-18,
Saturday 2 Kings 19-22,
Sunday 2 Kings 23-25
Blessings as you read!
Yeah!

     Pecan Sticky Buns     

Tuesdays With Dorie:Baking With Julia

   Happy Tuesday!
Have you ever paid $2.79 for one Pecan Sticky Bun?  Have you walked past the bakery section in the grocery store, glancing longingly at the sticky buns, thinking "no, don't go there, they aren't as good as they look"?  How about a specialty bakery … $3.49 for a one beautifully caramelized, gooey, sticky bun?  One bite … disappointment sets in and you promise yourself you will never, ever pay that much again for the opportunity for such disappointment.  If you don't have any idea what I am talking about, then "bless you", for you have escaped the sirens song of the pecan sticky bun.  Until now …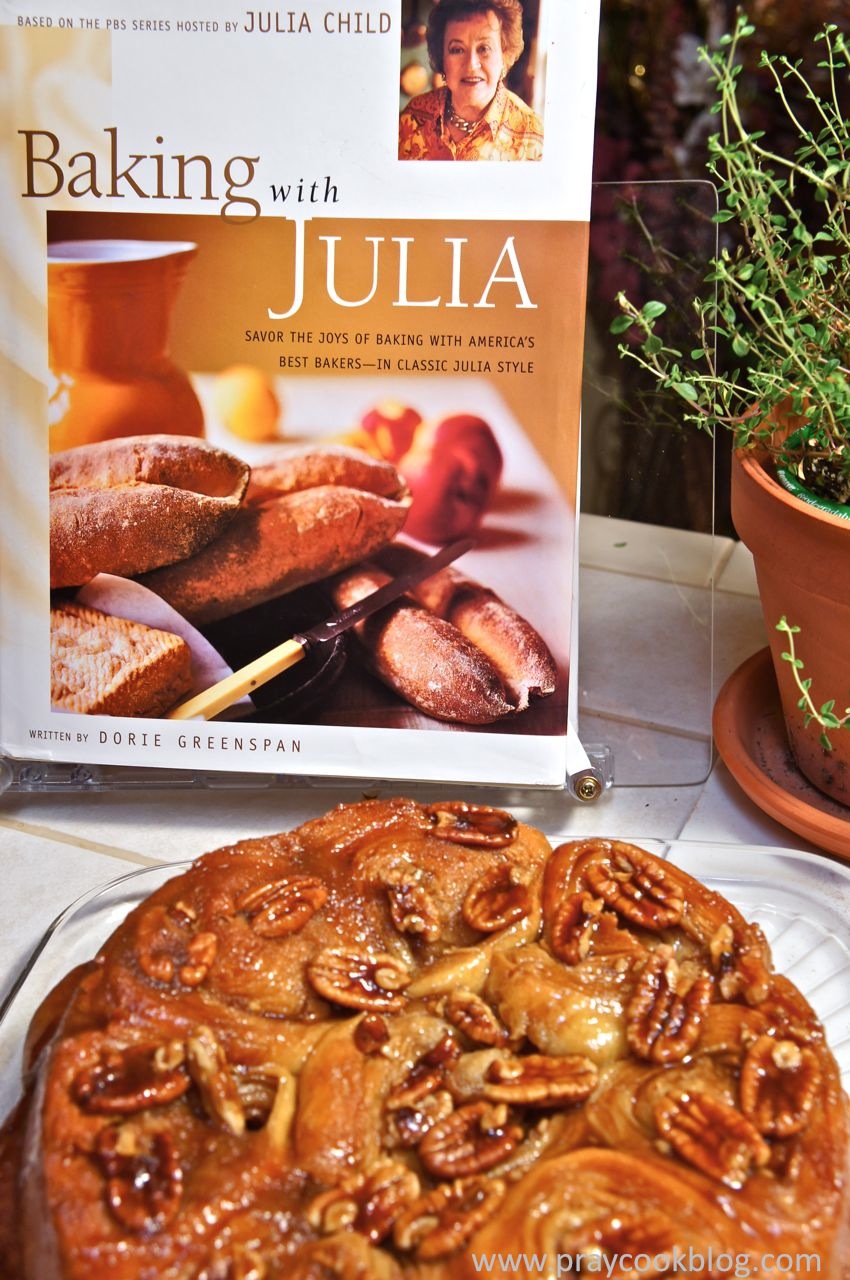 Yesterday, I posted my first time experience of making Brioche dough.    I almost passed on this week's group baking.  It seemed like so much work.  AND I am never, ever satisfied with the result of a pecan sticky bun.  The name alone tantalizes my senses beyond my ability to think straight.  In my extensive research and taste testing of pecan sticky buns the end result has always been a big lump of dough covered by some sticky and sometimes hardened sweetness and …. a pecan.  But not this time.  This time the brioche dough turned out elegantly smooth, full of elastically and almost light as a feather.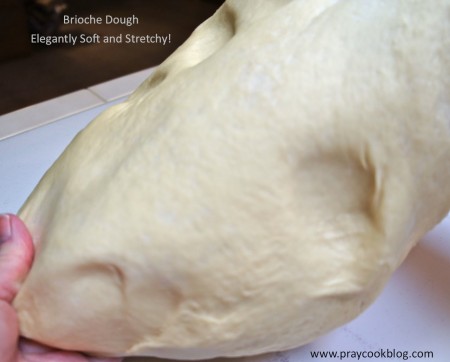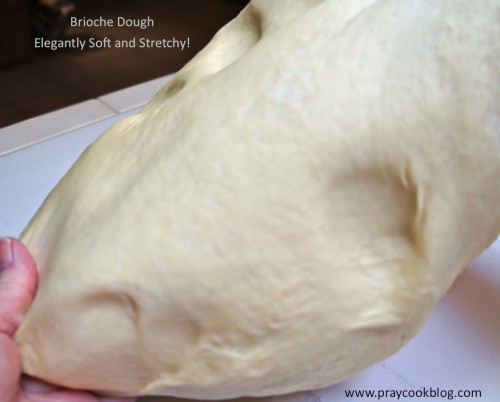 The fact that I had to mix it for 15 minutes non-stop and then refrigerate it overnight left me wondering what could possibly be so wonderful.  The second day dawned and it began with butter!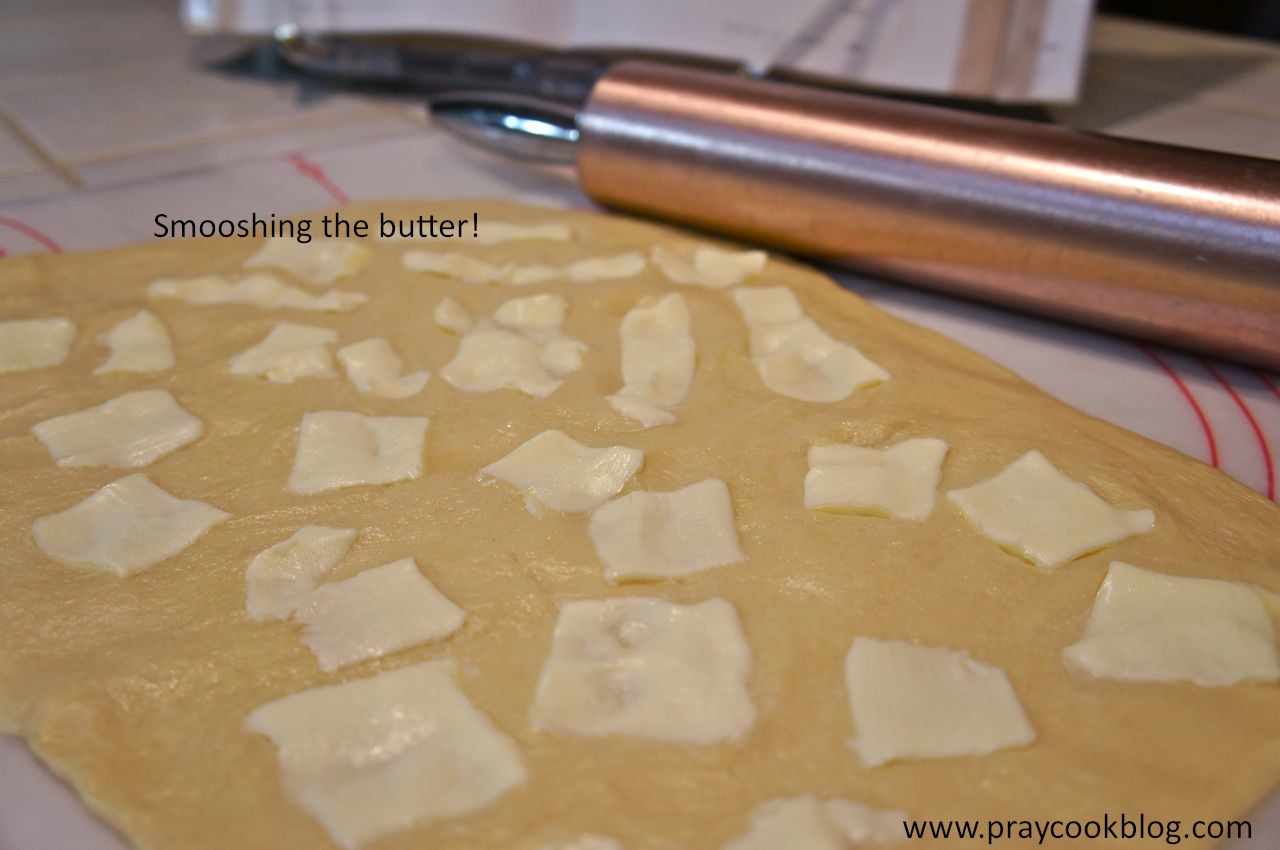 Once the dough came from the refrigerator I added more softened butter smooshing it around.  But wait … there's more.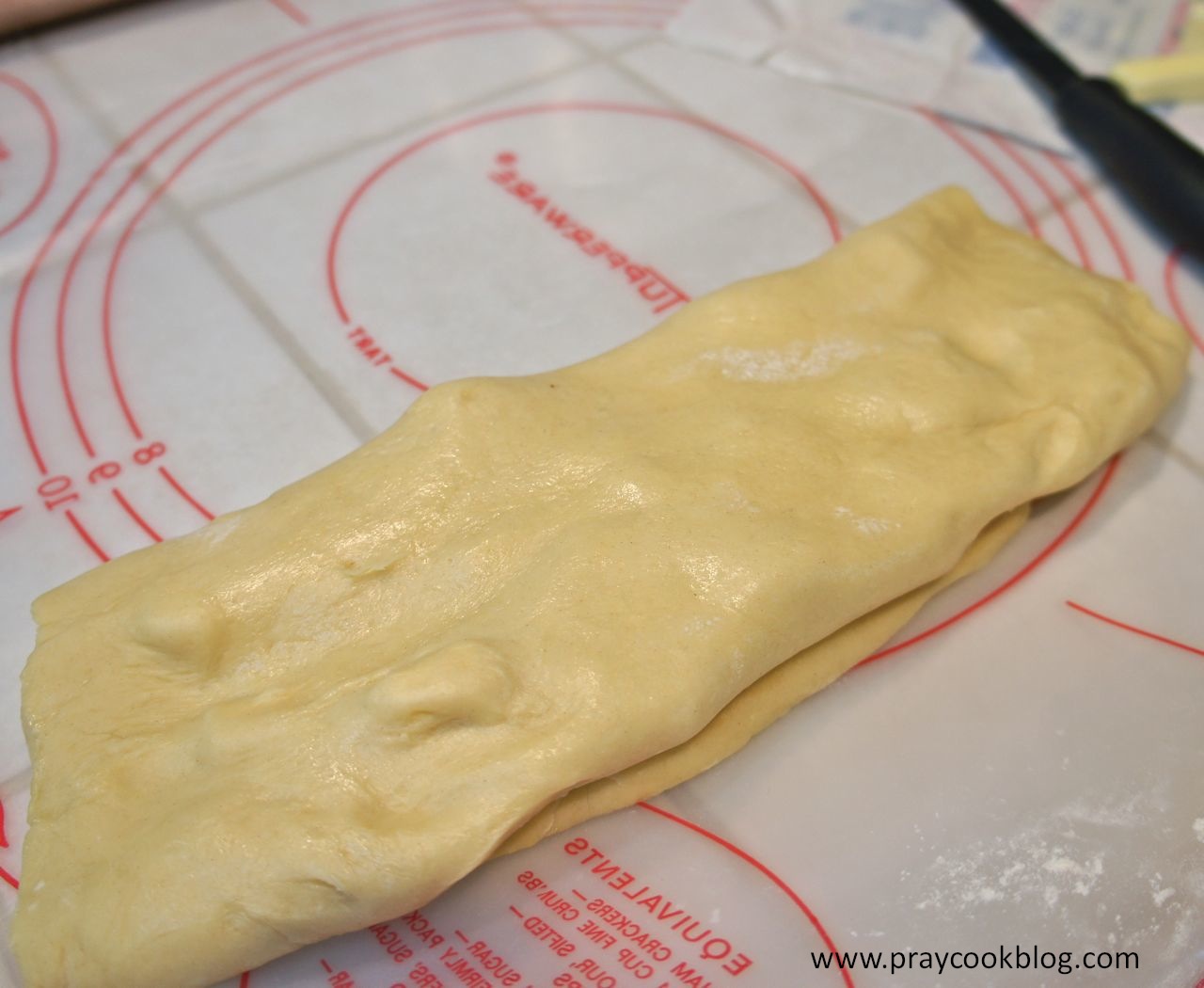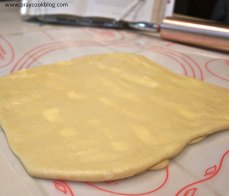 The  beautiful dough is then folded in thirds and gently rolled out again.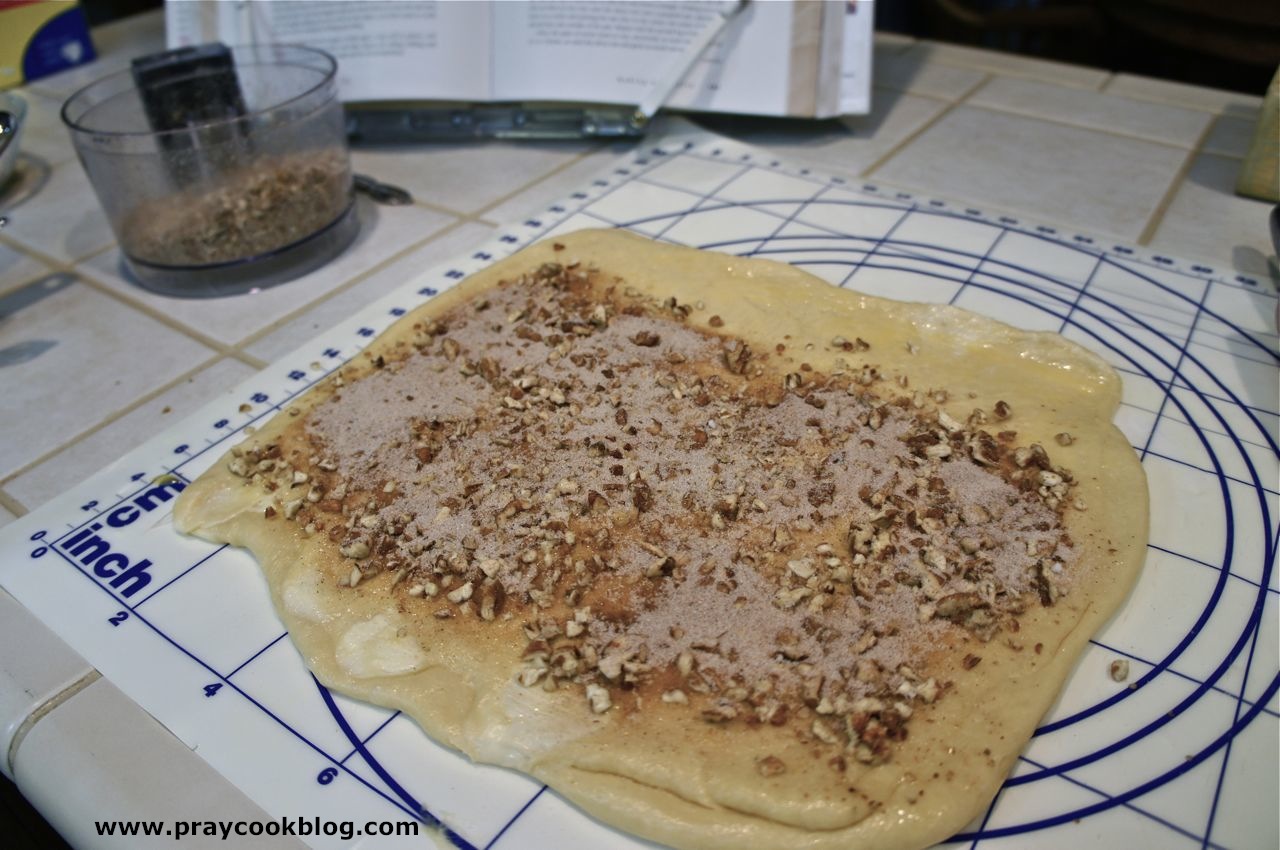 I topped with chopped pecans, cinnamon and a little sugar.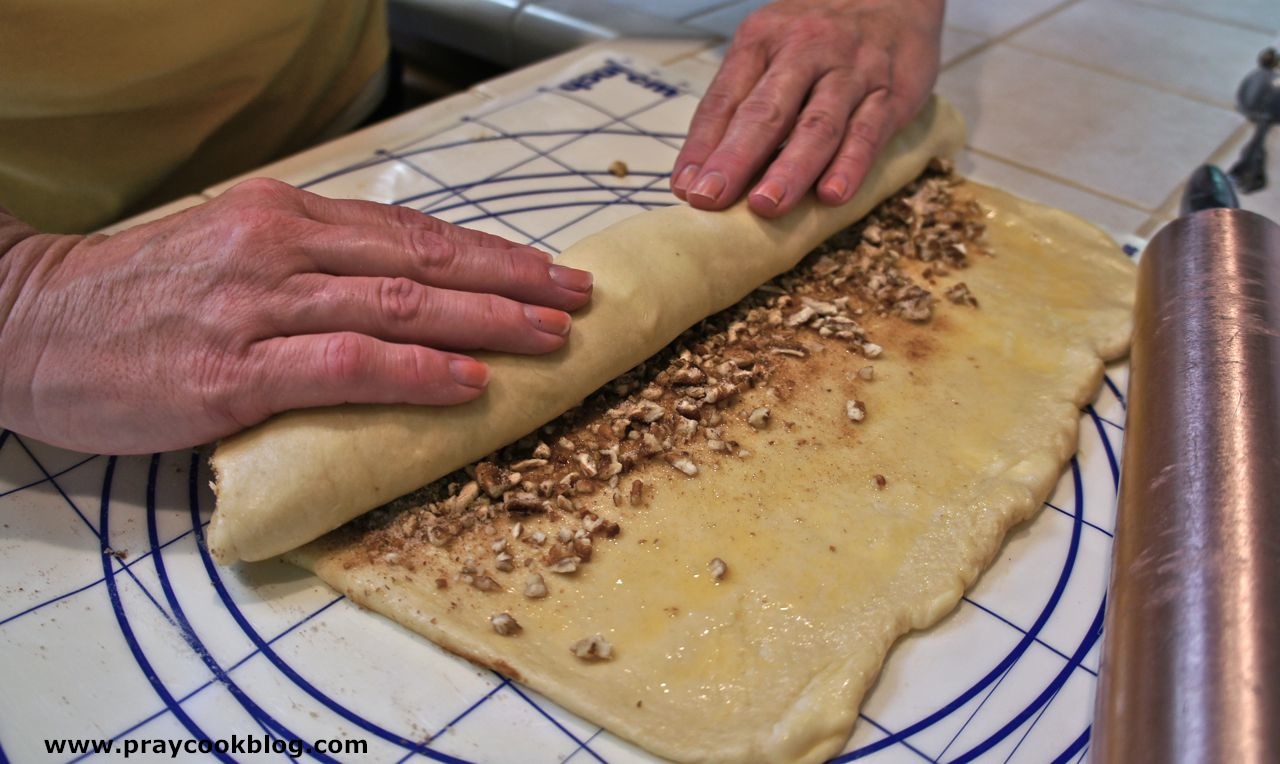 The dough is then rolled into two logs.  At this point the logs are covered in plastic and frozen until firm, about 45 minutes to an hour, so they will be easy to cut.  The sticky bun logs can now be double-wrapped and kept in the freezer for up to a month.  In my case, I left both logs in the freezer over-night.  One log I left frozen to use another time.  One log I removed from the freezer and let sit for about 15 minutes before cutting.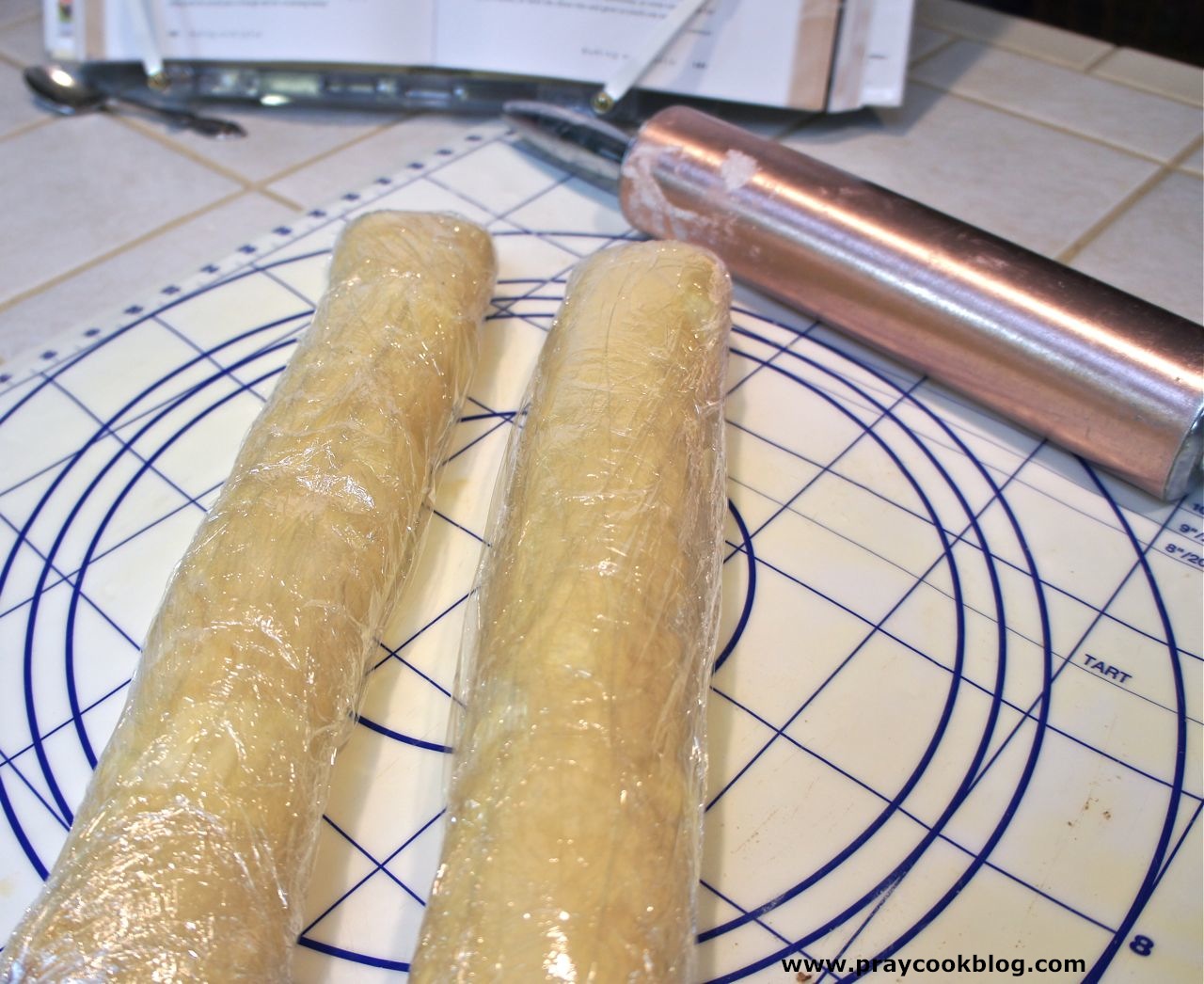 I prepared a 9″ baking pan with butter.  I tried spreading the butter out with a spoon which didn't work very well.  I gave up and used my God-given utensil …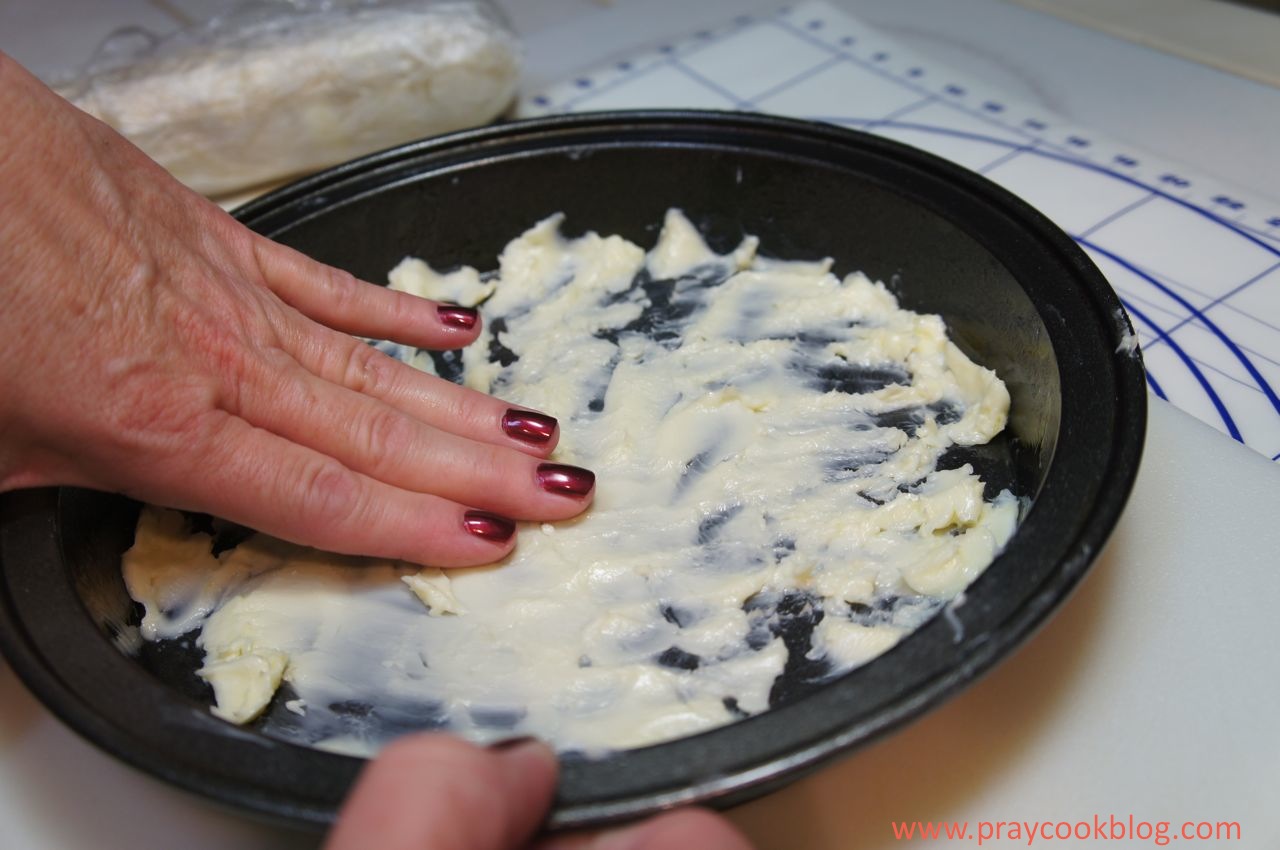 Brown sugar was sprinkled across the butter.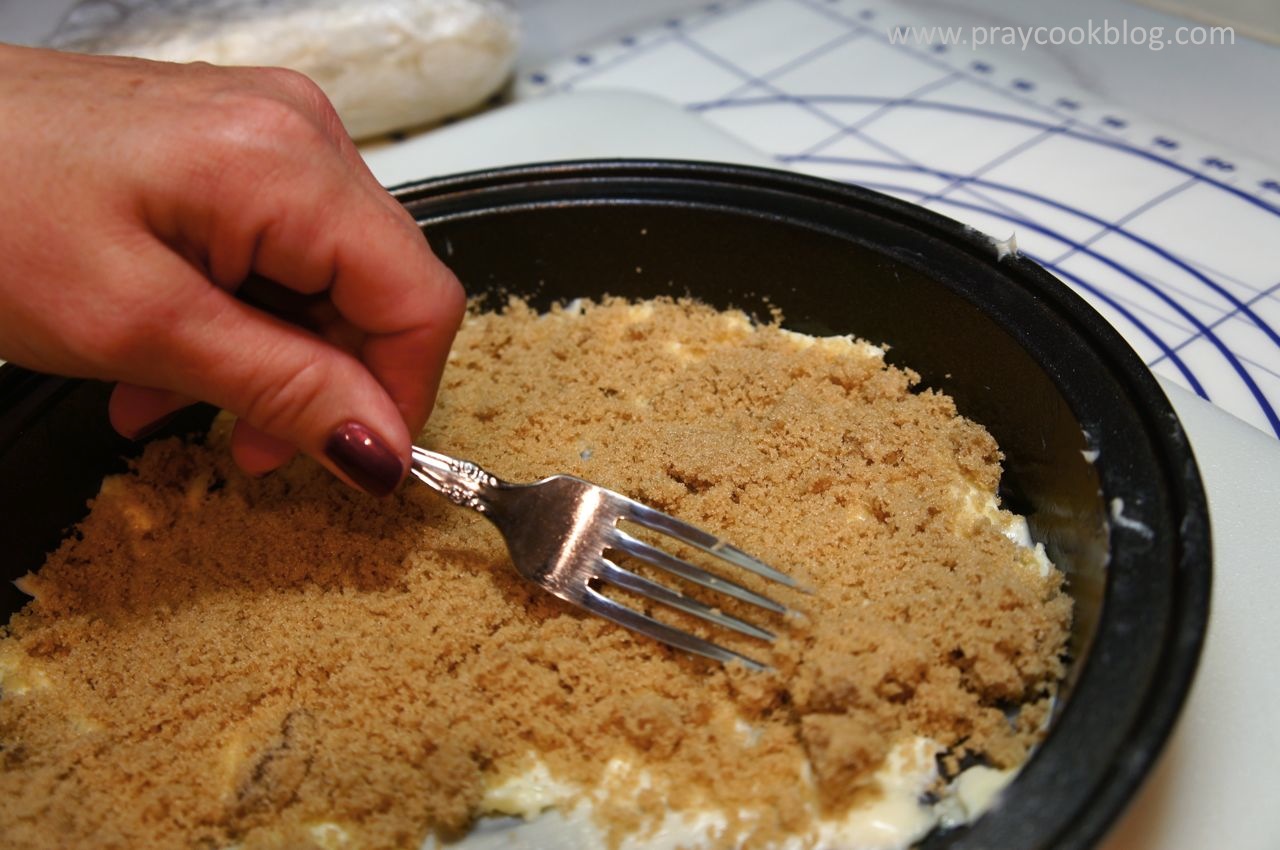 The frozen log roll was cut into 8 pieces.  Dorie's recipe says 7 pieces and even using a ruler I ended up with 8!  I have terrible depth-perception and you will be able to see that one of my rolls definitely ended up larger than the rest.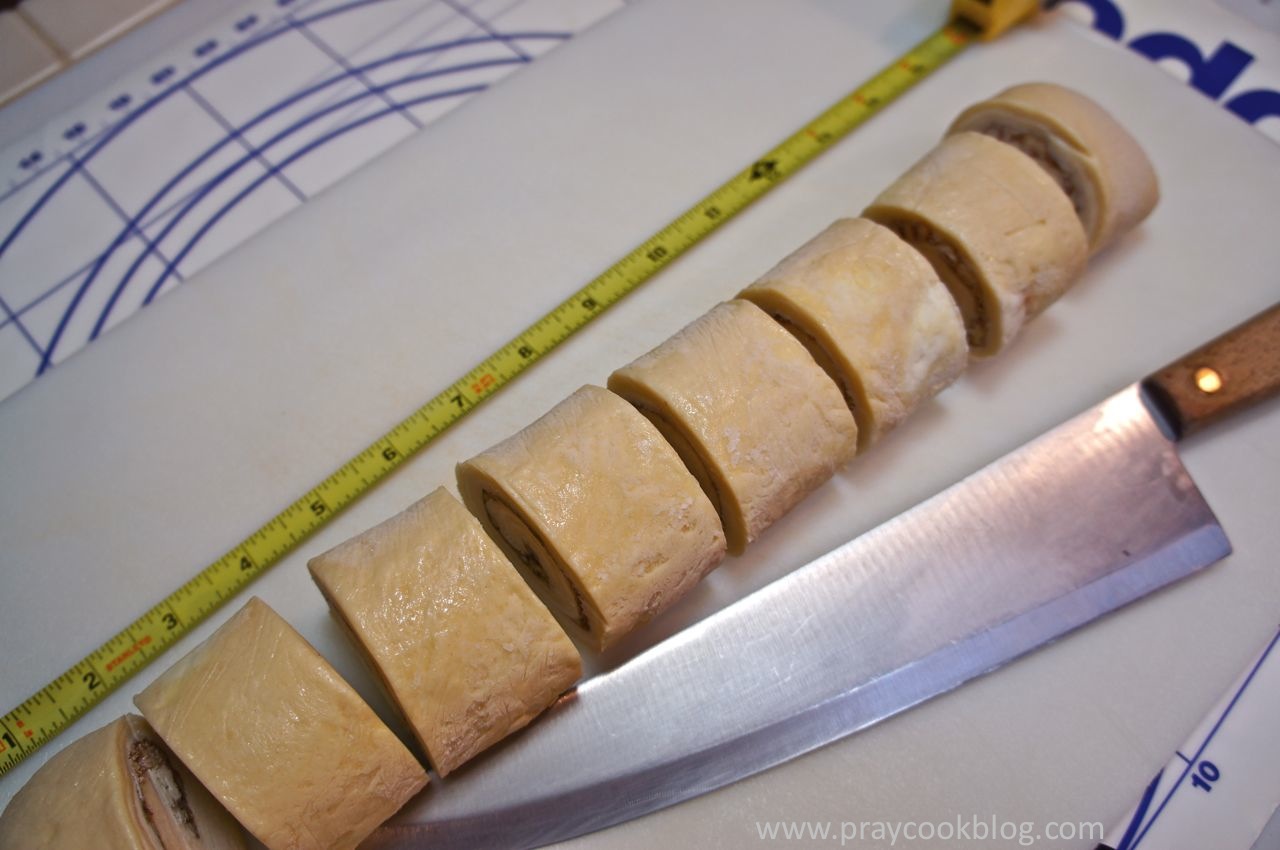 I lightly covered the rolls with a piece of plastic wrap, leaving them on the counter for 6 hours.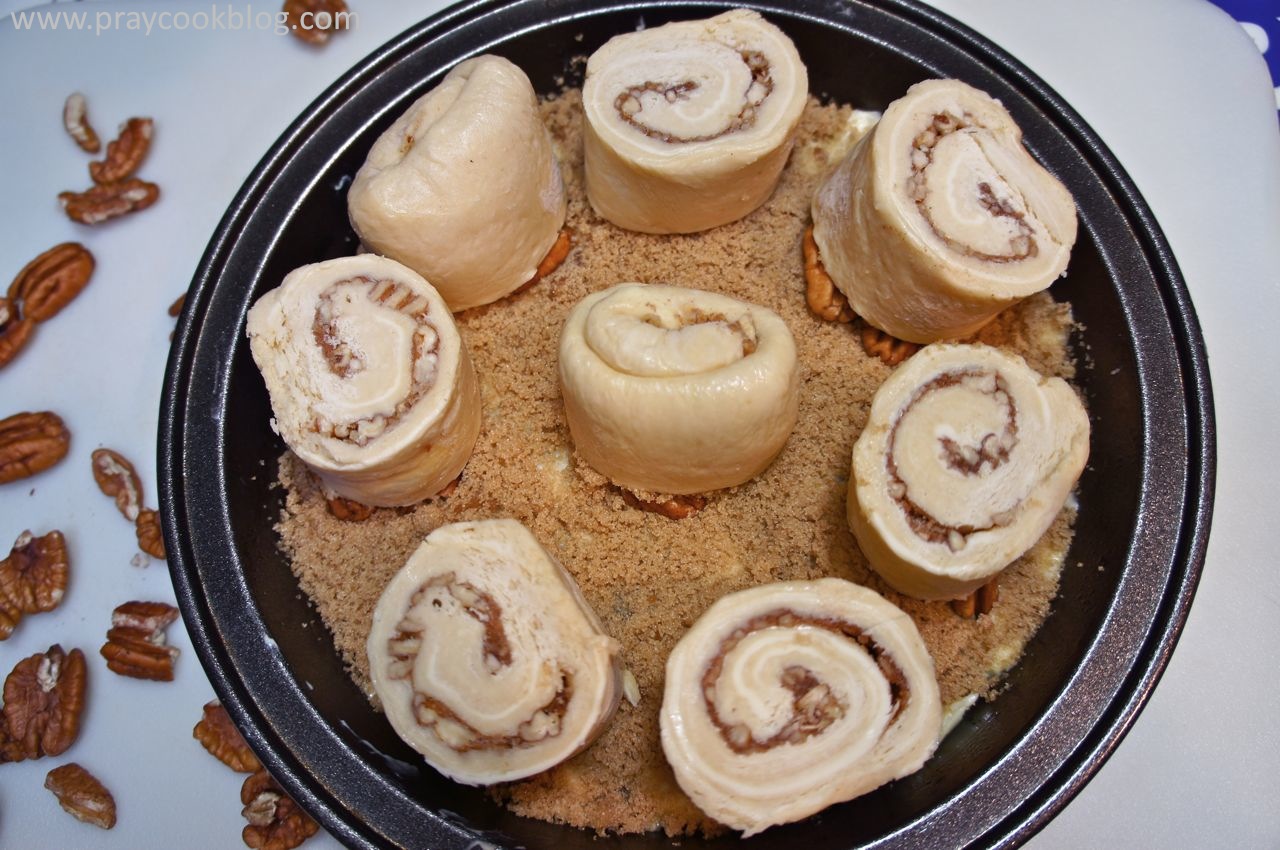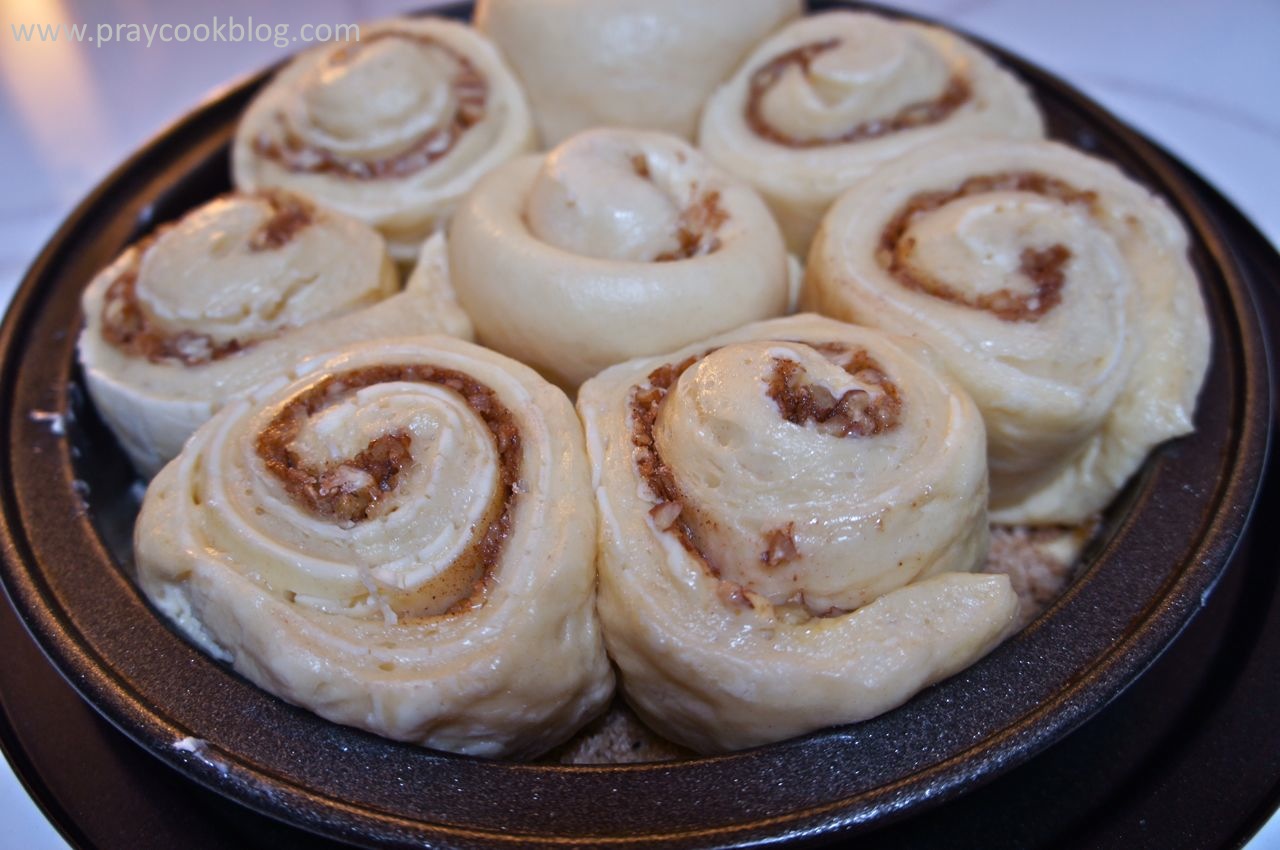 During this time they thawed and rose beautifully. Into the oven and 30 minutes later …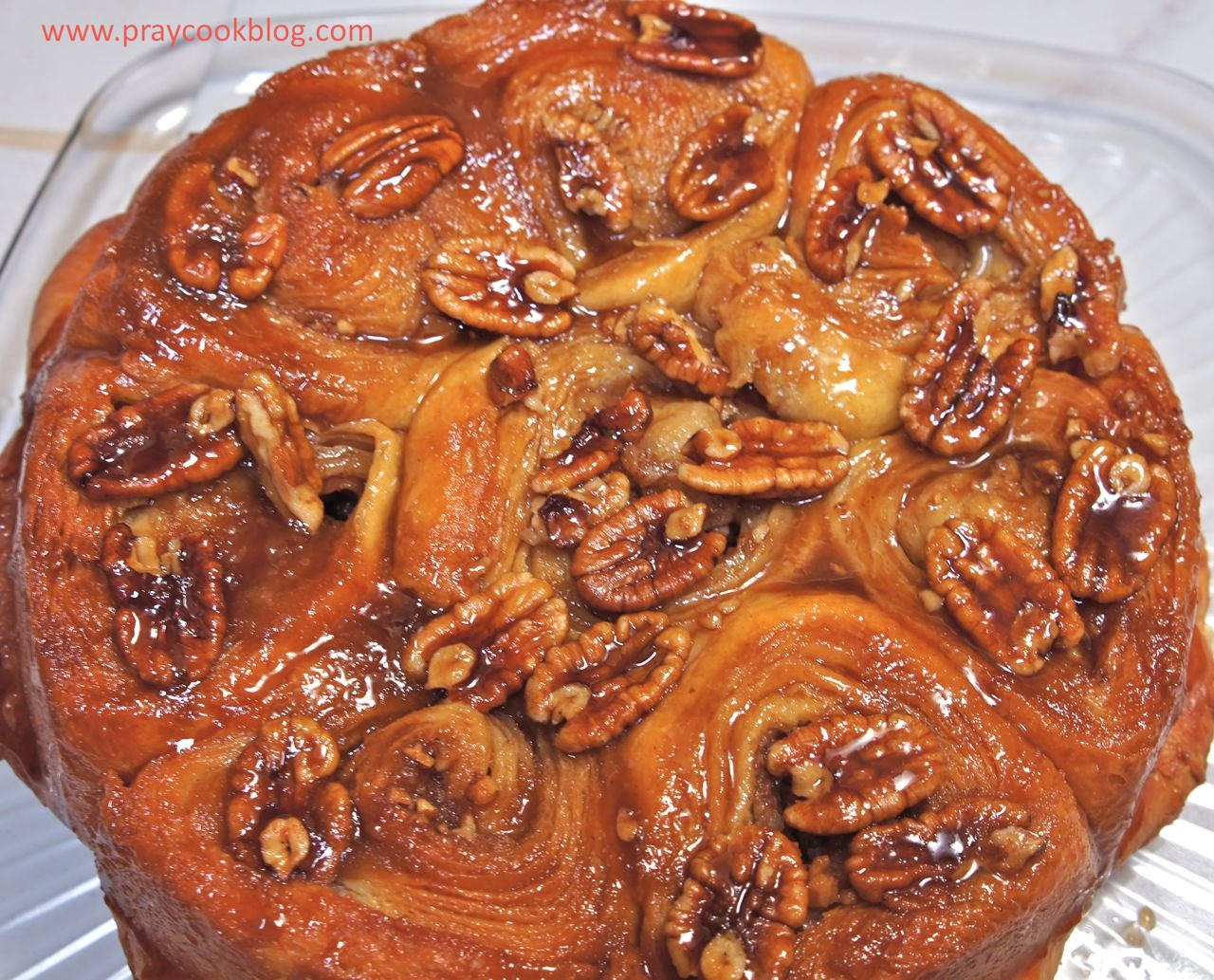 I did it. I'll do it again, and again, and again.  The time and effort was worth every buttery, delightful, caramelly bite!  These aren't anything like cinnamon rolls.  The dough becomes a pastry, light, and flaky.  I plan to keep a couple of these "logs" in my freezer.  Then, the night before I want to serve them for breakfast, I will remove before I go to bed and bake when I get up.  How simple is that?!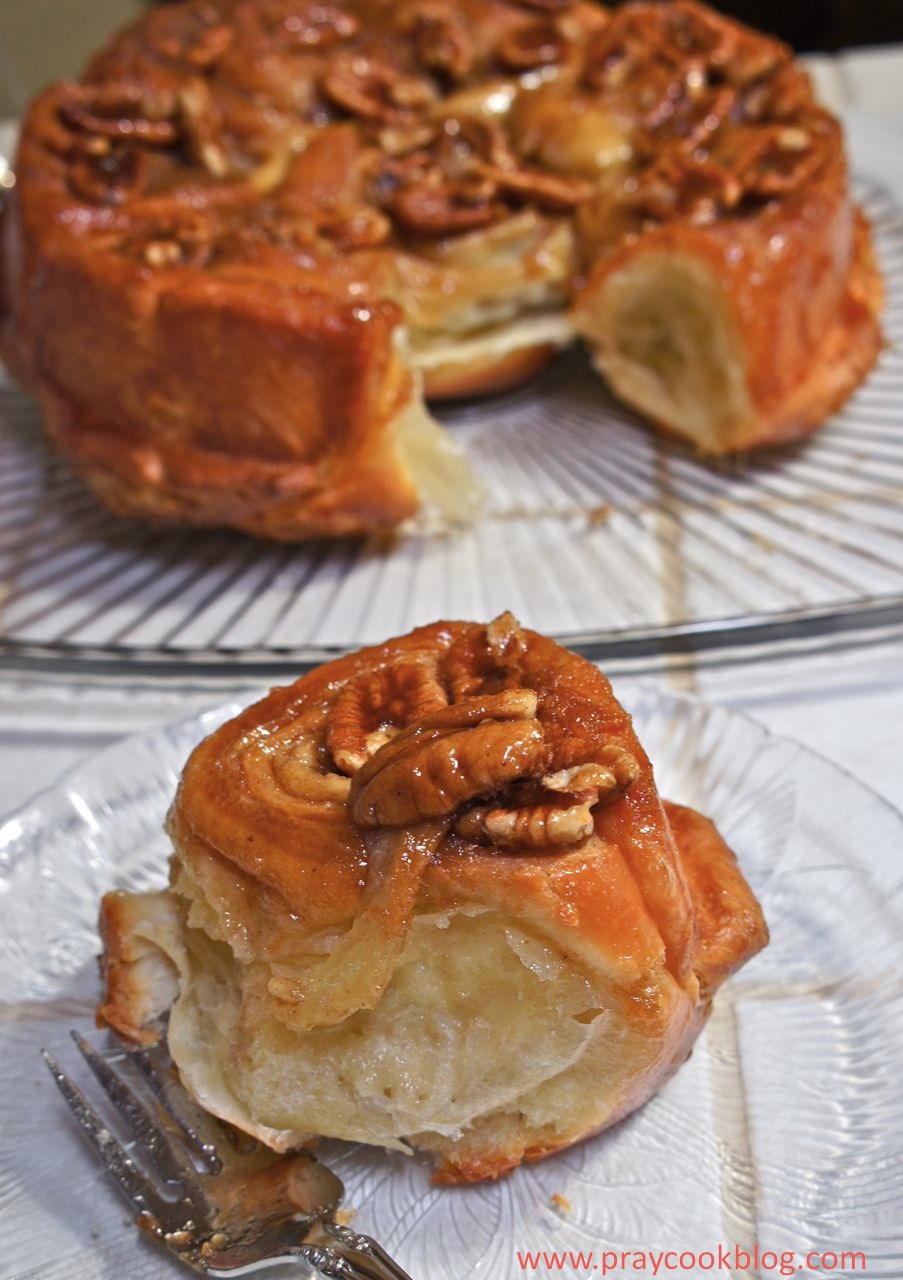 This recipe is from the book, Baking with Julia, by Dorie Greenspan. The contributing baker for this recipe is Nancy Silverton.

Host bakers this week are: (recipes can be found on their blogs)
Lynn of Eat Drink Man Woman Dogs Cat
Nicole of Cookies on Friday
Stop by the other bloggers posts to see their creations too.
Many Blessings and Happy Baking!