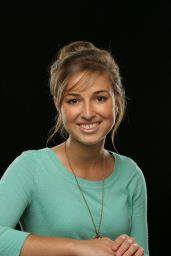 I co-teach the kindergarten Sunday School class with my boyfriend, Tim.  We usually have a plethora of personalities to keep us busy, but this week a lot of people were sick.   We only had one little girl named Amelia.  She's as sweet as can be and usually really shy. However, this week we got her to open up more because she was the only one.  Since Valentine's Day is coming up, we decided to ask her if she liked any boys at school.  After much prying, we discovered the name of her crush.  I'm not allowed to tell you who it is because it's top secret.  We had fun teasing her about it though.  She always insisted that "He's not my boyfriend!"  But he totally was.
After that lively discussion, we taught her the parable of the pearl of great price.  Since we had some time left (and only one kid in class), I decided we could make some Valentine cards.  She decided to give it to her brother. Oh well…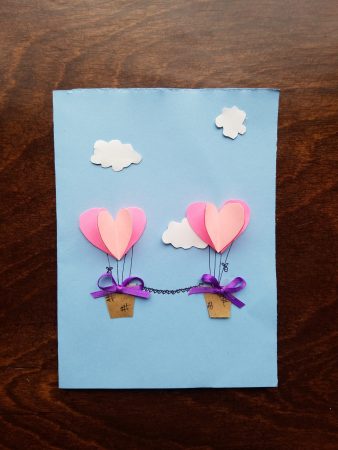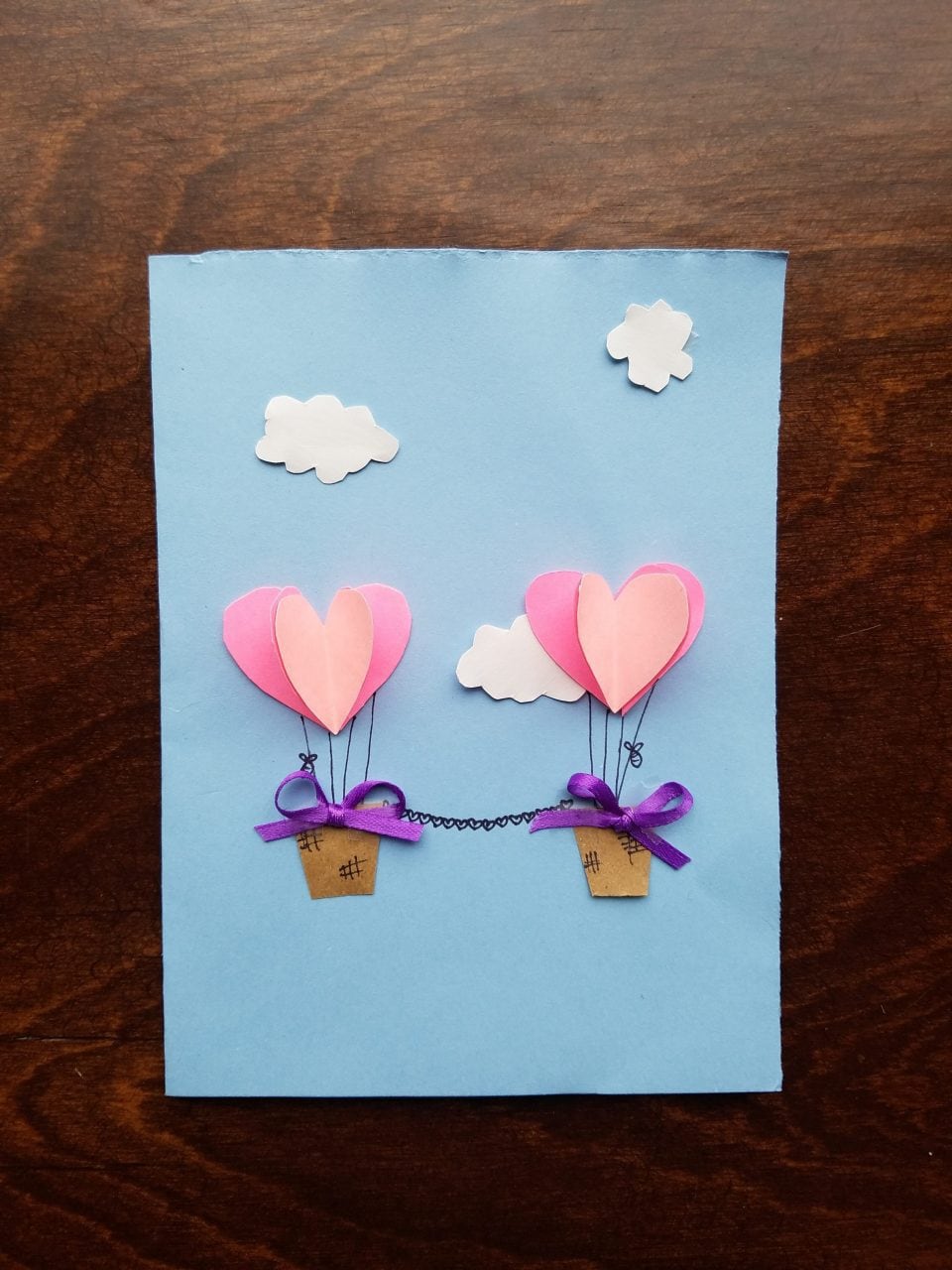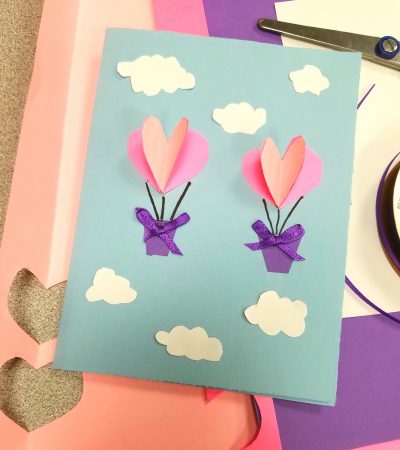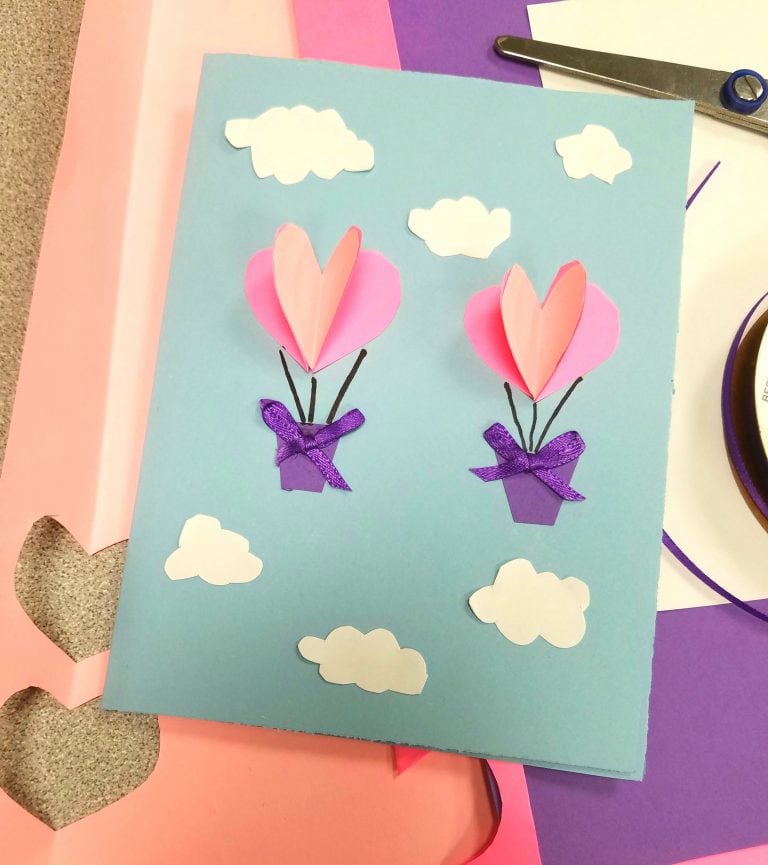 I found this idea on Etsy and thought it was the cutest thing ever.  It looked simple enough to make, so I thought I'd give it a try!  If you are making this with older kids, they could probably do fine cutting everything out themselves, but you can make it easier by pre-cutting the pieces.
Here's what you'll need.
Scissors
Glue stick
Colored construction paper
Pen
Small ribbon
First, cut out all the pieces.  For each card you will need:
6 small hearts (use the first one as a template to cut the others so they're all the same size)
3-8 clouds
2 baskets
Use the blue construction paper for the card so it looks like the hot air balloons are in the sky.  To make the balloons, put glue on half of two hearts. I didn't have a glue stick when I was taking these pictures so I used tape.  But the ones we made in class with the glue stick were a lot easier.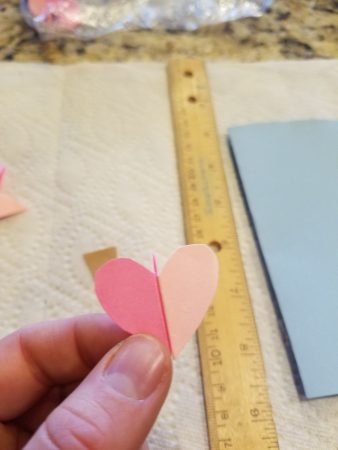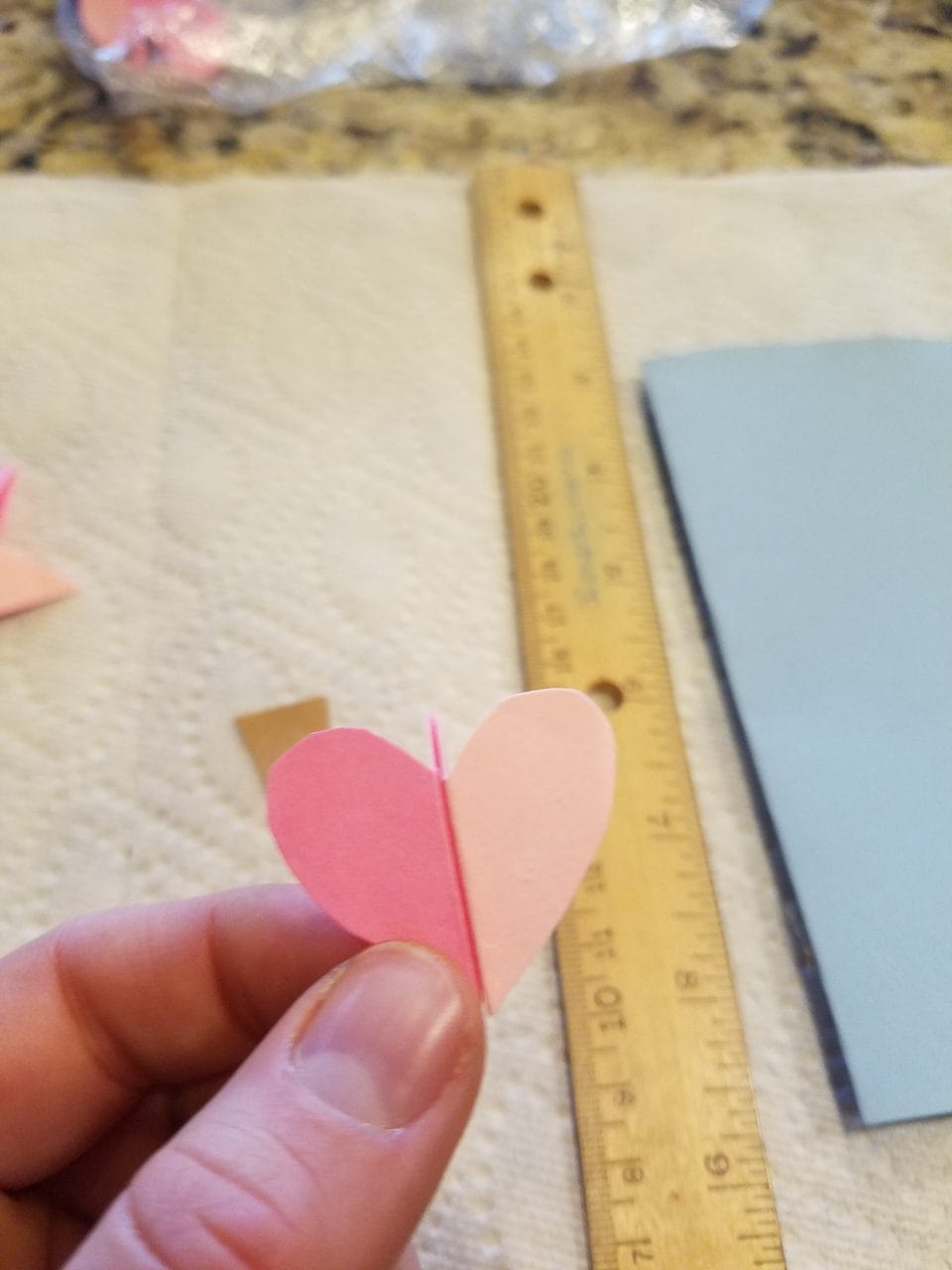 Then attach another heart to each of the glued halves.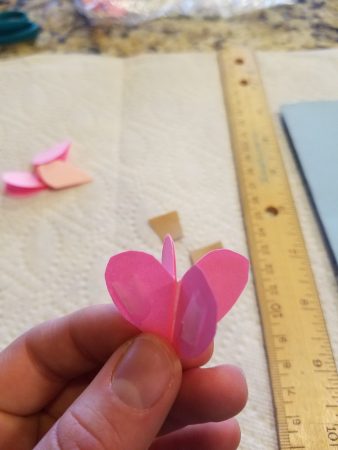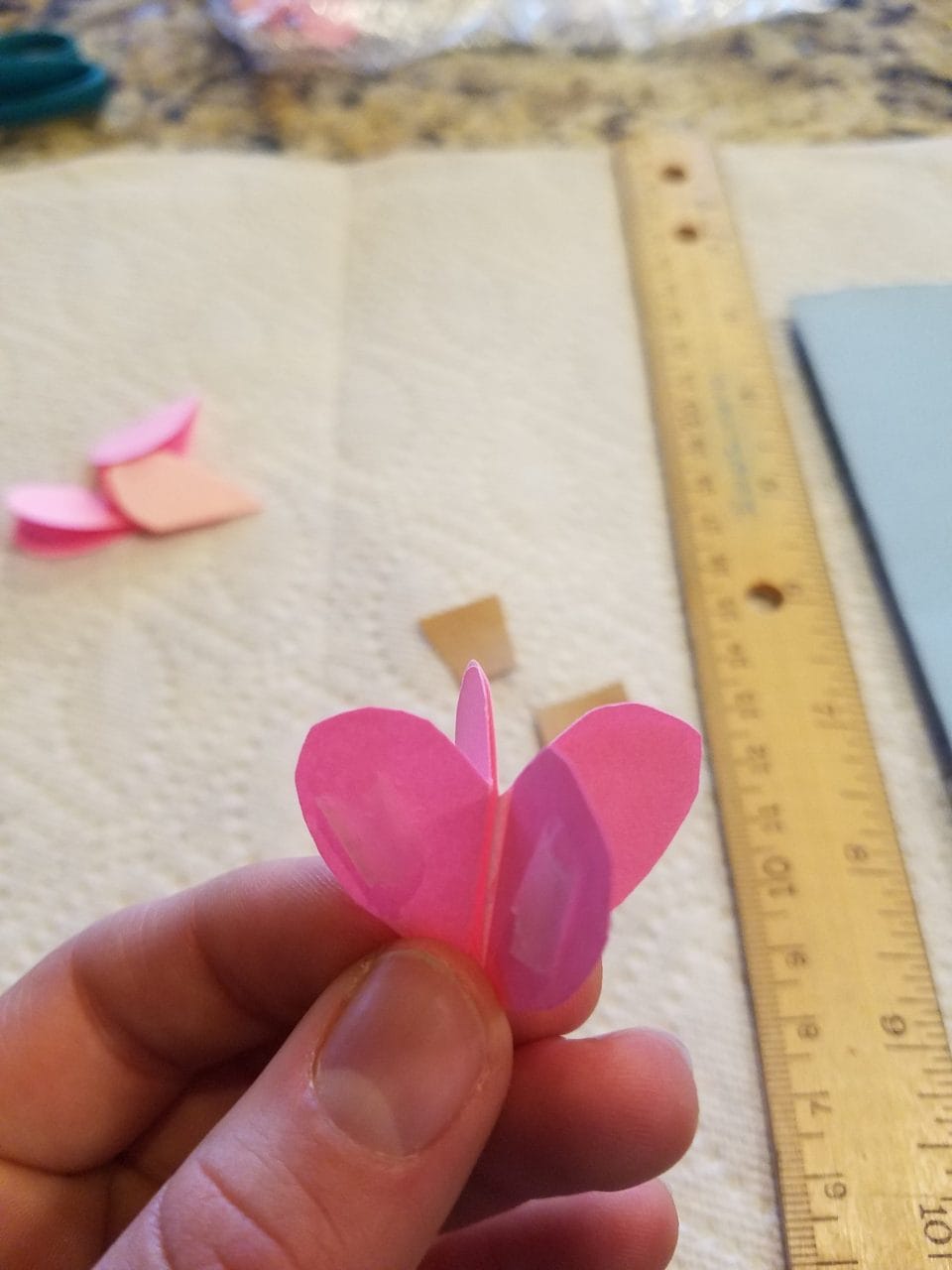 now you can put glue on the back and stick it to the card.  Do the same thing for the other balloon.
Now you're ready to glue on the baskets below the hearts and draw the strings! Then sprinkle the clouds around.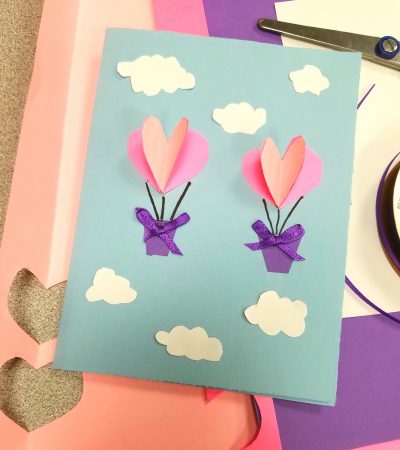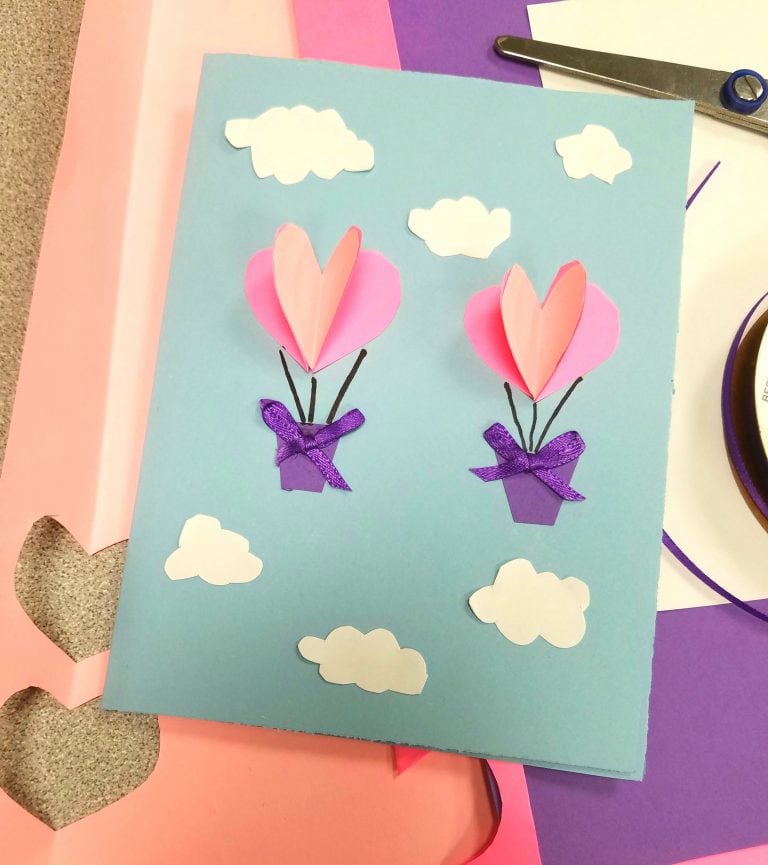 Making the little bows was kind of tedious, but it's too cute to leave out.
Now for the most important part… Open it up, and add your special message!
I really had fun making these.  After we helped our little student with hers, Tim and I both made one.  Then, our friend, Mary came in and made one!  I don't always take the time to make handmade things, but doing crafts is a great way to bond with people.  Plus, who doesn't love getting a handmade card?  I give this one 5 stars because it would be a great thing to do with kids of all ages, and it always turns out looking great!
I made them with the two-year-olds I babysit. They were so proud of their cards!
On a side note, I finally got to try out my candy molds!  Back when I posted about my dark chocolate recipe, I mentioned that I didn't have any good molds, so my sweet Aunt Denise mailed me some! Thank you, Aunt Denise!!!
Here's how they turned out! I tried some new flavors — some good — some not so good… but they looked amazing! I'm definitely going to make them again!
The peanut butter cups were everybody's favorite.
I hope you all have a Happy Valentine's Day!
Sending love,  Abby