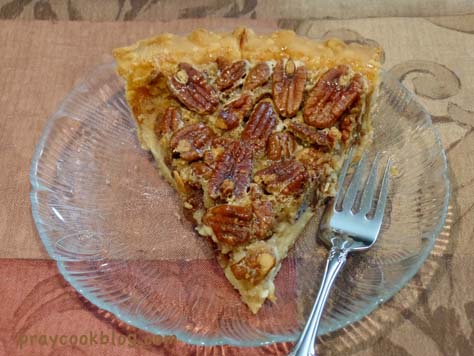 When the words vanilla, cheesecake and pecan are all run together ending in pie I cannot help myself.  I cannot resist.  I head to the kitchen, sort out the ingredients and begin the fun of mixing and blending while imaging just how good this is going to taste!
This recipe came from Facebook. And like many Facebook recipes it did not have an author to give credit to.  However, after just a little Googling I discovered the recipe originally came from McCormick highlighting their McCormick® Pure Vanilla Extract!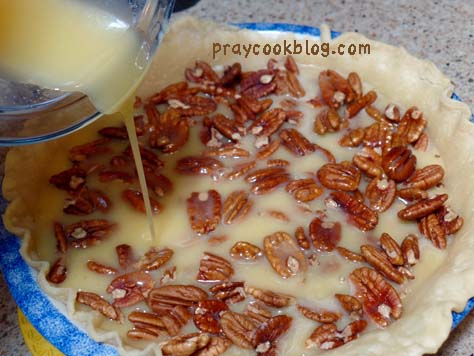 The cream cheese layer is made first and baked for 15 minutes.  Pecans are layered on the hot cream cheese and the custard mixture is poured over it all.  The pie is baked again for 35 to 40 minutes.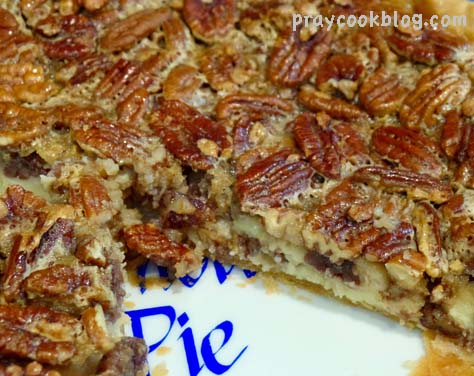 The overall result is a yummy combination of the creamy cheesecake and the richness of a pecan pie.  I didn't cool this in the refrigerator before cutting it and I think the cheesecake layer would have "looked prettier" had it been cooled by refrigeration.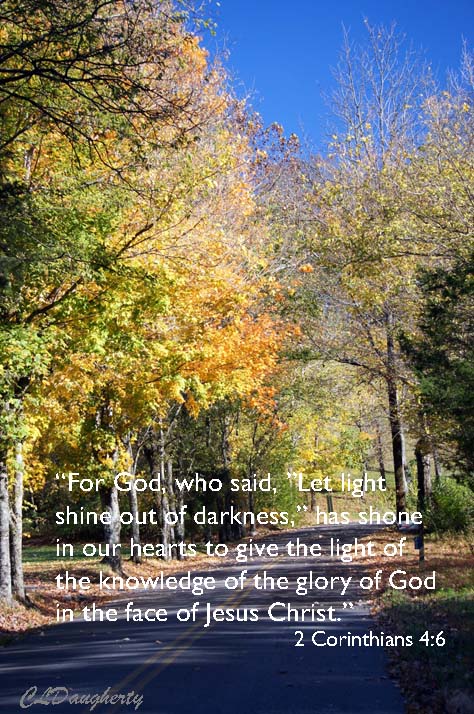 Another thing I couldn't resist today is showing you this picture of the curve in the road where I live.  It is fall, the leaves are just beginning to turn and a new season is just around the curve in the road!
Okay, back to my pie.  This pie wasn't refrigerated before I cut it — we didn't have time. When dinner was over PIE was the only thing on our minds and I can assure you my Chief Pie Eater and Sous-Chef Dish-Washing Pie Eater were NOT going to wait for a little refrigeration!
A keeper recipe. 🙂
Happy Baking!
~Catherine

Vanilla Cheesecake Pecan Pie
Creamy cheesecake and rich pecans come together in a perfect marriage of taste, texture and lusciousness. A dessert fit for a king but easy and fast enough for your family!
Author:
Adapted by Catherine Daugherty
Ingredients
1 refrigerated pie crust, (from 14.1-ounce package)
1 package (8 ounces) cream cheese, softened
3 eggs, divided
¾ cup sugar, divided
4 teaspoons pure vanilla extract, divided
½ cup light corn syrup
3 tablespoons butter, melted
¼ teaspoon salt
Instructions
Preheat oven to 350°F. Prepare crust as directed on package for one-crust pie using 9-inch deep dish pie plate.
Beat cream cheese, 1 of the eggs, ¼ cup of the sugar and 2 teaspoons of the vanilla in large bowl with electric mixer on medium speed until well blended and smooth. Spread evenly on bottom of crust. Bake 15 minutes.
Beat remaining 2 eggs and ½ cup sugar in large bowl with wire whisk until smooth. Add corn syrup, butter, remaining 2 teaspoons vanilla and salt; stir until well blended.
Sprinkle pecans evenly over baked cream cheese layer. Slowly pour corn syrup mixture over nuts.
Bake 35 to 40 minutes or until just set in center. Cool completely on wire rack.
Notes
Adapted from McCormick's recipe.