Whhaaaat?  I've never shared my recipe for homemade granola?  Seriously?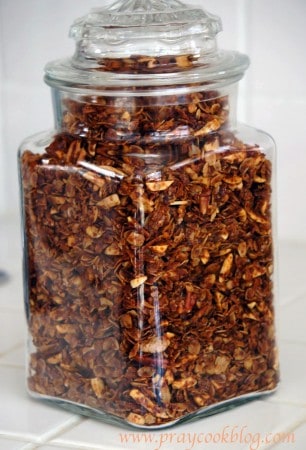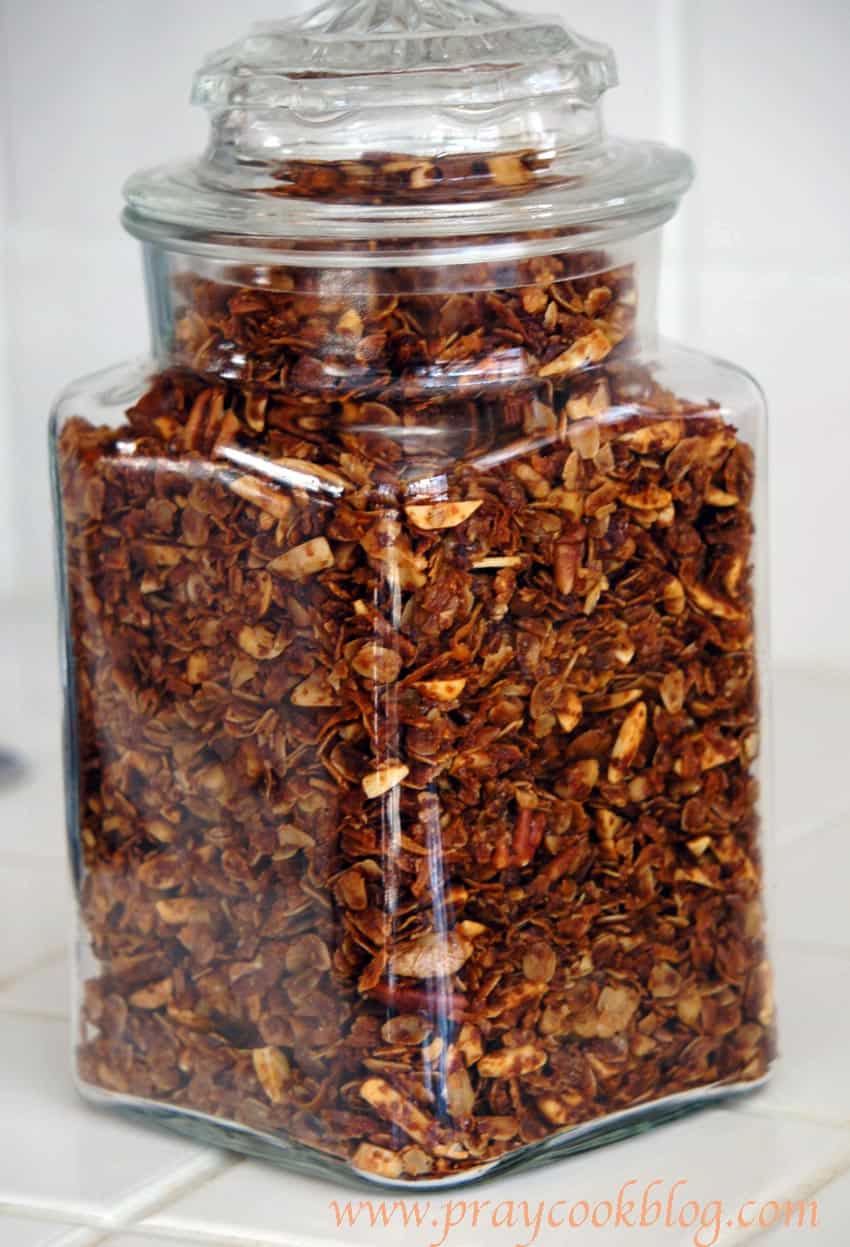 Since creating this website (and it's 2 short-lived predecessors) I have written  somewhere in the neighborhood of 489 blog posts.  Since most of these include a recipe, when I am looking for m favorite recipes these days I start with my blog.  It is a fast and easy way to find a recipe, read it on my iPad in the kitchen and not have to print on mounds and mounds of paper.
This week I decided to surprise my granola-loving sous-chef, dish-washing mom and make a batch of homemade granola.  We all love it, but she really loves it!  I did a quick search of this website on my iPad.  Couldn't find granola.  Hmmm.  Fired up my computer (thinking that would help) and did another not-so-quick search.  Couldn't find it.
Then I signed on to the WordPress software I use to write my blog.  Search … granola.  Couldn't find it.  Is it possible I haven't shared this recipe?  I thought I had.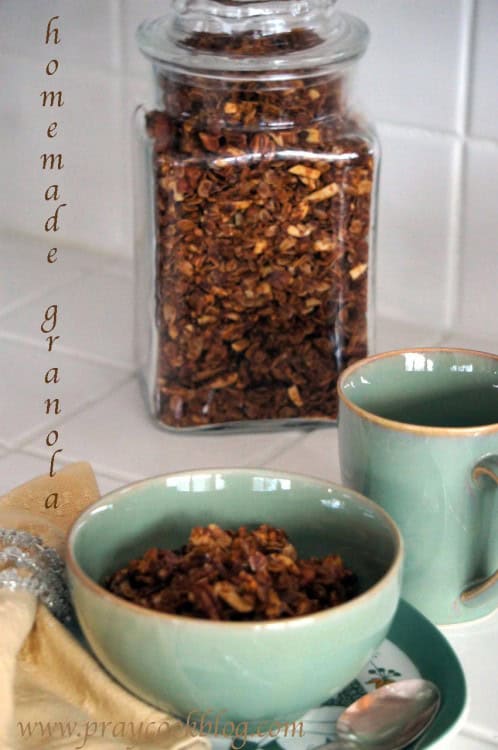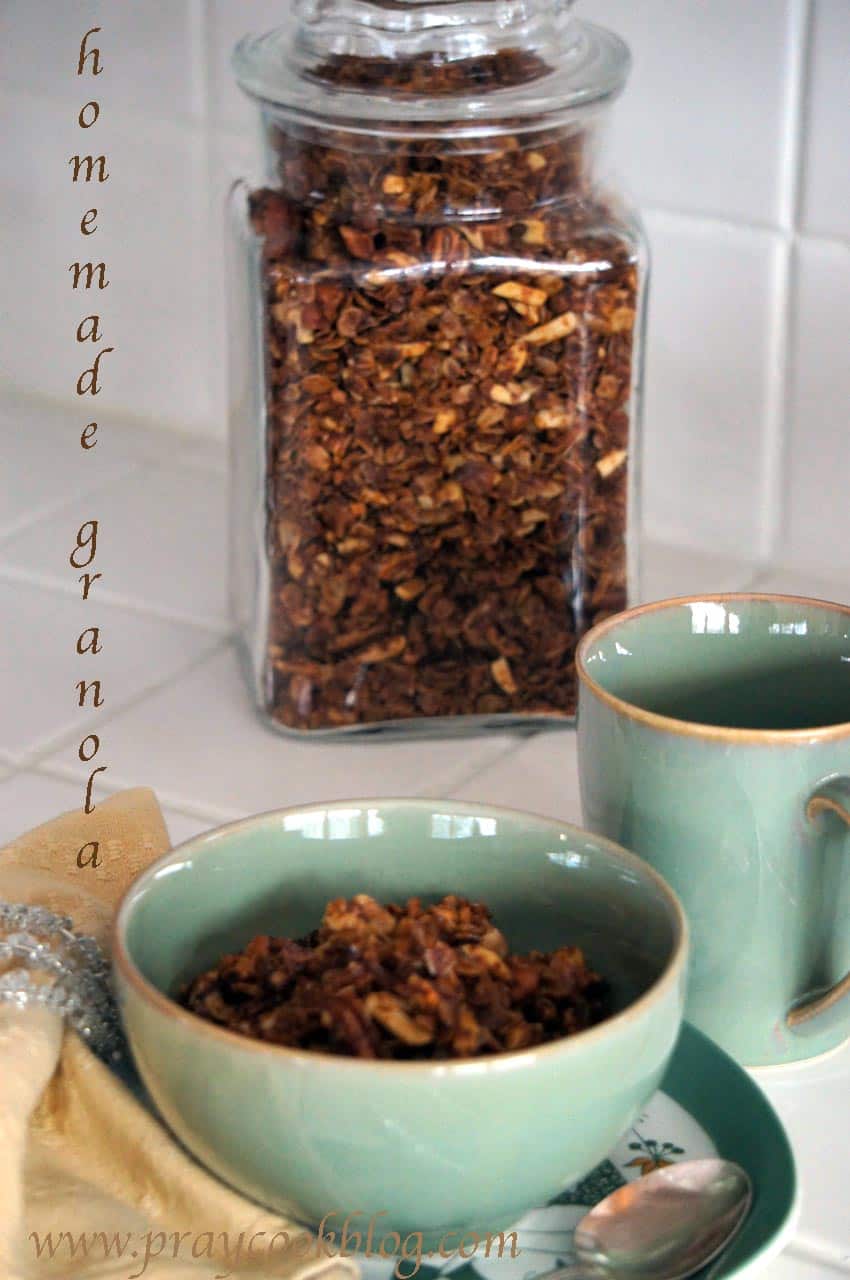 When I was an innkeeper I made this granola every 3 weeks.  My friend and regular guest, Toni, loved to have granola with blueberries in the morning.   She would stay for 5 days at a time, 3 and sometimes 4 weeks out of the month.  There is no way a person can eat Praline French Toast,  Quiche Lorraine, Butter Rolls, or Buttermilk pancakes and peach compote  5 days out of the week!  Granola and fruit to the rescue!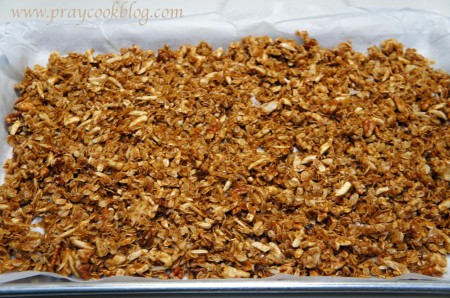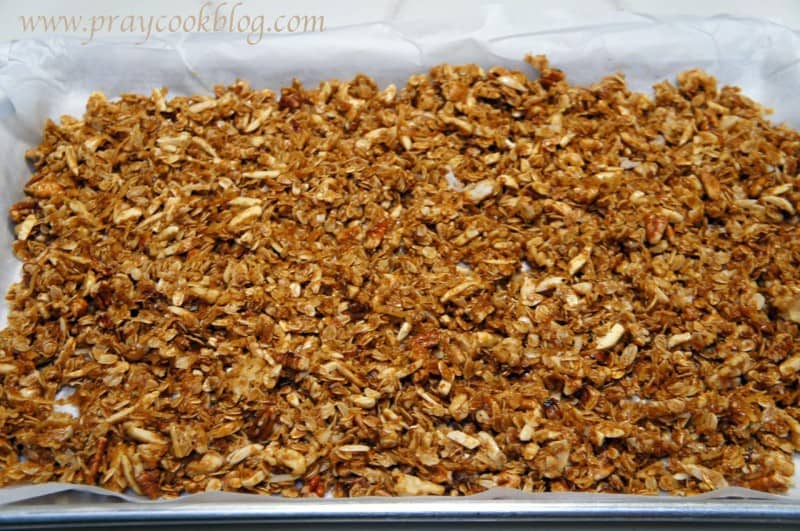 On my recent winter vacation my friend Val introduced me to this Oikos Greek Yogurt.  I have tried several other brands of Greek yogurt but this one is the best I have tried.  It is loaded with flavor, fruit, zero fat, and low calories.  When I sprinkle on a tablespoon or two of granola – breakfast is ready! I am lovin' this yogurt!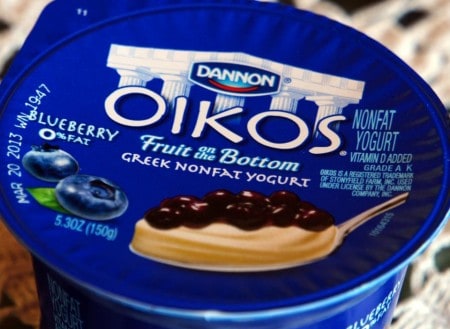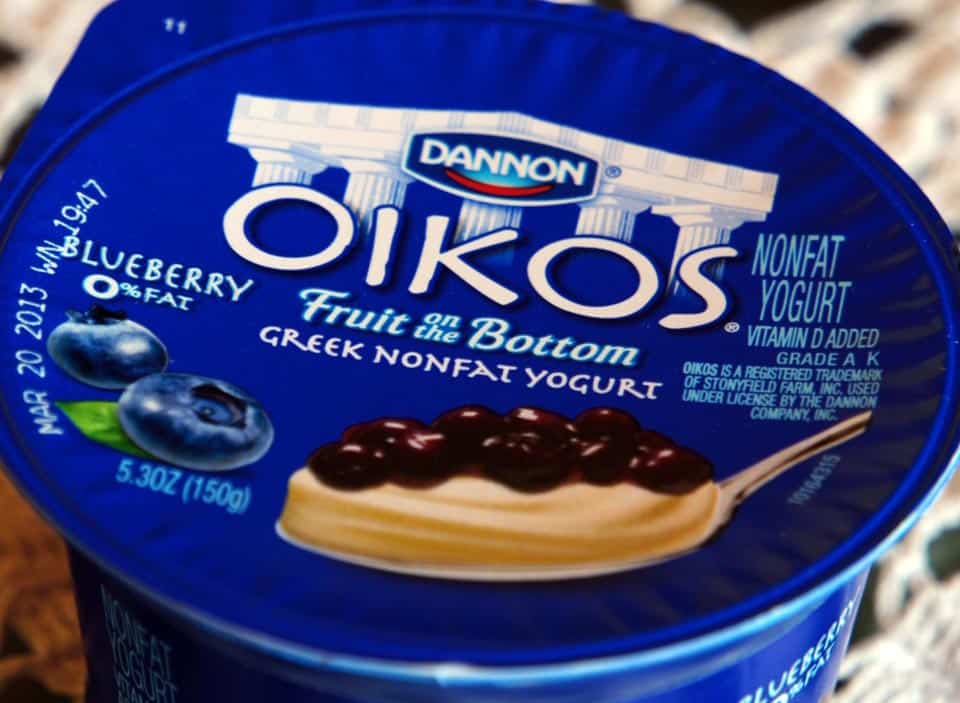 Homemade granola is easy to make and the ultimate comfort food when you are done.  However it does take some time and patience.  Start this process in the morning while you are doing laundry.  The laundry and granola will all end up done at the same time and you will be feeling really satisfied!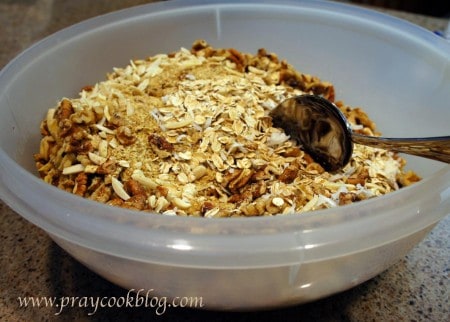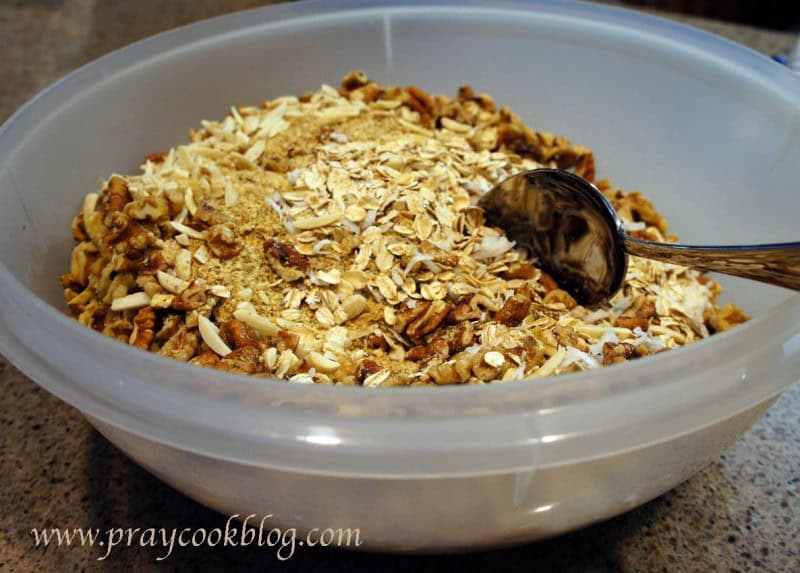 I use my BIG Tupperware bowl to mix the oats, nuts, wheat germ and just about anything else you want to include.  My recipe will give you the amounts of the ingredients I use, but you can substitute walnuts, pecans, or any of the ingredients for like-ingredients that you may prefer.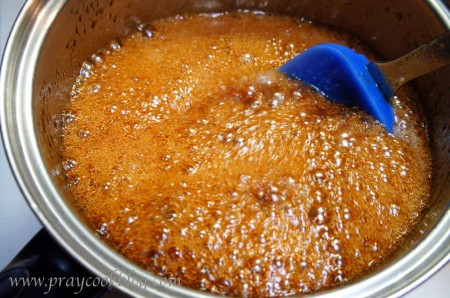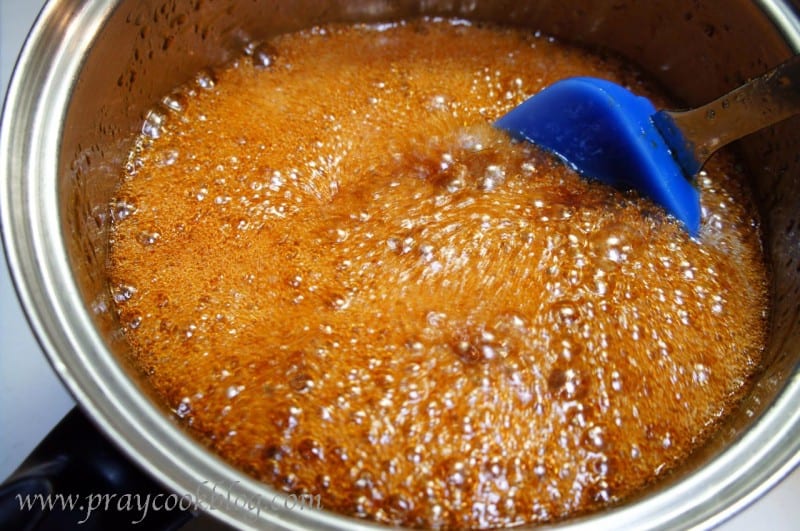 The syrup is made from a little oil, honey, molasses, almond and vanilla flavoring.  If you prefer honey over molasses you can use more honey.  If you like the stronger taste of molasses, use less honey and more molasses. A very flexible recipe!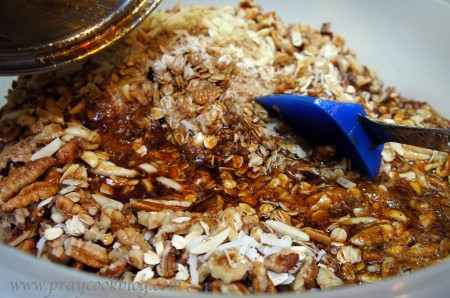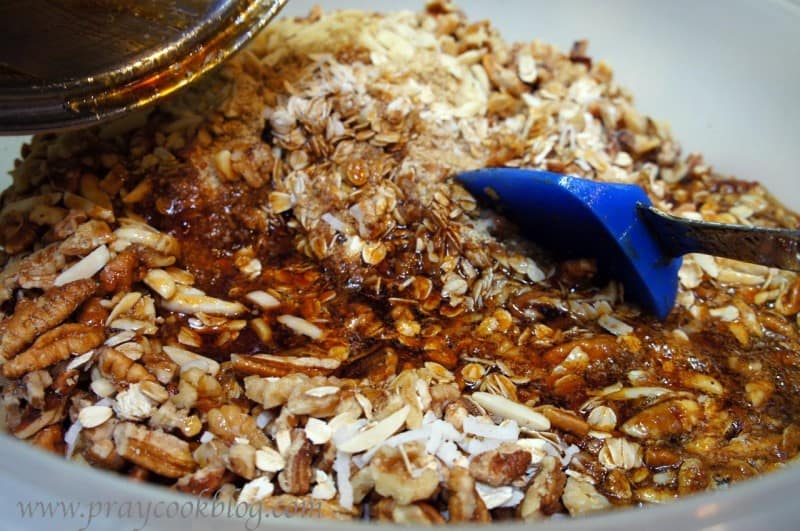 The boiling liquid is poured over the all the dry ingredients.  Stirring in the BIG bowl works best.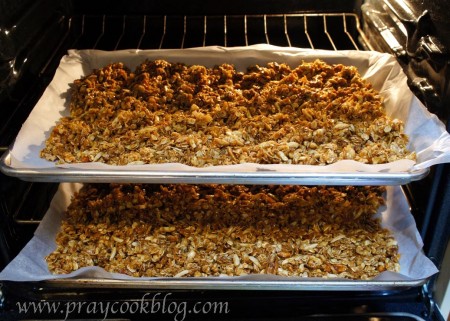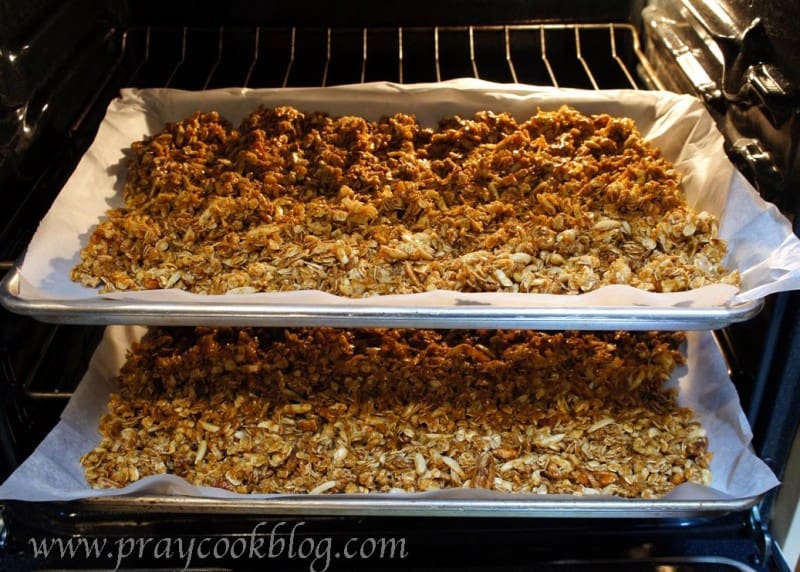 I use two large cookie sheets, divide the granola between the two and begin the roasting.  Slowly roasting the granola at 250 degrees F. is the secret.  The granola is best roasted for 2 to 2 1/2 hours.  Be patient. Do laundry. Read a book.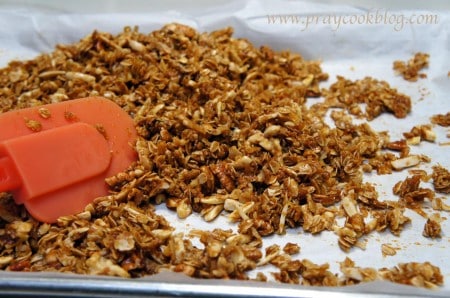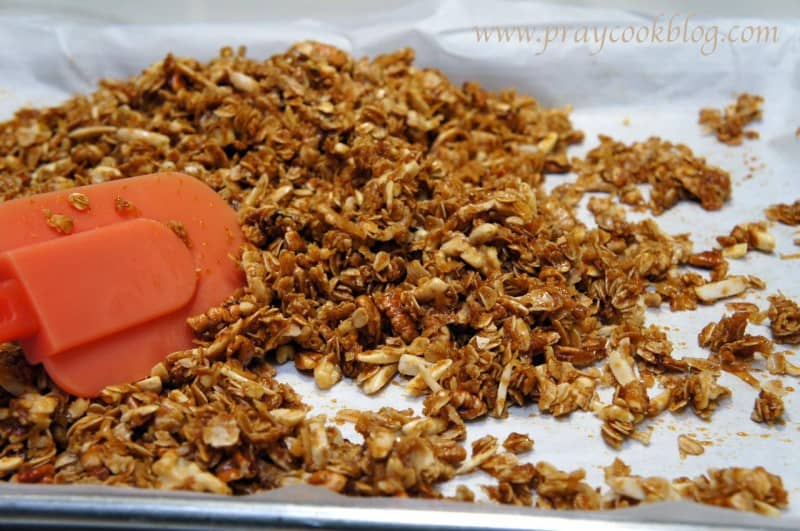 Every 15 to 20 minutes stir the granola and rotate the pans.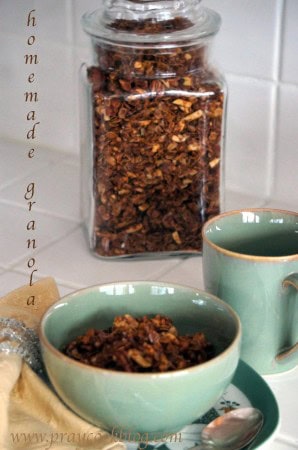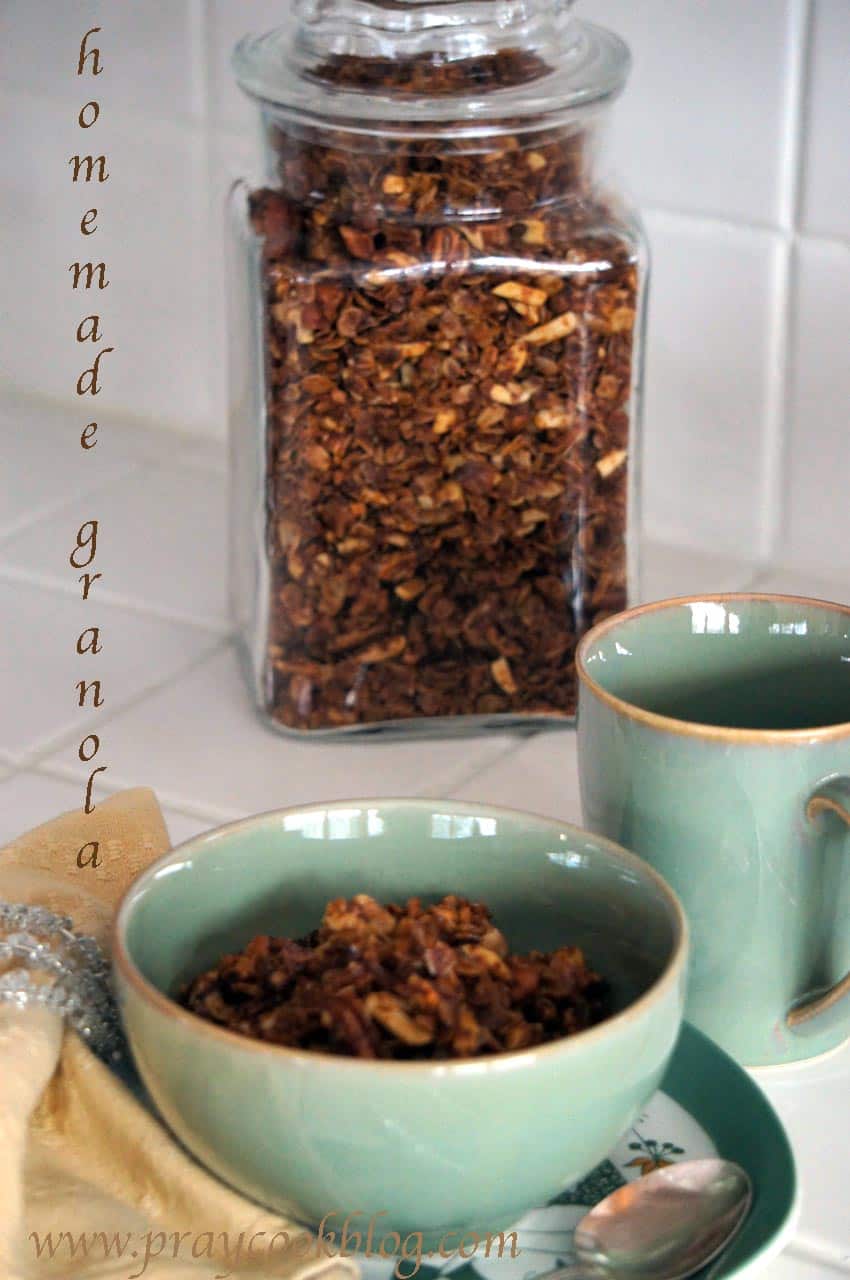 In the end, surprise your mom for breakfast! Store in an airtight container. It will stay fresh for a month or two — but it won't last that long, I promise!  Did I mention this granola makes a stunning topping to ice cream?  Also, walnuts have an amazing health benefit!
~ Blessings, Catherine
Walnut Grove Granola
A healthy, delicious choice for breakfast, snacks or topping ice cream. Homemade with no preservatives.
Ingredients
Dry ingredients
5 cups rolled oats (instant or old fashioned)
1½ cups shelled sunflower seeds
1½ cups wheat germ
1½ cups shredded coconut
1½ cups bran flakes
1½ cups pecans, chopped
1½ cups walnuts, chopped
1½ cups slivered almonds
¾ cup sesame seeds
Syrup
¾ cup canola or coconut oil
1 cup honey
½ cup molasses
1½ teaspoons almond flavoring
1½ teaspoons pure vanilla extract
Instructions
Mix dry ingredients in a very large bowl and set aside.
In a medium-sized saucepan, bring syrup ingredients to a boil and simmer gently for 4 minutes.
Pour syrup slowly over the dry ingredients and mix well.
Place granola evenly on two sheet pans.
Bake in 250 degree F. oven. Roast for 2 to 2½ hours, stirring every 15 to 20 minutes. Rotate pans from top to bottom during the roasting.
Serve with milk and fruit or use to top yogurt.
Notes
Slow cooking is the secret to the success of this granola. Don't hurry the process. Cool thoroughly and sprinkle with raisins, if desired.

Store in an airtight container. Serve with milk and garnish with fruit.