Meditations on Immanuel, God With Us
Matthew 1:23


"The virgin will conceive and give birth to a son, and they will call him Immanuel"[

a

] (which means "God with us").
Matthew 28:20



Jesus said, "Surely I am with you always, to the very end of the age."
Today I started back to Community Bible Study after a month long break for Christmas.  I missed the study so much!  We are studying Hebrews and it is addicting!  The more I learn the more I want to know!  I thank God that I live in a country where I have the freedom to believe, to study, and to share without oppression.  Thank you Lord, Jesus!
This week I have shared recipes for everything from Baked Oatmeal at breakfast to Cheese Bite snacks and even an awesome recipe for Fingerling potatoes and vegetables.  And now I just don't want to let the week go without at least one sweet something!  During December, one of our cookbook winners was Robyn Maxum.  Robyn is sharing today's recipe of Warm Chocolate Pudding Cakes with us.  When I first read through the recipe I thought, "wow, this is just like our Walnut Fudge Pie" recipe.  I even told my two culinary consultants that I thought this was going to be just like one of our favorite pies.  Boy was I wrong!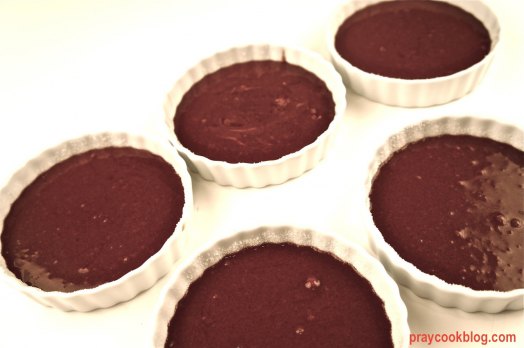 Turns out the ingredient list is very similar but the end result much different.  These pudding cakes are a nicely dense, very moist chocolate cake that can be eaten alone, served with some Dulce de leche (caramel), topped with whip cream, or maybe even a little scoop of vanilla bean ice cream.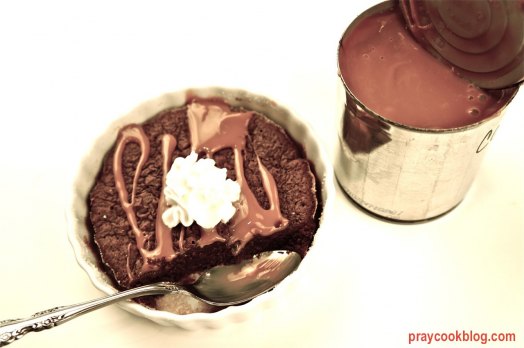 I made two cans of Dulce de leche when I was making Banoffi Pie last fall.  I used one can in the pie and opened up the second can to top these lovely pudding cakes.  My oh my … it was delicious!  This is how I will always serve it.  If you have never made your own caramel, take a look at the Banoffi pie recipe and I included directions.  Easy as … pie!  🙂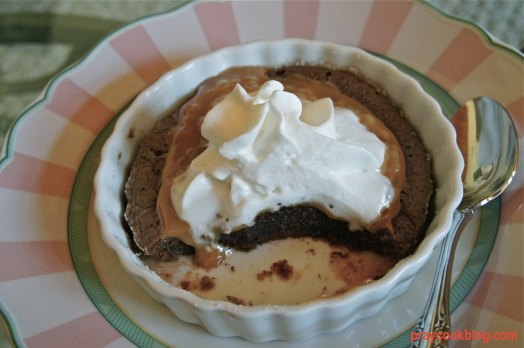 Thank you Robyn for sharing this recipe.  It is a keeper!
God Bless and Happy Cooking!
Warm Chocolate Pudding Cakes
Rich chocolatey fudge cake served warm with caramel sauce or a Dulce de leche and whipped cream.
Author:
Shared by Robyn Maxum
Ingredients
6 tablespoon Cold, Unsalted Butter, cubed
⅓ cup Granulated Sugar
6 oz Semi-Sweet Chocolate Chips
4 Large eggs
¼ cup All-purpose Flour
½ teaspoon coarse salt
Caramel Sauce
Whipped Cream for serving
Instructions
Preheat oven to 350 degrees. Use non-stick spray (Canola oil) to coat 6 ounce ramekins.** Coat each ramekin with sugar and lightly tap out excess. Microwave butter and chocolate until melted, stir until smooth. Microwave in 30 second increments so chocolate is over-heated.
In a large bowl (or food processor), whisk together eggs, sugar, flour, and salt. Add chocolate mixture and whisk to combine. Divide batter between 4 or 5 ramekins to ¾ full. Place on a rimmed baking sheet and refrigerate for 15 minutes.

In the 350 degree oven, bake until the center of cake is soft but not wet when pressed, about 22 to 27 minutes. Let cool for 5 minutes.

Serve with whip cream or warm caramel and whipped cream!

Notes
* Recipe calls for 2 eggs plus 2 egg yolks.  I use 4 eggs so I don't have to mess with extra whites and the recipe works fine either way.

** Using 6 ounce ramekins there is enough batter to make 5 nice servings or 4 slightly fuller servings.  The picture with this recipe was part of 5 servings.