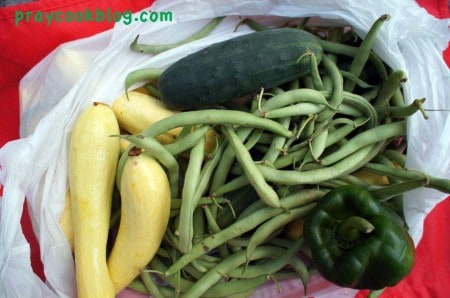 The door bell rings and as I walk down the hall towards my back door I can see through the full view glass. It is 90 degrees outside and 90% humidity. And there she stands looking cool as a cucumber. Her white cotton skirt looks fresh and summery. The ruffles on her pink blouse match her dangling earrings. She is holding a Ziploc bag filled to the max with freshly picked, cleaned and snapped green beans. Her sweet southern voice matches her dynamic smile as I open the door and she says "Hi!  Can you use some fresh green beans?"
I had just finished reading a daily devotional about how God wants us to model the love of Jesus to others. It is so important to our Heavenly Father that it is the second most important commandment, preceded only by:
"The most important one," answered Jesus, "is this: 'Hear, O Israel: The Lord our God, the Lord is one.] 30 Love the Lord your God with all your heart and with all your soul and with all your mind and with all your strength."
"The second is this: 'Love your neighbor as yourself.'[a] There is no commandment greater than these." Mark 12:31 (NIV)
How we do this looks different on each of us. I have experienced God's love through my neighbor on many occasions. The love of Jesus looks very good on her!
From time to time we arrive home to find several lottery tickets tacked to our door. I have a very clear visual of my neighbor Kathy purchasing the tickets and then stopping by when we aren't home to leave "a little surprise for us." She always includes "I hope you win!"
"Each of us should please our neighbors for their good, to build them up"  Romans 15:2
Yesterday when we came home from getting our car serviced I found a little Sabbath School Bible Study Guide for July/August/September on The Teachings Of Jesus on our doorstep.  Our Aunt Mattie Lou knows I enjoy reading through her church's study and always remembers me with a new book each quarter.
Aunt Mattie definitely models the love of Jesus to me and to all she comes in contact with!
This all left me wondering, what does the love of Jesus look like on me? Do I care for others as often as I should? Do I get caught up in my own drama and neglect showing others the very love that Jesus has shown to me over and over?
"So in everything, do to others what you would have them do to you, for this sums up the Law and the Prophets." Matthew 7:12
It was about 6:30 p.m. when the phone rang. It was our neighbor David, "I just got done picking in the garden. What can I bring you?" There it is again, the love of Jesus pouring itself out for me.
A rare shyness crept over me as I quietly said, "well, some squash would be nice."
"Oh! I've got yellow squash, zucchini, green beans, bell peppers and cucumbers for you!" Can I bring them down?"
I insisted the least I can do is walk up the road a half-mile to his house and retrieve the garden gems.  As I walked down our driveway I noticed a very unusual cool July evening setting in.  Seventy-five degrees and 40% humidity. That is unheard of on the 4th of July in Tennessee.  The walk gave me time to once again think about how often others model the love of Christ to me. It also gave me time to praise God and thank Him for surrounding me with friends and family who daily show me His love!
What does the love of Jesus look like on you? How do you model that love to others?
Have a blessed week,
Catherine