Walk Through The Bible In One Year
Week 18 reading plan 1 Chronicles 27 – 2 Chronicles 29
Click on the colored link to read each day's scripture.
Monday 1 Chronicles 27-29 , Tues 2 Chronicles 1-5,
Wed 2 Chronicles 6-9, Thursday 2 Chronicles 10-15,
Friday 2 Chronicles 16-20,
Saturday 2 Chronicles 21-25,
Sunday 2 Chronicles 26-29
Blessings as you read!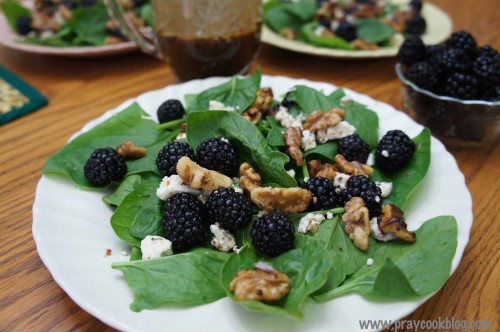 My Chief Culinary Consultant is also the gardener in our family. Oh, I piddle around with a few herbs and water and weed a little flower garden, but the FOOD comes from the hands of the Chief. Early in the morning, late in the evening and just about anytime in between he can be found patiently planting, weeding, watering and tending to our garden. It is never too hot or too cold for him to be in the garden.  This year, early in the spring, he planted spinach, lettuce, collards, and kale. Every week he brings in a mess of each and we feast on the fresh produce. I found the recipe for this wilted spinach salad in the Summer 2012 edition of the Tennessee Home & Farm magazine. The picture caught my attention and I quickly realized my refrigerator held nearly all the ingredients for this luscious salad.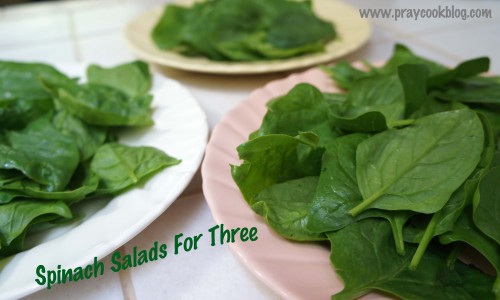 I started with three plates of freshly picked spinach.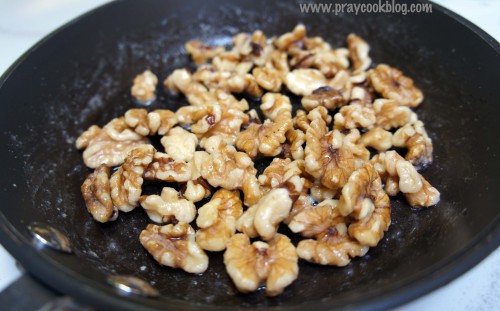 Next came the walnuts.  I really love roasted walnuts.  I generally start with a teaspoon or so of butter and cook the walnuts over medium heat.  If the heat is too high the walnuts will quickly burn.  As the walnuts are becoming nicely browned, I stir in 1 teaspoon of sugar and stir to coat,   then remove from heat and cool.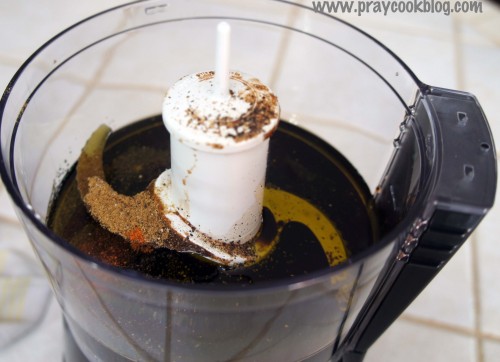 While the walnuts are cooling, I mixed up the balsamic dressing.  This dressing is so yummy and easy to make I can't believe I even consider buying salad dressing at the grocery store — but I do.  Mom recently purchased this cute little grinder/blender and it works perfect for mixing this dressing.  Once the salad is ready, the well-mixed dressing goes into the microwave for about a minute.  The incredible edible results ….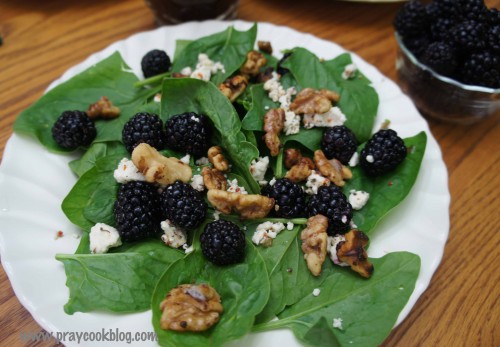 As I was making this salad I was tempted to add some "stuff".  Carrots, onions, broccoli sticks … but in the end I decided to stick to this recipe and give it a try.   I am so glad I did!  The cheese is garlic and basil feta and with the fruity flavor from the blackberries, the nutty walnut texture and the warm balsamic it is a home run without any other ingredients!  We ate this as a main dish at lunch but I can imagine it paired really well with fish or chicken for dinner.  Thanks to the Chief I will have more spinach recipes coming our way!  Many Blessings and Happy  Cooking!

Wilted Spinach, Blackberry and Goat Cheese Salad
A stellar recipe loaded with flavor and texture! Healthy and delicious.
Author:
Tennessee Home & Farm
Ingredients
4 cup Fresh, Washed Spinach
2 cup Ripe Blackberries, Washed
4 oz Goat Cheese
½ cup Walnuts, toasted
Warm Balsamic Dressing
⅓ cup Extra-virgin olive oil
¼ cup Balsamic Vinegar
2 tablespoon Honey
½ teaspoon Ground Cumin
⅛ teaspoon Ground Cayenne Pepper
Salt and Pepper To Taste
Instructions
Over medium-high heat roast walnuts in 1 teaspoon of butter. When walnuts are nicely browned add 1 teaspoon of sugar, stirring well. Remove and cool.

Divide the spinach, berries, and cheese onto four plates.

Combine all dressing ingredients in a glass jar and stir. Also can be mixed in blender or processor.
Microwave dressing for about 1 minute on high. Stir well.

Pour warm dressing evenly over the salads. (The spinach will wilt when covered in the warm vinaigrette.) Sprinkle with walnuts, serve immediately.