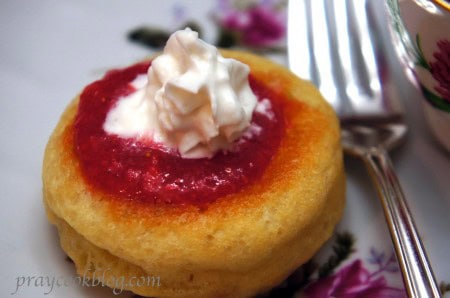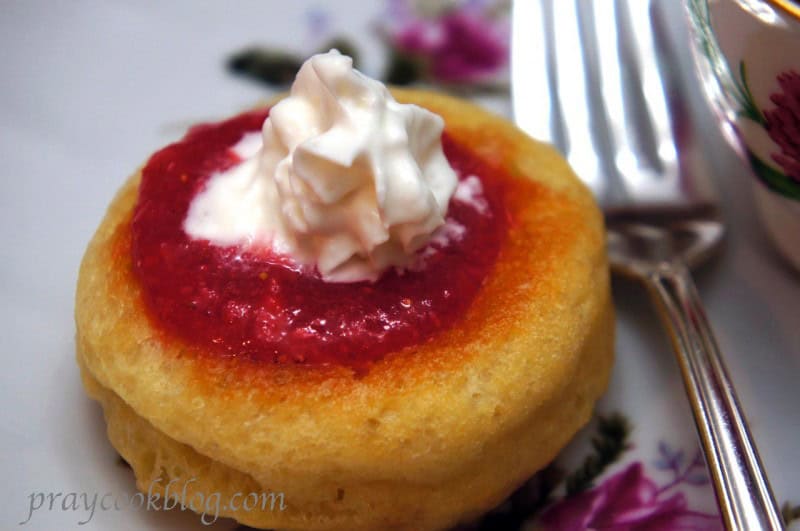 "Hey honey … this strawberry shortcake is delicious! " called the Chief Culinary Consultant from his easy chair in the family room, as the Golf Channel blared in the background.
Strawberry shortcake?  You've got to be kidding … this "shortcake" is a fancy-schmancy french pastry called Savarin.  According to Dorie Greenspan, writing in her "Baking With Julia" cookbook, it is named for one of France's most celebrated gastronomes, Brillat-Savarin.  The savarin is a baba dough, minus the raisins and baked in a ring mold.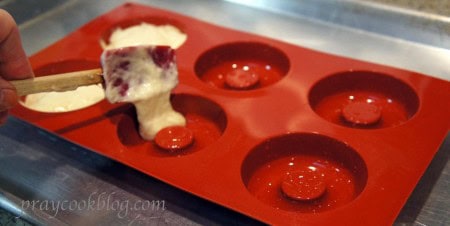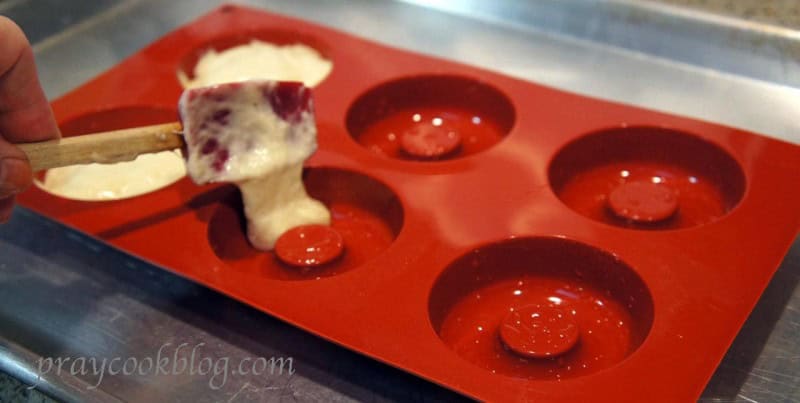 I bought a mini-ring mold from Amazon, just for this occasion — Tuesdays With Dorie baking and blogging.  Also from the recipe by contributing baker David Blom,  "a savarin can be served with just a dollop of whipped cream, decorated with fresh fruits, sauced, or piled high with one of everything."   I decided on making a strawberry purée' since I had strawberries on hand.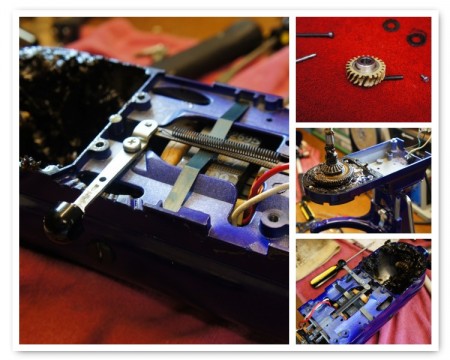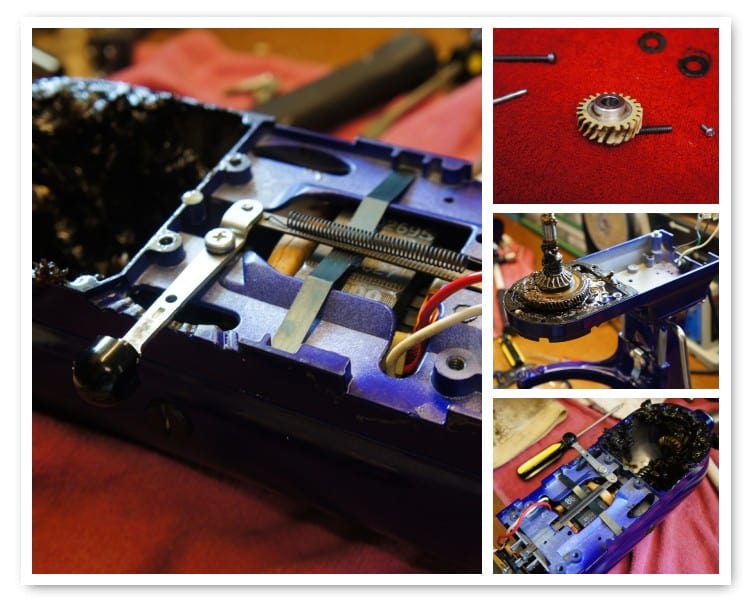 I almost sat this one out because the batter-dough needs 8 minutes in the mixer.  My kitchen aid has been put back together, then taken apart, and put back together again.  New parts installed but the KA is refusing to work! 🙁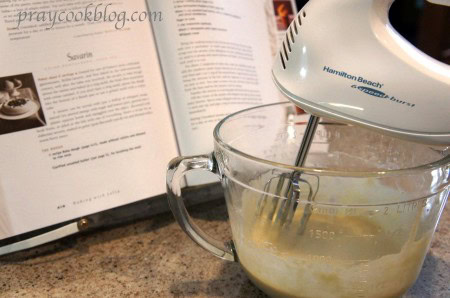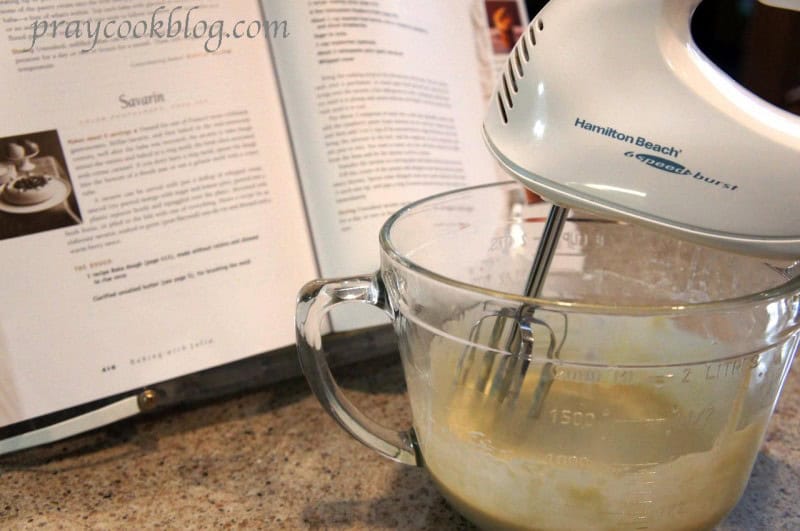 Then I decided 8 minutes with a hand mixer is doable and away I went.  This is an interesting dough.  It is made with yeast and requires 2 short risings.  But the finished dough is more like a spongy batter.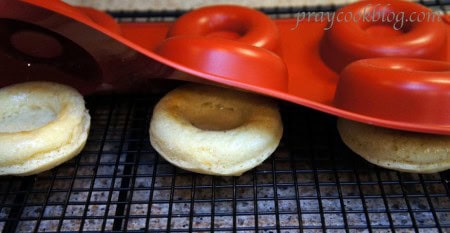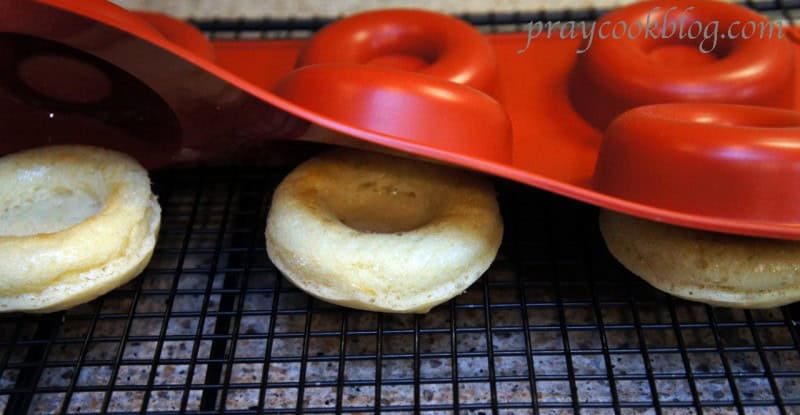 Baking in this mini-mold required 15 minutes in the oven and slid right out of the silicon molds quite nicely.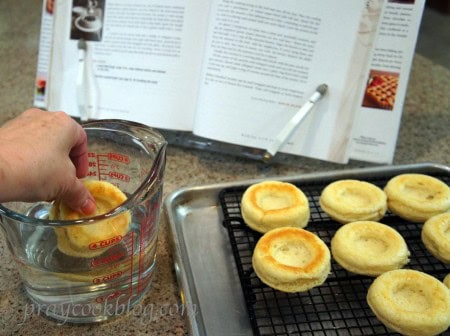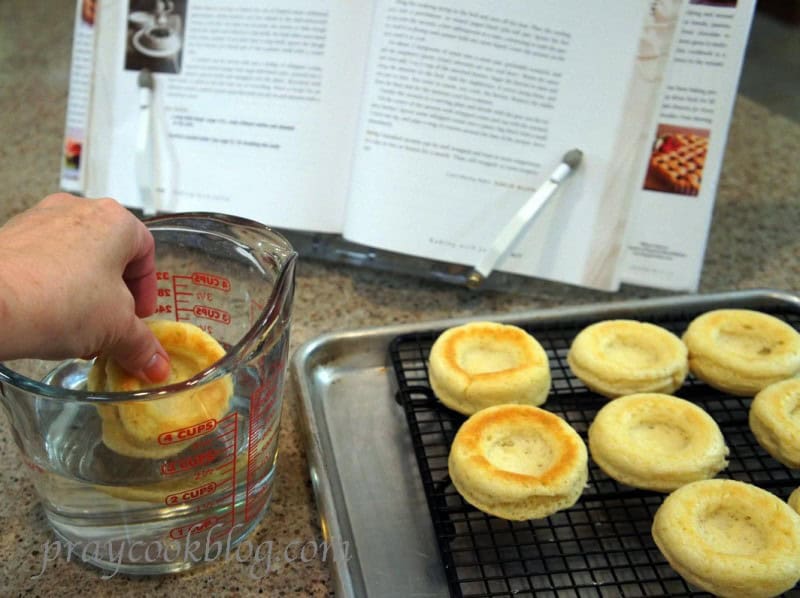 After completely cooling, the little savarin are dipped into a warm sugar syrup.  The recipe states to leave it a minute or so until the savarin is quite full and plump with liquid.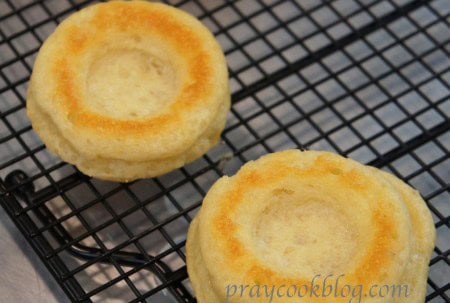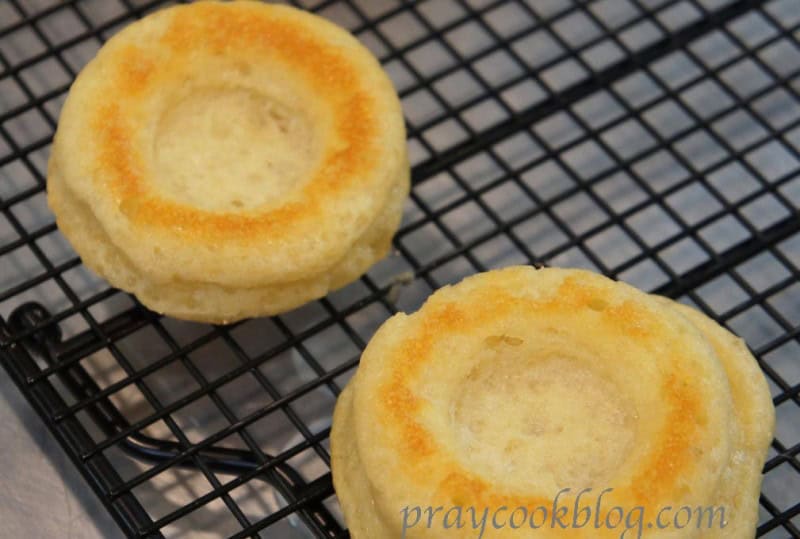 I was skeptical about the little mini desserts getting soggy so I didn't keep mine in the syrup for more than 30 seconds.  They are then left to drain for a few minutes on a baking rack.  While these were draining I added a little of the simple syrup to fresh cut-up strawberries in a blender.  This made for a nice strawberry puree.  Blom's recipe calls for a much more sophisticated topping including poire (pear) eau-de-vie.  As you can see I hit the EASY button and kept it simple, although I will include the full recipe listed below.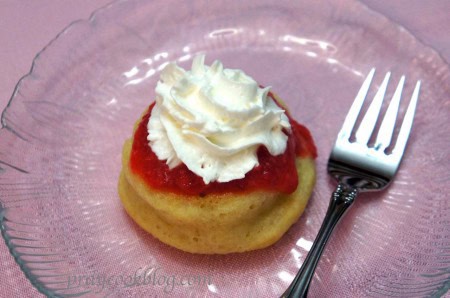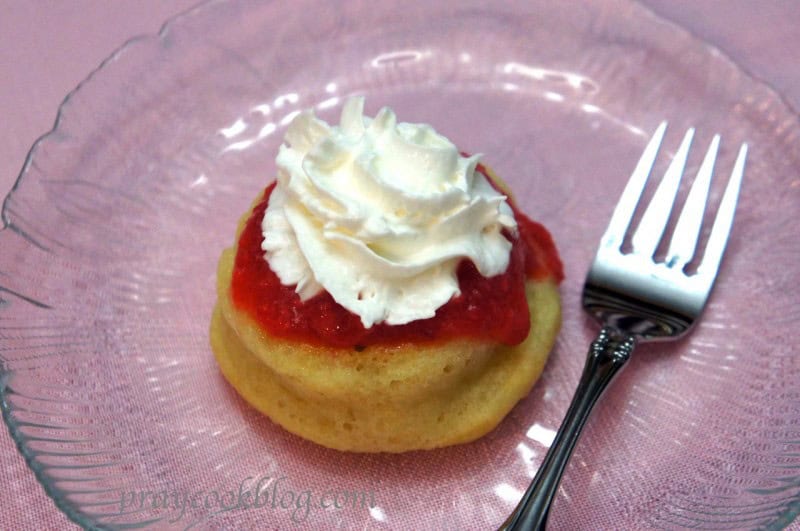 Topped with fresh whipped cream this darling mini-savarin is ready to be served to the Chief.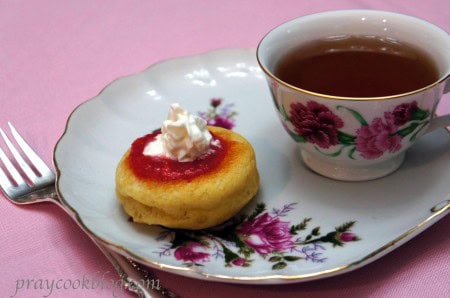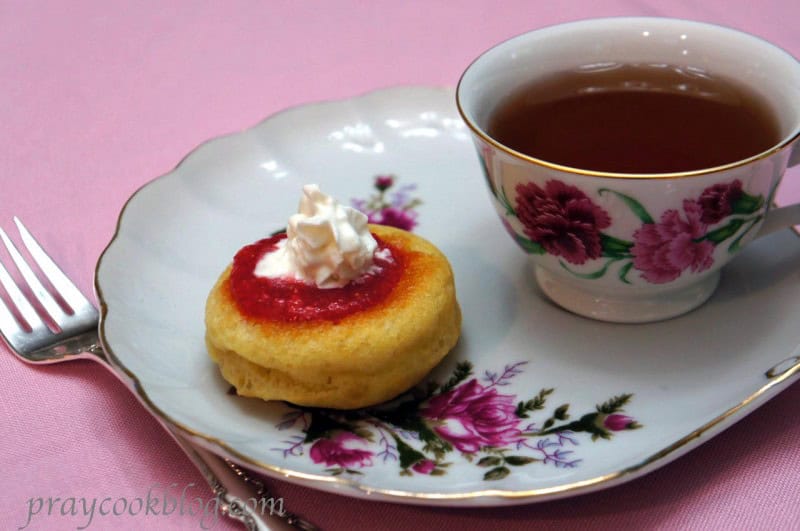 I, however, enjoyed this delicate french pastry served on lovely china with a cup of tea.  Bite after bite I soon realized this tastes just like a deliciously yeasty strawberry shortcake!
Yes, you just might be a redneck if your Savarin and strawberry shortcake are totally interchangeable desserts!  🙂
Happy Baking!
~Catherine
P.S.  For the first time, our international baking group "TWD-Baking with Julia" will not have a host blog that posts the recipe.  Instead we have a page showing yummy pictures and backlinks to the members' blogs that have baked along.
Check it out HERE.
Savarin
Named for one of France's most celebrated lover of good food, Brillat-Savarin, and first baked in the mid-nineteenth century! A delicious french pastry with multiple uses.
Ingredients
For the dough --1 recipe Baba dough, made without raisins and allowed to rise once
6 tablespoons warm water (about 100°F)
11/2 teaspoons active dry yeast
1 teaspoon sugar
1 large egg, at room temperature
¾ cup all-purpose flour
2 tablespoons unsalted butter, cut in fourths, at room temperature
Clarified unsalted butter, for brushing the mold
For soaking and assembling:
1 recipe soaking syrup (2 cups water, 1 cup sugar)
A few tablespoons raspberry purée
2 cups assorted fresh berries, such as blueberries, blackberries, and sliced strawberries
Sugar
3 tablespoons poire (pear) eau-de-vie
Whipped cream
Instructions
To make dough, pour water into a bowl and sprinkle yeast and sugar over it. Add egg and mix. Put flour in a mixer fitted with a paddle attachment and add yeast mixture. Mix on low until blended. Beat until smooth on medium-low, about 8 minutes. Add butter and beat on low until the butter is absorbed. Remove bowl from mixer and cover with plastic wrap. Let rise for 15 minutes.
Brush a ring mold with clarified butter and fill with dough. Cover mold and let rise 30 minutes, or until dough fills mold. Position a rack in upper third of oven and preheat to 350°F. Put savarin on parchment-lined jelly-roll pan and bake 20 minutes, until golden. Unmold onto cooling rack and cool completely.
Bring soaking syrup to boil and turn off heat. Place cooling rack over a parchment-lined jelly-roll pan. Spoon hot syrup over savarin, a few tablespoons at a time, soaking pastry until it cannot hold any more. Leave savarin on rack until cool.
Put about 2 teaspoons of water into a sauté pan, add the raspberry purée, and warm the sauce. Add ½ to 1 cup assorted berries. Sugar to taste and bring to a boil. Add 1 cup berries, and stir gently. Remove from heat and cool slightly. Transfer savarin to serving plate and drizzle with eau-de-vie. Fill center of savarin with whipped cream and top with warmed, saucy berries. Spoon whipped cream into a pastry bag fitted with a ¼-inch star tip, and pipe a ring of rosettes around the base. Serve immediately.
Notes
Recipe by contributing baker, David Blom and featured in Baking With Julia cookbook.

A savarin can be served with just a dollop of whipped cream, a fruit puree', or decorated with fresh fruits.

Savarin mold - If you do not have a savarin mold, a Bundt will work. This recipe makes 8 mini-savarin or one medium size made in the Bundt pan.
Click for The original video with Julia Child and David Blom