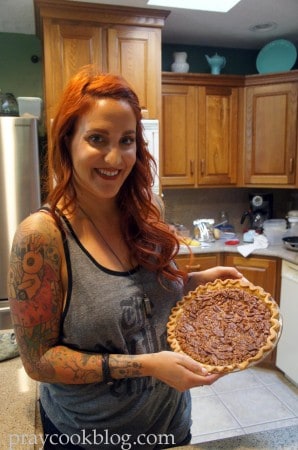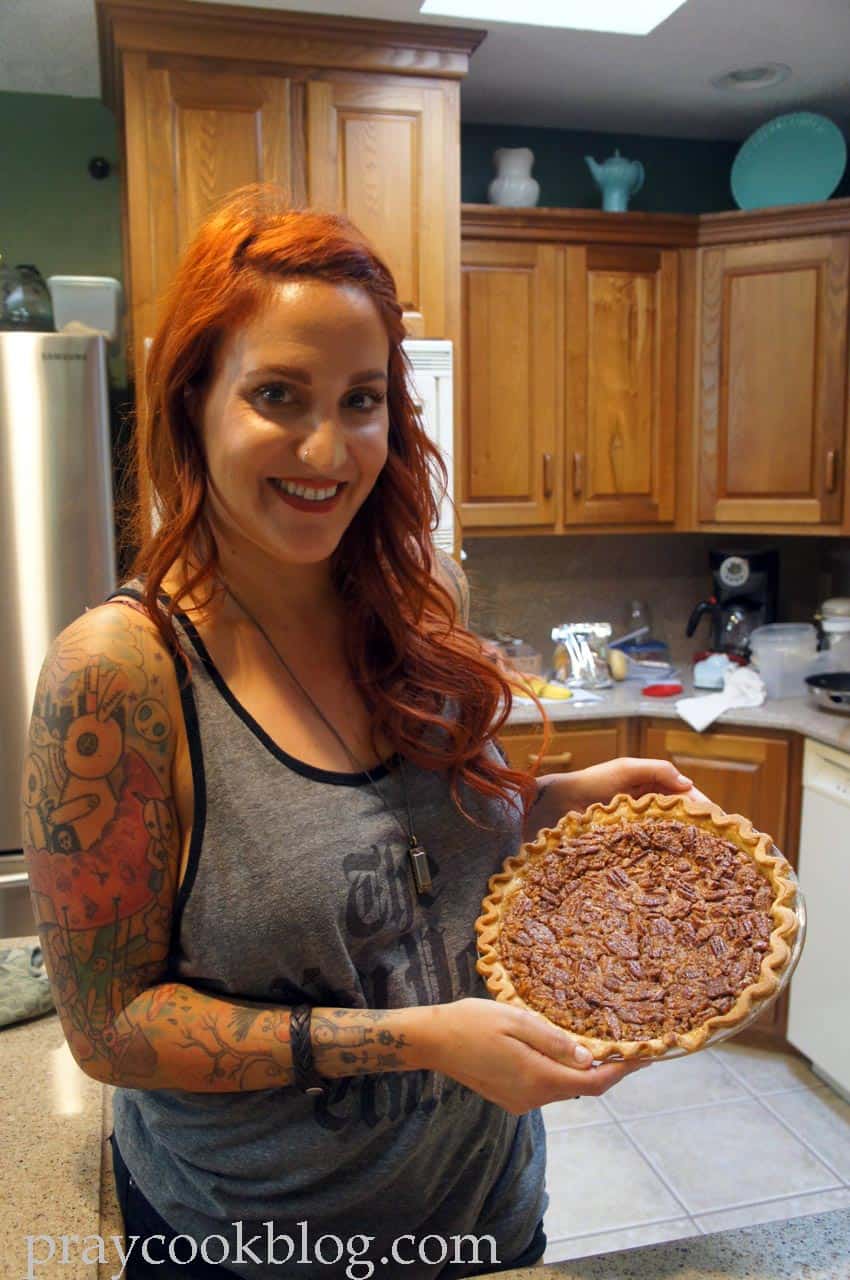 I cannot remember when I made my first pie.  But on the bright side I know it was when I was still in high school!  My sous-chef dish-washing mom has made pie for as long as I can remember and I inherited her love of making anything pie!
When granddaughter Abbey arrived for a visit we talked about the things she would like to do, making salsa, jam, and pie were all at the top of her list!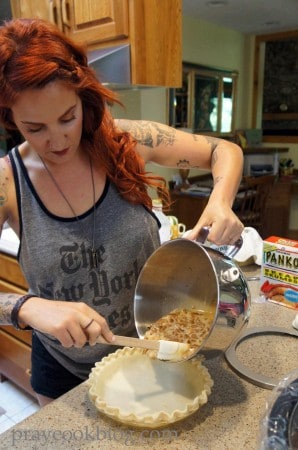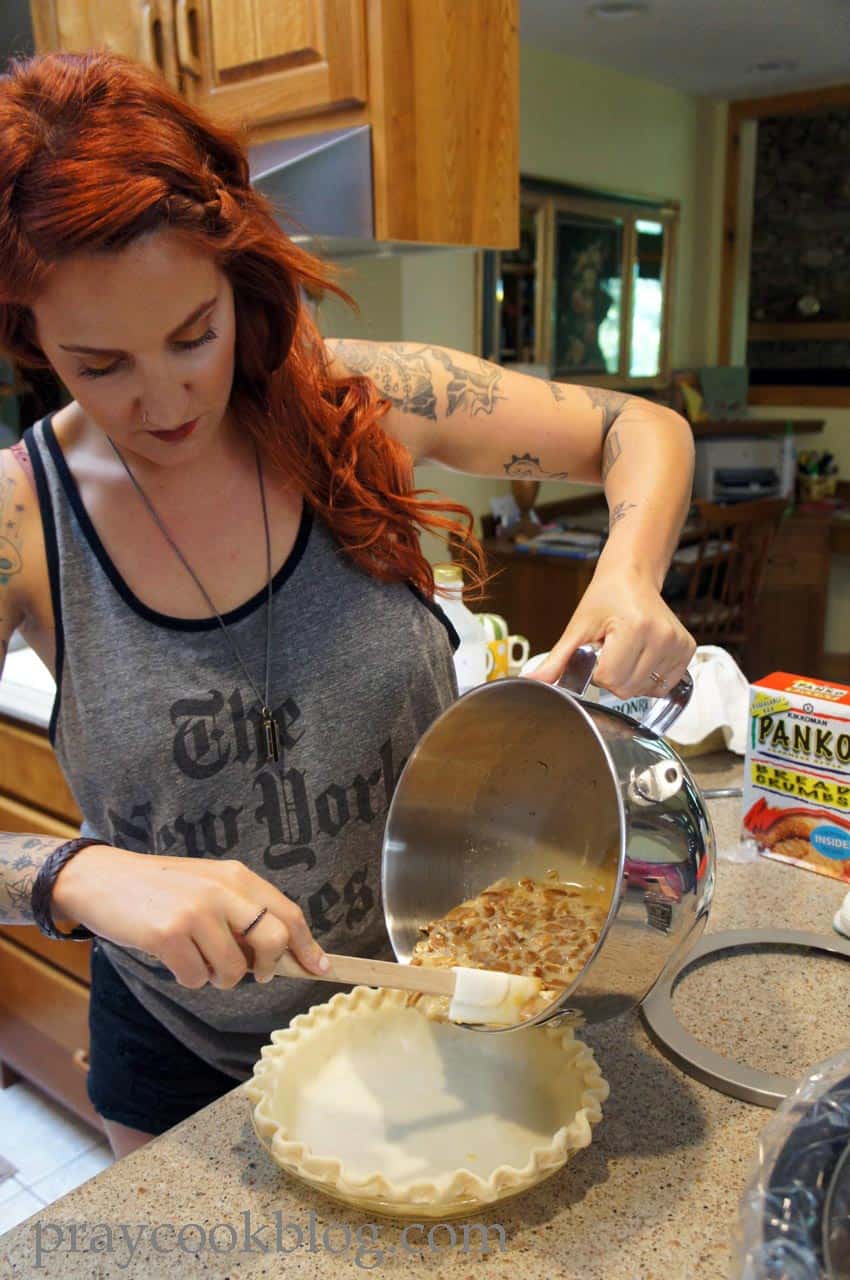 I asked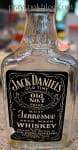 if she had ever made a pecan pie.
She said she hadn't and since we had just returned from a tour of Jack Daniel's distillery, just down the road,  I suspected a pecan pie laced with Lynchburg's hometown product was in our future!  FYI — the alcohol cooks out and the flavor really enhances the sweetness of a custard pie like pecan.
As I have mentioned earlier, I became an instant Grandma to Abbey in 1991 when I married her Grandpa Lee. Abbey and I are only 29 years apart in age – unusually on the light side for grandmother and granddaughter. It is a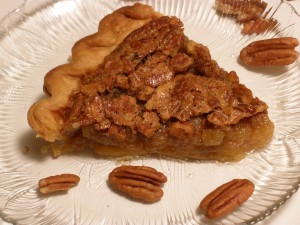 wonderful blessing for me having her young, creative and fun spirit in the kitchen! It is not only inspiring but also a barrel of laughs! Besides chattering about cooking and baking we throw in a measurable amount of discussion on topics like MEN, love, and the pitfalls and benefits of both! 🙂
Praying your week is also filled with the joys of spending time with those you love.
Happy Baking!
Catherine

"The greatest legacy one can pass on to one's children and grandchildren is not money or other material things accumulated in one's life, but rather a legacy of character and faith."   
Billy Graham
Pecan Pie Jack Daniel-Style
Cranking it up a bit with a splash of Lynchburg's hometown product!
Ingredients
¼ cup Butter
⅔ cups Brown Sugar, firmly packed
¼ teaspoon salt
1 cup corn syrup (Light or dark)
3 eggs, slightly beaten
1 teaspoon Vanilla Extract
1 to 1½ cups Pecan halves or pieces (can be roughly chopped if you prefer)
¼ cup Jack Daniel Whiskey (Optional)
1 Pie Crust ( I use Pillsbury, but homemade is good too!)
Instructions
Lightly spray pie plate with canola oil. Line pie plate with pastry shell, flute edges and sprinkle with pecans.
Cream butter and sugar until fluffy using a mixer or food processor. Add in next four ingredients mixing well.
Pour filling over pecans.
Cover outer pie crust with a pie ring or loosely with tin foil.
Preheat oven to 375 degrees F. Bake 40 to 50 minutes, or longer if needed, until a tester inserted in the middle comes out clean.
Serve warm or room temperature with whipped cream.
Notes
(1) Pie will set slightly as it cools.
(2) The pie ring or foil is necessary or the outer pie crust will brown too much during cooking.