Walk Through The Bible In One Year
Week 21 reading plan Job 14 through Job 42
Click on the colored link to read each day's scripture.
Monday Job 14-18, Tuesday Job 19-22,
Wednesday Job 23-28, Thursday Job 29-32,
Friday Job 33-36,   Saturday Job 37-39,
Sunday Job 40-42
Experiencing the Bible come alive is such a joy this year. If you are reading along with me then you will be right in the heart of the book of Job. Even though many people think they "know" Job because of the phrase … the patience of Job, the real story of Job goes so much deeper than patience. I follow an outline provided by World Outreach Church and if you want to Dig Deeper I am providing a link to some very good summary information for this weeks reading!  Blessings as you read!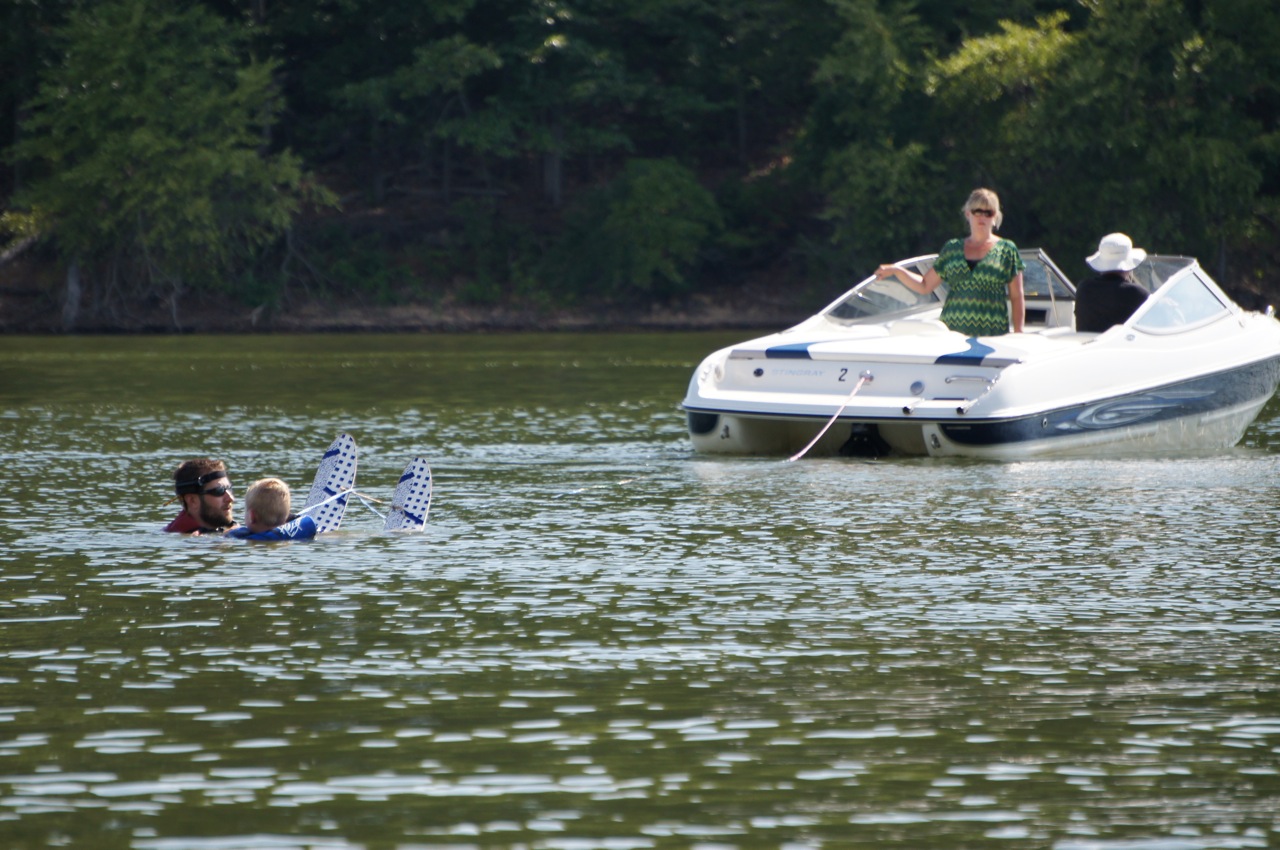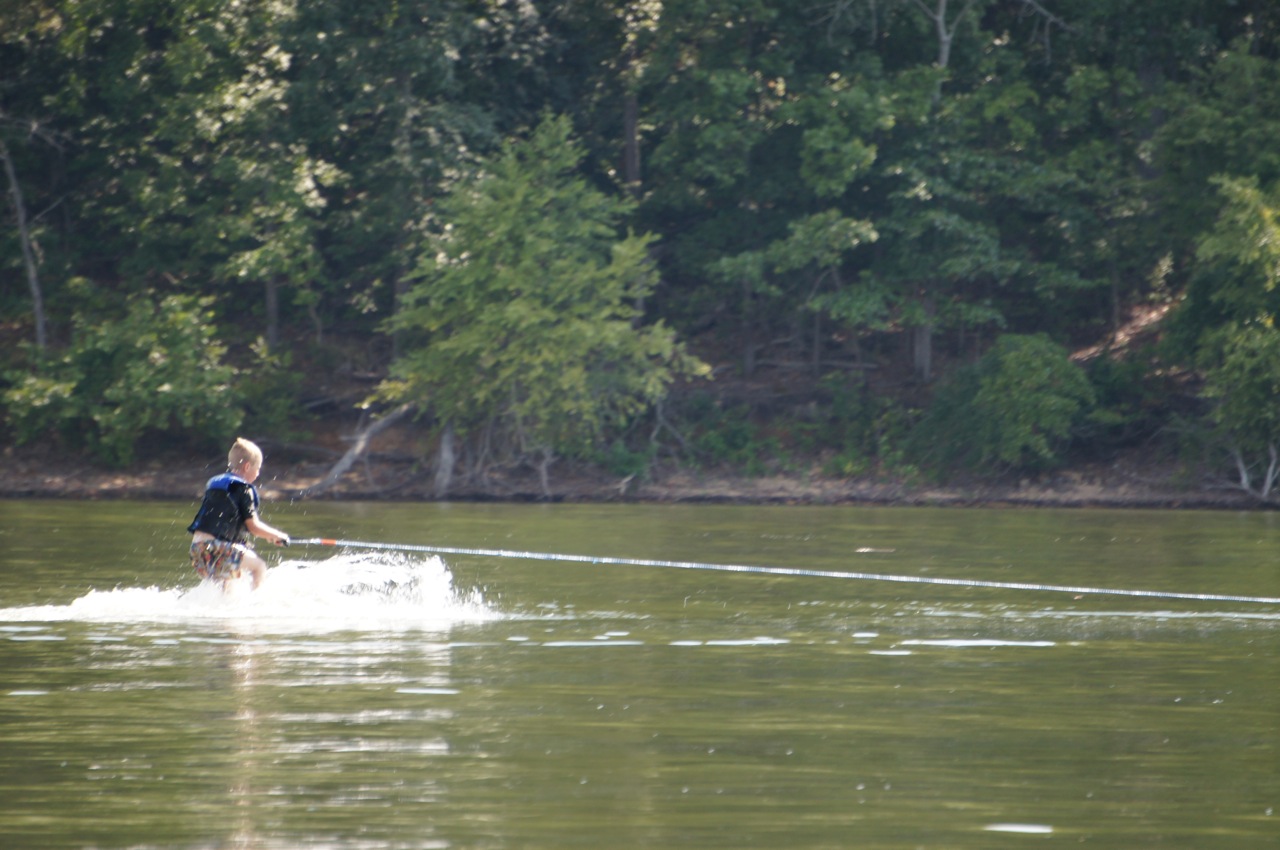 It's the beginning of a new week, the middle of June, and summer is in full swing! I have just returned from a fabulous family reunion. At any minute I am expecting any one of my 35 reunion relatives to come through the door as was the case during the last week. We were in and out of each others cottages and enjoyed our mealtimes together. We rocked crying babies, swam with the toddlers and witnessed a 6-year-old water ski for the first time! I have an incredible emptiness and longing to be back in the heart of those activities.  For now, my solace will be the memories we made.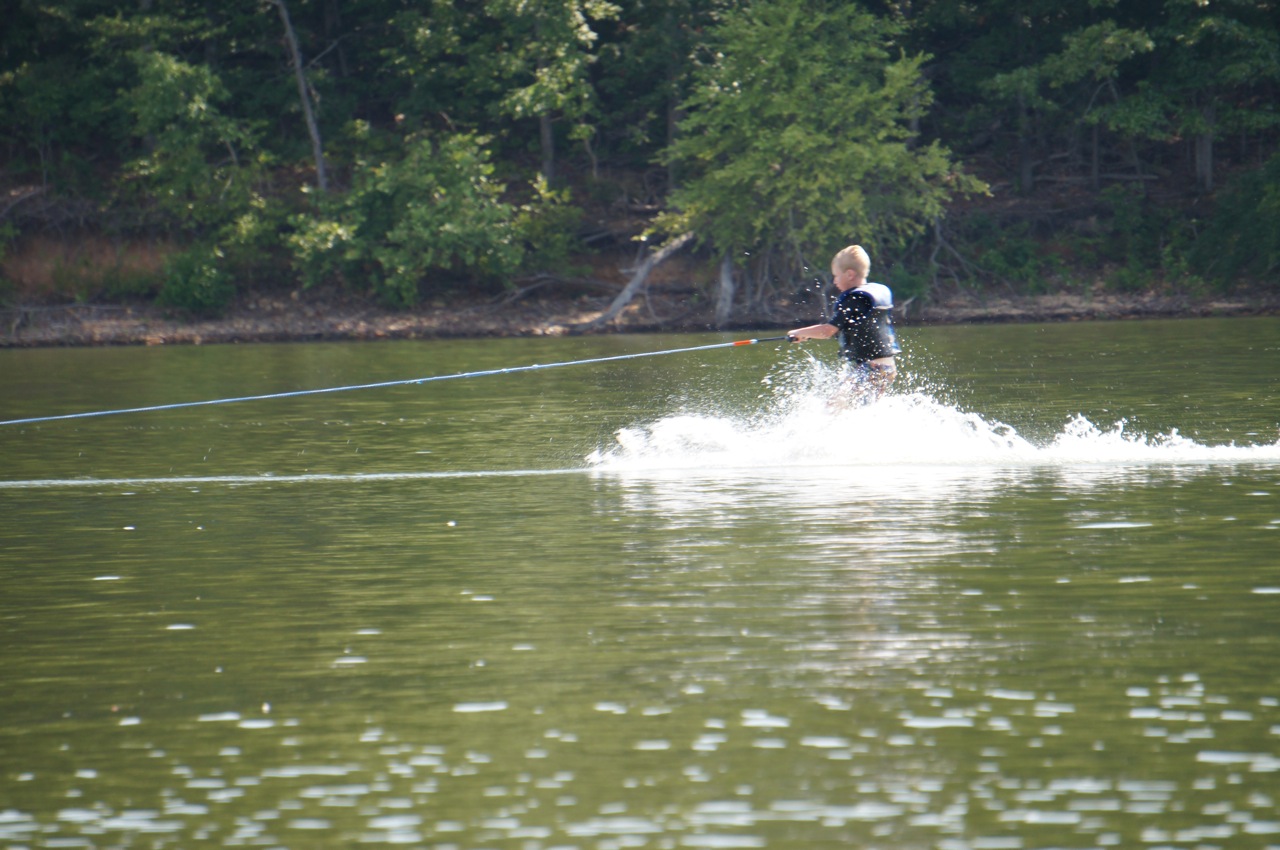 Now, how about I stop blubbering about reunions and talk about FOOD!  🙂 What do you know about Kale?  Until earlier this year all I knew about kale was that it was considered "greens" and I didn't like it.  I hadn't ever actually tasted Kale, but I was sure I wouldn't like it.  Then my Chief Culinary Consultant needed a big boost of iron and kale took on a whole new meaning to me.  The Chief grew up eating greens and is most content to eat collard greens, turnip greens or kale anytime he gets a chance.  We planted collards and kale early in the spring and have fresh from the garden every week.  Every day the Chief eats a mess of kale and collards along with whatever else is being served.  His iron is improving and my ability to fix kale and collards is also improving 🙂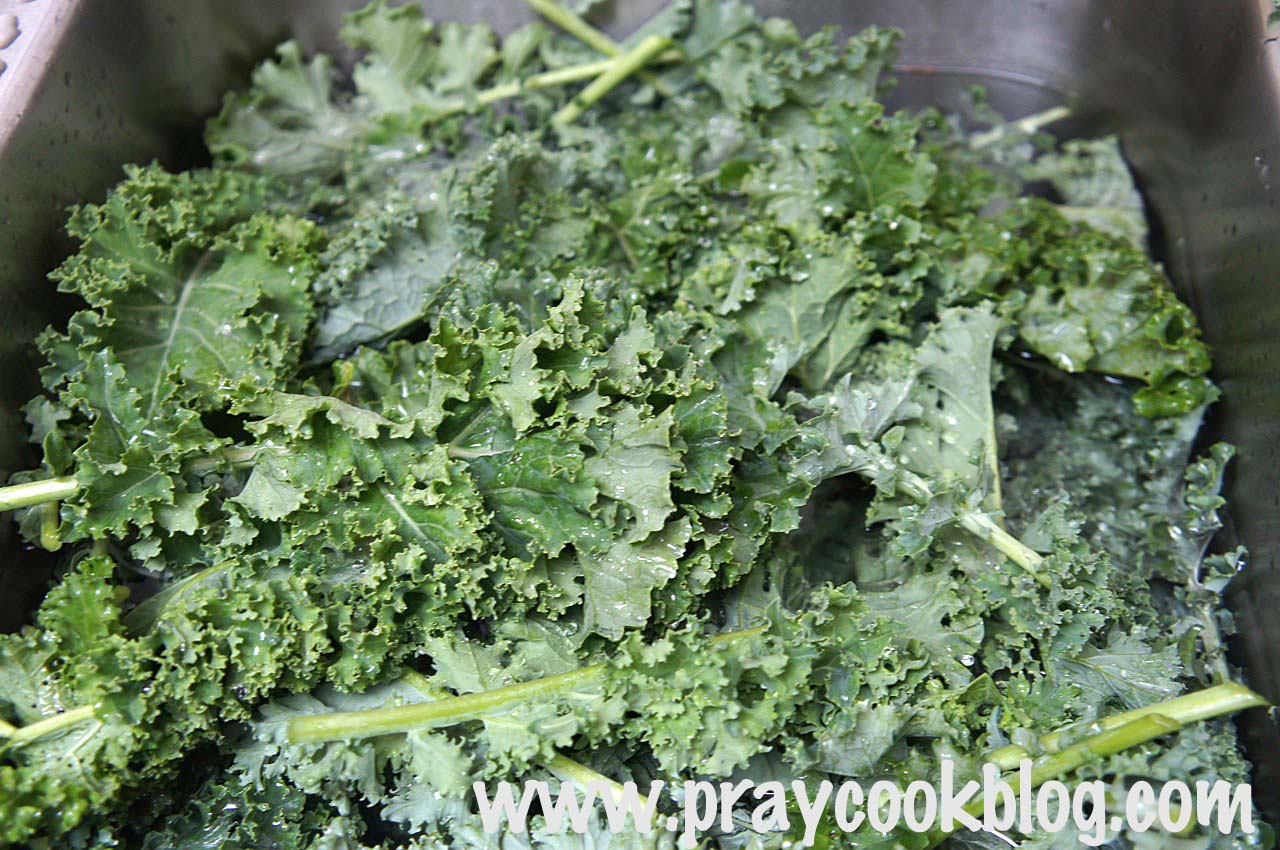 Then one day I receive an email from Simply Scratch and what do you know … Laura is making KALE CHIPS!  It seems that Kale Chips have popped up around the internet in a trendy sort of way for the last year.  At the heart of the kale craze is a salty snack called kale chips. They are, quite simply, fantastic. Crisp, light and pleasantly salty, they're the perfect treat for a junk-food fan. I don't eat cooked Kale.  But, one bite of the Kale Chip and all of my skepticism was blown away!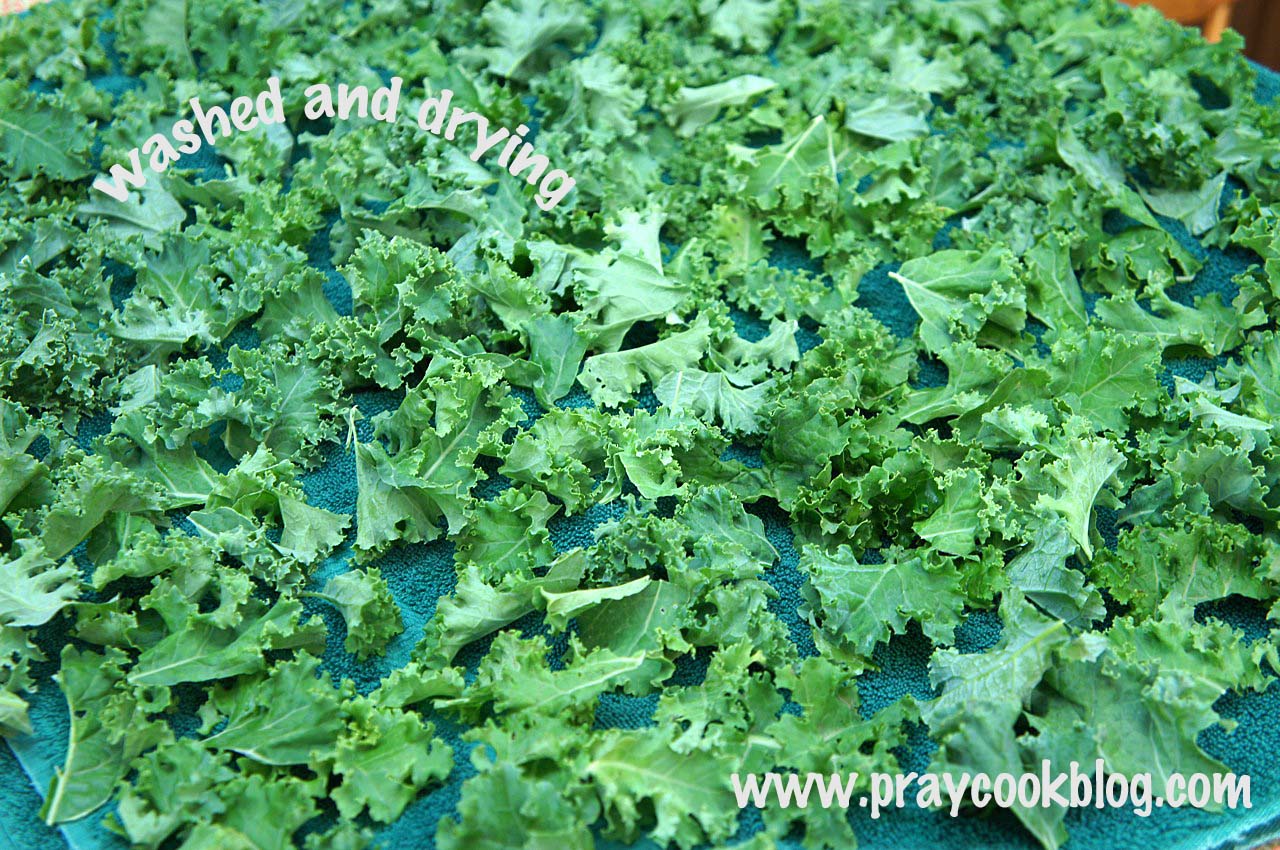 Kale chips have half the total fat of their potato counterparts. The more kale chips you crunch on, the more cancer-fighting antioxidants you feed your body, the more vitamin A you flood your system with (promoting eye health and great skin), the more heart-healthy fiber you load up on. How many snack foods can boast that?  And … they can be made very fast and easy at home for a whole lot less than a bag of store-bought chips!
Start with washing and drying a bunch of kale.  Cut out the stem leaving nice pieces of the curly green stuff.  Once it is good and dry toss with olive oil.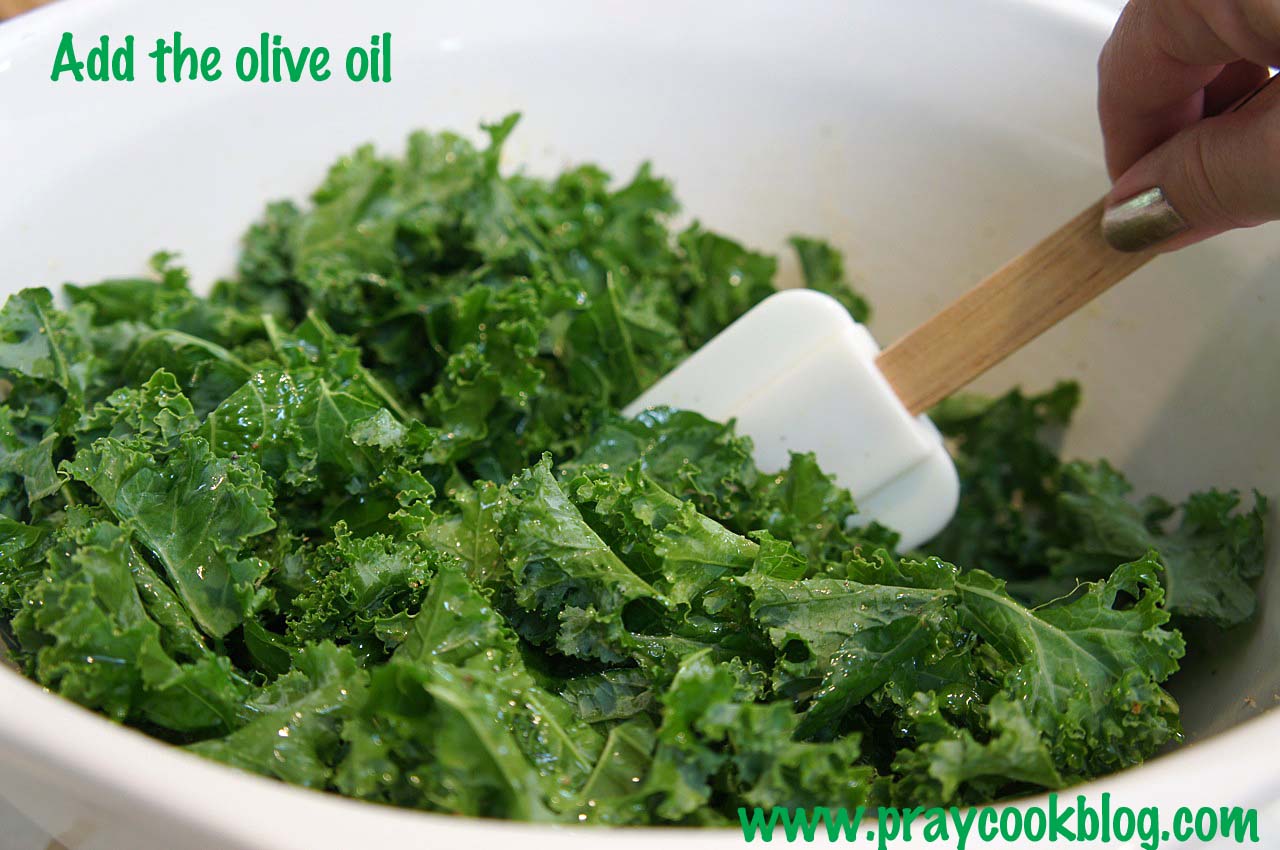 You can get creative with the next step.  You can go simple and sprinkle on some salt and pepper and call it good.  Or, The Newlywed Chefs post a recipe calling for a sprinkling of celery salt and pepper.  For me, I used celery salt and garlic Southern Seasonings.  Turned out a great combination!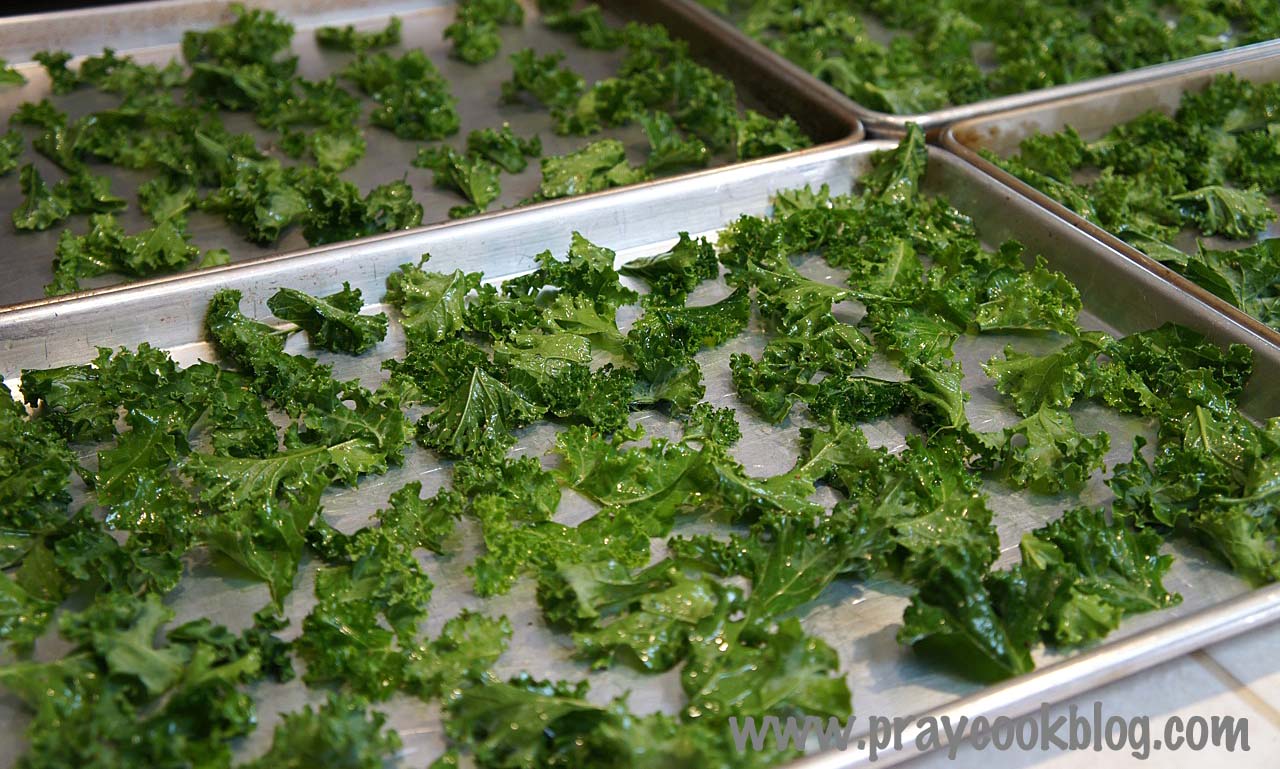 After the oil and seasoning the pieces of kale are placed in a layer on a cookie sheet and baked.  Baking time varies depending on how big you leave your pieces of kale.  I made mine kinda small and next time I am going to leave them in a bigger chunk, but still removing the stem.  They are baked until the edges are just a little brown, the middle is still green and the kale has turned crispy, about 5 to 8 minutes at 400 degrees.  Several bloggers mentioned they are great with beer!  Who am I to argue?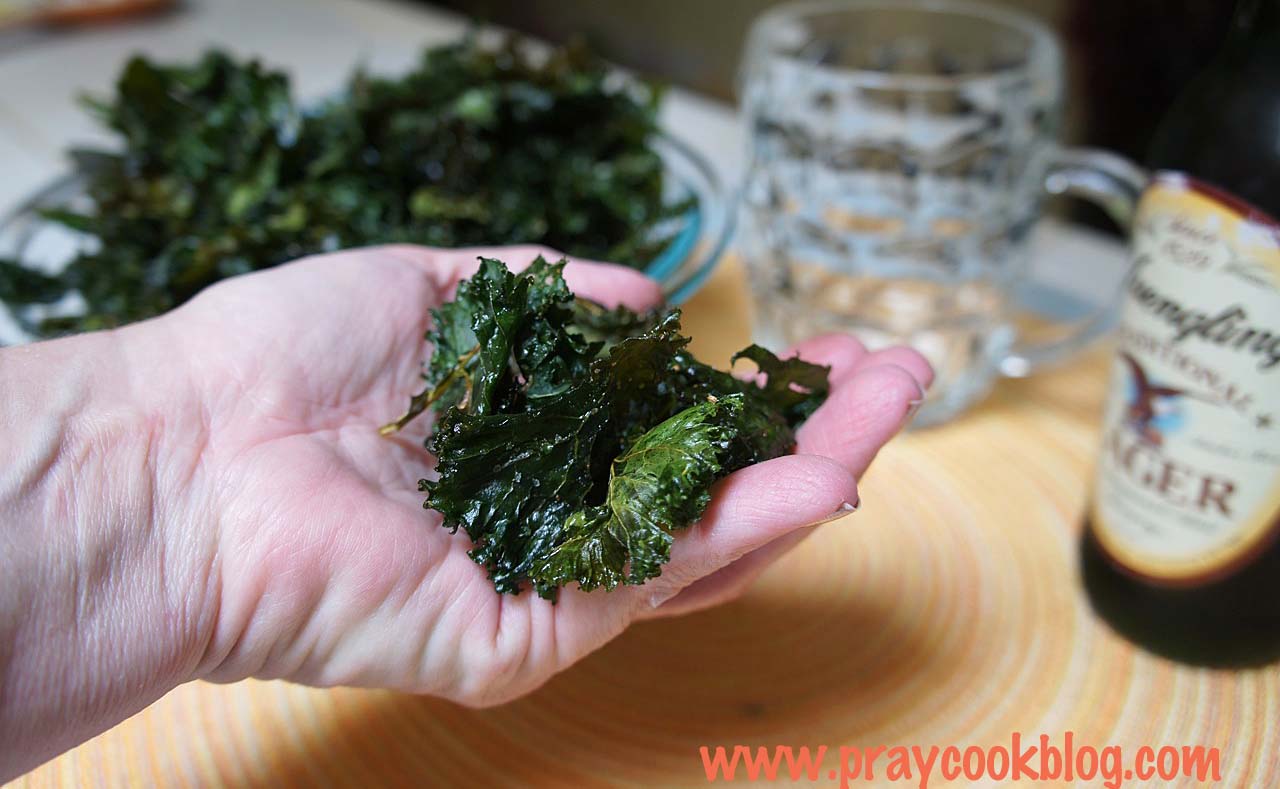 Wishing you a tasty start to the week!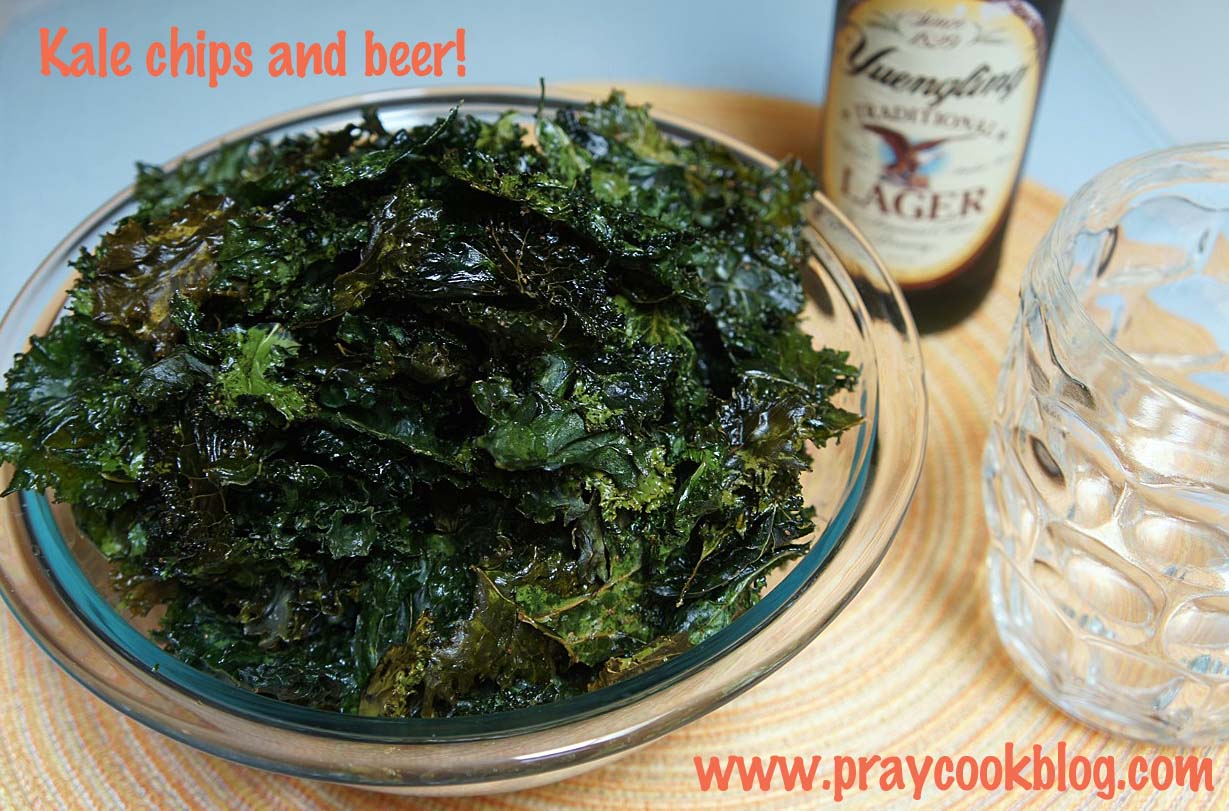 This week Tuesdays With Dorie features a incredible French Strawberry Cake!  I will also be announcing the winner of the Baking With Julia cookbook.
~ Blessings, Catherine
All Hail to the Kale Chip
Get on board with the kale chips craze! Healthy snacking, economical, easy and oh-so delicious!
Author:
Adapted from The Newlywed Chefs
Ingredients
1 bunch Kale, destalked and torn into bite sized pieces
2 tablespoon Olive Oil
½ teaspoon Celery Salt
½ teaspoon Black Pepper
½ teaspoon Your favorite seasoning
Instructions
Preheat oven to 400 degrees F. Wash and dry kale. Remove Stems.

Place kale in large bowl. Toss kale and olive oil together until the kale is evenly coated. Sprinkle with celery salt, pepper, and your favorite seasoning. Toss well.

Transfer kale onto baking sheets (2 -3), making sure pieces aren't overlapping. Bake for 5 to 8 minutes or until kale has crispy and brown edges but green centers.

Cool and transfer to a bowl for crispy, crunchy, healthy snacking!