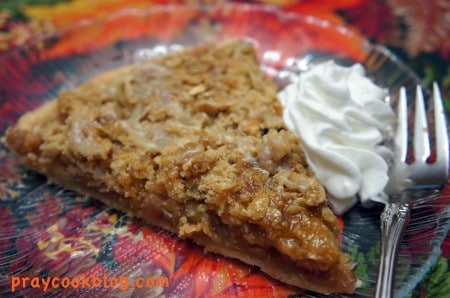 Churches have long been known for a great place for recipe swapping.  Now, don't get your dander up, I'm not saying recipe swapping is the best function of a church 🙂 but it is a lovely by-product!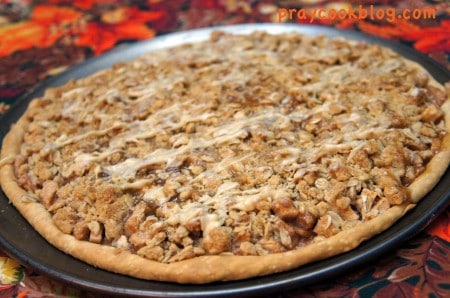 A couple of weeks ago at our church small group meeting, my friend Maribeth served an Apple Crisp Pizza.  Fall was in the air, we were sitting on her back porch and she brought out steaming mugs of hot coffee, hot apple cider and this dessert.  One bite was all it took for the group to start crooning over the fresh apple flavor mixed with none other than sweet caramel!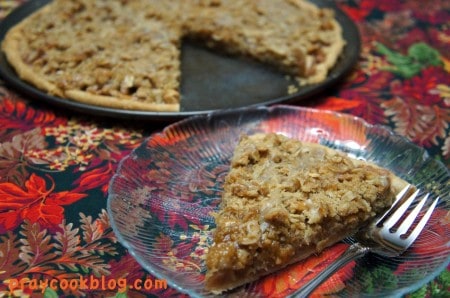 You know me, I asked for the recipe, which she promptly retrieved from her computer.  And where did she get it you may be wondering?  Facebook!  Yep, this is one of those zillions of recipes filling the walls of Facebook users all over the world!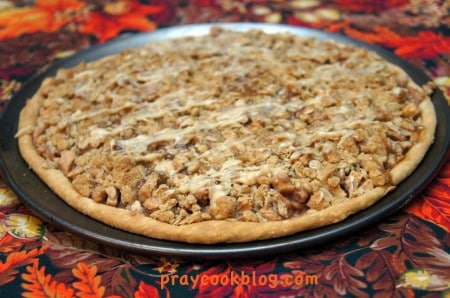 My sous-chef dish-washing mom was under the weather (now recovering nicely) and wasn't able to join us that night.  I used this as my excuse to quickly make it at home.  Cheer her up and all … plus "an apple a day" …  🙂
I used a pre-made Pillsbury pie crust, the kind you just unroll.  Fast, easy, and pretty good! My pantry refrigerator is full of Granny Smith, Rome, Delicious, and Gala apples so I used one of each. I drizzled on caramel from a jar and a bit of warmed Brown Sugar Cream Cheese Spread as a finishing touch.
It only takes a few minutes to put together and 35 to 40 minutes to bake.  I only wish it had lasted longer once it came out of the oven.  Next time I am going to add some finely chopped walnuts! To say we liked it is an understatement.  You are gonna want to make this!  
Happy Baking and God Bless,
Catherine
"For as the rain and the snow come down from heaven and do not return there but water the earth, making it bring forth and sprout, giving seed to the sower and bread to the eater, so shall my word be that goes out from my mouth; it shall not return to me empty, but it shall accomplish that which I purpose, and shall succeed in the thing for which I sent it."   Isaiah 55:10-11

Autumn's Apple Crisp Pizza
When apples are fresh and a plenty, be sure and treat your family and friends to this delicious pizza. Great for a snack or dessert!
Ingredients
1 Single-crust pie pastry (9")
⅔ cup sugar
3 Tablespoons all-purpose flour
1 teaspoon ground cinnamon
3 to 4 medium apples (Granny Smith, Gala, Rome, Fiji, Braeburn) peeled and diced into ¼" pieces
Topping
½ cup all-purpose flour
⅓ cup packed brown sugar
½ cup old-fashioned rolled oats
1 teaspoon ground cinnamon
¼ cup butter, softened
Drizzle
½ cup caramel topping and/or frosting
Instructions
Preheat oven to 350 degrees.
Roll pastry to fit a 9 to 12" pizza pan; fold under edges to give the pizza a slightly raised crust.*
Combine sugar, flour, and cinnamon in a medium bowl. Add peeled, diced apples, and toss well.
Arrange apples in a single layer over the pie crust to completely cover it.**
For the topping, combine the flour, brown sugar, oats, cinnamon and butter in a bowl. Mix well.
Sprinkle topping evenly over the apples. Bake at 350 degrees for 35 to 40 minutes, or until apples are tender and the topping is lightly browned.
Remove from oven and immediately drizzle with caramel topping. Lightly drizzle with warmed frosting if desired.
Cut into 8 pizza slices and serve warm with ice cream or whipped cream.
Notes
A Pillsbury pie crust that comes in a roll works great. Just unroll on a round pizza pan and you are ready to go.
*Depending on the size of apples, you may not have a flat single layer, but that is okay, just smooth the apple mixture over all the crust.
DRIZZLE -- caramel drizzle is enough but a little bit of warmed vanilla frosting gives the added bit of white color to the pizza. SERVING: for a snack this pizza can easily be cut into 10 to 12 small slices. For dessert I would plan on only 8 slices.