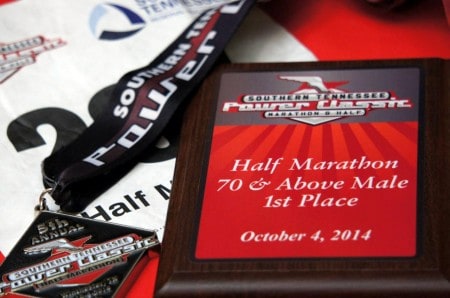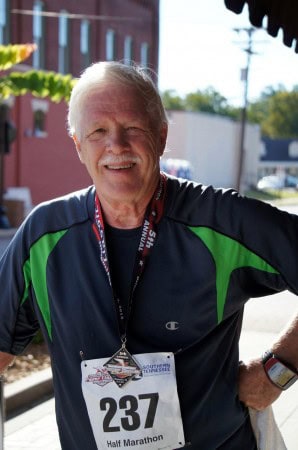 There are many things I love about the fall and October in particular. One of which is the half-marathon my awesome husband likes to run in the first week of the month.  This year he had a "big" birthday which catapulted him into a new age group at this half-marathon.  Even though he had just ran 13.1 miles adequate training kept him from coming across the finish line huffing and puffing.  Instead he came across quite happy as he saw his time of 2 hours and 9 minutes.  It isn't his personal best, but it was good enough to win him first place in his category.  I'm so proud of him!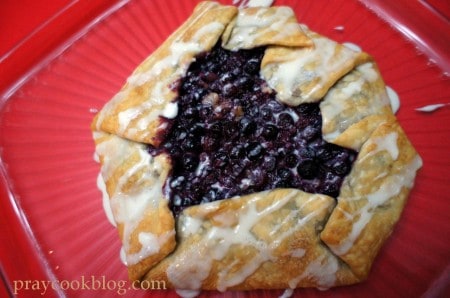 When we arrived home I wanted to make something special to top off our celebratory dinner.  However, I wanted it easy.  After all, I got up extra early, did a little shopping while he ran, and then cheered him on … oh wait, I wasn't actually there to cheer him on at the finish line.  Well, that is the rest of the story.
My sole job responsibility for this half-marathon was to get the photo of Lee running across the finish line, WITH the timing clock in the foreground.  Okay, no problem, I had 2 hours and 9 minutes to get ready.  But I actually had calculated that based on his recent training runs he would be crossing the finish line at 2 hours and 23 minutes.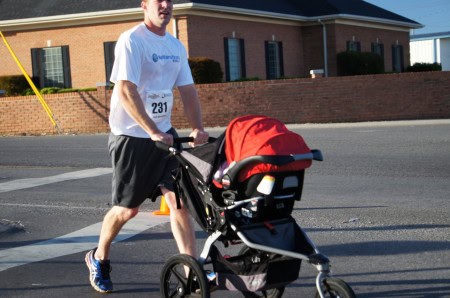 So, at 2 hours and 9 minutes I was actually totally captivated by a young father who had just come across the finish line pushing his 5 month old daughter in her stroller.  About the time he was telling me that this was "her" second half-marathon, I felt a tap on the shoulder.  I spun around to see my marathon runner who said, "Hey, what's up girl?"  I believe I actually screamed, at least in my head all I heard was screaming. There was a roar pounding in my ears as his bright blue-gray eyes were twinkling and I tried to wrap my head around him standing before me."Where did you come from?  The finish line?  Are you done?  What about the picture… the picture!  When will I stop asking these stupid questions?"
I didn't get the shot.  I totally missed him running across the finish line.  Bottom line — now I have to pay $22 to someone else who WAS paying attention as he ran across the finish line.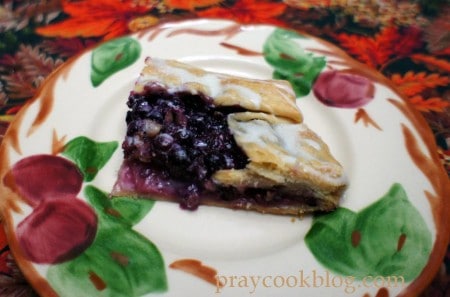 I may have been a loser at getting the photo but my big comeback was this deliciously sweet and tart apple-blueberry galette.  This free-form pastry takes only minutes to prepare and is ready to serve when dinner is finished.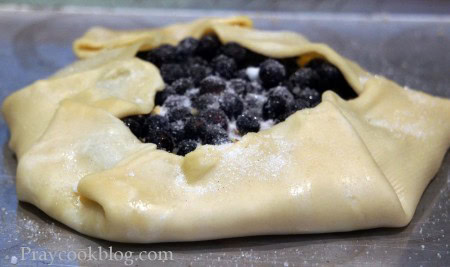 I first learned how to make galette during a baking session from Julia Child's cookbook making a Triple Berry Galette.  For our savory taste I have made a Tomato and Cheese Galette and a Pepperoni and Cheese one as well!
But for an award-winning celebration this apple-walnut-blueberry combination was worthy.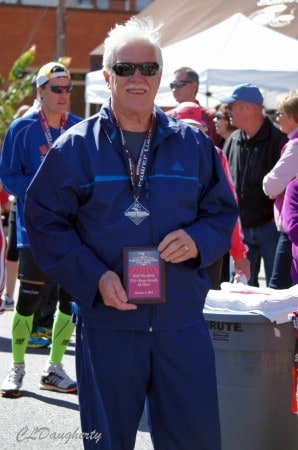 Take it from me, you can make any mealtime a celebration with this lovely galette.
Happy Baking!
~Catherine
Award Winning Apple Walnut Berry Galette
A favorite easy-peasy free-form pastry!
Ingredients
1 - 9" round pie crust, homemade or store-bought
3 oz. cream cheese, softened
3 apples, peeled and thinly sliced
1 cup blueberries, fresh or frozen
½ cup walnuts, lightly chopped
GLAZE
1 cup confectioners sugar
1 teaspoon vanilla
Milk to desired consistency
Instructions
Place pie crust on baking sheet sprayed with oil or covered with parchment paper.
Spread softened cream cheese on pie crust, beginning in the middle and extending to about 2" from the edge all around.
Layer sliced apples, blueberries and walnuts.
Carefully bring up edges of the crust towards the center forming a free-form pie.
Sprinkle lightly with sugar.
Bake at 375 degrees F. until pastry is lightly brown and blueberries bubbling, about 35 minutes.
While cooling, mix up the confectioner's sugar glaze.
When pie has cooled spread drizzle with glaze, slice and enjoy!
Notes
The best apples to bake are granny smith, gala, or fuji. You may mix the apple types also for a nice variation.