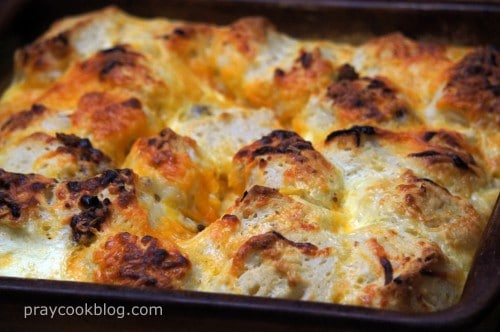 Pretty much every Thursday I make breakfast food for dinner.  It is that time of the week where I am out of ideas, just plain tired, or I am hungry for a breakfast that doesn't begin and end with oatmeal.
This past week I knew I had eggs, cheese, a little bit of leftover bacon, and a cup of (leftover) turkey sausage.  In my freezer I had some Pillsbury frozen biscuits.  (Don't judge me … I keep them for an emergency … or for whenever I want a great biscuit fast!)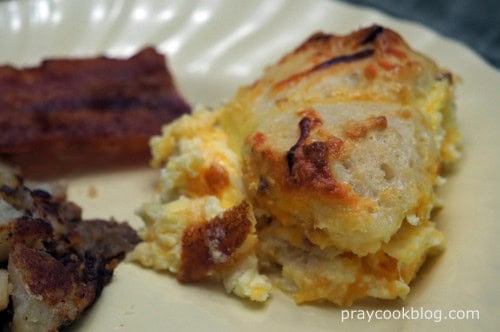 Sitting in front of my computer I decided to Google "eggs, biscuits, and sausage recipe".  If you haven't ever done that I highly recommend it.  Just search using whatever main ingredients you have on hand.  You never know what will pop up and in this case … a really fantastic recipe called Sausage, Egg and Biscuit Casserole from my recipes.com.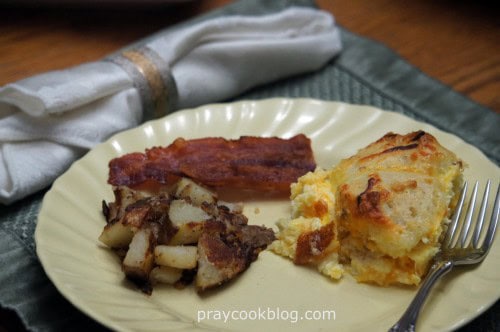 I used some crumbled bacon and turkey sausage, mozzarella and cheddar cheese, eggs, milk and cut up frozen biscuits.  Oh my word was I surprised by this recipe!  My sous-chef dish-washing mom loved it and the Chief said "this is really great!"
You can easily start with the basic recipe and add or subtract anything you want or don't want.  I can see this as an all-cheese recipe, onions and green peppers added, or how about some spicy Chorizo sausage served with salsa?
Whether it is 8 a.m. on Saturday morning, Sunday brunch, or Thursday night dinner … your family with love this casserole!
Happy Baking!
~Catherine
John 21:12
"Jesus said to them, "Come and have breakfast." Now none of the disciples dared ask him, "Who are you?" They knew it was the Lord."

Bacon, Egg & Biscuit Casserole
This versatile casserole will feed a hungry crew whether it is morning or night!
Author:
Adapted by Catherine Daugherty
Recipe type:
Breakfast, Brunch, Dinner
Ingredients
1 can buttermilk biscuits or 6 frozen biscuits
½ pound sausage, pork or turkey, cooked, drained and crumbled
1 cup cooked, drained, and crumbled bacon
6 eggs
¾ cup milk
1 cup shredded mozzarella cheese
1 cup shredded cheddar cheese
Salt and Pepper to taste
Instructions
Preheat oven to 425 degrees F. Grease 8" x 8" baking dish.
Cut biscuits into fourths. Place in greased pan.
Sprinkle cooked sausage and bacon over the biscuits.
Beat eggs and milk together. Add salt and pepper to taste. Pour mixture over the meat and biscuits. Sprinkle both cheeses over the top.
Bake at 425 degrees. F for 30 to 35 minutes or until top is brown and casserole is set. Let sit 5 minutes before serving.
Notes
I think you can start with the basic recipe and add or subtract anything you want or don't want. I can see this as an all-cheese recipe, onions and green peppers added, or how about some spicy Chorizo sausage served with salsa?

Let your imagination and taste buds run a little wild with this tasty casserole!

Adapted from myrecipes.com