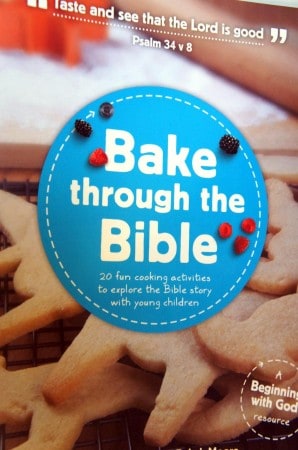 From time to time I like to take part in book reviews through Cross Focused Reviews.  Bake through the Bible is a cookbook that combines 20 Bible stories with 20 fun recipes just waiting to be shared with children of all ages.
The book features recipes for Sparkly Promise Cookies that help children to remember God's wonderful promises to Abraham, Happy Crepe Faces in response to God's promise to send his Rescuer and Forever-King and even An Empty Bread Tomb with Easter dips to celebrate Jesus' resurrection.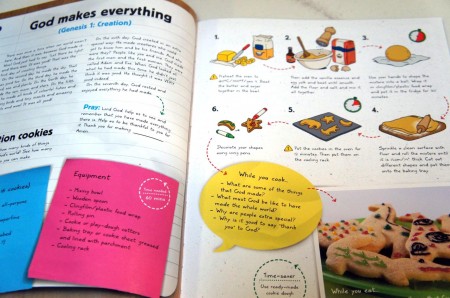 This fun book is written by two young mothers, Susie Bentley-Taylor and Bekah Moore who wanted a way to teach their own children Bible stories while creating fun learning memories.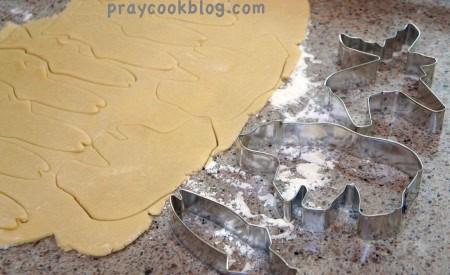 Since my sous-chef dish-washing mom and I recently returned from Alaska with cookie cutters shaped like bear, moose and salmon, it was a no-brainer for us to make Creation Cookies!  I have a favorite sugar cookie recipe but decided to use the simple recipe in the book so that I could give you an authentic review.  I am so glad I did.  This recipe is simple, the dough is lovely to work with, and the cookies deliciously wonderful!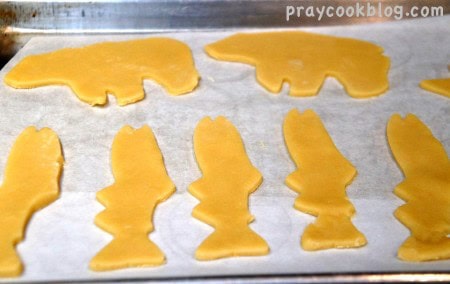 We made brown bears, caramel colored (and flavored) moose and pink salmon.  Mom and I had fun decorating the cookies and plating them to share with neighbors!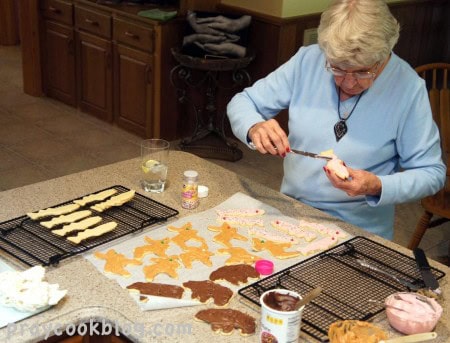 The book starts out with a "how to use this book" section that outlines the Bible story, the instructions, the cooking activity, discussion options while you cook and finishing up the story while you eat!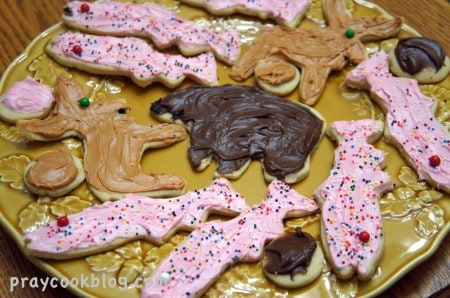 Who would benefit from this book?  Moms, dads, grandparents, homeschooling teachers, Sunday School leaders, vacation Bible school teachers, Aunts, Uncles, — are you getting the picture?  This book is for anyone wanting to share the wonderful truths of the Bible with a young child.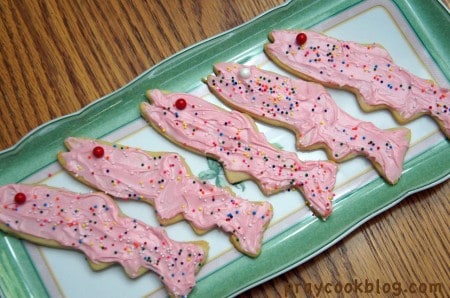 Or a not-so-young child (like me!).  Mom and I are currently studying the Book of Mark and we had a good discussion about how Jesus directed the disciples, twice, to feed thousands of people with just a few fish.  That's when we decided to share our little fish with friends and neighbors!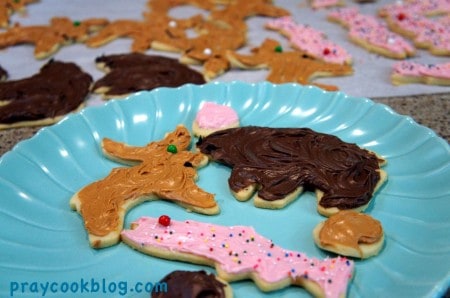 I am so glad I took the time to review this book and I really look forward to sharing it with friends who regularly work with children.  The book can be purchased from the following:
I received a free copy of this book from Cross-Focused Reviews in order to read and review the book.
Happy Baking and Memory Making!
Catherine
Train up a child in the way he should go,
And when he is old he will not depart from it.
Proverbs 22:6
Creation Cookies
Creation Cookies from the book, Bake Through The Bible, teaching children Bible stores while having fun in the kitchen!
Serves:
24 depending on size
Ingredients
2 cups all-purpose flour
¾ cup caster or superfine sugar
1 cup soft, unsalted butter, cubed
1 large egg
2 teaspoons vanilla extract
½ teaspoon salt
Favorite Icing or Icing Pens
Instructions
Preheat oven to 350 degrees F.
Beat the butter and sugar together in mixing bowl or food processor.
Then add the vanilla extract and egg. Beat until smooth.
Add the flour and salt and mix it all together.Use your hands to shape the mixture into a ball. Wrap it in plastic food wrap and put it in the refrigerator for 30 minutes.
Sprinkle a clean surface with flour and roll the cookie dough mixture until it is about ¼" thick. Cut out the different shapes and put them on a baking tray.
Put the cookies in the oven for 12 minutes. Then put them on a cooling rack. They may not be very brown at 12 minutes but do not over-bake.
Decorate your shapes using your favorite frosting or icing pens.
Notes
Recipe adapted from Creation Cookies, Bake through the Bible, Taylor and Moore.