Walk Through The Bible In One Year
Week 19 reading plan 2 Chronicles through Nehemiah 7
Click on the colored link to read each day's scripture.
Monday 2 Chronicles 30-32, Tues 2 Chronicles 33-36,
Wed Ezra 1-3, Thursday Ezra 4-7,
Friday Ezra 8-10,
Saturday Nehemiah 1-5,
Sunday Nehemiah 6-7
Blessings as you read!
Yesterday I kicked off my cookbook giveaway and the drawing entries are coming in!  I hope you will take time you enter this drawing.  I am giving away one of my favorite new cookbooks, Dorie Greenspan's Baking With Julia.  Click

HERE

for the contest rules and find out how you can win!
Fresh spinach continues to pour in from our garden and we are loving it!  While there are kazillions of recipes with spinach I am a bit of a picky eater when it comes to certain foods.  Spinach is one of them.  I like it baked in quiche. I like spinach dip (you know, in a bread bowl) and  I like it fresh as salad.  That's it.  When I was a kid we ate lunch at the school cafeteria.  On a regular basis we were served a big heaping glop of canned spinach with a hard boiled egg sitting right next to it, in its juice.  I honestly can still gag thinking about this 🙂  Today this wouldn't be a problem.  A kid would just say, "I'm not eating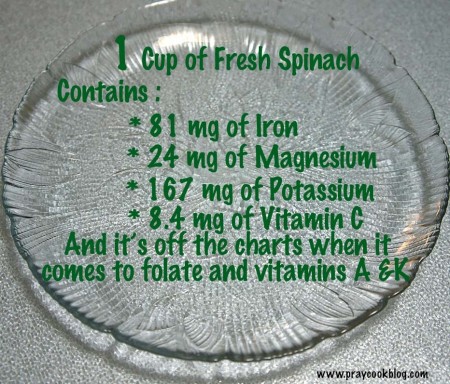 that." End of story.  When I  was in school everyone at our table had to clean up everything on that hard plastic tray with all it's little compartments before we could go outside and play.   Needless to say, my friends didn't think much of me when they missed "playground time" because I just couldn't eat that spinach.  If you are a school cafeteria dietician or kitchen worker I beg of you not to serve big glops of spinach.  There are precious little psyche's that will forever carry school cafeteria phobias.  Now, where was I? Ah yes, spinach salad.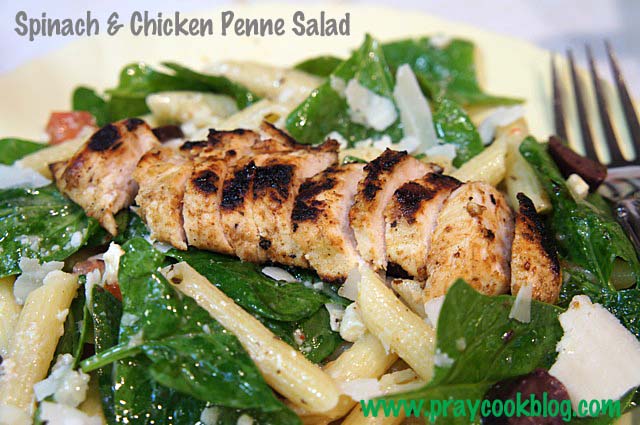 This is how I like to eat spinach.  If you are a summer salad person, print this recipe, put the ingredients on your shopping list and make it soon.  It has all the makings for a beautiful main dish.  Whole wheat penne pasta, fresh baby spinach, tomatoes, crumbled feta cheese, green onions, Greek olives and a stellar homemade vinaigrette!
I started my salad process by making a double portion of the vinaigre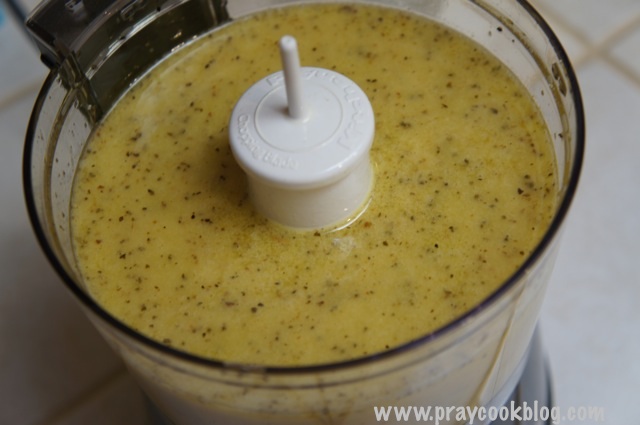 tte.
I took half of it and marinated chicken tenderloins for a couple hours.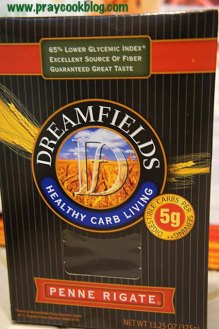 When making pasta I start with Dreamfields pasta. Dreamfields is a delicious pasta with about the same high fiber as whole wheat pasta (5 grams; 20% of the daily recommendation), fewer digestible carbs and a lower glycemic index than traditional pasta. Its delectable taste and nutritional benefits make it a healthful option for people with diabetes and a flavorful, nourishing pasta for the entire family. Dreamfields is made in such a way that the digestable carbs by providing high fiber.  This is a win/win when watching your carb count.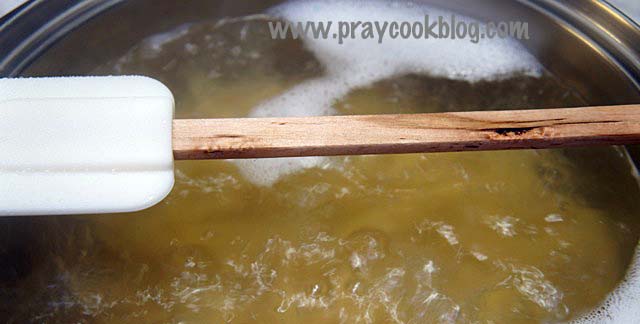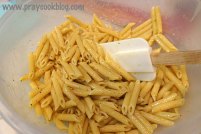 Did you know you can put a wooden spoon, or in my case a wood handled spatula, over a pot of boiling pasta, potatoes, rice or spaghetti and the pot won't boil over?  I have no idea how this works or why, but it does.  I read it somewhere (and I can't remember where or I would definitely share that …) and I have tried it several times.  I even turned this boiling water on high and still it did not boil over.  I don't recommend keeping it on high, but for testing purposes it was necessary 🙂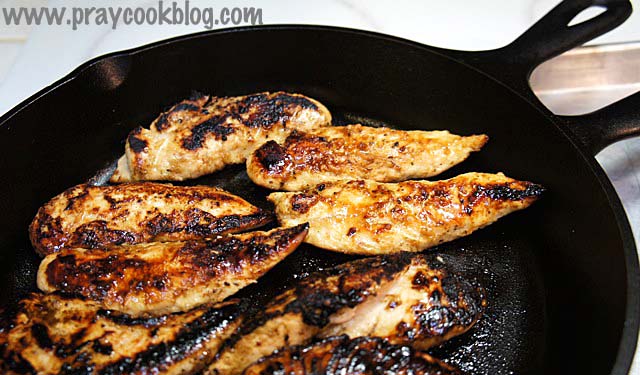 In the summer I like to use my BBQ grill as often as possible and my kitchen oven as little as possible.  While the pasta was cooking I heated up my cast iron skillet and then "frilled" the chicken.  Ya, I know it is technically "frying" but it was on my grill!  The vinaigrette provided just the right amount of seasoning.  I added a touch of olive oil to the skillet and the chicken turned out nicely cooked and very juicy.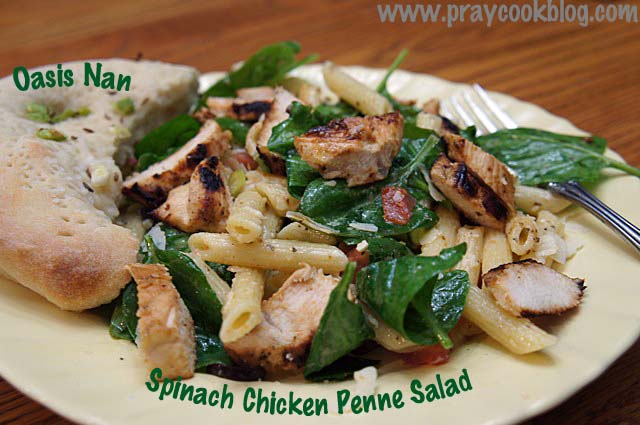 We like seasoned Feta cheese and for this I used Tomato and Basil Feta.  I topped with a little freshly grated Parmesan cheese and the salad was a one-dish meal.  I served it with fresh hot-out-of-the-oven Oasis Naan flat bread.
If you haven't registered for my cookbook giveaway please do so!  I would love for you to win 🙂
Wishing you a blessed day, Catherine
Chicken and Spinach Penne Salad
This wonderful salad can be served with or without the chicken. If served with chicken, cut vinaigrette dressing in half.
Author:
Taste of Home, June/July 2012
Ingredients
1 Package Uncooked Whole Wheat Penne Pasta
Salad
1 Package Fresh baby spinach
3 medium Tomatoes, seeded and chopped
¾ cup Crumbled Feta Cheese
4 Green onions, thinly sliced
½ cup Sliced Greek Olives
Vinaigrette
1 cup Extra-virgin olive oil
1 cup White wine vinegar
⅔ cup Grated Parmesan Cheese
2 tablespoon Dijon mustard
3 clove Garlic, minced
2 teaspoon Dried Oregano
½ teaspoon Salt
½ teaspoon Pepper
1 Pound Chicken Breast Tenderloins
Instructions
2-3 hours before serving time: In a small bowl or food processor, mix together the vinaigrette ingredients. Place chicken tenderloins and half the vinaigrette in a ziploc bag and place in refrigerator to marinate for a couple hours. Place remaining vinaigrette in the refrigerator.

30 to 45 minutes before serving: Cook pasta in a large pot according to package directions. Drain and rinse in cold water.

Cook chicken tenderloins in a tablespoon of olive oil. I prefer to cook in a cast iron skillet on the BBQ grill adding additional flavor to the meat.

In a large bowl, combine the cooked pasta, washed spinach, tomatoes, feta cheese onions and olives. Add vinaigrette; toss to coat. Top with sliced chicken. Serve immediately.

Notes
I like to use flavored feta cheese, particularly the Tomato and Basil.