Walk Through The Bible In One Year
Week 15 reading plan per day
Click on the colored link to read each day's scripture.
Monday 1 Kings 1-3, Tues 1 Kings 4-6,
Wed 1 Kings 7-8, Thursday 1 Kings 9-11,
Friday 1 Kings 12-15,
Saturday 1 Kings 16-19,
Sunday 1 Kings 20-22
Blessings as you read!
Are you having a good week? I can't believe we are already half-way through the week, not to mention that we are in mach speed through May!  I am still wielding a paint brush by day and doing a bit of bloggin' by night 🙂  Lucky for me awesome recipes just keep falling into my hands.  Like today's recipe for Thai Salad aka Thai Chicken Salad.  Last week was the last get together of our Community Bible Study for this semester.  We enjoyed time together with a huge brunch buffet with those attending bringing some of their favorite dishes to share.  One such dish was a Thai Chicken Salad.  I had no idea who made the salad but it is so good with a perfect Thai flavor.  I left my calling card at the empty salad bowl with a message asking — who made this delicious salad?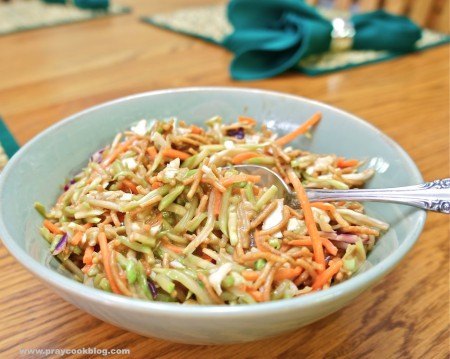 Before I left that day a gentlemen I did not know, came up to me holding my card in his hand.  Mr. Payne told me about how he had made this salad and then when he went home he even sent me an email with the recipe details!  Turns out this is the ideal recipe … for starters — very nutritious.  Secondly, quick and easy.  A bag of sliced cabbage, a bag of broccoli straws (LOVE 'em!),  carrot sticks, honey-roasted sliced almonds, crispy rice noodles and the dressing.  How easy is this?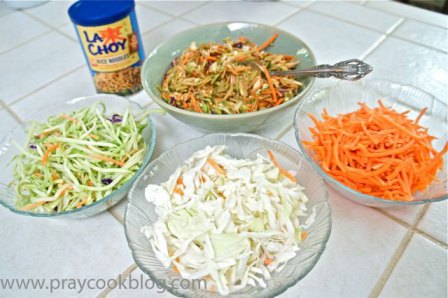 The dressing is really the perfect crowning touch. Kraft Light Asian Toasted Sesame dressing.  It seems so simple to be this good.  The second time I made this wonderful salad I shredded some leftover chicken and mixed it all together.  It was perfect.  I served it as a main dish salad.

Any sliced almonds will do, but Mr. Payne said he has tried several and Almond Accents, Honey Roasted variety are the best.  All summer long we eat salads every day.  I really look forward to making this salad again.  I am imaging it with some sliced green onions … maybe an egg roll on the side.  Yum!
Have a great rest of the week!  Many Blessings and Happy Cooking!

Thai Chicken Salad
This salad can be served as a vegetarian dish side dish or crank it up a notch by adding shredded chicken. Makes a perfect main dish meal!
Ingredients
1 Package Shredded Cabbage
1 Package Broccoli straws
2 cups Shredded Carrots
1 small Can of Crispy Rice Noodles
1 Package Sliced Almonds
Light Asian Toasted Sesame Dressing
½ cup Sliced Green Onions
2 cups Chicken Breasts, cooked and shredded
Instructions
Combine all ingredients except dressing and crispy noodles.
When ready to serve, mix well with Sesame Dressing, using as much needed to taste. Mix well, sprinkle with crispy noodles and serve.
Notes
(1) Shredded chicken cooked fresh or canned works fine.