If you have followed this blog very long you will know that I am a BIG fan of Community Bible Study.  Their website tells us "Community Bible Study is an interdenominational Bible study for the community. We offer a wide range of courses in classes throughout the United States and welcome people from all backgrounds and levels of Bible knowledge.  Since 1975, Community Bible Study has been helping people-from children to seniors-to grow in their knowledge and love of Jesus Christ."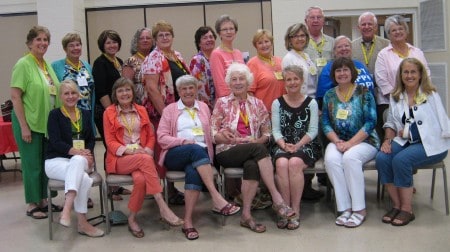 In June I was asked to consider becoming the Associate Teaching Director for the Shelbyville, TN class.  Both my sous-chef dish-washing mom and I were already part of the leadership group since we were the nursery teachers for last year.  The above picture is this year's leadership group during a training class held in July.  Several leaders are missing from this picture but you will see me in the front row, second from the right and mom is in the front row third from the left!
After lots of prayer and conversation with my husband and my mother I accepted the commitment to the position.  It starts out as a 2-year commitment.  I am already getting back much more than I am giving and the study is just exceptional.  In the United States over 100,000 children, women, and men are studying this year through Community Bible Study.
I especially like that it is non-denominational and available to everyone.  You can check their website to see if they have a class in your area.  The classes are all served by volunteers throughout the World!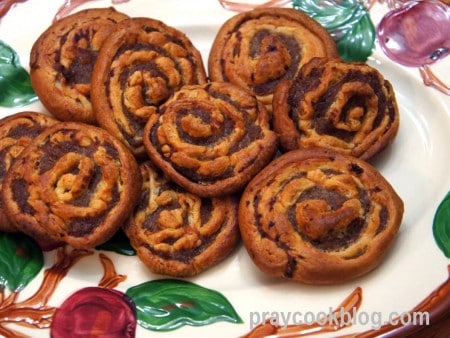 I chose this recipe for Sausage Pinwheels to share with you today because I received from my friend Dinah, who is the Prayer Chairman for our local Community Bible Study.  I have known Dinah since I moved to Tennessee in 2004 and she and I share a love for cooking! Dinah made these Sausage Pinwheels and brought them to our training session for brunch.  Oh my word they are delicious!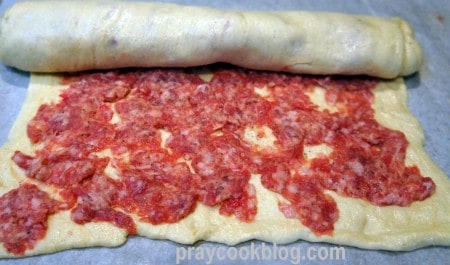 Dinah has a brood of grandchildren that frequent her home and she says they all know she will have these pinwheels in the freezer ready to bake up when they arrive.  When she told me this is a "two ingredient" recipe I was all ears!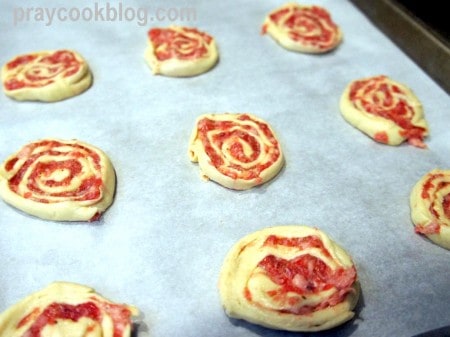 They are so easy, starting out with two cans of Pillsbury Crescent sheets and 1 lb. of your favorite breakfast sausage.  I chose Jimmy Dean Country Sausage, but any will work.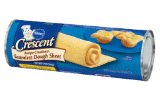 Each sheet is rolled out.  Then half of the sausage is pinched off in small amounts and dropped all across the sheet.  This will make spreading the sausage on the dough much easier.  With your fingers gently press the sausage out covering as much of the crescent sheet as possible.  Then the dough is rolled up starting at the short side and rolling into a log.  At this point the roll can be wrapped in plastic and frozen until needed.  It is easier to cut into 1/4″ slices if it is slightly frozen.  However, when I made this batch I wanted to bake up just a few to go along with some homemade soup.  So, I carefully sliced them without freezing first.  I think it worked pretty well.  One log roll makes between 12 and 15 pinwheels depending on how wide you make them.  Bake at 400 degrees for 17 to 20 minutes.  I baked mine for 20 minutes because I was a little worried about getting the sausage good and done!  I need not have worried because it was very done! 🙂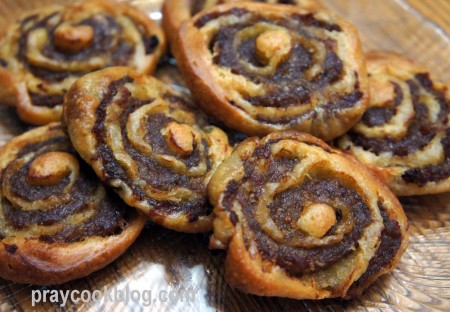 This picture is from a batch I made using Pillsbury Pizza Dough from the can.  I wasn't able to buy the Crescent Sheets the first time I wanted to make them  so I settled for the pizza dough.  My sous-chef dish-washing mom prefers this dough although my Chief Culinary Consultant likes the crescent sheets.  Me?  I like them both!
I am taking Dinah's lead and I have 1 1/2 rolls frozen ready for guests who will be arriving next weekend!
Have a blessed weekend,
Catherine

Sausage Pinwheels
Ready - Set - GO! These sausage pinwheels will not last long on your breakfast table, a brunch buffet or hot out of the oven for the grandkids!
Serves:
30 to 36 Pinwheels
Ingredients
1- 1 lb. breakfast sausage
2- cans of Pillsbury Crescent Sheets
Instructions
Unroll one Crescent sheet on a big piece of plastic wrap.
Using ½ of the sausage, pinch of little pieces and drop across the dough. With your fingers gently press the sausage out covering as much of the dough as possible.
Beginning with the short side roll up. Use the plastic wrap to roll tightly and freeze.
When ready to use remove from freezer. Slice into ¼" slices. Place on parchment lined baking sheet.
Heat oven to 400 degrees F. and bake for 17 to 20 minutes until pinwheels are brown and the sausage is done.
Serve immediately or may be served later at room temperature. Refrigerate leftovers.
Notes
Pillsbury pizza dough sheets can be used in place of crescent dough sheets. Although the crescent dough sheets have a slightly sweeter over-all flavor.