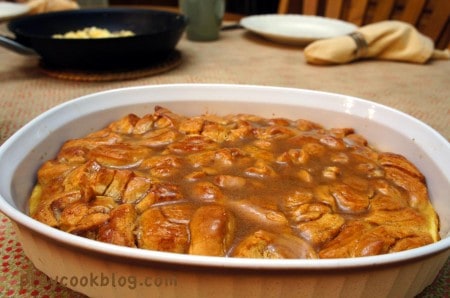 On the heals of my recent debacle with my Kitchen Aid mixer, my long-time friend and often-times adviser Sue, wrote to me saying, "Any luck getting your Kitchen Aid fixed?  You make waaay too hard recipes.  Your equipment is telling you something.  Well, trying anyway."  I will pretend I didn't see that "well, trying anyway" remark and take heed of her suggestion for some easier recipes.  🙂 After all, it's summer.  Time to play, read, take afternoon naps….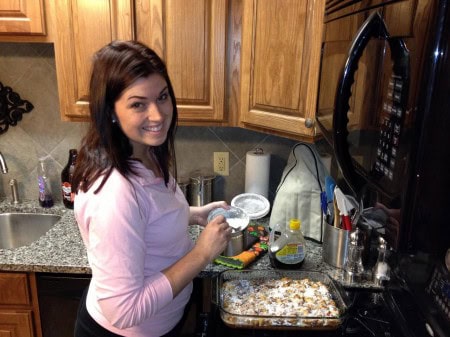 One of the blessings in my life is to see our little kids, our own children, nieces, nephews, neighbor children, — all of them grow up into beautifully interesting and fun adults.  Recently I was treated to breakfast at the home of my niece Alesa and her recently graduated from medical school husband, Ty.  Alesa is a fan of Pinterest and excitedly asked me if I had made "Cinnamon Roll French Toast" to which I answered, "no, but I am all-in!"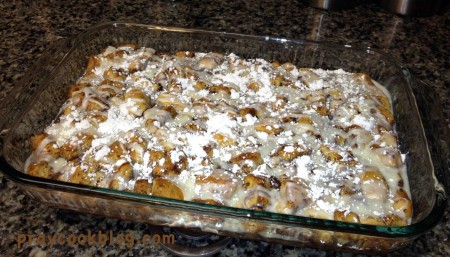 Even though the weekend had been morning-to-midnight busy, she got up a little earlier than the rest of us and had this french toast in the oven by the time I showed my sleepy self in the kitchen.  As Alesa says, "it's so simple, just pop open the can of Pillsbury cinnamon rolls, cut them into quarters, mix some milk and eggs and pour over them".  After baking she topped the hot-out-of-the-oven french toast with the frosting that came with it, and then sprinkled some powdered sugar for that extra pizzaz!  Because her own sweetness went into the casserole she really didn't need the powdered sugar. 🙂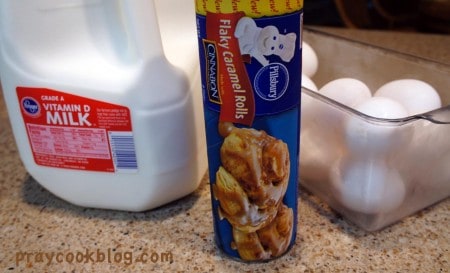 When I went shopping for the ingredients I found these "new" Flaky Caramel Rolls and my mouth started watering right there in the isle at Krogers!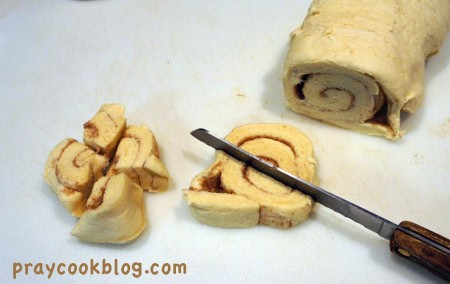 For an 8″ x 8″ panful I only used one can of cinnamon rolls.  I cut them into quarters, laying them flat in my lightly greased baking dish.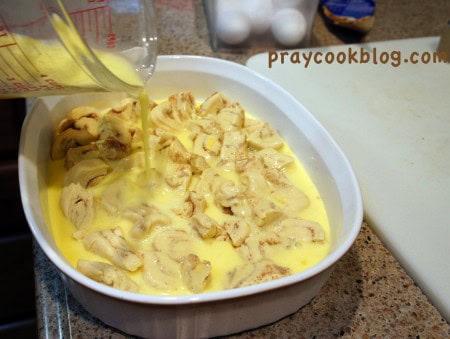 I mixed eggs and milk together, poured over the dough and popped it into the oven.  I could have added a sprinkling of cinnamon, pecans, or raisins but decided to keep it simple.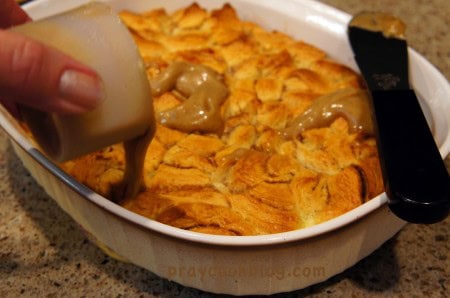 The french toast bakes up quickly.  Caramel frosting came with these rolls and I poured it over them while they were hot.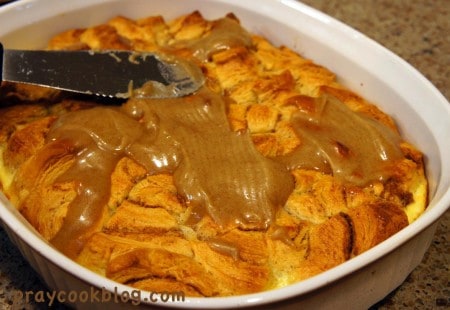 The frosting is easy to spread.  I also dribbled just a bit of maple syrup over the whole thing before serving.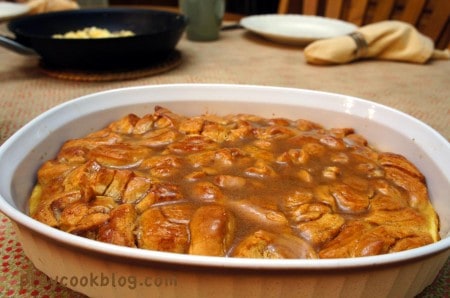 We like to eat a big breakfast on Saturdays and then skip lunch.  Such was the case with this fast, easy, and incredibly delicious Cinnamon Roll French Toast.  I added a side of scrambled eggs and Apple Sage Sausage Balls.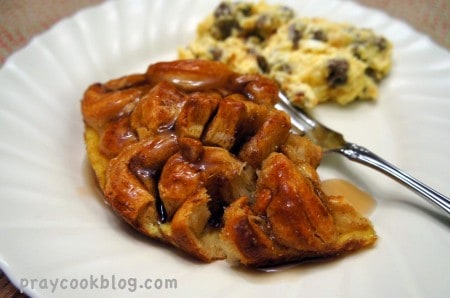 I found several variations of this recipe from Pillsbury that you might be interested in.  I plan to make the recipe where the cinnamon rolls are baked first and then cut up and used in the overnight french toast casserole.  Oh yum  – can't wait!
Overnight Cinnamon Roll French Toast Bake
Blessings for a delicious holiday weekend,
~Catherine


Cinnamon Roll French Toast!

Delight in such an easy french toast casserole that will have everyone asking for more!

Ingredients
1 can (12.4 oz) Pillsbury® refrigerated cinnamon rolls with icing
3 eggs
¾ cup milk or half-and-half
¼ cup maple syrup
Instructions
Spray 8-inch square (2-quart) glass baking dish with cooking spray.
Cut each cinnamon roll into quarters. Arrange roll pieces in baking dish in a single layer.
In medium bowl, beat eggs and half-and-half (or milk)
Pour egg mixture over rolls.
Heat oven to 400°F., bake 20 to 25 minutes or until bubbly and golden brown.
Top with frosting, drizzle with maple syrup.
Serve and enjoy!
Notes

Warm maple syrup goes well over this baked French toast, too.
One-half cup of chopped nuts, chocolate chips or raisins make a great add in.