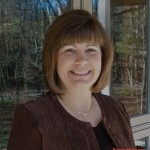 From Jesus Calling, by Sarah Young.
December 19, "Do NOT be weighed down by the clutter in your life.; lots of little chores to do sometime, in no particular order.  If you focus too much on these petty tasks, trying to get them all out of the way, you will discover that they are endless. They can eat up as much time as you devote to them.  Instead of trying to do all your chores at once, choose the ones that need to be done today. Let the rest slip into the background of your mind, so I can be in the forefront of your awareness. Remember that your ultimate goal is living close to Me, being responsive to My initiatives.  I can communicate with you most readily when your mind is uncluttered and turned toward Me.  Seek My Face continually throughout this day. Let My Presence bring order to your thoughts, infusing Peace into your entire being."  Proverbs 16:3, Matthew 6:33
Our third cookbook giveaway winner is Jill Harrison! Congratulations Jill and thanks to everyone who entered the drawing.  If you haven't won yet … it's christmas giveaway week and Wednesday i plan to give away another of my favorite cookbooks! Stay tuned! Drawing done by www.random.org Entry LIST   Winner's List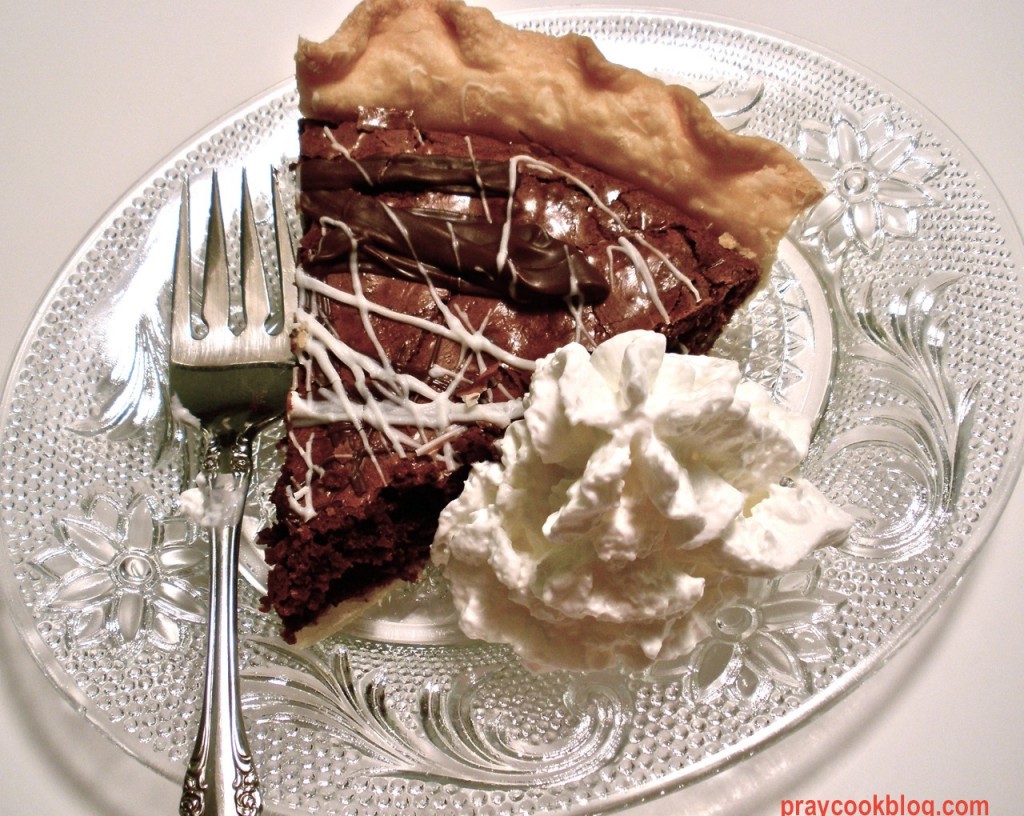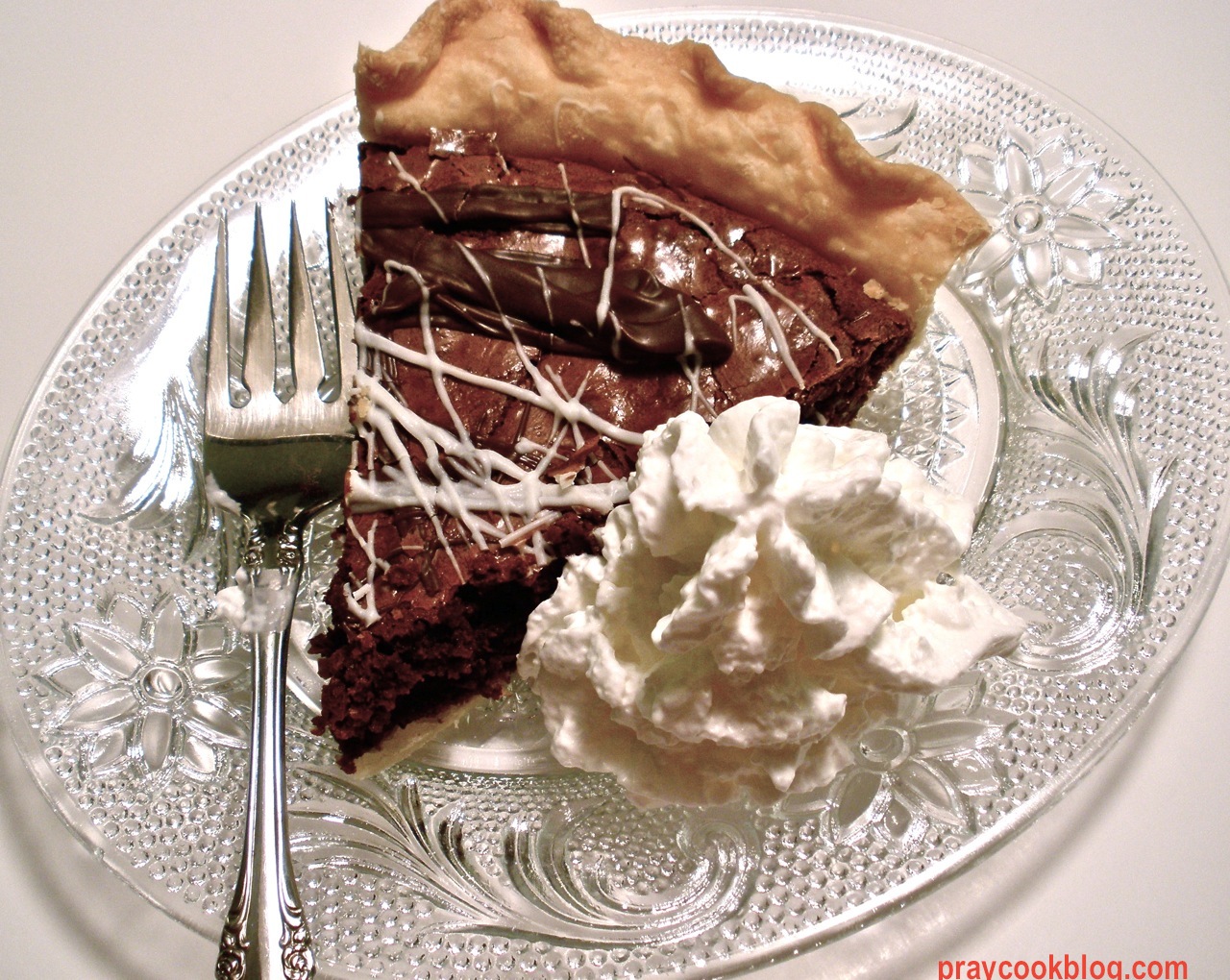 I had actually planned to move on today from the sweet treats of Christmas to some of my favorite side dishes for Christmas dinner.  However, last weekend I told a friend that mom and I would supply the two pies she needed to take to her church Christmas dinner.  My friend was very busy last week and I wanted to do something that would bless her.  She was pleased to have us make the pies.  Mom made a homemade Apple Pie and I made a Walnut Fudge Peppermint Pie.  The Walnut Fudge Pie was our signature dessert at Walnut Grove Bed and Breakfast.  I made that pie once or twice a week for 3 years.  Sooooo, I decided one more sweet something before Christmas.  I love sharing this recipe.  The pie is dense with rich chocolate and nuts, but it isn't so over-the-top that it makes you sick (which some too-sweet pies can do!) I typically serve it with a Chocolate Java Sauce, but this weekend I wrapped this awesome pie in a frenzy of white and dark almond bark and topped with crushed peppermints.  Yeaaahhh!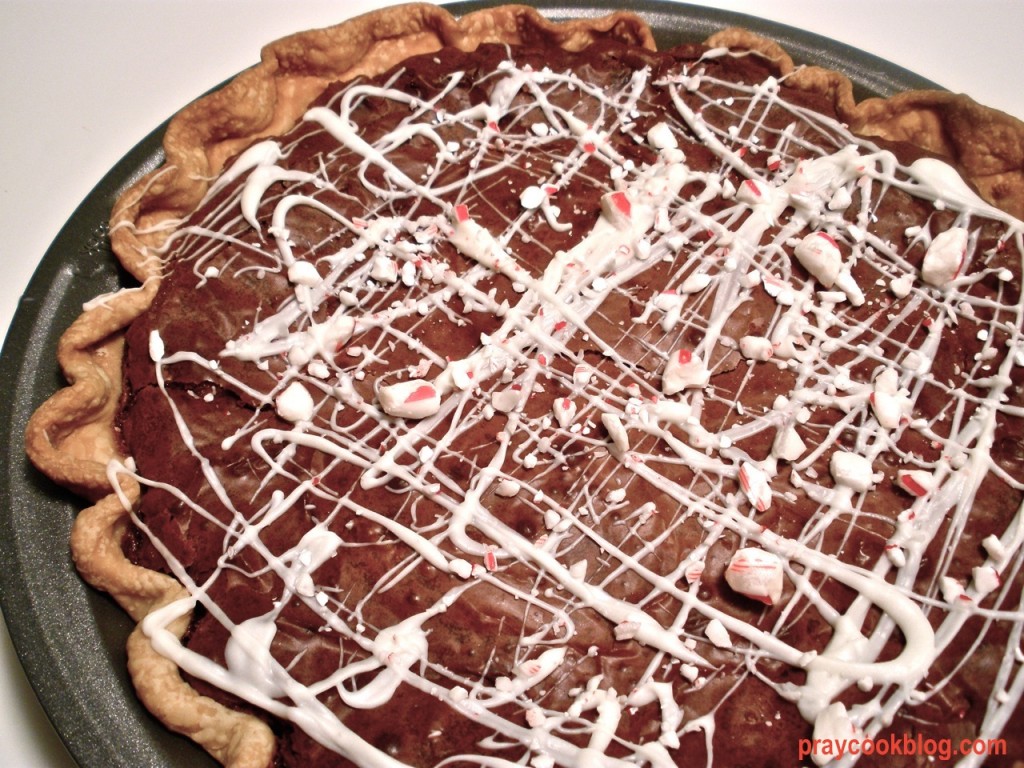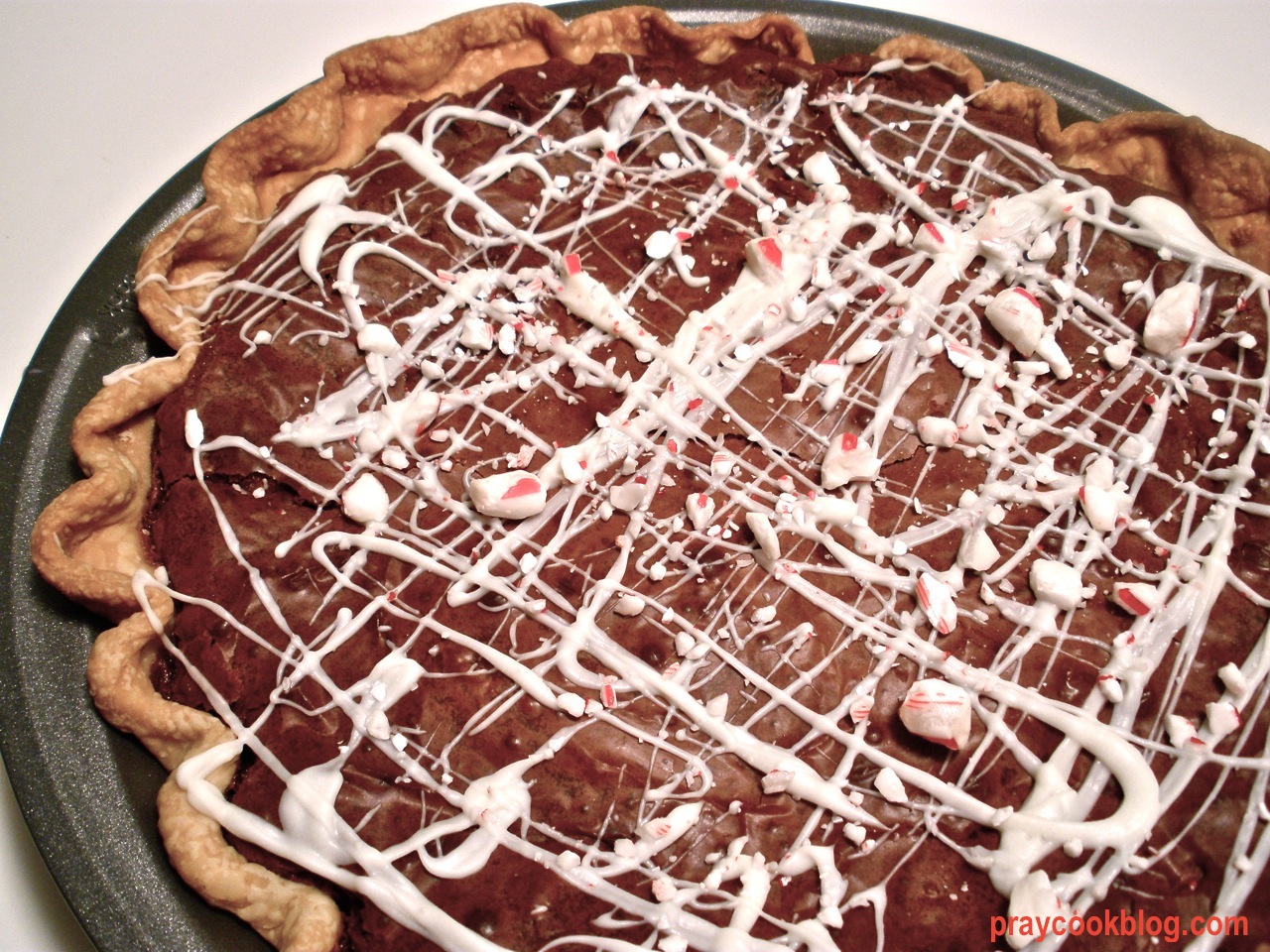 This pie stirs up in about 10 minutes and bakes in 30 to 35 minutes.  Another fast, easy, and yet outstanding dessert!    The recipe is posted below.
One more thing … changing the subject… and thinking GREEN!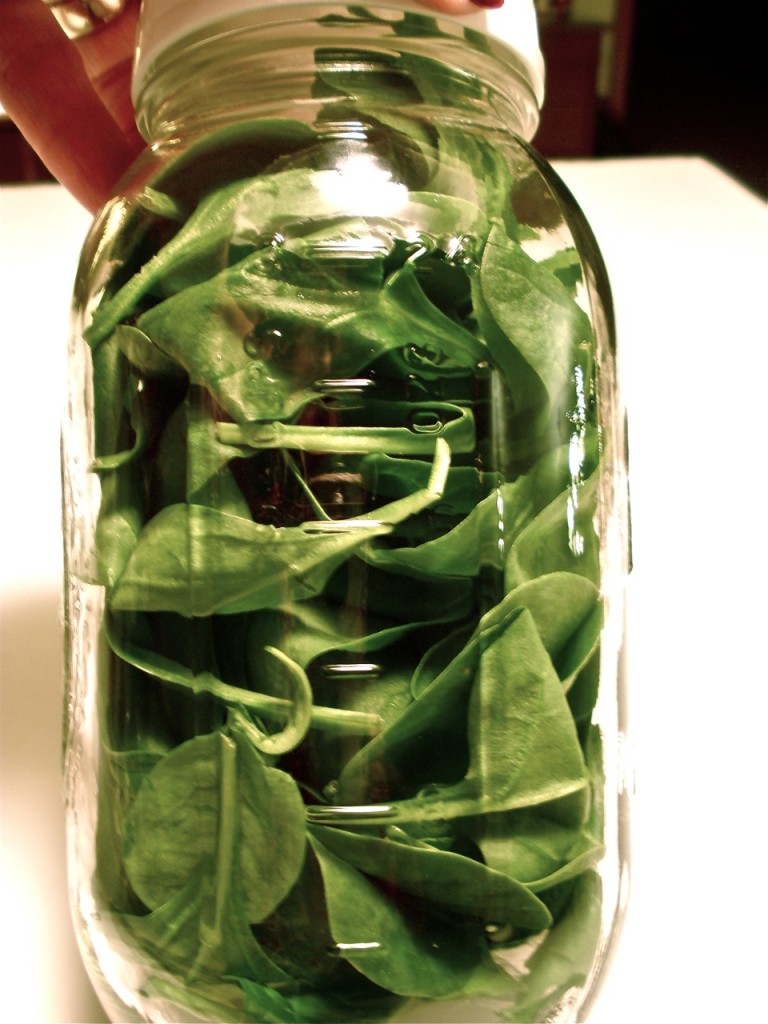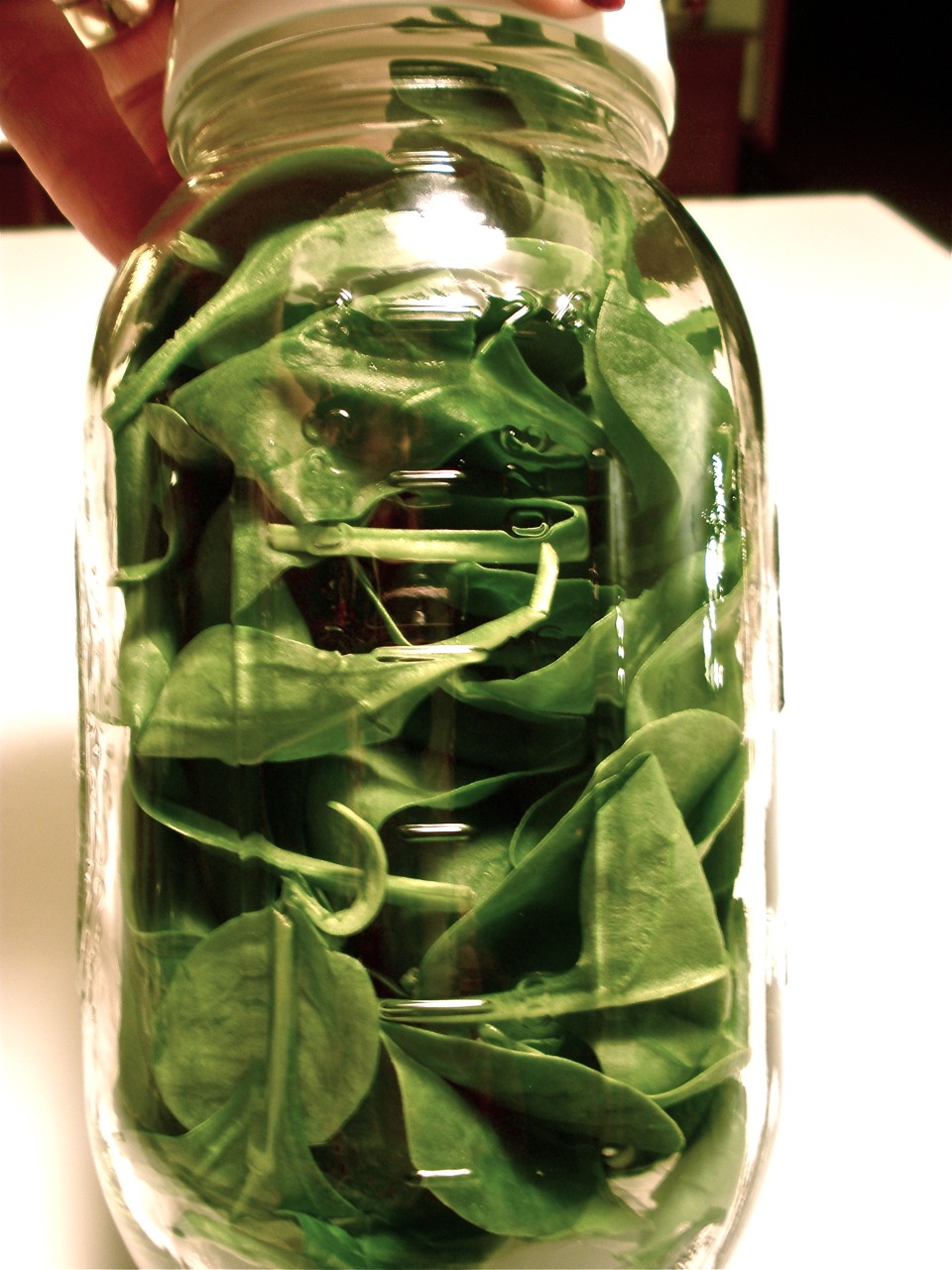 For my entire adult life I have been throwing away yucky lettuce and spinach.  I put it in Tupperware – and it turns brown in a couple days, I put it in plastic bags and it wilts, I buy super duper green specially made to preserve lettuce bags – and it doesn't last a week!  Then, one day I was surfing through some foodie websites and I read this blog post about how storing greens in a mason jar will preserve them for a week or two!  "Oh ya, I'll bet" I thought.  Unfortunately, I didn't save the website name, but I did put some newly purchased spinach and some newly purchased green leafy lettuce in jars.  I put a plastic screw-top lid on them and set them in the fridge.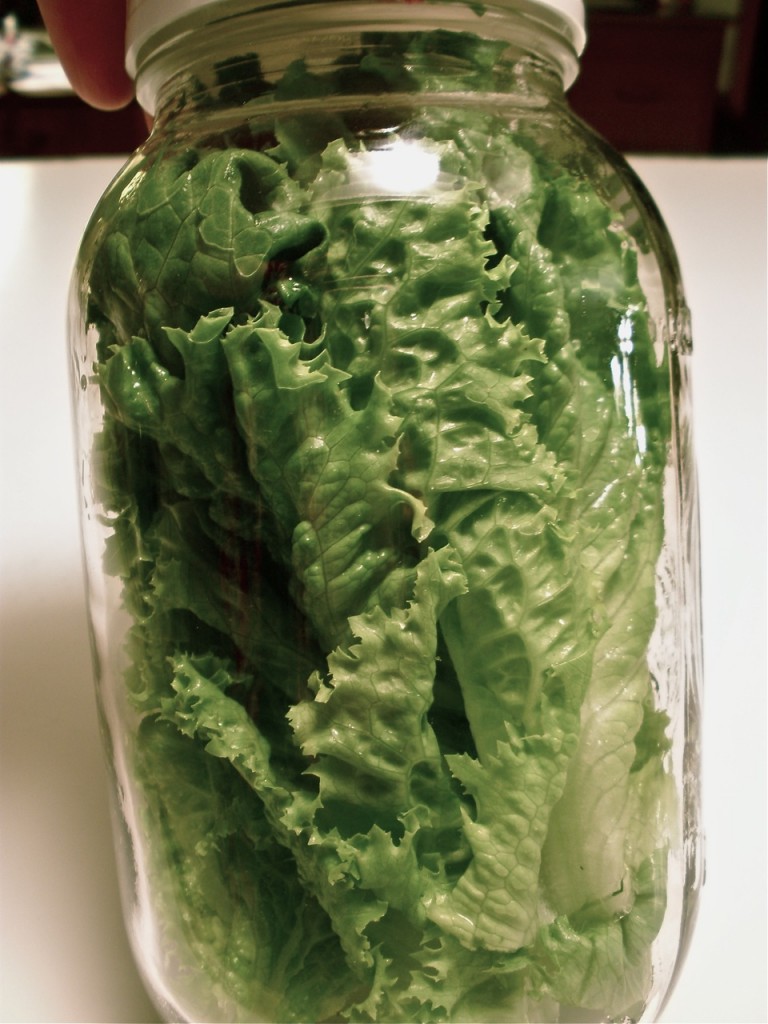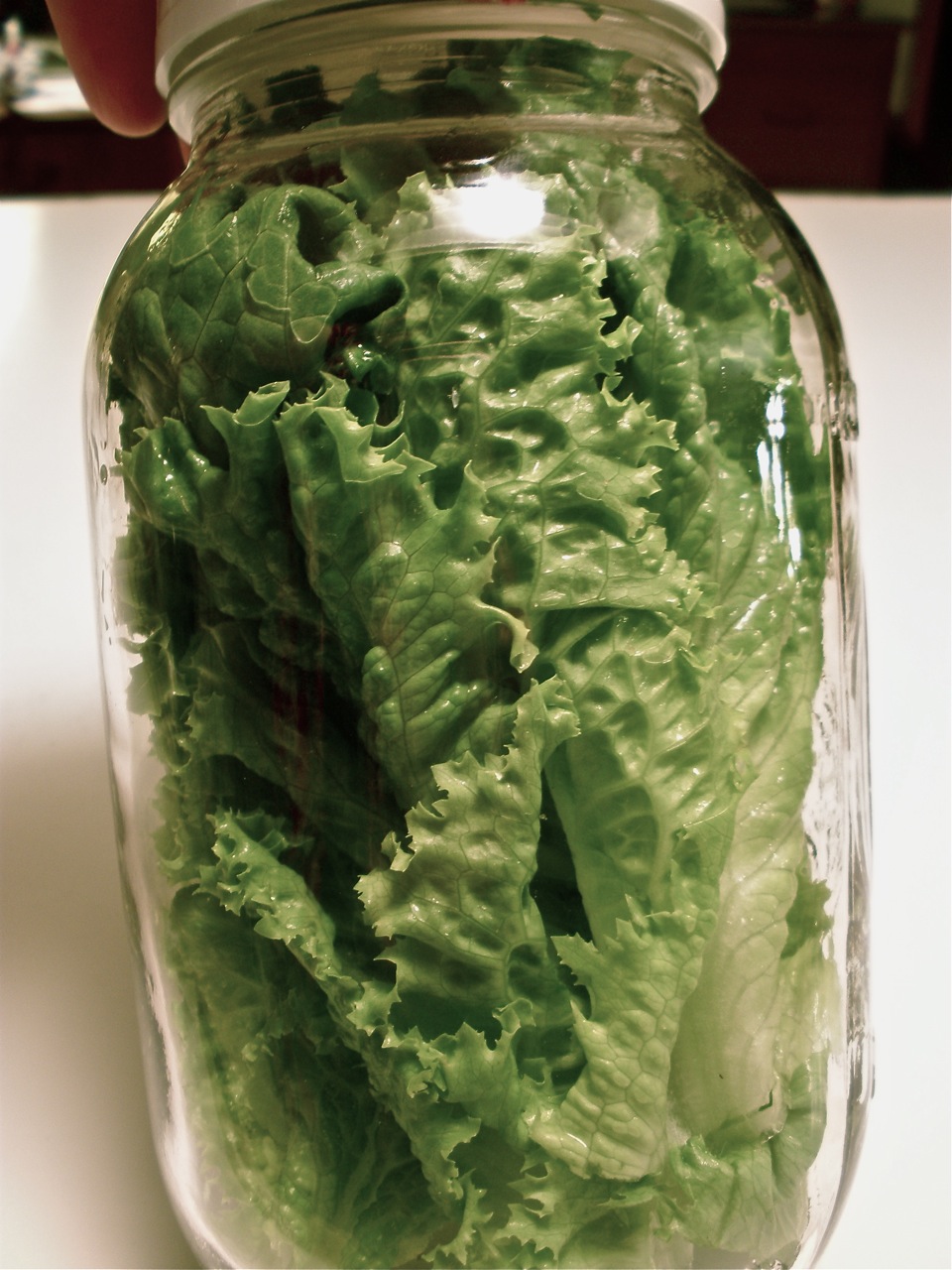 One week later I took them out and this is what they looked like —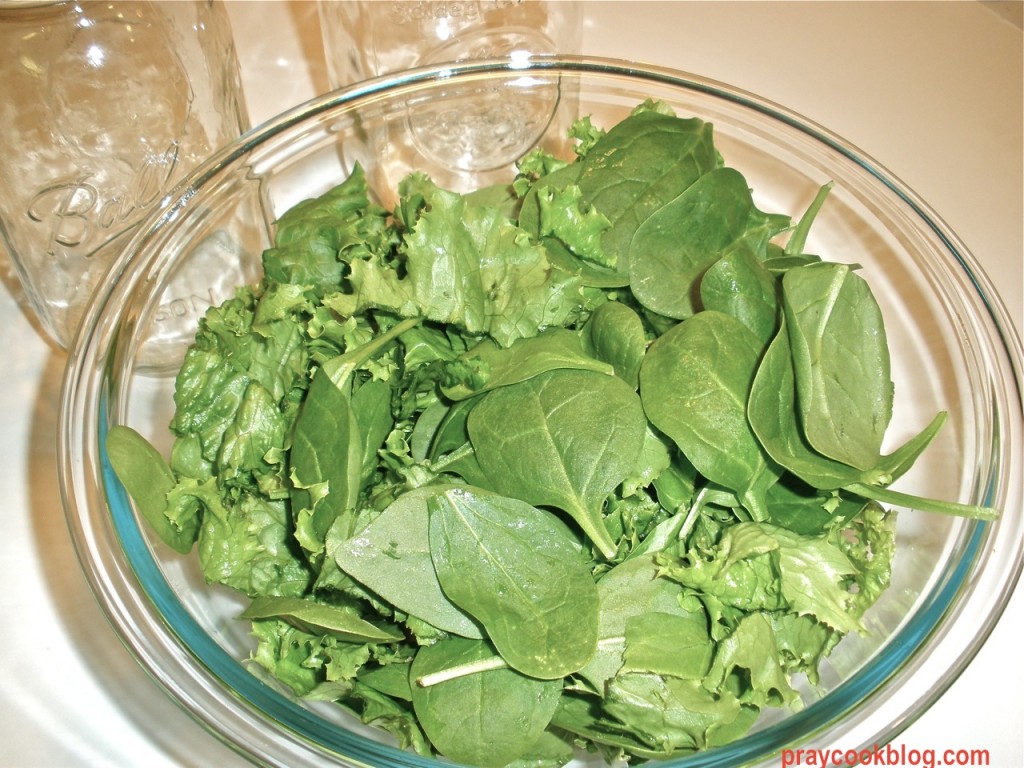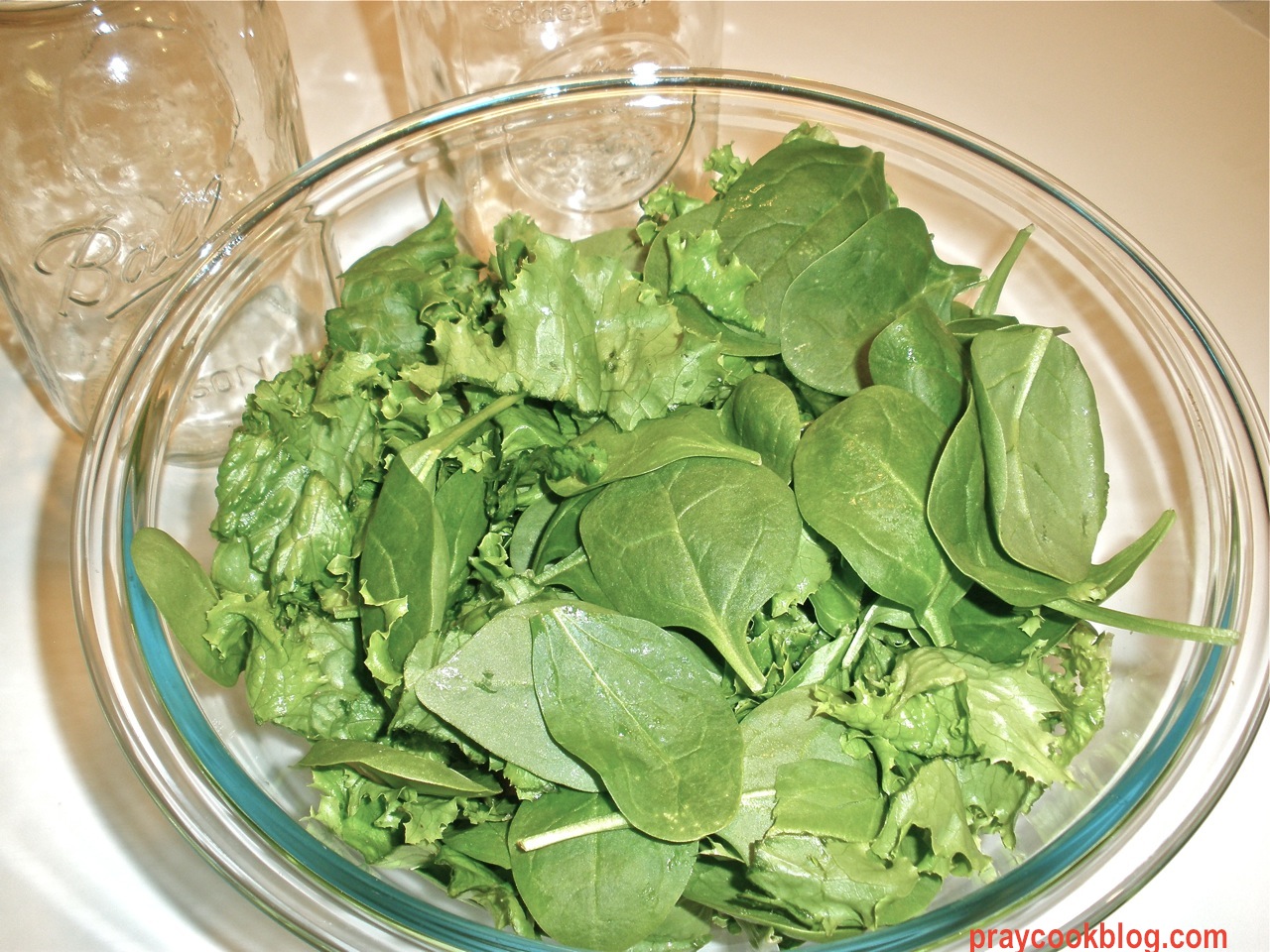 I immediately made us all a nice salad for dinner (putting the rest of the lettuce and spinach BACK into a jar for another week.)  The lettuce tasted fresh, there were NO brown spots and it was crispy.  TWO weeks later…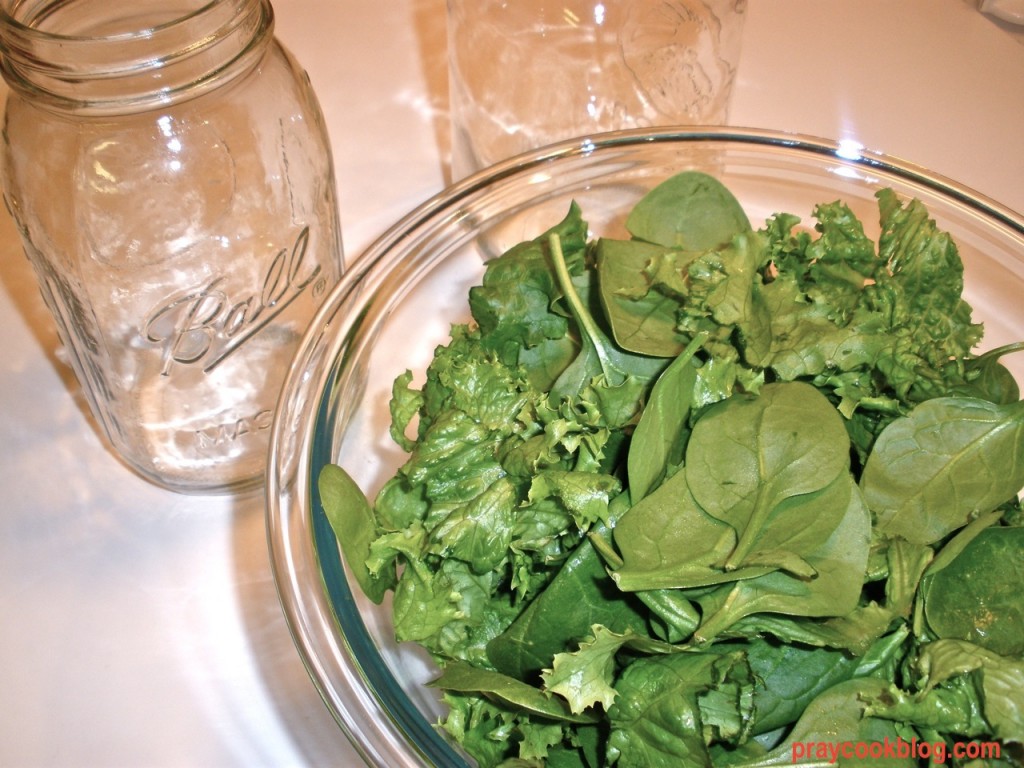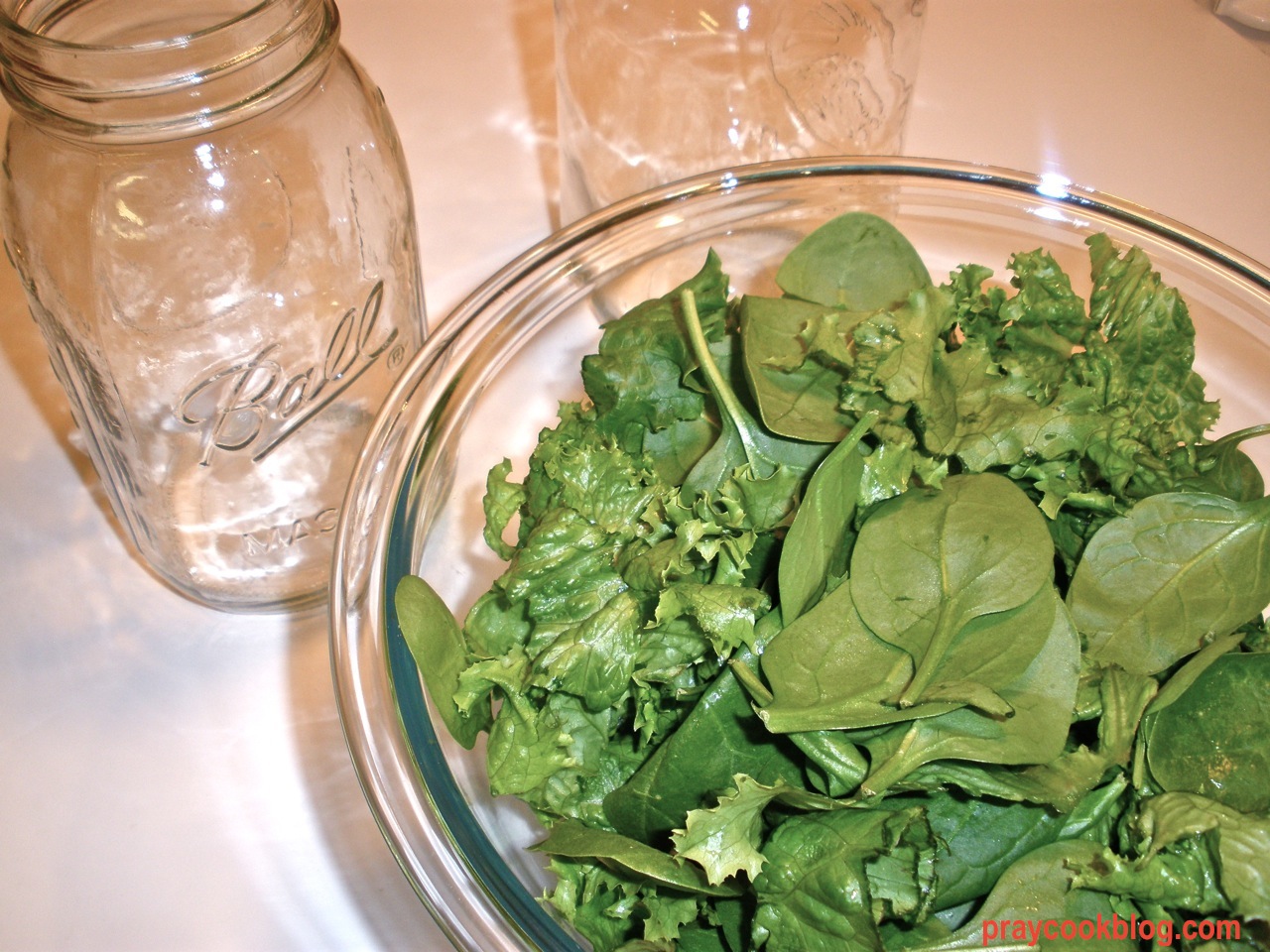 I kid you not, this lettuce and spinach has been in those jars for two weeks and they look almost just like I brought them home from the store.  I had one small area of brown in the center of the lettuce and that was it.  Now, all of you may have already known this well-kept secret, but I DID NOT!  I assure you, I will never, ever, have to throw away yucky lettuce or spinach again.  The quart jars fit perfect in my veggie drawer of the refrigerator.  I am so thrilled I just had to share!
Now, where was I?  Oh yes, Christmas … Walnut Fudge Pie, Peppermint Walnut Fudge Pie.  Have a blessed week and don't forget about the cookbook giveaway on Wednesday!


Walnut Fudge Pie

Rich and luscious chocolate chips combines with the eggs and brown sugar to create a dense fudge pie that is over-the-top when served with vanilla ice cream and the Java Chocolate Sauce!

Author: Walnut Grove Bed and Breakfast Cookbook

Serves: 8

Ingredients
1 Pie Crust, unbaked
3 eggs, slightly beaten
½ cup Brown Sugar, firmly packed
¼ cup All-purpose Flour
¼ cup Butter or Margarine, melted
1 teaspoon Vanilla Extract
12 oz Semi-Sweet Chocolate Chips
1½ cup Walnuts, chopped
¼ cup Peppermint Candy Canes, crushed
1 oz White Almond Bark
1 oz Chocolate Almond Bark
Java Chocolate Sauce
12 oz Semi-Sweet Chocolate Chips
½ cup whipping cream
1 tablespoon Butter or Margarine, melted
¼ cup Strong brewed coffee
Instructions
In a medium size bowl, beat three eggs slightly. Add brown sugar and stir in well. Sprinkle flour as you whisk it into the mixture. When well mixed, stir in melted butter and vanilla.

Melt 12 ounces of semi-sweet chocolate chips in the microwave on high for 30 seconds. Stir chips and heat for another 30 seconds. Continue to heat until melted. About 1½ minutes total. Stir into egg mixture. Add chopped walnuts.

Prepare a 9" pie plate with a single unbaked pie crust by fluting the edges. Spoon filling into the pie crust. Bake at 375 degrees for 30 minutes. After first 10 minutes, cover edges with a pie ring or tin foil.

Cool completely on a wire rack.
Chocolate Java Sauce: heat chocolate chips, cream, and butter in a heavy saucepan over low heat until chocolate and butter melt, stirring often. Cook stirring constantly 2 to 3 minutes until smooth. Remove from heat. Brew ¼ cup of espresso coffee, If you don't have an espresso machine, just make ¼ cup of very strong coffee. Stir coffee into the chocolate mixture.
Serve pie with scoop of vanilla ice cream and Java Chocolate Sauce, or serve with dollop of real whip cream.

For a holiday version of this pie, add ¼ cup crushed peppermint candies to the filling. Drizzle top with melted almond bark and additional crushed peppermints.