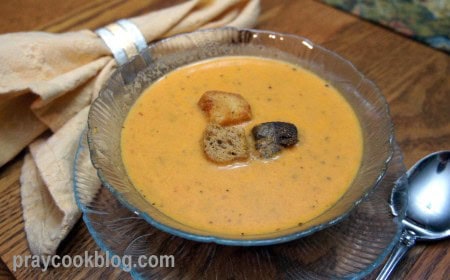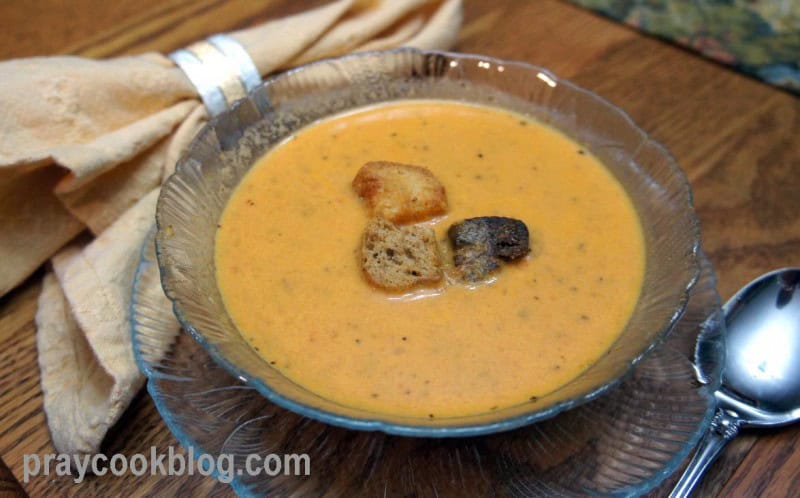 A Time for Everything
Ecclesiastes 3:1-8
For everything there is a season, and a time for every matter under heaven:
a time to be born, and a time to die;
a time to plant, and a time to pluck up what is planted;
a time to kill, and a time to heal;
a time to break down, and a time to build up;
a time to weep, and a time to laugh;
a time to mourn, and a time to dance;
a time to cast away stones, and a time to gather stones together;
a time to embrace, and a time to refrain from embracing;
a time to seek, and a time to lose;
a time to keep, and a time to cast away;
a time to tear, and a time to sew;
a time to keep silence, and a time to speak;
a time to love, and a time to hate;
a time for war, and a time for peace.
As we begin to leave the dogs days of summer I always think of this Bible scripture.  It is one of my favorites. I love change and the changes between the seasons is no exception.  Many parts of the United States has had an unseasonably cool summer and here in Tennessee we have had many summer days with temperatures in the low 80's which is highly uncommon.  I loved every minute of it.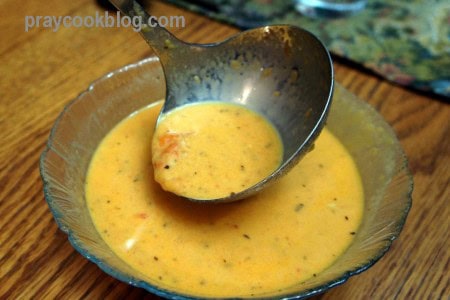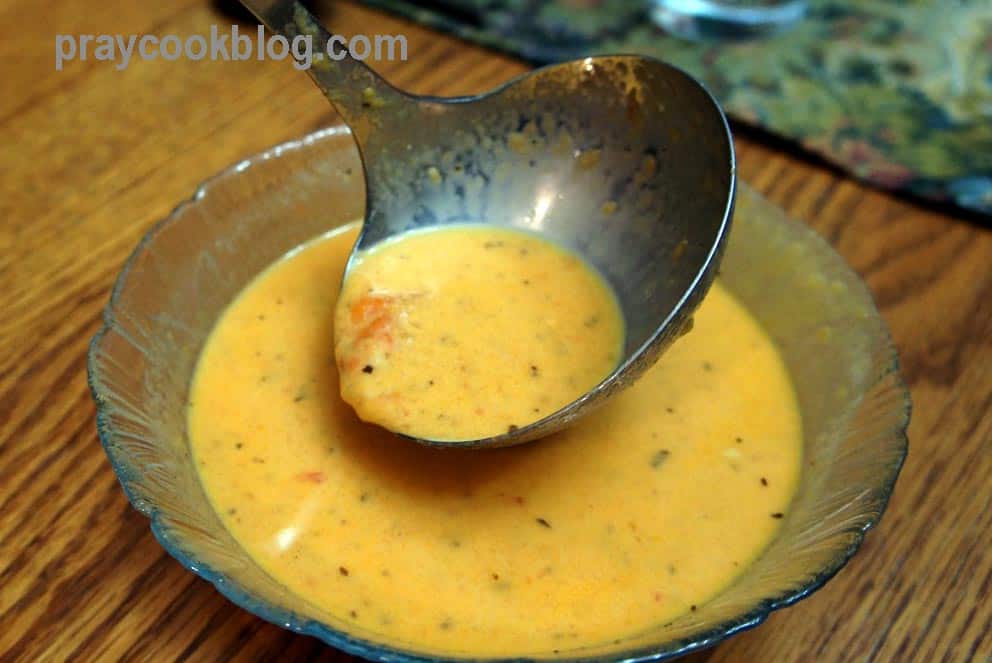 When our summer garden started winding down we had a cool and rainy day just perfect for some soup.  I normally would have waited until well into September to spring soup on the family, but the summer tomatoes were sitting on the counter and a creamy fresh tomato soup beckoned to be made.
I used a recipe I found on The Food Network and it turned out wonderfully tasty, filled to the brim with flavor and creamy as can be. I changed up the recipe slightly by pouring the cooked soup into my blender and giving it a good whirl before adding the cream and heating it before serving.   I don't mind a few small nuggets of veggies and tomatoes in my cream soup but I don't like chunks.  By blending it the soup will still have lots of flavor, small bits of color, and the creaminess a cream soup should have.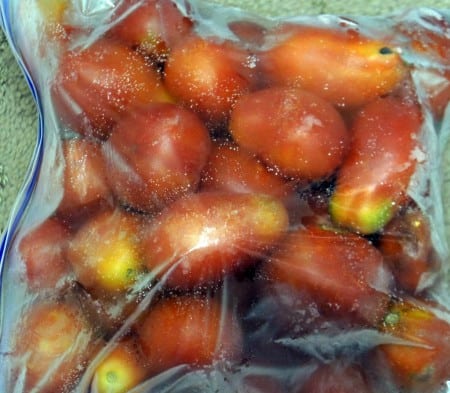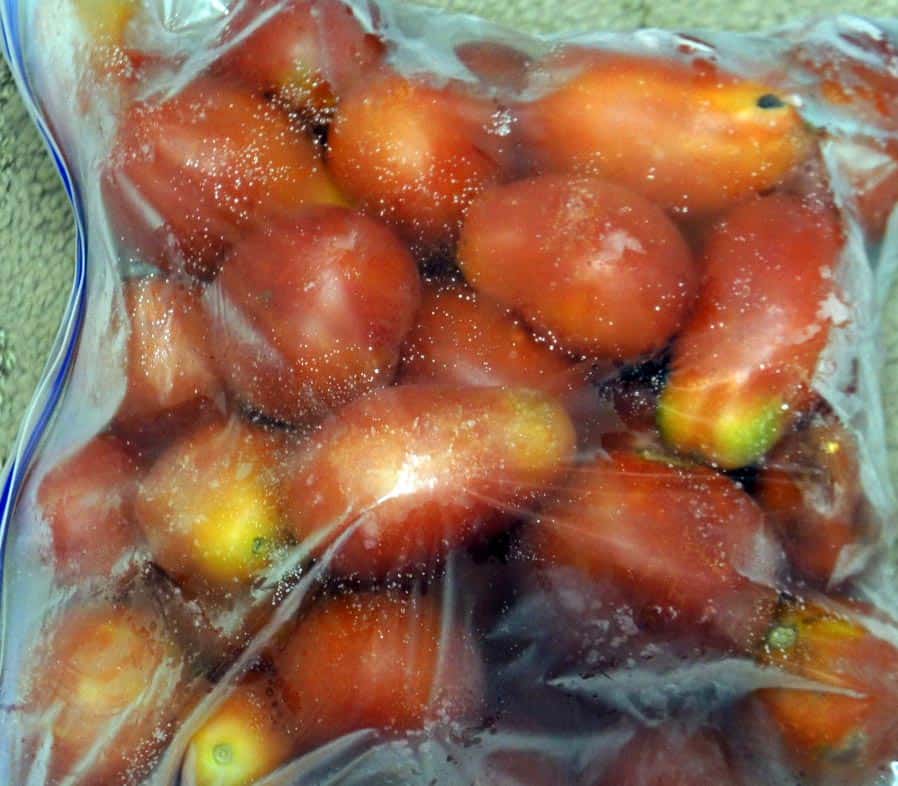 By the way — many of you may already know this but I only learned this summer that fresh tomatoes can be washed and placed in a plastic bag and stored in the freezer until ready to use.  The cool thing about this is when you take the frozen tomatoes out of the freezer and run them under hot water, the skins just slip right off.  Then the rest of the tomato can be sliced up for easy use.  I have bagged 15 gallon bags of Roma tomatoes this summer to use in soups and recipes this winter!
Have you started making any soup yet this season? Maybe you will want to start with this one!
Happy Cooking!
Catherine
Cream of Fresh Tomato Soup
A creamy soup perfect for fresh vegetables right out of the garden!
Ingredients
3 tablespoons good olive oil, can used flavored such as basil olive oil
1½ cups chopped red onions (about 2 small onions)
2 carrots, peeled and chopped
1 tablespoon minced garlic (3 cloves)
4 pounds vine-ripened tomatoes, peeled and coarsely chopped (about 5 large or 10 Roma)
1½ teaspoon sugar
¼ cup packed chopped fresh basil leaves, or 1 tablespoon dried basil
3 cups chicken stock
1 tablespoon Kosher salt
2 teaspoons freshly ground black pepper
¾ cup heavy cream
Croutons, for garnish
Instructions
Heat olive oil in a large, heavy-bottomed pot over medium-low heat. Add the onions and carrots and saute for about 10 minutes, until very tender. Add the garlic and cook for another minute.
Add tomatoes, sugar, basil, chicken stock, salt and pepper and stir well. Bring the soup to a boil, lower the heat and simmer, uncovered, for 30 minutes or until the tomatoes are very tender.
Remove from heat and allow to cool slightly. Add soup to a blender at about 2 cups at a time. Keep the blender lid slightly skewed to let the heat escape. Pulse the soup off and on for a minute to puree. Do the same with remaining soup. Pour everything back into the pot and slowly reheat adding heavy cream. Reheat just until hot.
Garnish with croutons and enjoy!
Notes
Adapted from Barefoot Contessa, The Food Network