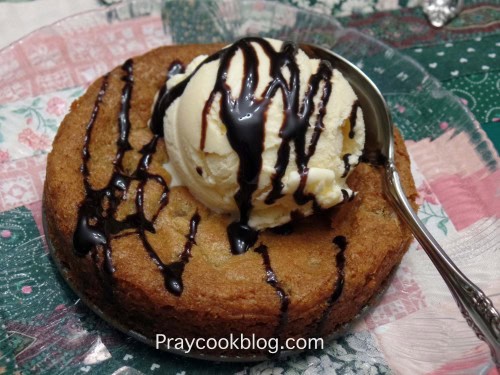 When some of our California kids were here this summer the dinner conversation turned to Pizookies.  At first when my step-son Bryan said Pizookie I wasn't sure what I heard him say.  I said, "will you spell that for me?"  He did one better and Googled it for me.  This is a pizza cookie all rolled into one single serving baking dish.  He and our grandson Sean went on to poetically describe one of their favorite desserts from BJ's Restaurant.
The more they talked the more exacted they got.  They tossed around words like chocked full of chocolate chips, warm and gooey, topped with quickly melting vanilla ice cream, deep dish cookie, served warm from the oven.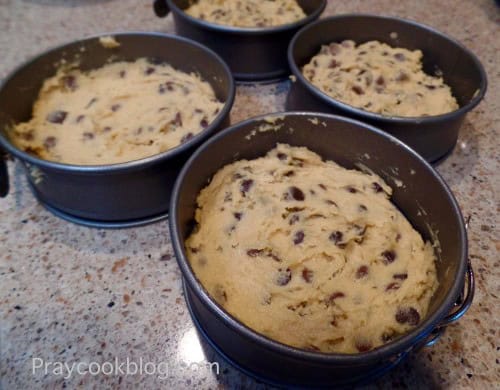 They had me at warm and gooey.  Before dinner was over I was ready to tackle this project and give my boys a taste test!  Pizookie is a BJ's copyrighted dessert and they serve it in many flavors.  But my kids wanted their favorite – pure chocolate chip cookie, no caramel, no added salt, just the pure thing.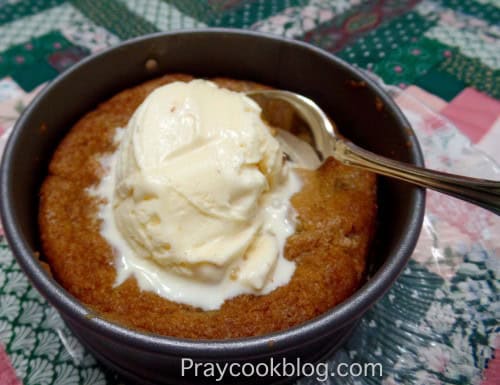 I have these cute little personal 4″ round springform pans.  Perfect! Many recipes can be found all over the internet but I chose to use a favorite chocolate chip cookie recipe loaded with half milk chocolate Ghirardelli light and dark chips.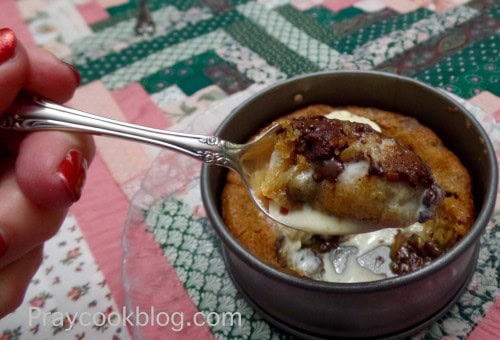 The cookie is slightly "under-baked" and still soft in the middle.  Oh how I wish you could taste this warm, chocolately mess.  It is off the charts wonderful.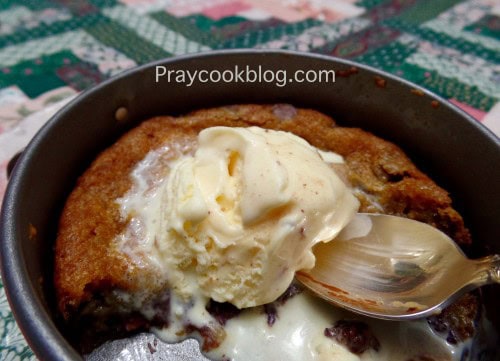 When the ice cream melts it is truly a cookies and cream moment. As soon as my sous-chef dish-washing mom sees this blog post she is going to want me to make these again.  Guess we have Pizookie's  in our near future!  When serving my Chief Pizookie eater a little chocolate syrup topped his dessert!
God Bless and Happy Baking,
~Catherine
Don't forget the Wicked Women of the Bible book giveaway on Tuesday, the 29th!

Deep Dish Chocolate Chip Cookies
Inspired by BJ's Restaurant Pizookie dessert ... a pizza cookie. This is pure and simple cookies and cream at it's best ... warm and gooey!
Author:
Adapted by Catherine Daugherty
Ingredients
1 cup all-purpose flour
½ teaspoon salt
½ teaspoon baking soda
1 stick unsalted butter, softened (1/2 cup)
½ cup packed light brown sugar
⅓ cup granulated sugar
1 teaspoon vanilla extract
1 large egg
¾ cup milk chocolate chips
¾ cup dark chocolate chips
Vanilla Ice Cream * Optional for serving
Instructions
Preheat the oven to 375 degrees F.
In a large bowl beat butter with an electric mixer until creamy. Add the sugars and beat until light and fluffy, about 2 minutes. Add the vanilla extract and egg and beat well.
Add in the flour, salt, and baking soda. Mix on low speed until dry ingredients are incorporated.
Mix in chocolate chips by hand.
Divide the batter evenly between 6 lightly greased ramekins or springform pans. Spread evenly through each pan.
Place ramekins or small pans onto a baking sheet and bake for 15 minutes or until golden-brown on the edges and still a little golden and soft in the middle.
Remove from oven and cool for at least 5 minutes before serving.
Serve with or without a scoop of vanilla ice cream.
Notes
Cookie recipe adapted from thekitchn recipe.

Ghirardelli chocolate is an excellent choice for this recipe, but your favorite chocolate works well too!