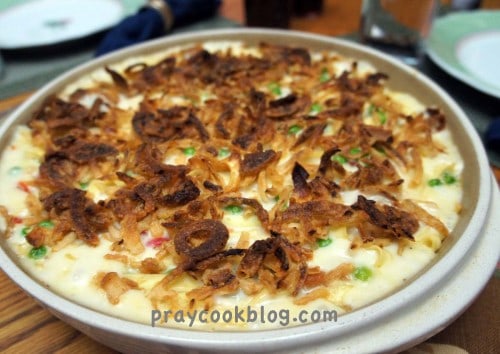 What do you do purely for the love of your family?  Something you would never, ever do except out of love?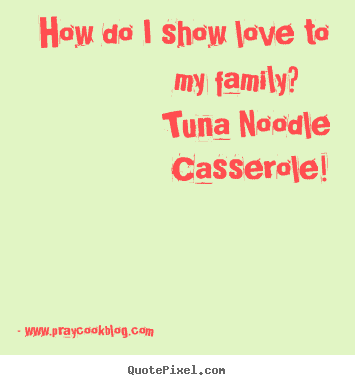 Tuna. Noodle. Casserole.  That's it.  I make tuna noodle casserole because they love it.  If I didn't want to make them happy I would never, ever make tuna-anything.  Actually, I would never even open a can of tuna if it were left totally up to me.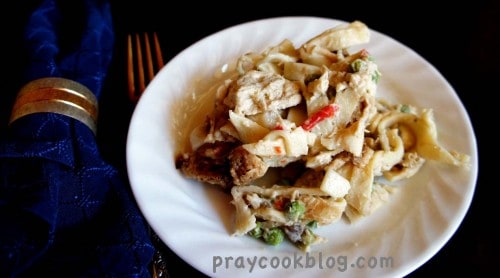 To say I dislike tuna is such an understatement of gigantic proportions.
But love for my family?  Well, that's a totally different story.  So, this week I bought 8 cans of white albacore tuna.  For the love of my sous-chef dish-washing mom and my Chief Valentine.♥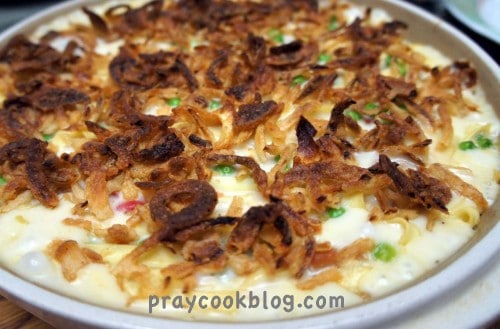 The best part is hearing them exclaim "You made tuna noodle casserole?  For us? Thank you!"  🙂
I used a basic recipe from Taste of Home and cranked it up a notch with wonderful Amish-made noodles and a topping of french-fried onion rings.
I ate a bit the first meal.  The other two ate the leftovers several other meals saying "it gets better every day!"
If you and your family like all-things tuna, you are going to really, really love this casserole!
Happy Valentine's Day With Love,
~Catherine
P.S.  So what do you do purely for the love of your family?
"A new commandment I give to you, that you love one another: just as I have loved you, you also are to love one another. By this all people will know that you are my disciples, if you have love for one another."     John 13:34-35 ESV
For The Love of My Family - Tuna Noodle Casserole
For the love of my family I treat them to this extra-special casserole loaded with all things creamy and delicious cranked up a notch with french fried onions.
Author:
Adapted by Catherine Daugherty
Recipe type:
Main Dish Casserole
Ingredients
1 can (10-3/4 ounces) cream of chicken soup, undiluted
½ cup milk
2 cups cooked Egg noodles
1 cup frozen peas, thawed
1 can (6 ounces) white albacore tuna, drained and flaked
1 jar (2 ounces) diced pimientos, drained
1 cup french-fried onions
Instructions
In a large saucepan cook noodles until just cooked, not over-cooked. Drain.
In a large bowl, combine soup and milk until smooth. Add the noodles, peas, tuna and pimientos; mix well.
Pour into a 1-1/2-qt. baking dish coated with cooking spray. Sprinkle with french-fried onions.
Bake, uncovered, at 400° for 25 minutes or until browned and bubbly.
Yield: 4 servings.
Notes
Recipe can easily be doubled. Cook time 35 minutes or until brown and bubbly.