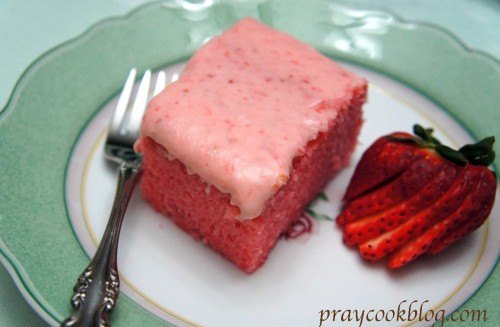 Going to the hair dresser's is an event for us.  My sous-chef dish-washing mom has hair that grows at an alarming rate. Many people envy her beautiful thick silver hair.  To her it just means getting it cut every three weeks!  We have two friends that live in nearby towns and they also go to the same hair dresser every three weeks.  The calendar is set and every 3 weeks when we gather – it's a party (or a gab session to be exact.) Hairdressers Carissa and Ginger are busy cutting hair while the rest of us meet, greet, catch up and we always talk – food!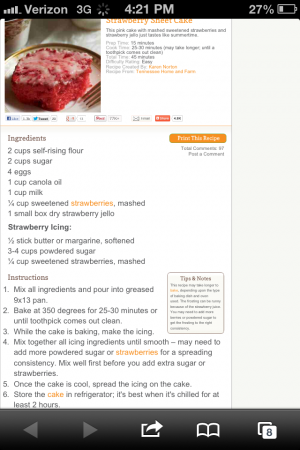 Carissa, who has a softer than silk southern voice, asked me if I had made the strawberry cake recipe from the Tennessee Home and Farm magazine. I told her I saw the recipe but hadn't made the cake.  She laughed and said she actually made it — a cake from scratch, which brought laughter from the rest of us.  Carissa is a wife, mother, sister, daughter, friend and business woman.  Rarely does she have time to bake — let along from scratch! She went on to say her family loved it and she was already planning to make it again. Now I paying attention!  Immediately Carissa stopped the shampooing, cutting, blow drying and sent me a text with the recipe attached.  Yes, she had it stored in her phone. 🙂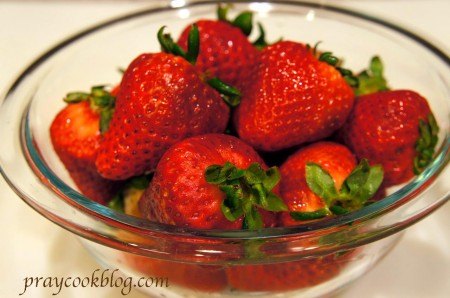 Strawberries are in season in Florida and California.  Most places in the country we can buy shipped-in fresh strawberries.  Run, don't walk to the store and buy some.  You are going to want to make this cake for Easter dinner.  Or supper the night before or lunch the day after.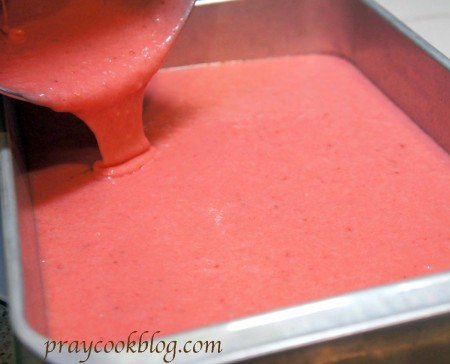 DO NOT worry that this looks like pink pepto bismol!
The cake is dense and moist, packed with flavor and crowned with a frosting made like butte cream but loaded with fresh mashed strawberries.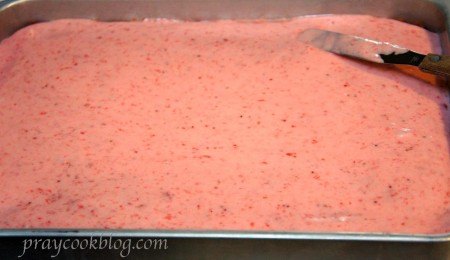 Your dinner table with be pretty in pink this Easter!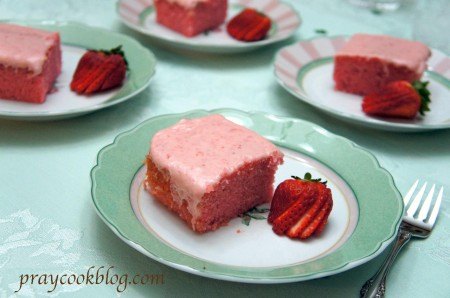 ~Easter Blessings, Catherine
John 11:25-26     Jesus said to her, "I am the resurrection and the life. He who believes in me will live, even though he dies; and whoever lives and believes in me will never die. (NIV)
Fresh Strawberry Cake for Easter Dinner
Sweet, yet tart, dense and moist, this made-from-scratch cake will be a family favorite for years to come!
Ingredients
Cake batter
2 cups self-rising flour
2 cups sugar
4 eggs
1 cup canola oil
1 cup milk
¼ cup fresh strawberries, mashed
1 small box dry strawberry jello
Strawberry Icing
½ stick butter, softened
3 to 4 cups powdered sugar
¼ cup strawberries, mashed
Instructions
Mix all cake batter ingredients and pour into a greased 9" x 13" pan.
Bake at 350 degrees for 25 to 30 minutes or until toothpick comes out clean.
While the cake is baking, make the icing.
Mix together all icing ingredients until smooth. Add powdered sugar and strawberry mash to your desired consistency. Mix well before adding more sugar or strawberries.
Once cake is cooled, spread the icing on the cake.
Store the cake in the refrigerator. The cake is best when chilled for at least 2 hours before serving. Remove from refrigerator 15 minutes before serving.
Notes
This recipe may take longer to bake, depending on the type of baking pan and oven used.
The frosting can be runny because of the strawberry juice. Add powdered sugar as needed to make a medium-thick frosting.



Adapted from recipe by Karen Norton, TN Home and Farm