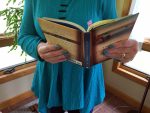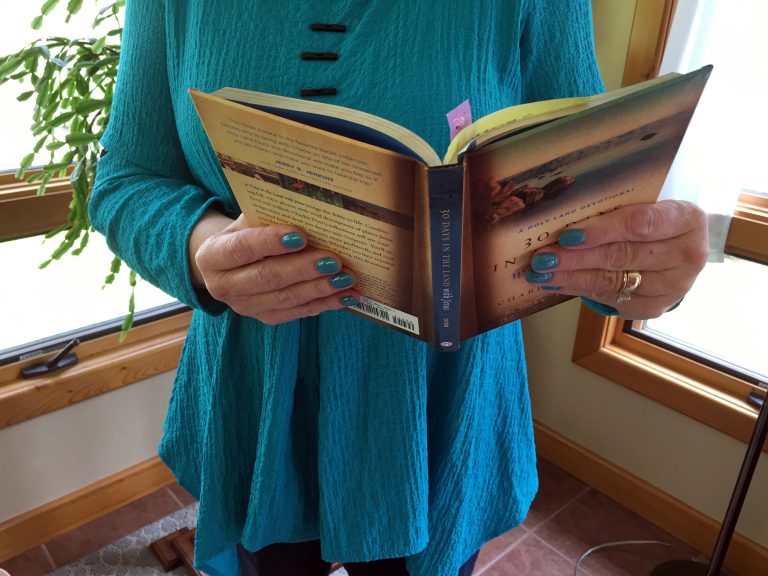 It's been a fun few days since I blogged about my blue nails.  If you missed it, check it out here! 
Thursday morning, after the blog post, my friend Bonnie arrived at Community Bible Study sporting fabulous blue nails in honor of my blog post and our friendship!  So fun!  Thank you, sweet Bonnie!
It wasn't long after we finished Bible study on Thursday that I received a "challenge" from my cousin Jill.  She posted, "The blue is gorgeous!!! I wear blue on my toes often. I dare you to try purple sometime!"  Then Jill sent me this photo.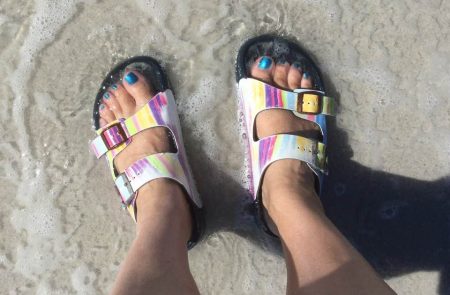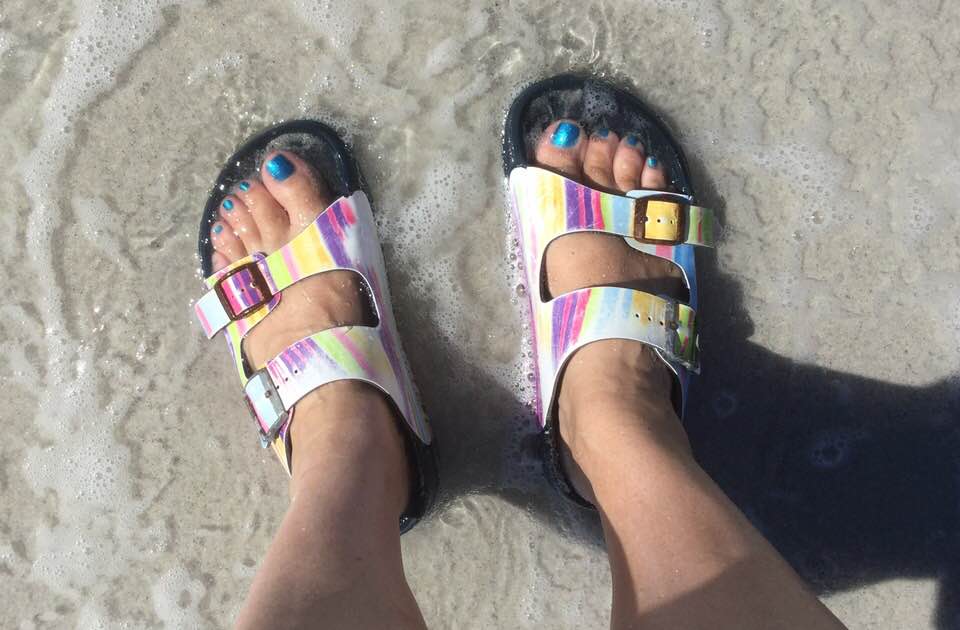 Jill adores spending time at the beach and so, of course, she has to keep those tippy-toes looking pretty!
The next picture came from my friend Darcia.  We were talking on the phone when she said, "I LOVE your blue nails!"  We laughed and she said, "I have my toes painted WHITE and I absolutely love them."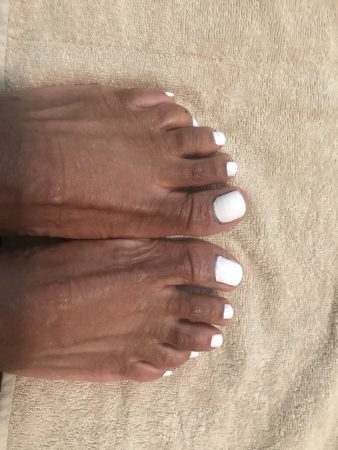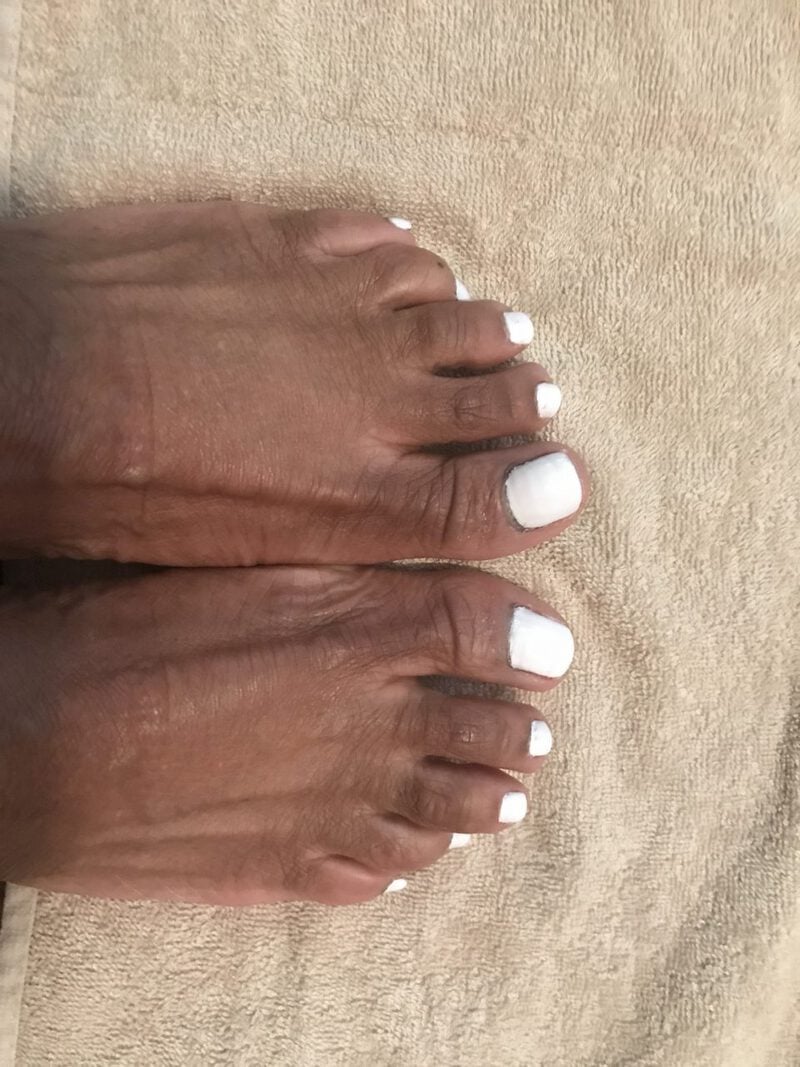 In this age of instant photo-sharing, Darcia zipped off this photo to me. I hope she heard me say, "It might show up on my blog!" 😜
Saturday I spent lunchtime with dear girlfriends and my sous-chef dish-washing mom.  Before we said goodbye that afternoon, the conversation turned to my "blue nails".  Our friend Joan said, "Here, everyone put your hands together."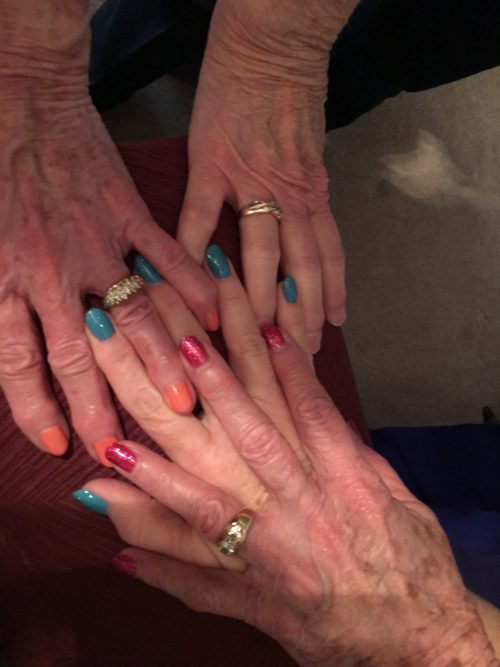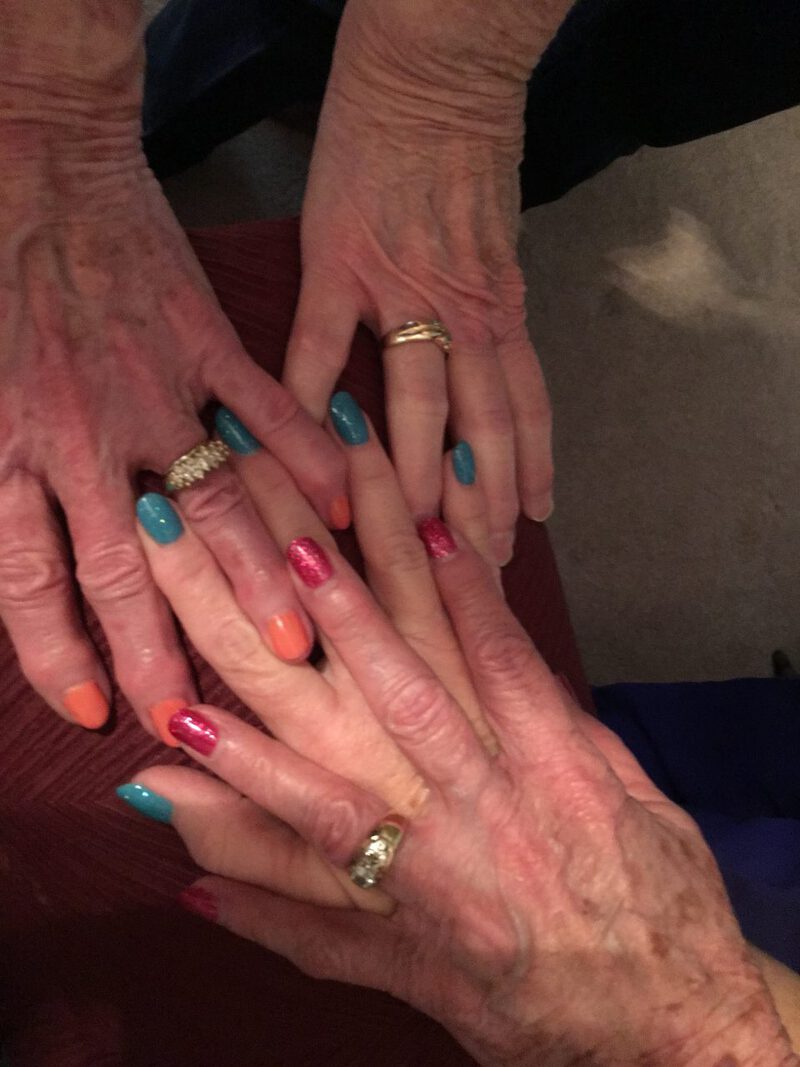 Red, blue, peach, and natural, a rainbow of color!  This is a fantastic picture of our friendship.  Diversity reigns and each one of us brings something special to our friendship. The love of Jesus is what truly binds us together. It doesn't get any better than that.
Speaking of color, our lunch hostess Joyce, served the most incredible roasted carrots with our Hot Chicken Salad.  Did you know that before Dutch farmers bred orange carrots to honor the House of Orange in the 17th century, these root vegetables were white, yellow, green, red, and even black?  Recently, carrots of many colors have come back into flavor.  While traveling in England a few years ago we saw white, yellow and black carrots at the Borough Market in London.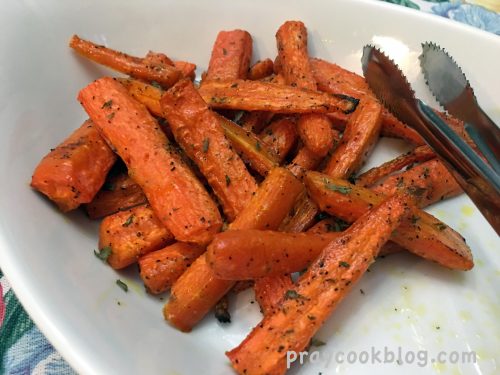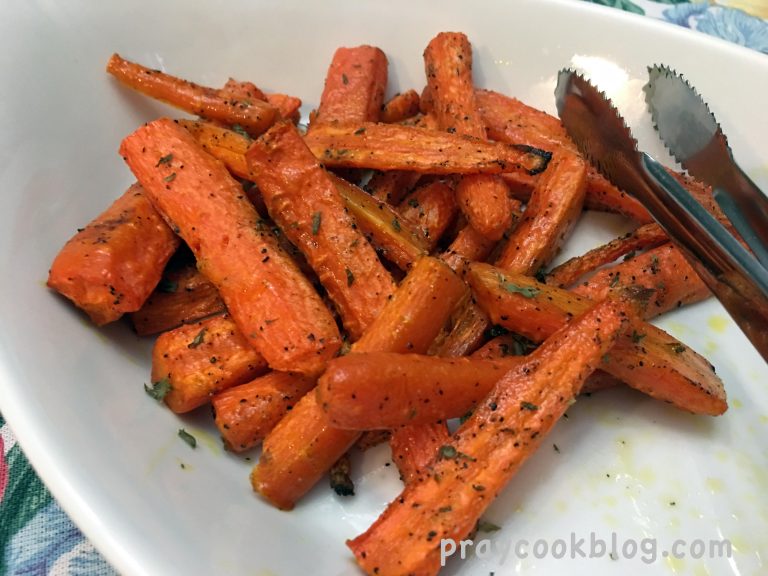 After feasting on these incredibly tasty roasted carrots at Joyce's, I couldn't wait to check out my fridge to see if I had any carrots at home. Yep, five. Only five carrots in the crisper drawer, but that was enough to roast for our dinner!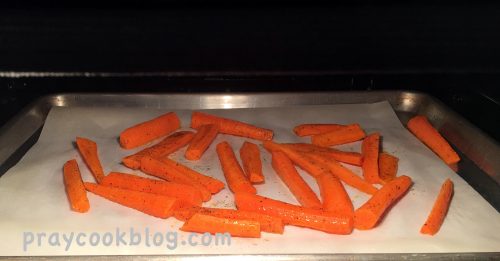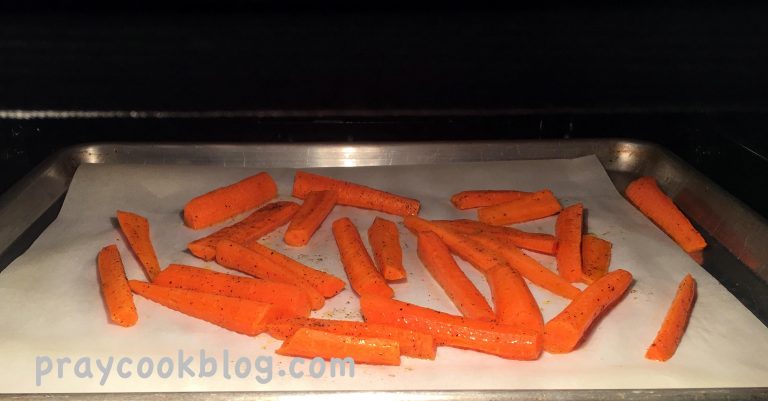 True to Joyce's description, these take just minutes to prepare and 20 minutes to roast.  Peel carrot, slice into chunks of similar size, drizzle with olive oil, sprinkle with salt and pepper.  Roast!
I used a blood orange infused olive oil, cracked pepper, sea salt and a sprinkle of parsley.  Seriously, I can't wait to make these again.  They are so good that we had to count them out into thirds so that my carrot-loving husband, sous-chef dish-washing mom and me could each have exactly the same number — they are just that good.  And sometimes we are just that silly at dinner!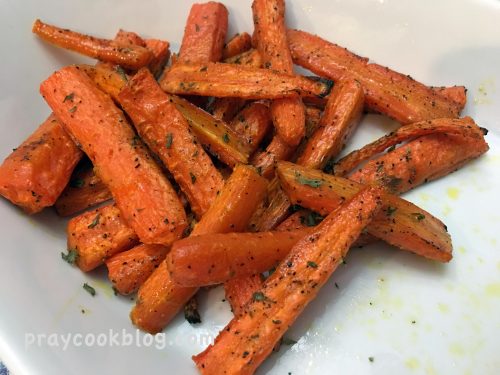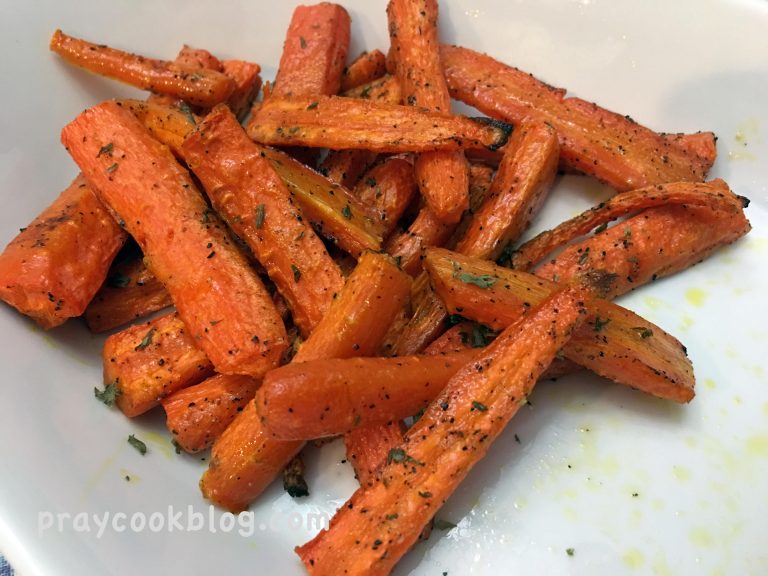 You can use your imagination and drizzle with just about any flavored or plain olive oil you may have on hand.  I've cooked carrots in an orange juice and butter mixture so I thought the blood orange infused oil would be a perfect combination.  It is!  Try it, you'll like it!
May your spring be bursting with color!
Happy Roasting!
~Catherine

Roasting Carrots and Other Fun Colors!
After roasting carrots, you won't want to serve them any other way.
Author:
Adapted by Catherine Daugherty
Recipe type:
Vegetable, Side Dish, Vegetarian
Ingredients
Fresh carrots
Olive oil*
Sea Salt
Fresh Pepper
Chopped parsley* Optional
Instructions
Pre-heat oven to 400 degrees F.
Peel and slice fresh carrots into equal sized pieces.
Drizzle with olive oil.
Sprinkle with sea salt and cracked pepper.
Spread on baking sheet.
Roast for 20 minutes or until carrots are slightly browned and tender. Do not over-cook.
Sprinkle with chopped parsley and serve.
Notes
*Flavored olive oil works well.
I've used blood orange infused olive oil that is fantastic.