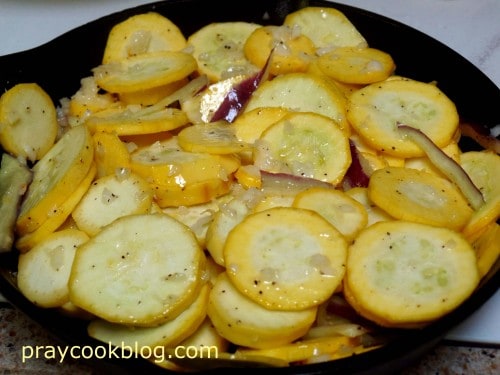 I am all about using my BBQ grill to keep my kitchen cool in the summer.    It is so easy to add a few vegetables to your cast iron skillet and put it on the grill beside your summer meats.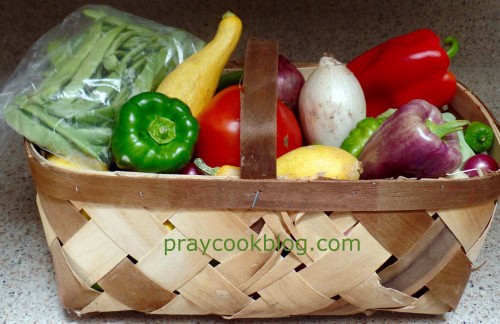 This basket  from the local farmer's market provided several yellow neck squash and I also received a couple beautiful squash from my neighbor's garden.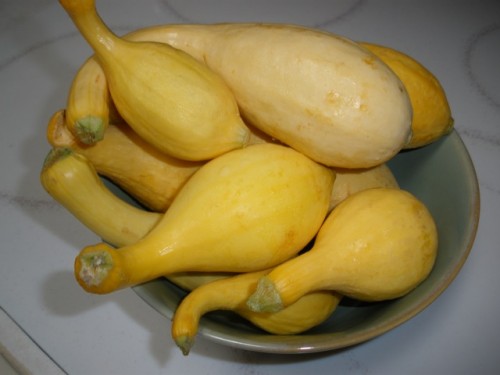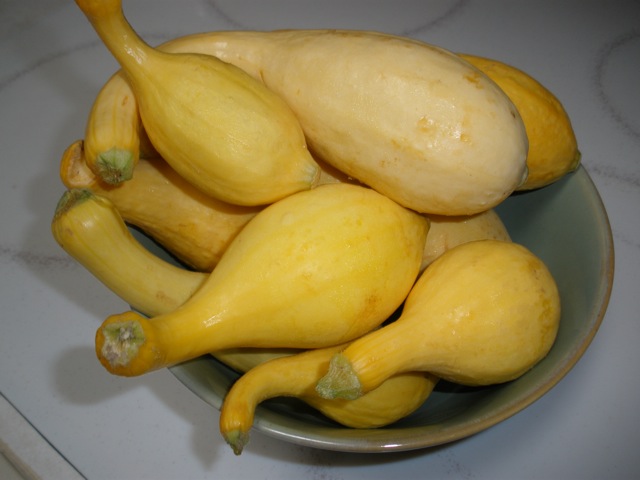 While my grilled meat was cooking I sliced up the yellow squash and thinly sliced red and white onions all which came from my local farmer's market basket.
When the meat had about 1/2 hour left to cook I set my cast iron skillet on the grill and heated up a bit of olive oil and a tablespoon of butter.  (I can't resist the color and flavor that comes from a bit of butter.)  I started with a teaspoon of minced garlic and then added the squash and onions.  I closed the lid, letting the squash cook for about 10 minutes.  
For the next 15 minutes I stirred the squash twice bringing the browned squash to the top and letting the rest of it brown nicely. The onions will caramelize and become dark, crisp and luscious.  A little salt and pepper to taste and this squash was on its way to the dinner table.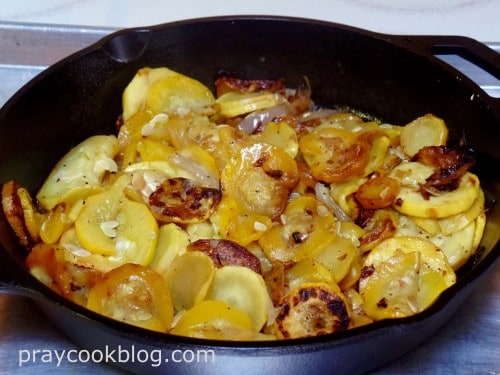 When  the meat is done the squash was ready to serve.  I serve it right out of the cast iron skillet which keeps it warm all through the meal.
Here are a couple of my other favorite yellow squash recipes:
Southern Squash Casserole
Squash Pickles
Squash Relish
Happy Garden Harvest Time!
~Blessings, Catherine
BTW –   I got carried away the second time I made it and sprinkled on some cheese before serving.  If I HAVE to eat vegetables, THIS is the way to do it!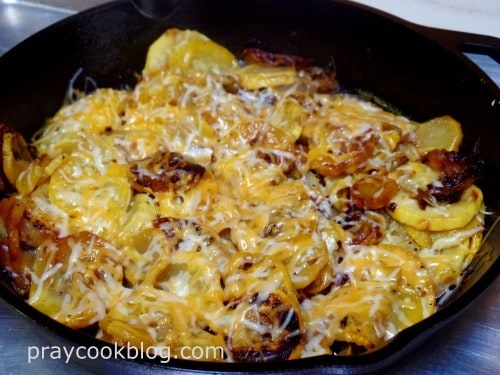 Got Squash? Fast and Easy Yellow Neck Squash Side Dish
From the garden to the table everyone loves squash fixed like this!
Author:
Catherine Daugherty
Recipe type:
Vegetable Side Dish
Ingredients
6 to 8 cups sliced yellow neck squash*
1 cup onion sliced thin*
½ Tablespoon olive oil
1 Tablespoon butter
½ teaspoon minced garlic
¾ cup favorite melting cheese*optional
Salt and pepper to taste
Instructions
Wash and lightly peel yellow neck squash. Cut in ¼" slices. Make enough to fit your skillet or baking dish (usually 6 to 8 cups)
Heat BBQ grill. Add cast iron skillet with olive oil and butter. Melt and add garlic. Cook 2 minutes over medium heat.
Add squash and thinly sliced onion. Sprinkle with salt and pepper to taste.
Cover grill for 10 minutes. Then stir mixture well, watching to make sure the squash is browning but not burning. Adjust grill heat accordingly.
Grill for 30 minutes total, stirring mixture a couple more times.
Add cheese at the end, if desired.
Notes
* This recipe can be baked in oven, but works great in the summer on the BBQ grill.
Ingredients can be adjusted for the number of servings and size of pan.
Cheese totally optional but delicious.