Affiliate Disclosure: I receive a small commission for purchases made via affiliate links.
I am posting this recipe for ham salad the week before Thanksgiving because you are going to need it soon.  Many of you bake up a big o' turkey for Thanksgiving but then have a bit of ham on the side for those who don't want turkey. (I know, but there really are people who don't like turkey.)
I always buy Kentucky Legend Ham.  They should be sponsoring this post, but sadly they are not.  None-the-less I had a pound of ham leftover from cooking up this outstanding soup of Ham, Potato, and Corn Chowder.
Just about that same time I was tasked with making about 100 savory mini-puffs and 100 sweet mini-puffs for a morning brunch at our church. I got to thinking that "something hamish" would make a good morning puff!
My sous-chef dish-washing mom reminded me that she has made ham salad many times, but not for some years.  We batted around a few ingredients like, ham, boiled eggs, and mayonnaise but I decided I wanted to get a "tried and true" recipe.
After a bit of research, I settled on a recipe by A Family Feast. This is what Martha and Jack had to say about their ham salad.  "But most versions of this classic salad use bread and butter pickles in the mix, giving the salad a distinctively sweeter flavor. We changed things up a bit and used a combination of dill pickles and sweet pepper relish in our ham salad – so you still get a little bit of sweet in the salad from the relish, but you also get a wonderful savory flavor from the dill pickles – and it's a great complement to the salty ham!"
I got excited because I have a couple dozen jars of homemade dill pickles on my pantry shelf.  The fact the recipe only takes 1/3 cup didn't really help all that much! 🙂  However, boy oh boy the dill pickles crank up the taste in this recipe.  The original recipe called for one hard-boiled egg into the mix.  I left it out of this recipe, but it is an option.
After filling 100+ mini-puffs, I still had enough ham salad for lunch sandwiches.  Unbeknownst to me, my Chief lunch eater, doesn't care for ham salad.   Apparently in 24+ years of marriage that little nugget of information never crossed between us.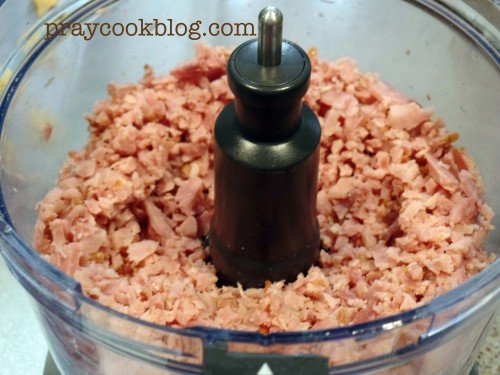 That is when my lovely, wonderful, kind, and might I say "adventurous" husband says "no problem, bring it on! I will give it a try."
I tell you all of this so you will understand my delight and surprise when a few weeks later he asked, "will you make ham salad again?  I really liked it!"  Hurray!  He likes my ham salad and so will you!
Blessings,
~Catherine

Ham Salad Appetizers or Sandwiches, You Choose
There are many variations of ham salad, but this one leaves the ham front and center with splashes of flavor all around.
Author:
Adapted by Catherine Daugherty
Recipe type:
Appetizer or Sandwich Spread
Ingredients
1 lb. cooked chopped ham
½ cup dill pickles
2 Tablespoons sweet pepper relish
1 teaspoon Dijon mustard
2 Tablespoons minced celery
2 Tablespoons minced sweet onion or 1 Tablespoon dried onion
⅓ to ½ cup mayonnaise to taste
1 hard-boiled egg, minced* optional
Instructions
In the bowl of a food processor, place ham and pulse off and on for about 8 to 10 times. This will produce a medium chop but not too fine. Do not pulse the ham into a paste.
Add all other ingredients, except mayonnaise. Pulse several times to chop up the pickles and blend all ingredients.
Add mayonnaise and pulse several more times to mix thoroughly.
Serve on sandwich rolls, fresh sliced bread, or use as a filling for appetizers.
Notes
*I chose not to include a hard-boiled egg, but many recipes do use it.

This recipe adapted from A Family Feast.com