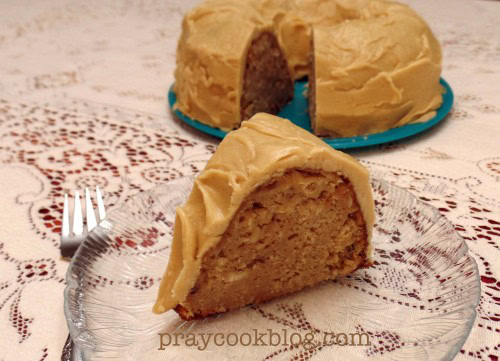 What a blessing to celebrate my sous chef dishwashing mom's 85th birthday!  Today, February 8 is her birthday, although we have celebrated for several days!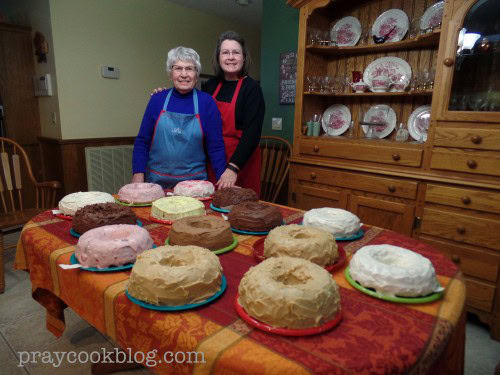 Last week she spent time in Missouri with my brother and sister-in-law and their family.  They brought her home on Friday and I surprised her with 15 Bundt cakes that needed frosted for her party yesterday afternoon!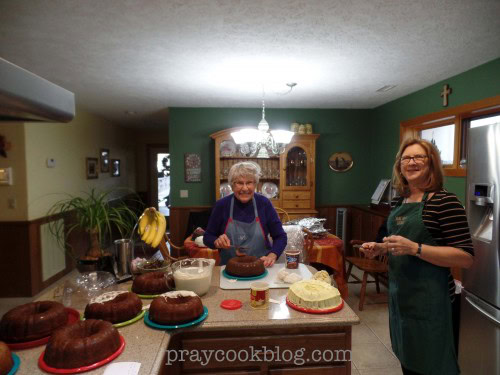 Mom and my sister-in-law Kay were both good sports as I started bringing  cakes out of the freezer.  I started baking last week and each day baked a few cakes.  Fifteen in all.  Yikes!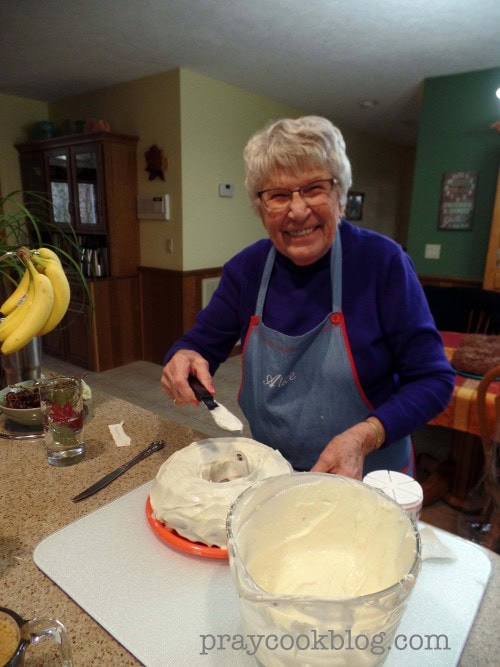 Carrot cake with cream cheese frosting, lemon supreme on lemon, fresh strawberry with homemade frosting, chocolate with fudge frosting, red velvet, and white on white.  But the hit of the cake parade is my new favorite cake, Butter Pecan with Caramel Frosting!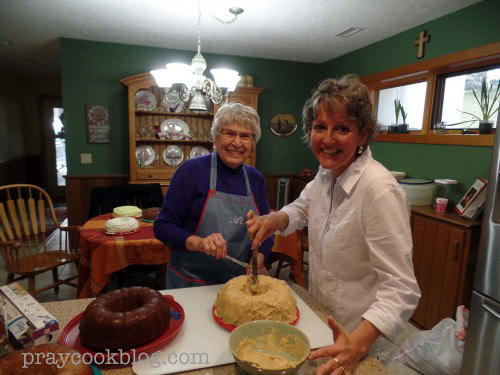 My neighbor Kathy got in the act by keeping some of the cakes in her freezer.  She dropped them off on her way to watch her granddaughter play basketball.  About that time, my other neighbor Gaye and her mother-in-law stopped by and quickly began frosting the last of the cakes, which were the three Butter Pecan cakes with Caramel Frosting!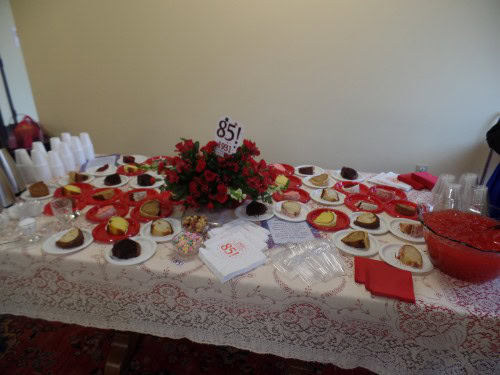 The Butter Pecan recipe was given to me after I ate a piece at a women's luncheon last spring.  The recipe went into my "to-do" pile and surfaced recently.  I made one cake a couple of weeks ago for my Chief Cake Lover and my sous chef dishwashing mom.  They were both taken by surprised and thrilled with the texture and taste.  I was immediately reminded why I asked for the recipe in the first place.  This one is a keeper!  When you make it I guarantee you rave reviews!
We had a lovely party celebrating "1931 Was A Very Good Year!"
"For by me your days will be multiplied, 
and years will be added to your life."      Proverbs 9:11
Happy Birthday Mom!  I love you.
~Catherine

Butter Pecan Cake with Caramel Frosting!
My new very favorite cake and frosting! You will love it too!
Author:
Adapted by Catherine Daugherty
Ingredients
Cake
1 Box Butter Pecan cake mix (I prefer Duncan Hines)
1 can Coconut Pecan icing
3 Eggs
¾ cup oil
1 cup water
Frosting
1 stick butter (1/2 cup)
¼ cup Evaporated milk
1 cup light brown sugar
1 teaspoon vanilla extract
2 cups confectioners sugar
Instructions
Prepare cake pan with spray oil. (Use a Bundt pan or a 9" x 13" baking pan) Preheat oven to 350 degrees F.
For the cake, mix all ingredients in a large mixing bowl and beat with an electric mixer until well mixed. Pour into prepared pan. Bake for 45 minutes or until tester inserted into the middle comes out clean.
After the cake has baked and is cool, prepare frosting.
Melt butter, add brown sugar and milk. Cook 2 minutes over medium heat. Add in vanilla.
Pour over confectioner's sugar and beat until smooth. Frost cake immediately before frosting cools and sets. If the frosting is a little too thick, thin with milk.